Ginza Natsuno R Building, Tokyo Retail Architecture, Architects, Japanese Shop Design Images
Ginza Natsuno R Building, Tokyo
Contemporary Japanese Shop Development: Modern Japan Store design by TNA
18 Jan 2011
Ginza Natsuno R Building Tokyo
Architects: TNA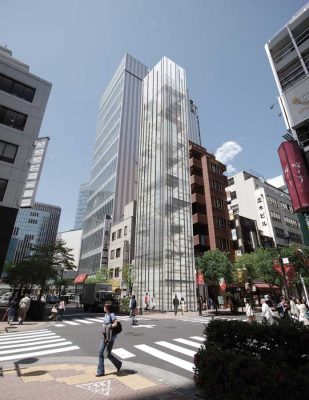 It is a plan of the flagship shop of Ginza 'Natsuno'(the "Chopsticks" specialty store)of Ginza.
A long and slender building where 40m like "Chopsticks" was exceeded on the site only of 50m2 in the corner in the intersection on Namiki street and Matsuya street was planned. It was thought that the natural situation that extended as it is a delicate scale "Chopsticks", and had become a building was not able to be produced.
Then, it was thought that the scale of "Pillar" of the high rise was reduced to the scale of "Pillar" of the house, and it was going to make it to a structure near the person.
The pillar of the iron frame of 10×10cm was displayed according to the site, the small pillar tied in some places mutually in the beam, and it did like a cylindrical pillar whose the entire building is one.
The glass is set between those. It is externals it becomes a milk-white like the shoji, it becomes becoming the transparent shade like the showcase in parts, and everything from the exterior to the structure and the fixture and furniture combines, and with the gradation.
This building has no neither reflecting facade peculiar to Ginza nor a signboard colorful exterior. This building in a rough expression, is sometimes a transparent part, and is externals that connect the town 'GINZA ' to the inside.
This is a proposal of a new way of the building in Ginza to be built.
Ginza Natsuno R Building Tokyo images / information from TNA Architects
Location: Ginza, Tokyo, Japan, eastern Asia
Tokyo Architecture
Tokyo Architecture Selection
Tokyo Architecture Designs – chronological list
Tokyo Buildings – Retail Selection
Prada Store
Design: Herzog and de Meuron
Prada Store Tokyo
Alexandre Herchcovitch
Design: Studio Arthur Casas Architects
Alexandre Herchcovitch Tokyo Store
The store was built as per the architect office's first proposed layout. Alexandre just wanted to make sure that his store would have enough hangers and shelves to expose whatever he woud like.
Armani/Ginza Tower
Design: Doriana and Massimiliano Fuksas
Armani Store Ginza
The permeability of the surface is toned down by a cascade of brightly lit leaves that delicately float down the facades and, according to the time of day or the season, are modified in intensity and colour. This has been like working under a microscope, examining every tiny little detail, trying to find the ultimate solution.
United Bamboo Store, Daikanyama
Design: Acconci Studio
Tokyo Clothes Shop
TBWAHakuhodo offices
Design: Klein Dytham architecture
Tokyo offices
Crystal brick house – housing
Design: Yasuhiro Yamashita (Atelier Tekuto)
Tokyo housing
Parabola Building
Design: Yasuhiro Yamashita (Atelier Tekuto)
Tokyo house
Japanese architect studio : Toyo Ito
Makoto Takei + Chie Nabeshima / TNA
MAKOTO TAKEI + CHIE NABESHIMA / TNA
武井 誠 + 鍋島 千恵 / TNA
TNA Co., Ltd.
9-7-3F Sumiyoshi-chou Sinjuku-ku , Tokyo JAPAN 162-0065 
TEL:+81-(0)3-3225-1901 FAX:+81-(0)3-3225-1902 
MAIL: [email protected]
スタッフの募集については こちら まで。
オープンデスクについては こちら まで。
AWARDS 
2017  2A asia award 「KAMOI FACTORY」
2016  Record Houses 「HELIX HOUSE」
2015  Prize of AIJ for Design 「JOSHU TOMIOKA STATION」
     BCS AWARDS 「JOSHU TOMIOKA STATION」
     RESIDENTIAL ARCHITECTURE PRIZE  「GATE VILLA」
2014  Brunel Awards 「JOSHU TOMIOKA STATION」
     JIA CHUGOKU Architecture Awards 「KAMOI MUSEUM」
2012  AR Award highly commended 「KAMOI MUSEUM」
2010  JIA New Architect Award 「FIGURED GLASS HOUSE」
2009  The 25th SHINKENCHIKU PRIZE 「FIGURED GLASS HOUSE」
2008  Wallpaper Design Awards 「RING HOUSE」
2007  Record Houses 「RING HOUSE」
Comments / photos for the Ginza Natsuno R Building, Tokyo Architecture design by TNA page welcome