Tainan Earthquake Building Destruction, Taiwan Building, Pictures, News, Toppled Flats
Tainan Earthquake Building Destruction
Wei Kuan Apartment Complex, Taiwan – Fallen Flats, Leaning Apartment Complex
8 + 7 Feb 2016
Tainan Earthquake Toppled Buildings
Investigation into construction of Weiguan Jinlong building launched
update, 8 Feb 2016: At least 37 people are now confirmed dead, at least 24 were in the Weiguan Jinlong apartment building.
update, 7 Feb 2016: At least 124 people are missing after the collapse of the 17-storey block. At least 27 people are now confirmed dead. The 17 storey Weiguan Jinlong (Golden Dragon) apartment complex crumpled down on each other. The building was officially housing at least 256 people. However it is being reported that more than 300 were inside at the time of the collapse.
17-storey block becomes focus of post-earthquake efforts
update, 6 Feb 2016: at least 13 people killed, some 30 people missing from the 17-storey block; nearly 500 people were injured.
5 Feb 2016
Earthquake toppled buildings in the south Taiwanese city of Tainan
An earthquake has toppled buildings in the south Taiwanese city of Tainan, killing at least seven people, reports the BBC.
Rescue teams have been trying to reach people trapped in rubble since the magnitude 6.4 quake struck just before 04:00 (20:00 GMT Friday).
Wei Kuan apartment complex: earthquake toppled building in the south Taiwanese city of Tainan: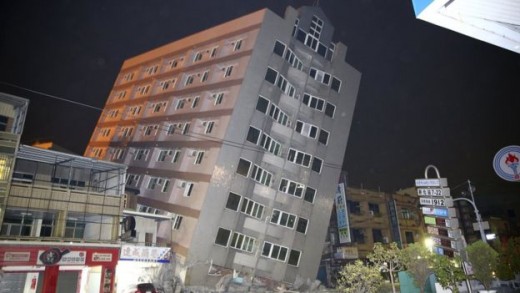 photo © AP
film on RT, 1.33 mins long, includes aerial footage of the fallen high-rise residential tower:

Crushed vehicles are seen under a building that was damaged after a powerful earthquake hit Tainan: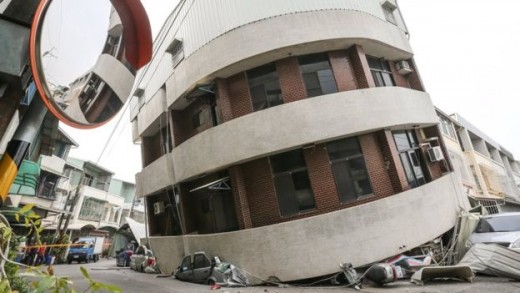 photo © AFP/Getty
There have also been at least five aftershocks. The quake was felt in the capital Taipei, 300 km away.
Although the damage does not appear to be widespread, a number of tall buildings have been left leaning precariously.
Website: Tainan Earthquake Building Destruction – BBC report in full
video published on 5 Feb 2016
A powerful earthquake in Taiwan felled a 16-storey apartment complex – Wei-kuan Building – full of families who had gathered for Lunar New Year celebrations in the early hours of Saturday, with at least five dead and more than 30 feared trapped, reports the Tribune.
The 6.4-magnitude quake struck in the middle of the night. An entire residential complex containing almost 100 homes toppled to the ground, lying on its side with twisted metal girders exposed.
Officials said there were 256 residents registered as living in the building, which contained 96 apartments.
Website: Taiwan quake topples buildings – Tribune report in full
"As a search for survivors in the rubble went on, questions were being raised about the construction of the Wei-guan Golden Dragon Building, with its floors that pancaked down on each other, reports Reuters. Five of the dead were from the apartment building in the southern city of Tainan.
A building badly damaged by the earthquake in Taiwan: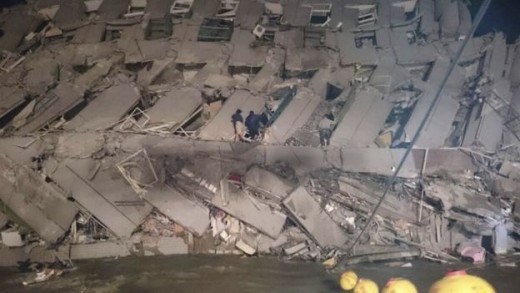 photograph © AP
Buildings in nine other locations in the city of 2 million people had collapsed and five were left tilting at alarming angles, a government emergency centre said.
City officials said it was too early to determine if poor construction was a factor in the collapse.
Liu Shih-chung, city government deputy secretary general, said television footage of the ruins of the commercial-residential building suggested the possibility of structural problems related to poor-quality reinforced steel and cement.
The construction and engineering companies that built the complex are no longer operating.
Two neighbours said they had felt nervous about the construction when the building was going up in the 1990s."
Rescue personnel carry a survivor at the site of a collapsed building in the southern Taiwanese: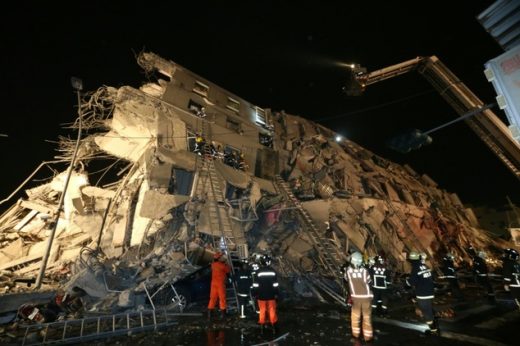 image : www.dailymail.co.uk
Clearly the construction sector has to redouble its efforts to prevent these collapses that seem to accompany almost all earthquakes across the globe. The knowledge is there on how to prevent this occurring. Governments and property developers in earthquake zones should come under pressure to ensure building regulations are appropriate and consistently checked for implementation.
Website: Tainan Earthquake fallen apartment building – Reuters report in full
Location: Tainan, Taiwan
New Taiwan Architecture
Contemporary Taiwan Architectural Projects, chronological:
Taiwan Architecture Designs – chronological list
Taiwan Buildings – Selection
Tainan Urban Lagoon Transformation
Design: MVRDV architects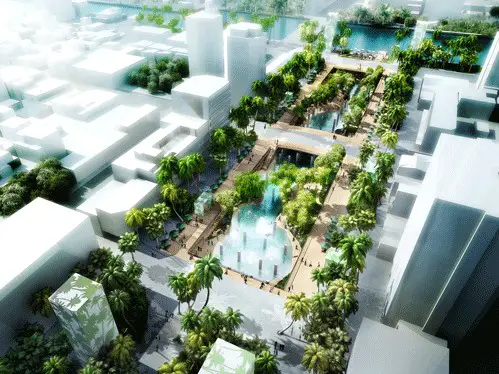 image : Aplus Digital Technology Co., Ltd
Din-a-ka Residence, Taipei City
Architects: Wei Yi International Design Associates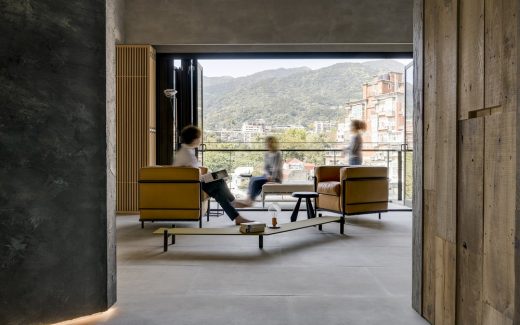 photograph : Dean Cheng
Taipei City House
Taipei Pop Music Center Competition
Tainan City, is a special municipality located in southern Taiwan, facing the Taiwan Strait in the west and south. Tainan is the oldest city in Taiwan and also commonly known as the "Capital City" (Chinese: 府城; pinyin: fǔchéng) for its over 200 years of history as the capital of Taiwan under Koxinga and later Qing dynasty rule. Tainan's complex history of comebacks, redefinitions and renewals inspired its popular nickname "the Phoenix City".
source: wikipedia
Tainan Urban Lagoon Architects : MVRDV
Ching Fu Building : Rogers Stirk Harbour & Partners
Taiwan Building : Mecanoo
Taiwan Shopping Centre : UNStudio
Comments / photos for the Tainan Earthquake Building Destruction Architecture page welcome
Tainan Earthquake Building Destruction Building
Website: Tainan