Werd Restaurant, Swiss Interior Photo, Architect, Design, Tower Image
Werd Zurich : Restaurant Development
Contemporary Building in Switzerland design by Burkhalter Sumi Architekten
11 Jul 2008
Werd
'Build-In' Restaurant and Bar, Zürich
Design: Burkhalter Sumi Architekten
Photographs: Heinz Ungers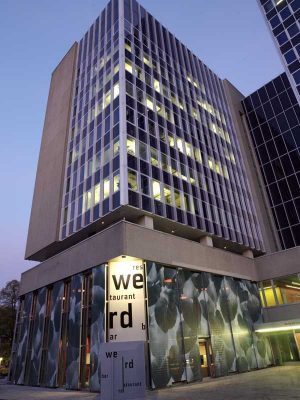 Zurich Restaurant
English text (scroll down for German):
The semi-transparent sunscreen, which can alternately be fixed close or rolled up open, uses specially-manufactured membrane (polymer-laminated) fabric printed on both sides with an ultra large plant motif. Thereby the lush Pipe vine seemingly twines around the tower's four-column pedestal – which formerly defined a two-storey high open space under the building at street level – and engages in a dialogue with the surroundings as well as the restaurant's own green floor covering.
The huge images – the size of a leaf corresponds almost to that of a human – estrange the sense of the actual scale of the place. In the middle of the city a garden pavilion has emerged. The entrance to the restaurant situated at the corner of the building refers back to typical peripheral urban block developments of the late nineteenth century and is in contrast with the modernist open character of the composition with its plaza, pavilion and two slim towers. The signage of the restaurant's name "sheathes" the exterior draught-protection vestibule with letters, i.e., word fragments, of varying sizes.
On the inside the spiral-shaped staircase together with the curved bar counter divide the interior space into an initial extra-high entrance zone with lounge and bar followed by a low-height dining area to the back located under as well as above an upper gallery. The gallery's curved parapet determines the form and backside of a continuous bench on the upper level giving the space a certain dynamic. In the evening a curved curtain separates the dining room downstairs establishing an atmospheric background for the bar.
The lush green floor of the restaurant absorbs the color of the faÁade's fabric sunscreen and provides the base upon which the stairway, bar and furniture rest. Painted in glossy red, staircase and gallery become one single element and seemingly hang suspended above the round, green column.
The original columns, which actually bear the gallery floor, have been painted black. Thereby retreating to the background they deliberately are made to contrast with the fragility of the glass shell and articulate the two-storey public space. The half-round bar bending around the staircase is the only element that has not been painted, but rather realized in natural moor oak. Green legs make the tables seem to be growing out of the green floor, while the lounge sofas in complementary contrasting red seem to float on it.
The interior wall up to the first floor of the existing building constitutes a so-to-say "forth facade" and is covered with printed sunscreen fabric in analogy to those ornamented with green Pipe vile. The ochre facade is used as a screen for the beamer projections in the bar space.
Werd Restaurant & Bar – Design Team
Client: Immobilienbewirtschaftung der Stadt Zürich, vertreten durch das Amt für Hochbauten der Stadt Zürich / Architects: burkhalter sumi architekten gmbh, Zürich / Collaboration: Yves Schihin / Construction supervision: GMS Partner, Zürich / Civil engineer: Walt+Galmarini AG, Zürich / SHAC engineering: Huwyler+Koch, Zürich / Electrical planning: Schmidiger+Rosasco AG, Zürich / Bauphysik: Kopitsis Bauphysik AG, Wohlen / Landscape Architects: Vogt Landschaftsarchitekten, Zürich / Art at the building: Heinz Unger / Graphics Logo: Trix Wetter / Photos: burkhalter sumi architekten / Adresse: Werdstrasse 75-79, 8004 Zürich
German text:
Werd Zürich
Einbau Restaurant und Bar Werd, Zürich
Der halbtransparente Sonnenschutz in Form von alternierend fix bespannten und aufrollbaren textilen Membranen ist beidseitig mit uebergrossen Pflanzenmotiven bedruckt. Die saftigen Pfeiffenwinden "beranken" den Sockel des Turmes und treten mit der Umgebung und dem grünen Bodenbelag in einen Dialog.
Die übergrossen Bilder – die Höhe eines Blattes entspricht in etwa der Größe eines Menschen – verfremden den Masstab des Ortes, mitten in der Stadt entsteht ein Gartenpavillon. Der über Eck angeordnete Zugang zum Restaurant verweist auf Blockrandbebauungen des 19. Jahrhunderts und kontrastiert den modernistisch offenen Charakter der Anlage mit Plaza, Pavillon und den beiden Hochhausscheiben. Die Beschriftung des Restaurants "überzieht" den Windfang mit Buchstaben bzw. Wortfragmenten.
Die kreisförmige Treppe mit der geschwungenen Bartheke gliedert den Raum in einen vorderen überhohen Eingangs-, Lounge- und Barbereich und in den hinteren niedrigen Essbreich unter bzw auf der Galerie. Die geschwungene Brüstung der Galerie in Form einer umlaufenden Sitzbank verleiht dem Raum eine gewisse Dynamik. Abends trennt ein geschwungener Vorhang den Essbereich im Erdgeschoss ab und wird zum stimmigen Hintergrund der Bar.
Der saftig grüne Boden des Restaurants nimmt die Farbigkeit der Membranen an der Fassade auf und bildet die Unterlage, auf welcher Treppenaufgang, Bar und Möblierung stehen. Treppenaufgang und Galerie sind als ein Element glänzend rot gestrichen und scheinbar nur über die runde grüne Säule gehalten.
Die schwarz gestrichenen bestenden Säulen, welche in Wirklichkeit die Galerie tragen, treten in den Hintergrund, konstrastieren bewusst die Fragilität der Glashülle und artikulieren die Zweigeschossigkeit im öffentlichen Raum. Die sich um den Treppenaufgang biegende halbrunde Bar ist als einizges nicht gestrichenes Element in Mooreiche gehalten. Die Tische scheinen mit den bodenfarbenen Beinen jeweils aus dem Boden zu wachsen, während die roten Loungesessel durch den Komplementärkontrast auf diesem zu schwimmen scheinen.
Die Wand zum 1.OG des bestehenden Gebäudes wird analog zu den bedruckten Sonnenschutzmembranen gleichsam als 4. Fassade mit den grünen Pfeiffenwinden bespielt. Zum Restaurant hin dient die ockerfarbene Wand als "Leinwand" für die Beamerprojektionen in der Bar.
TEAM
Bauherrschaft: Stadt Zürich, Immobilienbewirtschaftung, vertreten durch das Amt für Hochbauten / Architekten: burkhalter sumi architekten gmbh, Zürich / Mitarbeit: Yves Schihin / Bauleitung: GMS Partner, Zürich / Bauingenieur: Walt+Galmarini AG, Zürich / HLK Planung: Huwyler+Koch, Zürich / Elektro Planung: Schmidiger+Rosasco AG, Zürich / Bauphysik: Kopitsis Bauphysik AG, Wohlen / Umgebunsgestaltung: Vogt Landschaftsarchitekten, Zürich / Kunst am Bau: Heinz Unger, Zürich / Grafik Logo: Trix Wetter, Zürich / Fotos: Heinz Unger, Zürich / Addresse: Werdstrasse 75-79, 8004 Zürich
Werd Restaurant images / information from Burkhalter Sumi Architekten Jul 2008
Werd Restaurant Zurich design : Burkhalter Sumi
Location: Werdstrasse 75-79, 8004 Zürich, Switzerland
Architecture in Switzerland
Swiss Architecture Designs – chronological list
Architecture Walking Tours by e-architect
Zurich Architecture Walking Tours
Swiss Buildings – Selection
Swiss Museum of Transport, Lucerne
Gigon/Guyer Architekten
Museum of Transport Lucerne
Dolder Grand Hotel, Lake Zurich
Foster + Partners with Itten + Brechbühl
Dolder Grand Hotel Lake Zurich
Kunsthaus Zürich extension
David Chipperfield Architects
Kunsthaus Zürich Extension
Comments / photos for this Werd Restaurant – Zurich Interior Architecture page welcome