Euroairport Business Centre, Mulhouse Building Project News, Design Property Images
Euroairport Business Centre Mulhouse
Le nouveau Business Center de l'Euroairport Development, France design by Serero Architectes, Europe
post updated 24 June 2021 ; 8 Feb 2010
Euroairport Business Centre Bale / Mulhouse
A NEW BUSINESS CENTER AT THE EUROAIRPORT
Le nouveau Business Center de l'Euroairport de Bale/Mulhouse
Design: Serero Architects
Euroairport Business Centre Mulhouse
English text:
INNOVATIVE WORK SPACES AT THE EURO-AIRPORT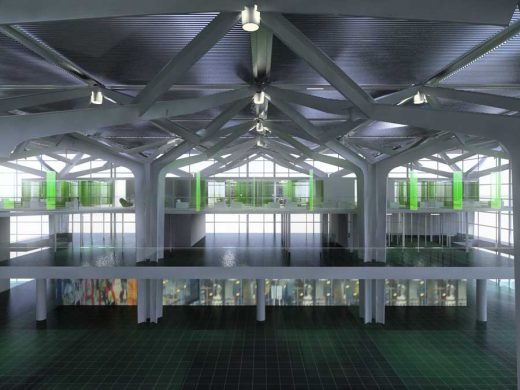 How could one create a space for rest and work in the middle of a busy international airport?
Serero Architects have created a sleek and functional business center at the Airport of Bale/Mulhouse in Switzerland by hanging a deck to the astonishing steel branches of the terminal.
Ten work and reception halls integrating videoconferencing abilities and interactive presentation pads have been organized on the length of the platform in an efficient manner.This new center reinforce the strategic positioning of this airport, precisely located at the border between France and Switzerland by allowing physical meetings in transit zones, interactively with remote users using VC Technology
"The challenge of the project, explains the architect David Serero, is to integrate this new platform to the complex geometry of the airport structure in keeping the natural lighting and transparency of the existing airport atrium. Our project uses a light and high performance structure to keep the platform height at thin as possible and respecting the sismical regulations of this particular site."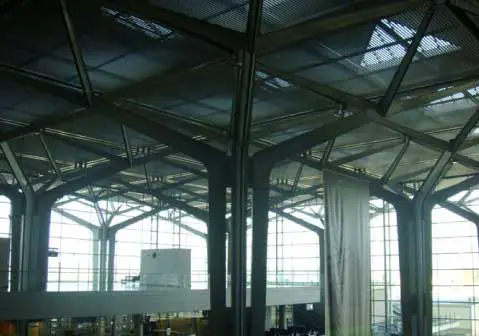 The BC platform is placed in the terminal by following the logic of reciprocal setbacks of the airport slabs on the atrium. The access has been staged by a long suspended bridge that crosses the airport atrium from the existing vertical circulations cores. A peripheral access balcony, opened to the atrium, gives access to each meeting space.
In order to avoid normalize work environment, the architects have designed and furnished each space in a singular manner by changing their floor area size and form. The underside of the slab is covered by a polished stainless steel ceiling, reflecting natural light as well as the airplanes on the airport runways behind.
TRANSPARENCY/ LIGHTING
The partitioning of the Business center are treated in different nature of glass including: transparent glass, sandblasted glass , colored glass and liquid crystal glass in function of the light and intimacy level demanded by users. It is therefore a full transparent volume that's diffracts light to the airport's main atrium.
The BC is both visible from the airport main floor as well as in setback from the intensive flux of the airport. The level of activity, as well as the event type is transmitted trough a lighting device constituted by thin light strips of tri-color LEDs. The level of lighting, as well as the color of each of these strip is electronically controllable and will change depending on specific event, its activity level, or the business of its rooms.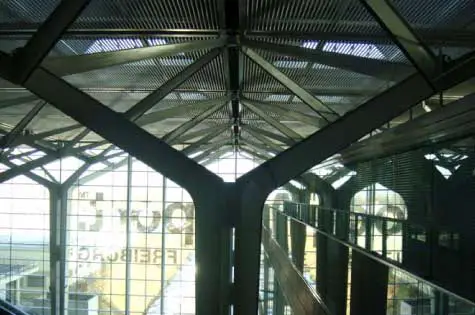 Euroairport Business Centre Mulhouse – Building Information
BUSINESS CENTER EUROAIRPORT : Construction of the business center in the air terminal of the Euroairport, Mulhouse, France
Competition First Prize Winner
Design Team : David Serero, Fabrice Zaini, Engineers: OTE
Site : Aéroport Bâle – Mulhouse, France
Client : Chambre de Commerce et d'Industrie Sud Alsace Mulhouse
Area : 680 m²
French text:
le nouveau Business Center de l'EuroAirport
NOUVEAUX SALONS DE RECEPTION DE TYPE LOFT SOUS LES " BRANCHAGES "
Comment créer un espace de tranquillité et de travail au sein du tumulte d'un aéroport international?
Serero Architectes ont conçu pour le nouveau Business Center de l'EuroAirport un espace élégant et fonctionnel en accrochant une plateforme en bois sous les branchages spectaculaires de la structure du terminal. Dix salons de travail et de réception, intégrant vidéo-conférence et écrans de présentation interactifs ont été organisés dans la longueur de la plateforme de manière efficace.
Ce nouveau pôle renforce le positionnement stratégique de cet aéroport situé à la frontière exacte entre la France et la Suisse en permettant des réunions physique dans une zone de transit et en téléprésence d'acteurs éloignés. " L'enjeu du projet, explique David Serero, est d'intégrer cette nouvelle plateforme à la structure complexe du bâtiment tout en conservant la transparence et la luminosité de l'atrium de l'aéroport. Notre projet met en œuvre une structure légère et compacte pour affiner à sa limite maximale l'épaisseur de la plateforme tout en respectant les contraintes sismiques de ce lieu "
La plateforme du Business Center est positionnée dans la logique des retraits successifs des étages sur le hall de l'aéroport. L'accès au Business Center a été mis en scène par une par une passerelle qui traverse l'atrium de l'aéroport en biais à partir des circulations verticales existentes.
Une coursive périphérique ouverte sur l'atrium de l'aéroport dessert tous les salons. Afin d'éviter une offre d'espaces trop normés et identiques, chaque salon sera traité de manière singulière et aménagé individuellement. La sous-face de la dalle est un habillage en acier poli miroir ; réfléchissant la lumière naturelle et les avions des pistes à l'intérieur du hall.
TRANSPARENCES/ BALISAGES
Les cloisonnements du Business center sont traités en verre de nature différente : verre transparent, verre sablé , verre coloré et verre à cristaux liquides, en fonction du niveau de lumière et d'intimité demandé par les utilisateurs. C'est donc un volume transparent qui transmet et diffracte la lumière naturelle dans le hall de l'aéroport.
Le Business Center est à la fois visible depuis le rez-de-chaussée de l'aéroport tout en préservant un espace en retrait des flux importants de l'aéroport. Le niveau d'activité du Business center est mise en scène dans le hall de l'aéroport par un dispositif de " balises " lumineuses. Le long des coursives, des bandes lumineuses vertciales de 2,20 m, sont illuminées par des LEDs tricolores. Le niveau d'éclairement et la couleur de chacune des balises est contrôlé électroniquement et changera en fonction des événements du Business Club, de son activité, ou de l'occupation des salons.
BUSINESS CENTER EUROAIRPORT : Création du business center dans l'aérogare de l'Euroairport, Mulhouse, France
Projet Lauréat
Architectes: David Serero, Fabrice Zaini, Engineers: OTE
Site: Aéroport Bâle – Mulhouse, France
Client: Chambre de Commerce et d'Industrie Sud Alsace Mulhouse
Surface: 680 m²
Le nouveau Business Center de l'Euroairport de Bale / Mulhouse images / information from Serero Architects
Location: Mulhouse, Switzerland
Architecture in Switzerland
Swiss Architecture Designs – chronological list
Architectural Walking Tours by e-architect
Swiss Buildings – Selection
Ispace Installation, Rossa, Moesa Region, canton of Graubünden
Design: Davide Macullo Architects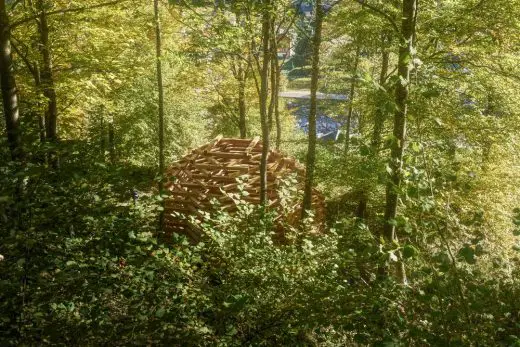 photo : Corrado Griggi
Ispace Installation Rossa
Weltpostpark site buildings, Bern
Design: SSA Architekten, Basel, Switzerland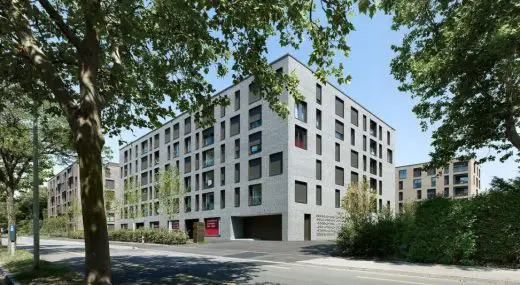 photograph © Ruedi Walti
Weltpostpark residential buildings Bern
Kunsthaus Zürich extension
David Chipperfield Architects
Kunsthaus Zürich Extension
Swiss Museum of Transport, Lucerne
Gigon/Guyer Architekten
Swiss Museum of Transport
Cocoon EMEA Engineering Hub
Camenzind Evolution
Cocoon Offices Switzerland
Comments / photos for the Euroairport Business Centre – Mulhouse Architecture page welcome