Woodland Cemetery Crematorium Competition, Swedish Building, Project, News, Design, Image
Woodland Cemetery Crematorium : Architecture Contest Sweden
Woodland Cemetery Crematorium Competition
28 Oct 2009
Woodland Cemetery Stockholm
The City of Stockholm invites to architecture competition about a new crematorium at the Woodland cemetery. Five architecture offices/teams are now selected for the competition.
The Stockholm Cemetries Administration has decided to select five architecture offices/teams for the invited architecture competition for a new crematorium the Woodland Crematorium II at the Woodland Cemetery.
Woodland Cemetery Crematorium Competition Shortlist
Caruso St John Architects LLP, Great Britain
White arkitekter AB, Sweden
BIG ApS, Denmark / Topotek 1, Germany
Johan Celsing arkitektkontor AB, Sweden/ Müller Illien Landschaftarchitekten, Switzerland
Tadao Ando Architect & Associates, Japan/KacicLidén Landscape Architect, Italy
Woodland Crematorium Competition Entries – Anonymous: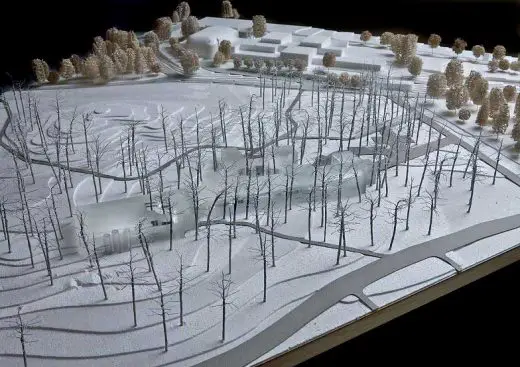 On behalf of the City of Stockholm, the City Cemeteries Administration is arranging an invited international architectural competition for a new crematorium at the Woodland cemetery, listed as a World Heritage Site by UNESCO. The new crematory is to complement Gunnar Asplund's world-famous Woodland Crematorium dating 1940. Up to five architects will be invited to the competition.
The Woodland Crematorium has managed to operate according to the original concept over the years, thanks to the continual renewal of its technical facilities. Now, however, the increasing demand for higher standards of technical performance and in the working environment mean that the existing crematorium in Gunnar Asplund's building can no longer be modernized without causing unacceptable changes to his original concept and design.
The City Cemeteries Council has therefore decided to move the entire cremation facilities to a new building alongside Asplund's, while yet permitting the necessary functional and technical connections. Asplund's original building with its three chapels will continue as the setting for ceremonial services as before and the new building will be located at a respectful distance so as not to harm the current crematorium's setting in the Woodland landscape.
The primary competition task is to design a building for this facility in accordance with the Woodland Cemetery adding chapel tradition, as designed in landscape and buildings by Gunnar Asplund and Sigurd Lewerentz. The new building has to fit in that composition in such a way that the World Heritage status is unaffected.
In addition to its necessary technical functions, the new building must also have the qualities of symbolic and sacred expression to receive mourners. It is a matter of the utmost architectural delicacy to design a new building in the setting of Asplund's Woodland cemetery.
The City is looking for architects to participate in the competition with a close understanding of Asplund's architecture and the new building demands the same level of timeless design, simplicity of material and mastery of detail within a limited budget as the original composition.
The competition ran between June 1st and September 30th 2009. The entries will be judged by a jury representing the City Cemetery Administration, the City Museum and the Swedish Association of Architects.
Sigurd Lewerentz + Gunnar Asplund
Location: Woodland Cemetery, Stockholm, Sweden, northeast Europe
Architecture in Sweden
Swedish Architecture Designs – chronological list
Swedish School of Architecture
Stockholm Building Competition
Comments / photos for the Woodland Cemetery Crematorium Competition Swedish Architecture page welcome