Dreamscape at ICEHOTEL 365 Project, Swedish Building, News, Design Sweden, Image
Dreamscape at ICEHOTEL 365 Project
Swedish Architecture: Jukkasjärvi Building – design by atmos, architects
6 + 3 Dec 2016 – more images online
Dreamscape at ICEHOTEL 365 Project in Jukkasjärvi, Sweden
Design: atmos, London
Dreamscape installation by atmos at ICEHOTEL 365 Project in Jukkasjärvi, Sweden
Dreamscape : an arctic nocturne a new art room by atmos, for a new ice hotel – at ICEHOTEL 365, Jukkasjärvi, Sweden
atmos reveals radical design for ICEHOTEL bedroom with sculptural 4-poster bed accessed by ice stair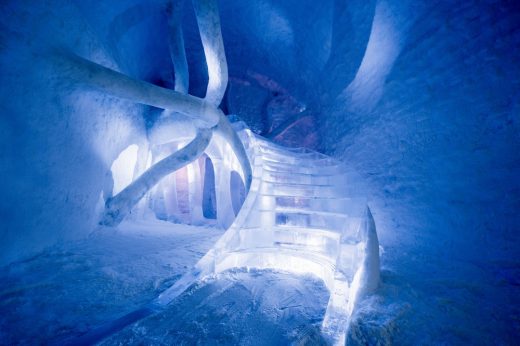 photo : Asaf Kliger
Jukkasjärvi, Sweden – London art-architecture studio atmos has just opened Dreamscape, a new type of hotel room for a new type of Ice Hotel – the '365' at ICEHOTEL Sweden, which will offer its guests icy escapes all year round.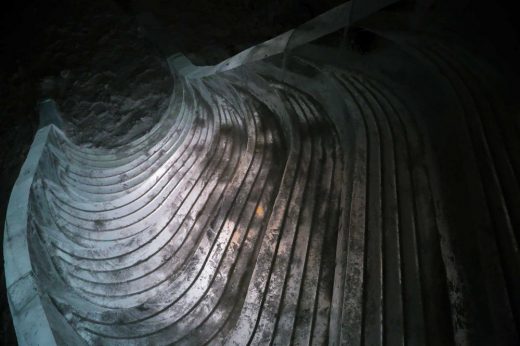 Dreamscape presents an entirely new form of art suite, physically dramatising the mental journey into sleep and dreams. A carpet of ice welcomes the visitor at the door, and whisks them up a dramatically curling ice stair (imprinted with an intricate unfurling pattern of radiating 'grip' grooves), widening to become a welcoming bed held aloft far above the floor. Ice tentacles burst from the rear wall of the room to frame the bed, curling downwards as sculptural columns that bury into the snowy floor, or as pincers that carry the stair treads towards the door. Snow tentacles rise like unleashed four-poster-bed columns, and melt sideways into ceiling and walls, diving like ceremonial worms around the ice stair, protecting the new views afforded by the elevated vantage point.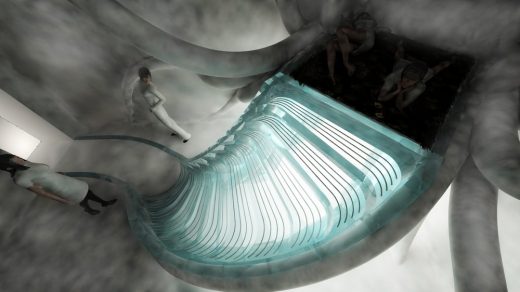 "We realised that the thrilling austerity of the room furnishings (there's nothing in any room except for a bed) would allow us to focus on that great unspoken and unrevealed experience that we each share each night – the journey into our psyche." explains atmos director Alex Haw. "Our design visualises the drama of that nocturnal journey we all partake in, enwrapped in our neural pathways, journeying through magical spaces we've never before experienced. We wanted to use the materials at hand in an architectural way – spatially and structurally – to express that inner architecture that connects us all."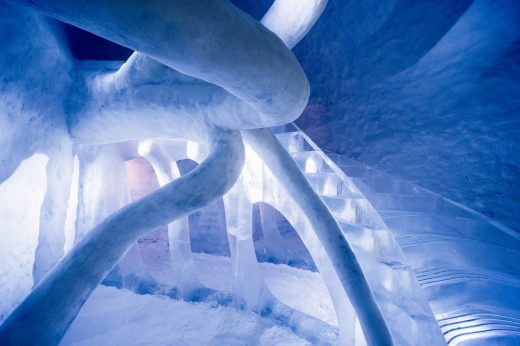 photo : Asaf Kliger
The project pushes the use of snow and ice to new limits, with each stacked ice step spanning ever greater distances as the stair widens from the width of the door to the double bed above. The structural ice side beams are then themselves carved back as far as possible into thin, sinuous, organic columns that enable all the vast weight held aloft above to appear to float in mid air. Visitors are encouraged to side-step the stair and explore the intricacy of the icy columnar construction, and the drama of the wider room.
Each ice step was carved from vast slabs of 200-millimetre-thick ice that weighed up to 400kg. Each slab was initially sawn from larger blocks by 2 vast conveyor-belt chainsaws, and then grooved with the intricate geometry of its outline and radiating grip grooves by a CNC machine (an atmos trademark), which provided the guide for the final tread to be hand-carved by chainsaw – and glued with water.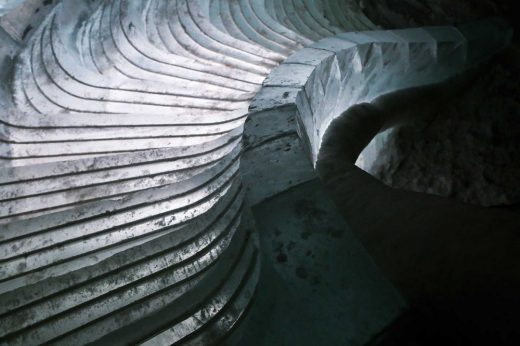 The project is constructed entirely from water – from either freshly fallen snow, or fresh water from the local Torne River (which was still flowing just past the site until one week after Haw and his colleague Aditya Bhatt arrived to start building), harvested as ice building blocks once It freezes in winter, and archived in a giant local ice store for use the following winter.
"It was an exhilarating journey into the unknown" says Haw of the constructional process. "We learned a new tool, technique and process almost every day, and discovered some of the great mysteries and intricacies of this extraordinary material. As the only "ice-rookies" on the team, we were grateful for the opportunity to contribute to this incredible project; to the vast opportunity it offered to learn, exchange and absorb; and to the wider team of fantastic artists and support staff for all their help and encouragement. I've always been fascinated by the idea of architecture as frozen music; here, we've literally been building a frozen architecture, which will slowly thaw and release its melting music – at a rate no one in this world yet knows."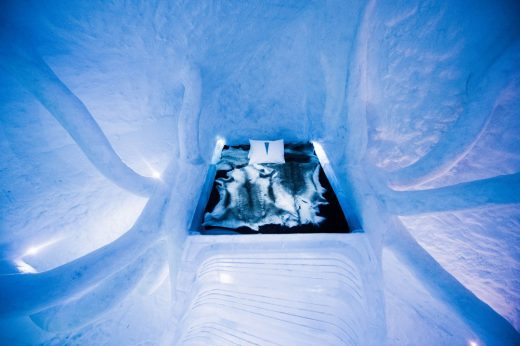 photo : Asaf Kliger
Dreamscape at ICEHOTEL 365 Project in Sweden – Background Information
Dreamscape
Dreamscape is an installation by atmos as one of the 20 bedrooms within the larger ICEHOTEL 365 Project in Jukkasjärvi, Sweden. It consists of an exuberant sculptural ice stair that leads to an elevated bed enshrouded by reinforced-snow tentacles.
dreamscape by atmos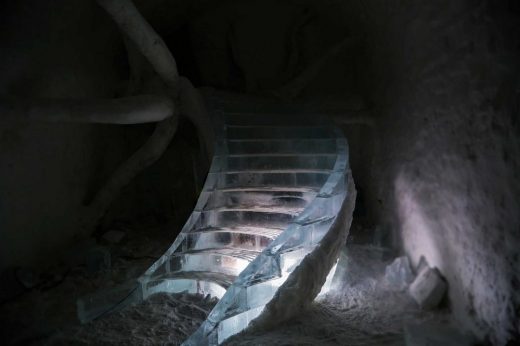 atmos
Atmos is an award-winning art/architecture studio based on Brick Lane, London. They produce highly-bespoke sculptural art and architecture, specialising in art installations and bespoke private homes. They create highlycrafted sensual spaces and designs that deploy cutting-edge fabrication technologies, producing innovative experiences that are sensual and practical, meaningful and beautiful. They'd never designed with snow and ice before, and love new challenges.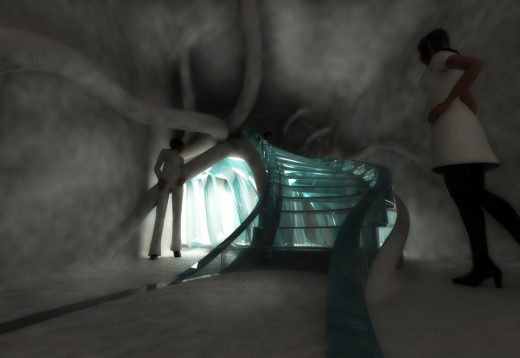 Alex Haw
atmos Director Alex Haw studied at the Bartlett (UCL) and Princeton on a Fulbright, and worked for a large number of great architects (Diller+Scofidio, Richard Rogers, Nicholas Grimshaw) before realising he couldn't work for anyone else. He taught architecture at the Architectural Association (including studios based on rain, gas, light and the moving image as architecture), the Royal College of Art, Cambridge University and TU Vienna. He writes and lectures widely, has run weekly crowdsourced dinners serving global food ('Latitudinal Cuisine") for 7 years, runs the occasional transcendental party, and rarely sleeps.
Alex Haw
ICEHOTEL
The ICEHOTEL was the world's first Ice Hotel, begun in 1989. It is located in Jukkasjarvi, 17 kilometres outside Kiruna, Sweden, some 200km north of the Arctic Circle, and harvests its building and art material directly from the adjacent Torne River, which widens to demarcate the border between Sweden and Finland before eventually discharging South into the Baltic Sea. Snow and Ice are harvested before the river ice melts in the spring and stored over the summer in a local ice storage unit (powered by solar electricity and warmed by geothermal energy) before being used the next winter to create a complex offering 80 rooms and suites. The building utilises 100,000 tons of ice and 30,000 tons of snow (about 700 million snowballs) – 1,000 tons of which are prevented from rejoining the Torne River & instead are frozen and recycled into the following year's hotel.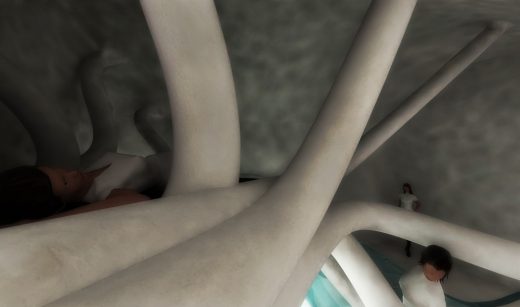 ICEHOTEL 365
365 is a world first – the only Ice Hotel of its kind projected to run all year round, 365 days a year, and thus offer ice and snow to even midsummer travellers. The 2,100m2 building contains a vast central Ice Bar and a corridor leading to 20 artist-designed rooms and suites. It uses a highly innovative series of custom cooling technologies to keep its thick snice walls chilled throughout the year, and thick layers of insulation beneath an undulating green roof that invites the summer visitor to climb and explore its landscape beneath the sleepless midnight sun.
Dreamscape artists Alex Haw & Aditya Bhatt: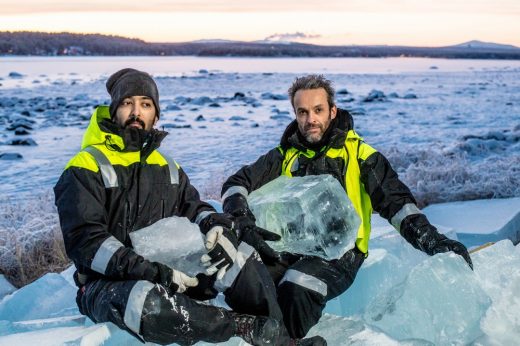 photo : Asaf Kliger
Dreamscape at ICEHOTEL 365 Project in Jukkasjärvi images / information from atmos
Location: Jukkasjärvi, Sweden
Architecture in Sweden
Swedish Architecture Designs – chronological list
Swedish Architecture Walking Tours
Tree Hotel – Concept in northern Sweden
Design: Tham & Videgård Arkitekter
A tree hotel in the far north of Sweden, near the small village of Harads.





Tree Hotel Sweden images from the architects
Swedish Architecture – Selection
Nacka Port Block
Design: Kjellander + Sjöberg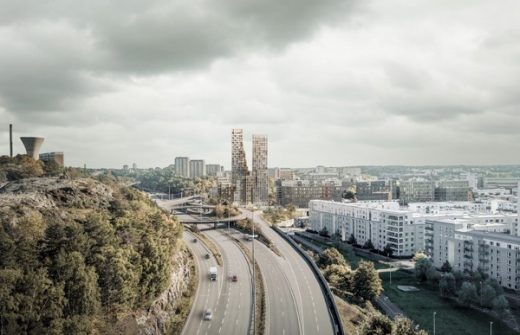 image Courtesy architecture office
Nacka Port Block Building Design
Globe Arena, Stockholm
Design: C.F. Møller Architects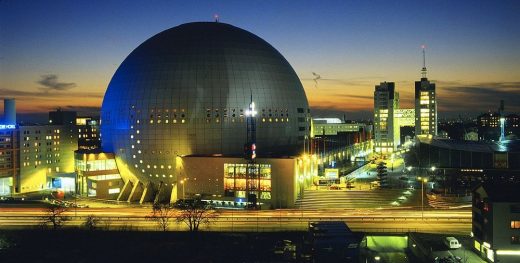 image from architects
Globen Stockholm
Ramundberget Resort Building
Website: Sweden
Comments / photos for the Dreamscape at ICEHOTEL 365 Project – New Swedish Architecture page welcome
Dreamscape at ICEHOTEL 365 Project Harads Building
Website: Tree Hotel in Sweden