Albacete Building, Salburúa Architecture, Images, Architect, Centre, Design
Centre New Entrepreneurs Albacete
Contemporry Basque building design by QVE arquitectos, Spain
3 Sep 2008
Centre New Entrepreneurs
Location: Albacete, España
Date built: 2008
Design: QVE arquitectos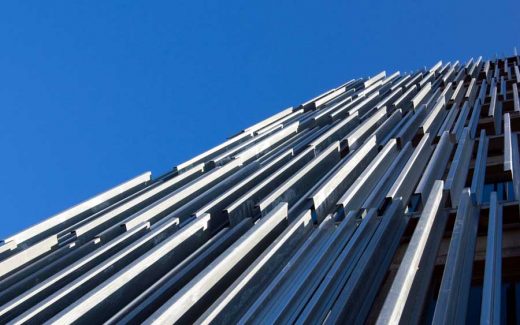 photograph: Eduardo Moratinos
QVE – MINIMUM CURRICULUM
josé maría GARCÍA DEL MONTE and ana maría MONTIEL (1972) are Architects from the Polytechnic University of Madrid, respectively graduated in 1997 and 1998.
josé maría GARCÍA DEL MONTE has been a Doctor by the Higher Technical School of Architecture of Madrid (2006, with a thesis on the work of Paulo Mendes da Rocha) and Associate Professor of Architectural Projects at it since 2000. They founded the studio QVE arquitectos in Madrid in 1998.
Creation and commissioning in 2003 of the Madrid Architecture Competition Office (OCAM), which has been run from 2003 to 2007, having organized in that time more than 50 ideas competitions, including practically all the most important of The last years in Spain, such as the International Convention Center of the City of Madrid, the VIVA Project of 5688 protected homes for the Ministry of Housing, the headquarters of the National Museum of Architecture and Urbanism in Salamanca, the ordination and various buildings of the Madrid Campus of Justice or the new headquarters of the Madrid College of Architects.
We are architects and we want to build. The effort to build has led us to an involuntary specialization in public works: almost all the assignments we have obtained by winning open ideas competitions, which is the way to get work for those who enter this world without having any contacts or clients who can commission us nothing.
The most relevant projects of the study are:
New Market of San Antón (Madrid); Project of execution in 2007, commencement of works in January 2008.
Fairground in Villanueva de la Cañada (Madrid); first prize in open ideas competition in 2004, project in 2006; pending tender.
Business incubator for CEEI-Albacete; first prize in open ideas competition in 2002, project in 2003; End of first phase works in 2006, second in 2008.
Center New Entrepreneurs Albacete, Nature Interpretation Center in Salburúa (Vitoria); first prize in open ideas competition in 2001, project in 2003; work completed in 2008.
Restoration of the Collegiate Church of San Miguel de Alfaro (La Rioja); multi-phase process started in 2001; executed the first phase (2006), executing the second and in the process of drafting the third project. Expected end at the end of 2008.
Institute of Secondary Education in Aceuchal (Badajoz); first prize in open ideas competition in 2000, project in 2001, end of works in 2002.
Bioclimatic single-family homes in the Ibaiondo sector (Vitoria); first prize in open ideas competition in 1999, project in 2005; in construction.
CEEI-AB – EUROPEAN CENTER FOR BUSINESS AND INNOVATION IN ALBACETE
AUTHORS:
josé maría GARCÍA DEL MONTE and ana maría MONTIEL JIMÉNEZ (QVE ARQUITECTOS)
COLLABORATORS:
rafael VALÍN ALCOCER, project surveyor and construction manager
GEA S.L., facilities
Solar energy advisers: Coener Systems
DATES:
open ideas competition, September 2002
execution project, January to October 2003
construction, July 2004 to January 2008
CONSTRUCTION COMPANIES:
Ferrovial – Agromán (first phase)
Eiffage Ibérica (second phase)
Construcciones Pedro Haro (urbanization)
PROMOTER: Employment Area of the Albacete City Council
SITUATION: Avenida 4ª s / n, Polígono Industrial Campollano, Albacete
BRIEF DESCRIPTION OF THE PROJECT:
A business incubator is a place of opportunity; Spatially, it is nothing more than a rational set of offices with variable distribution, plus common services that are appraised but generous.
The rough place: a knot of highways, an elevated bridge, the distorted shape of the plot… it is necessary to try to erase the trace of these tensions and, thanks to this, fit into the place; We are not faced with a valuable urban fabric, but rather with a chance before which not to be intimidated, but to assert oneself as a necessary option to make architecture.
In this harsh environment, the objective is to build a serene building in a pleasant environment and give away, even if it is minimal, something of citizen life that does not exist. Thus, the cafeteria is segregated, which is proposed as an associated area, a place "to which one leaves" to leave behind for a few minutes the tension of work; that "give the air in the face", that relaxing at work does not consist of taking an elevator and moving around the same homogeneously air-conditioned, aseptic and disinfected environment. Life, the more complex, the more (and better) life is.
The organization of plants, contradictory: work modules practically to the north, server spaces to the south, as a regulatory frontier against an overheating problem, more worrying in the place than the winter cold. Hence the northwestern latticework, which has become the most characteristic image of the building and which, despite its relative complexity, has been the most exactly executed game.
Because the most surprising thing about this building is that, despite the carelessness accumulated in its first phase of construction, it hardly suffers from that lack of care so characteristic of construction companies. The final result, the passage from paper to reality, is the sum of random events, errors, oversights, discussions, endurance capacity and, finally, strategies for taking advantage of a bad situation to return it in favor of the work.
Drawing strength from weakness, that difficult point has been reached in which, in sheer roughness, the work is attractive and necessarily naked. All direct, without shaves, necessarily expression of a process. Nothing else.
CELOSÍA IN FACADE:
The lattice is constructed in an artisanal way from a selection of elements of the profiling catalog: LD laminates as support bushings and linear support and ZF-shaped as a vertical element of latticework. Its execution therefore corresponds to a guild, not constituting an orthodoxly developed commercial product, but rather a prototype.
It is a response to the need to protect a northwest façade from direct sunlight in the hottest months (a very important problem in this location), which is why a latticework is built, which in turn generates the characteristic image of the building, and manages to respond to the demands of visibility (ZF profiles allow total protection in the south direction and visual permeability from the interior of the building of the order of 70% to the north) and representativeness (in this dry environment the tower stands out as a shed metallic that contrasts and at the same time rhymes with the industrial tone of the polygon in which it is located).
The lattice is built with ZF series galvanized steel profiles of three different measures (120.2, 200.2 and 300.2.5 in an approximate ratio of 35/35/30% respectively) anchored to a double longitudinal profile LD 200.100.10 also galvanized. This framework is held in place by bushings made from laminated profile L 200.16, 400mm long, which in turn are anchored by chemical plugs to the exposed concrete structure, which is veiled behind the facade plan. As a whole, therefore, a homogeneous plan of approximately 30 tons of steel is built, punctually fastened at each intersection of the structure and slightly separated from the facade.
The position of each profile is determined by the size of the one next to it: sun protection has been provided until seven o'clock on the summer solstice, in such a way that the shadow cast dictates a maximum separation at which You must place the following profile. In this way, three profile sizes are combined with three separations between them, thus resulting in a simple but effective combinatorial system that causes a significant vibration on the facade.
It only remains, therefore, to refer to the existence of an underlying code that dictates the order of succession of profiles: although it might seem the opposite, this vibration is not the result of chance, essentially irreproducible, but of a precise geometric criterion resulting from the study of sunbathing. and of a rigid rule of composition in which, unleashing the triggering causes of the facade rhythm, nothing is left to arbitrariness.
PHOTOGRAPHS:
Eduardo Moratinos (info(at)esmuz.net) and QVE arquitectos
Centre New Entrepreneurs Albacete images / information from QVE arquitectos
QVE ARQUITECTOS studio based in Madrid
Location: Albacete, Spain
Architecture in Spain
Spanish Architecture Designs – chronological list
Architecture Walking Tours by e-architect
Another Albacete Building on e-architect:
Easter Sculpture Museum
Exit Architects
Easter Sculpture Museum
Spanish Architecture – Selection
Agbar Tower
Jean Nouvel Architects
Spanish Building
Centre for the Interpretation of Rivers
José Juan Barba Arquitectos
Centre for the Interpretation of Rivers
La Cisnera Community Centre, Tenerife
gpy arquitectos
La Cisnera Community Centre
Comments / photos for the Centre New Entrepreneurs Albacete Architecture page welcome