Casa Amalia, Formentera Property, Residential Building Photos, Design, Spanish Home Images
Casa Amalia: Formentera house
Balearic Islands Property, New Home in Spain – design by marià castelló
13 Sep 2010
Formentera home
Casa Amalia
Detached house redevelopment, Formentera, Illes balears, España
Date: 2010
Design: marià castelló arquitecte
White house in Formentera Island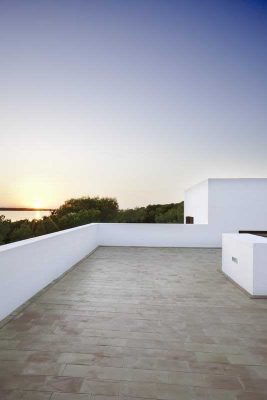 Casa Amalia Formentera
Location: Formentera
End of work: 2010
Photography: Lourdes Grivé + Marià Castelló
English text (scroll down for Spanish):
Casa Amalia is located in the area known as "Es Ram" near Es Caló des Mort, on the southern coast of Formentera island. This is a small plot of 2000 m2 with very developed pines with moderate slope to the south and to the best visual: Migjorn beach and the cliffs of Cap de Barbaria in the background. The briefing was to amend an existing building of 143 m2, constructed in at least two phases between 1970 and 1990, to adapt it to the new functional program posed by the property.
Since the urban classification of the parcel on which the house is situated has very restrictive parameters, the project could not alter the built area or existing volume.
Before the intervention the construction had a highly fragmented plant, unclear in the program management and presented areas of relationship quite introverted, with little relation to the splendid natural environment that surrounds it.
The reform carried out between 2008 and 2010 has carved into the existing mass to get the new program looking for fluidity between spaces, as well as refinine the surface bound itself to get the austerity look of the island's local architecture with a contemporary language.
Downstairs can be found the unified relational spaces (living room – kitchen – dining room), the master bedroom with its correspondents dressing room and bathroom, and a multipurpose room with access to the storage and service areas. On the first floor there is a second double bedroom with bathroom and a terrace with wonderful views.
The main volumetrical intervention has been to rethink the way the building contacts with the ground. That is, transform the given set of steps and different floors without any harmony, into a platform that embraces one side of the building, protecting it from the water runoff, and on the other side separates the house from the natural terrain giving shape to the terraces-viewpoint.
In order to achieve greater harmony and mix the original substrate with the new work, a limited palette of materials has been used. This are essentially a capri limestone pavement, gypsum in partitions, ceilings and vertical walls remaining, water-resistant MDF board laquered in white for custom made furniture, synthetic quartz plates in white and transparent laminated glass in the bathrooms, and natural sandstone for individual pieces.
Most of the furniture was custom made to achieve a better conciliation with the architecture. The rest consists on pieces from different periods like original Thonet chairs or the Na Xamena couch from Gandia Blasco.
Spanish text:
Casa Amalia se emplaza en una una zona denominada "Es Ram", cerca des Caló des Mort, en la costa sur de la isla de Formentera. Se trata de una pequeña parcela de 2000 m2 poblada de pinos muy desarollados con pendiente moderada hacia el sur y hacia las mejores visuales: la playa de Migjorn y los acantilados de Es Cap de Barbaria al fondo.
El encargo consistía en reformar una edificación existente de 143 m2, construida en almenos dos fases entre 1970 y 1990, para adaptarlo al nuevo programa funcional planteado por la propiedad.
Dado que la calificación urbanística de la parcela en la que se situa la casa establece unos parámetros muy restrictivos, el proyecto no podía alterar la superficie construida ni la volumetría existentes.
El estado previo a la intervención presentaba una planta muy fragmentada, poco clara en la ordenación del programa y con espacios de relación bastante introvertidos, sin apenas relación con el espléndido entorno natural que lo rodea.
La reforma llevada a cabo entre 2008 y 2010 ha esculpido en la volumetría existente el nuevo programa buscando fluidez entre espacios diáfanos, así como depurando la envolvente superficial para otorgarle la austeridad propia de la arquitectura popular de la isla, con un lenguaje contemporáneo.
En planta baja se encuentran los principales espacios de relación unificados ( estar – comedor – cocina) así como la habitación principal, con vestidor y baño propios, y una sala multifuncional con acceso a la zona de almacenaje y servicio. La planta primera aloja otro dormitorio doble con baño así como un solarium con espléndidas panorámicas.
La operación más importane a nivel volumétrico ha pasado por replantaear el modo en que el edificio entraba en contacto con el terreno. Es decir, transformar un conjunto de escalinatas y differentes pavimentos sin ningún tipo de armonía, en una plataforma que por un lado abraza la edificación, evitando que lleguen las aguas de escorrentía, y por otro la separa del terreno natural configurando terrazas‐mirador.
Con el objetivo de lograr una mayor armonía y homogeneizar el sustrato original con la obra nueva, se ha utilizado una reducida paleta de materiales que son, fundamentalmente, un pavimento de piedra caliza capri, revestimientos de yeso en tabiquería, techos y resto de cerramientos verticales, tablero de DM hidrófugo lacado en blanco para el mobiliario hecho a medida, placas sintéticas de cuarzo en color blanco y vidrio laminado transparente en los baños y piedra arenisca natural para piezas singulares.
La mayoría del mobiliario se ha realizado a medida para lograr una mayor conciliación con la arquitectura. El resto lo conforman piezas de differentes épocas como sillas Thonet orginales ó el sofá Na Xamena de Gandia Blasco.
Casa Amalia Formentera – Building Information
Casa Amalia. Reforma de vivienda unifamiliar aislada en Formentera
Casa Amalia. Detached house redevelopment in Formentera
Emplazamiento / location: Es Caló des Mort, Formentera, Spain
Promotor / promoter: Privado / Private
Arquitecto / Architect: Marià Castelló Martínez
Colaboradores / collaborators: Sonia Iben Jellal, Marí‐Balaguer Arquitectos y Marga Ferrer
Constructor / builder: Los Kibicos S.L. y Jorge Thuiran
Proyecto / project: 2008-10
Final de Obra / end of work: 2010
Superficie / area: 143 m2
Fotografía / photography: Estudi EPDSE
Formentera home images / information from marià castelló arquitecte
Location: Es Caló des Mort, Formentera, Spain
Spanish Buildings
Contemporary Spanish Architectural Projects
Spanish Architectural Designs – chronological list
Spanish Architecture Practices
Marià Castelló, arquitecte studio based in formentera, Illes balears (Balearic Islands)
Designs by Marià Castelló Arquitecte, mostly in the Balearic Islands, Spain:
8×8 House, Estany des Peix, Formentera, Illes balears, España
8×8 House Formentera
Barcelona house interior, Catalonia, España
Barcelona house interior – latest Marià Castelló design online
Can Simon, Marià Castelló, Formentera, Illes balears, España
Can Simon Formentera
Es Pujol de s'era, Camí Vell de la Mola, Formentera, Illes balears, España
Es Pujol de s'era : Home – Office in Formentera island
Torre de la Gavina, Punta de la Gavina, Can Marroig, Formentera, Illes balears, España
Torre de la Gavina Formentera
Spanish Architecture – Residential Selection
The Desert House, Guadix, Granada, Andalusia, southern Spain
Design: OFIS arhitekti and AKT II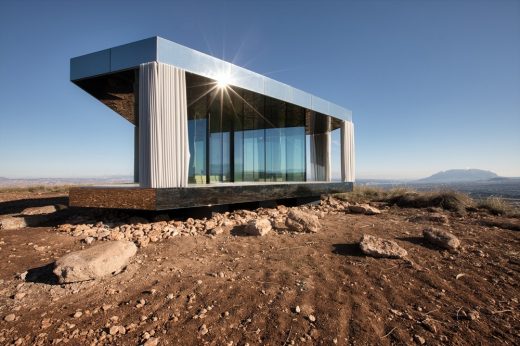 photo © Gonzalo Botet
The Desert House, Guadix
Country House, Morna Valley
DeBlacam & Meagher
Ibiza Country House
Redondela house, Pontevedra
irisarri-piñera
Redondela house
Comments / photos for the Casa Amalia – Formentera Architecture page welcome
Formentera House Building
Website: Formentera