Saltire Awards 2007, Scottish Housing, Results, Exhibition
Saltire Awards Scotland 2007
Scottish Housing Design Prize: Residential Architecture in Scotland
15 Aug 2007
Saltire Awards 2007
Saltire Awards presented by Culture Minister Linda Fabiani, with lecture by Professor Isi Metzstein
Saltire Housing Awards 2007 winners
Awards
St Vincent Place, Edinburgh – Reiach and Hall & Oberlanders Architects
Upper Strand, Granton Waterfront, Edinburgh – Reiach and Hall & Elder and Cannon
The Cottages, Silverhills, Rosneath – Anderson Bell Christie
Commendations
Telford Drive, Edinburgh – gm+ad architects
Princess Gate, Edinburgh – Malcolm Fraser Architects
George Place, Greenan – Austin Smith: Lord
Smithy Houses, Smithy Brae, Kilmacolm – ATA studio
Miller Street, Hamilton – Hypostyle
70 Hill Street, Garnethill, Glasgow – Elder and Cannon
Special Mentions
27 Hermitage Gardens, Edinburgh – David Blaikie Architect
Main Street, Mossend – Collective Architecture
Saltire Housing Design Awards Exhibition : Test of Time
was until 23 Aug
Saltire Awards Exhibition 2007 : Test of Time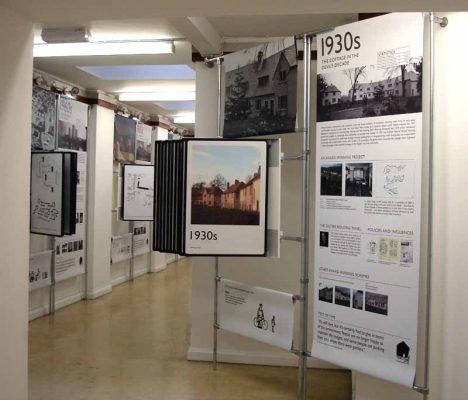 photo : Penny Lewis
Saltire Society Housing Design Awards
Details: 0131 556 1836
ARTS AND CRAFTS IN ARCHITECTURE 2007 AWARD
Saltire Awards Panel
Tony Franks – Convener/Ceramicist
Ian Arnott – Architect
Gillian Forbers – Stone Carver
Glen Onwin – Painter
Roan Rutherford – Architect
Arthur Watson – Sculptor
Saltire Society Housing Design Awards
News Release 30.07.07
The Test of Time
Scotland's Prize-winning Housing 1937-2007
A Retrospective Exhibition
Edinburgh College of Art 4-23 Aug
It has been seventy years since the Saltire Society created the United Kingdom's first annual housing design awards. To celebrate, Scotland's leading cultural organisation has arranged an exhibition which will showcase the best in Scottish housing design, from the earliest winning entries up to the present day.
From John A.W. Grant's enduring model mining village of the 1930s to Sir Basil Spence's ill fated 'Hutchesontown C' tower block, the exhibition will review the changing character of housing in Scotland over the past decades. Visitors will gain access to a range of exhibits including original archive images, on-camera interviews with residents of award-winning schemes and contextual material explaining the changing faces of both housing policy and development, and domestic life over the years.
The early Saltire housing panel combined a genuine interest in the modernising programme of post-war reconstruction with an aspiration to preserve parts of Scotland's built heritage. Significant individuals involved in the Society included Alan Reiach, Robert Mathew and Robert Hurd. In their book Building Scotland: A Cautionary Guide (1914) Hurd and Reiach clearly expressed the society's hopes of the time, appealing for a compromise between modernism and traditionalism, whilst shunning both the Victorian age for its "balmorality"and free-market individualism and the machine austerity of extreme 'functional' modernism.
"Whether in village or town, the building of our ancestors had a sturdiness, simplicity and charm well suited to the Scottish scene. Few of us could honestly say the same of the buildings of modern times."
The exhibition will run from August until October, touring between three major Scottish cities. Launched at Edinburgh College of Art in August 2007 as part of the festival programme, it will then go on to show in Aberdeen, ending in Glasgow in October to coincide with the annual Saltire Awards ceremony.
Karen Anderson, member of the Saltire Panel said:
"In days when long-term sustainability is paramount, it is important to reflect on the last 70 years and establish what qualities ensure longevity and make housing and places that will stand the Test of Time. It appears that housing has replaced Education as the key priority of our government and although the provision of Affordable Homes is far from a new pre-occupation, but there are specific challenges; new challenges that face us now. The huge market values of housing in rural areas and in our cities has led to an affordability gap which threatens to exclude the young from their own communities.
"Badly designed and sited housing, whether 'affordable' or not can widen social gaps and potentially detract from our precious built heritage and landscapes. We therefore need to concentrate our energies on designing housing that is truly integrated; that responds to context and enhances the communities within which it is located- physically and socially. Well designed housing can 'mend' fractured townscape and sensitively extend new settlements. Such development requires streets that are children, pedestrian and cycle friendly, not housing layouts determined by roads standard."
For more information please contact Penny Lewis, Curator: 07817825849
The Test of Time: 70 Years of Saltire Housing Awards touring exhibition schedule:
Edinburgh College of Art, Lauriston Place or Lady Lawson St
0870 241 0136
4-23 Aug, 10 am – 6pm daily
Marischal Museum, University of Aberdeen, Marischal College, Broad St, Aberdeen
01224 274301
5-28 Oct, 10 am – 6 pm daily
Glasgow in November
The Test of Time exhibition was made possible thanks to generous donations from the following sponsors: CCG, The Scottish Executive, Eastern Exhibition & Display, Communities Scotland, AMA Homes, RCAHMS, Edinburgh College of Art, Glasgow City Council, Raploch, The City of Edinburgh Council, Austin-Smith:Lord, Cruden Building and Renewals, Ayrshire Housing, The Burrell Company and RMJM. Also with special thanks to: Elder & Cannon, Reidvale Housing Association, Halliday Fraser Munro and Jacobs.
Founded in 1936 by a small group of intellectuals with the aim of ''arousing a critical appreciation of the arts in Scotland, '' the Saltire Society is an organisation dedicated to promoting the Scottish culture and environment. Known for its endorsement of excellence through a variety of national awards in many fields, including literature, music and civil engineering, it also seeks to influence decision makers and national policy in Scotland, through a network of local groups.
Saltire Housing Design Awards Entries deadline was 25 Jun
Saltire Awards 2007 – Terms of Entry
1. Work must:
a) be located in Scotland
b) have been completed within the period 1st April 2005 to 31st March 2007 inclusive
c) be an intrinsic part of a building or group of buildings.
2. An entry form must be completed for each entered work (photocopies will be accepted) and be accompanied by not more that six photographs (mounted as specified below) of not less than 20cm x 15cm in size and a location map to enable the Panel to find the work without difficulty from a main road. Photographs, map and date of entry must be mounted on not more than two A2 (60cm x 42cm) light weight boards.
3. Each board should be clearly marked with the name and address of the entrant, the date of completion of work and the name of the artist and commissioning body or person. Any other information for the purposes of press publicity, e.g. biographical notes, etc., should be given on an A4 typed sheet containing not more that 200 words.
4. A fee of £35 must accompany each entry.
Saltire Awards 2007 – Submissions
The Administrator, The Saltire Society, 9 Fountain Close, 22 High Street
EDINBURGH EH1 1TF
Queries: Kathleen Munro – [email protected] / 0131 556 1836
Saltire Awards: 2006 Winners
Awarded:
Three Seton Mains, Longniddry
Paterson Architects
Signal Station House, North Queensferry
ICOSIS Architects
Highly Commended:
Housing at Cramond, Phase 1, Edinburgh
Richard Murphy Architects
Paragon, Glasgow
CZWG Architects
White Cottage, Ballintuim
Crichton Wood Architects
Info re Saltire Society Awards:
Kathleen Munro, Administrator
The Saltire Society, 9 Fountain Close, 22 High Street, Edinburgh, EH1 1TF
[email protected]
Tel: 0131 556 1836
Location: Scotland
Architecture in Scotland
Scottish Architecture Designs – chronological list
Traquair, Scottish Borders
Traquair House
Comments / photos for the Saltire Awards page welcome
Website: https://www.saltiresociety.org.uk/awards/architecture/