Castle Tioram, Historic Ardnamurchan Building Images, Acharacle, Argyll Architecture, Proposals
Castle Tioram, Loch Moidart, West Coast, Scotland
Famous Scottish Castle in Lochaber: Historic Ardnamurchan Building
Castle Tioram
Location: N. Acharacle, Ardnamurchan Peninsula, Lochaber, Argyll, Scottish Highlands, UK
Public access to much of the Castle (within the building) is denied
Controversy: Letter Re Castle Tioram at base of page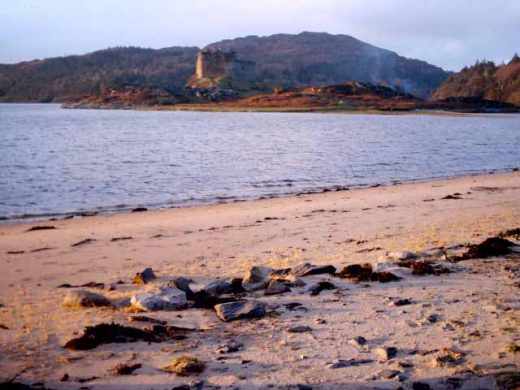 photograph © Adrian Welch
Castle Tioram – Introduction
This is one of Scotland's most romantic castles, located on the shoreline, accessible at low tide. A ruin located on a quiet stretch of Scotland's beautiful West Coast just north west of Acharacle.
Castle Tioram – Current Situation
Highland Council met with Historic Scotland in May 2004 to discuss the future use of Castle Tioram, owned by Anta Estates.
Highland Council advised Public access – and how it will be managed – remains the major issue and desired for a substantial increase.
Castle Tioram may lose its Scheduled Monument status if it is used as a residence and, although it would remain listed, this would mean that there would be less control over future alterations.
Proposals discussed by Highland Council and Historic Scotland include ways to fully conserve the castle and yet allow for an authentic reconstruction of part of the interior. This would allow access to public rooms as well as limited private accommodation; re-opening of access to the ruin as a matter of urgency; involving the local community in the long-term stewardship of the castle.
The Scottish Minister for Tourism, Culture and Sport asked for a report on the current condition of the Castle Tioram and for a Statement of Cultural Significance to be prepared: this addresses some of the gaps in understanding of the castle that were identified by the independent Inquiry Reporter in 2002.
Any decisions that require to be made in future by the Scottish Ministers about the Castle Tioram should be informed by the information these provide and will also take account the statutory, international convention and policy obligations that are upon Scottish Ministers.
What do you feel should happen to this famous Loch Moidart castle building? e-mails to info(at)e-architect.com
Historic Scotland has closed the ruinous Castle Tioram, Ardnamurchan, for safety reasons. The owner of this Moidart castle building, Lex Brown, wishes to restore it and live there, but Historic Scotland favour the building being conserved as a ruin. The castle is reportedly requiring around £25m of work to save it.
Related Issue: Cardross Seminary
St Peter's College, Cardross by Gillespie Kidd & Coia
Castle Tioram Description
The castle is set on a small tidal islet – Eilean Tirim – near the mouth of Loch Moidart. At low tides it is connected to the mainland across a sandy beach. This Ardnamurchan castle is believed to have been constructed in the early 13th century, probably by Gaelic Lords. It formed the powerbase of the MacDonalds of Clanranald, within the Lordship of Garmoran:- Moidart, Rum, Eigg, Canna, the Uists and Barra.
The Castle is not visible from the sea, and is tucked deep into the Loch Moidart (sea loch), but controls access to the long Loch Shiel (inland loch).
The castle can be reached by a narrow winding road up to a small car park at the beach near Dorlin north west of Acharacle. Castle Tioram was burnt down – by the clan chief (Allan of Clanranald) to prevent it falling to enemy hands – and thus abandoned in 1715.
Other West Coast castles on the sea or lochs include Dunstaffnage, Mingary, Duart, Castle Sween and Inverlochy.
There was a Public Inquiry in 2001 into the future of this historic Ardnamurchan building, and a report prepared by GUARD.
Tioram connects the feudal powerbase of Mac Ruari lordship islands to the mainland. The Castle appears to have no concomitant settlement. The castle plan is polygonal, with the 13th century curtain wall enclosing a keep and tower house with three storeys of domestic construction in between.
Castle Tioram : Background to the Controversy
Highland MSPs from the four main parties in Scotland united to persuade the Scottish Executive and Historic Scotland to reconsider their approach to Castle Tioram, a scheduled ancient monument.
The MSPs met with the Minister for Tourism, Culture & Sport, Frank McAveety, to urge him to find a way for the castle to be renovated. Renovation plans had the support of the local councillor, Highland Council, and were endorsed by the Royal Fine Art Commission for Scotland as exemplary. The MSPs believe that a compromise solution can be found to prevent Castle Tioram owned by Anta Estates – run by Ayrshire businessman Lex Brown – deteriorating further (Tioram was sold to Anta in 1997 reportedly for £100,000 by Wiseman Macdonald from California).
The concerns of the local community re Castle Tioram were also put in a petition to the Scottish Parliament. Although Tioram is roofless and missing many sandstone dressings, the main elements of structure are of sound construction and the original (mostly random rubble – once harled) fabric is of high quality. Renovation has occurred in the 1860s, 1920s and 1960s. Access to refurbish the Castle for contemporary restoration is very restricted. Highland Council have served a dangerous structures notice on Tioram.
A public local inquiry was held during 2001, following an application by Anta Estates Ltd to take forward the Tioram Conservation Project: this involved re-roofing the Castle to provide a residence and associated accommodation.
Castle Tioram Scotland : Letters
24 Sep 2006
Update re Castle Tioram
Controversy at Historic Scotland's reported refusal to support refurbishment of the ruinous Castle Tioram sparks numerous calls for restoration of this superb Scottish building. As explained in an article for Prospect magazine a few years, back we would support the owners and local community in exercising their wish to renovate this important & historic clan base; however, for renovation to lead to redevelopment as a home would clearly prove controversial judging by the sentiments expressed in the letter above.
Location: Acharacle, Scotland
Architecture in Scotland
Scottish Architecture Designs – chronological list
Scottish Architects Practices of the past
Comments / photos for the Castle Tioram page welcome