Castle Tioram Photos, Ardnamurchan Building News, Scottish Castle Pictures, Location, Project, Images
Castle Tioram, Loch Moidart, Scotland
Ardnamurchan Castle Building on Scottish West Coast – Opinion: Letters
Castle Tioram Scotland
Location: near Acharacle, Ardnamurchan Peninsula, Scottish Highlands, UK
Public access to much of the castle (within the building) is denied.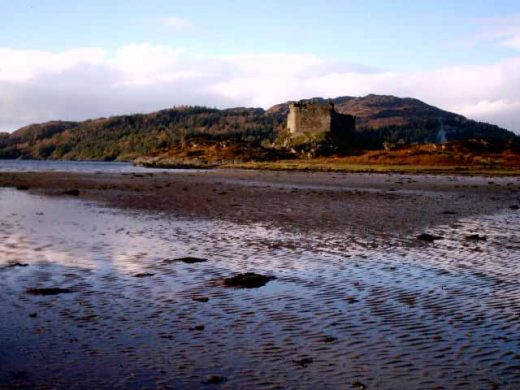 Castle Tioram Introduction
This is one of Scotland's most romantic castles, but reading the letters below you'll see its history gives rise to passionate views.
Like Castle Stalker and Eilean Donan it is located on the shoreline but unlike the other two it can be accessed at low tide. This underlines the poetry of the Castle and its environment.
Limewashed reconstruction visualisation:



Image © David Hogg, received 101007
What do you feel should happen to Castle Tioram? e-mails to info(at)e-architect.com
Letter Re Castle Tioram – 30 Sep 2010
I think that the castle should be renovated rather than be left to go completely into ruin. Lex Brown should be allowed to rebuild it as his home and that way the public would get to see certain parts of it. Also the castle will look better for it rather than it going into complete disrepair.
James McKinlay
Letter Re Castle Tioram – 17 Sep 2009
If the MacDonalds think they have it bad, as suggested by Iain Guth in his letter on 6 November 2007, try being a MacRury (MacRuairi). We barely get a mention anywhere despite being the Lords of Garmoran before the MacDonalds.
I am in support of restoring Castle Tioram, as I am of restoring all castles, as long as it is restored to its condition before Allan burned it down. Keeping buildings such as Castle Tioram in ruins does not further the preservation of Scottish history but guarantees it continues to diminish.
I say to Marlene MacDonald Cheng, who wrote on 3 July 2006, to think of the feeling you had gazing upon the castle's ruin and think how much greater they would be to look upon Castle Tioram standing proud and strong in all its glory, a living testiment to our clans' history.
Richard I. Fogarity, Clan Ruairi
Letter Re Castle Tioram – 26 Nov 2007
I believe the castle can be developed into a private residence without necessarily affecting the historic importance and visual amenity. Ensure the development occurs within the walls, preferably separated from the wall interior by glass and maintain the silhouette as existing. From a heritage perspective then, the visual amenity will remain forever as it currently is. The fact that it is inhabited will not be an issue as the public are currently denied access anyway.
regards,
Keith Gavin, Partner at Godwin Austen Johnson, Dubai

Letter Re Castle Tioram – 6 Nov 2007
Á Ghraidh,
We have noted and expressed in various articles on our website, the propensity of Sasunnach institutions to belittle, demean and continue to abuse the 3,500,000 descendents of the Lords of The Isles, because of persistent resistance to the domination of our land and race by the Sasunnaich. We are informed, believe, and therefore allege that this is the principle reason why Historic Scotland wishes to preserve Tioram Castle as a ruin.
We believe it just that Tioram and other MacDonald castles, such as Artornish, Dun Naibhig, Dun Abhartaidh, Caisteal Claidh, Finlagan and the monasteries of Saddell and Iona and others should be fully and faithfully restored, just as Edinburgh Castle and many others belonging to the Crown and their supporters have been.
Tioram is representative of the achievement of a great and independent people, sovereign for hundreds of years, who are more a part of Scottish heritage than any Norman invader ever was.
Aye!
Iain Guth, Seannache – The MacDonnell Of Leinster Association

Letter Re Castle Tioram – 9 Oct 2007
As tourists interested in Scotland and its history our family would like to see a compromise that would allow part of the castle to be residential and the rest as authentically restored as possible. This would allow a much better feel of the use of the castle in historic times than merely visiting yet another ruin of which there are far too many, most rather boring. We had hoped that by our next visit to Scotland the restored castle would be open to visitors, and we are still hoping to be able to include it in a future itinerary.
The Randalls, Santa Cruz, California

Letter Re Castle Tioram – 15 Jan 2007
Personally, I would like to see castle tioram restored…my name is Michael MacDonald, I reside in Canada and unfortunately I haven't had the opportunity to visit your country as of yet, however I am a descendant of John of Isley, and the people who ruled the Isles in that castle, I take a great deal of pride in my heritage, and would like to see the castle restored.
Sincerely
Michael A. MacDonald

Letter Re Castle Tioram – 03 Jul 2006
On the subject of keeping Castle Tioram as a ruin or allowing it to be renovated as a living quarters, I am firmly in favour of keeping it as a ruin.
I feel that Castle Tioram has great significance, not just for members of Clan Ranald, but for all human kind – as a historical, cultural, architectural, and archaeological gold mine of information about ages past. To renovate it as a living quarters would totally destroy it's value in each of those aspects above listed. How can anyone even CONSIDER doing such a thing to such a building?
On a more personal level, I am a member of Clan Ranald. As a fifth generation descendent of Angus MacDonald (Aonghas Dhomhnullach), great-grandson of Alasdair of Meoble, 6th Laird of Morar, it would break my heart to see Castle Tioram's essence destroyed. Angus was one of the early pioneer settlers in Antigonish County, Nova Scotia. I grew up in Nova Scotia, with the songs, stories, language and culture of my Highland ancestors firmly imprinted on my psyche.
My grandfather, John Hugh MacDonald, the family bard and preserver of family oral tradition, passed along to me the story of the importance of Castle Tioram to the Clan Ranald. It was a great thrill, some thirty years after his death, to be able to visit Castle Tioram, reliving his vivid stories of my youth. I stood speechless on the causeway to the Castle with silent tears running down my cheeks, remembering our history, remembering my wonderful grandfather.
It is important for Historic Scotland to realize that Castle Tioram's existence is gravely important to those who left Scotland, as well as all those who cherish its history and culture.
Thank you for the opportunity of expressing my views on this heart-felt topic.
Le dùrachdan.
Marlene MacDonald Cheng, Victoria BC Canada
Castle Tioram : main page
Location: Acharacle, north western Scotland
Architecture in Scotland
Scottish Architecture Designs – chronological list
Comments / photos for the Castle Tioram – Historic Loch Moidart Building page welcome