Historic Scottish Architecture, Building Conservation in Scotland, Grants News
Historic Scottish Buildings : Architecture Heritage Scotland
Country Houses in Edinburgh & Lothian, Scotland, UK
15 Feb 2013
Historic Buildings in Scotland
SIX HISTORIC SITES TO BENEFIT FROM LATEST BUILDING REPAIR GRANT FUNDING
Historic Scottish Architecture
Scotland's oldest work theatre, a suspension bridge and two mills are among the recipients in the latest round of Historic Scotland's Building Repair Grants worth almost £600,000.
In total six historic sites across Scotland will receive funding totalling £587,049 through this grants scheme.
The scheme makes financial help available to property owners to meet the cost of high-quality repairs using traditional materials and specialist craftsman to conserve original features in buildings of special architectural or historic interest. In return, owners must maintain the building and allow some access to visitors.
The recipients are:
• The Theatre Royal in Dumfries, which is the oldest theatre in use in Scotland and also has connections to Robert Burns
• John O'Groat's Mill in Caithness and St Fillan's Mill in Killin, both of which play an important part in our industrial heritage.
• Roseburn House in Edinburgh, a tower house dating back to 1582
• The Alexandra Suspension Bridge in Tain is an important decorative, wire-rope suspension bridge. It is the work of the Rose Street Foundry in Inverness, which was the most important engineering foundry in the Highlands
• Crichton Memorial Church in Dumfries.
. Fiona Hyslop, Cabinet Secretary for Culture and External Affairs said: "It is essential that we maintain our historic Scottish buildings which form such a key part of our streetscape and also attract tourists from around the world.
"We have such a variety of fascinating buildings which all contribute to our heritage and we need to ensure that we preserve them for future generations to enjoy and also learn about their past."
Sites Receiving Historic Scotland's Building Repair Grants
1. John O'Groats Mill, Caithness
£221,316
• John O'Groat's Mill, a key example of industrial heritage in its area. It is believed to be the last mill in Caithness to retain working machinery. Originally built as a threshing mill in 1750, it was rebuilt in 1901 as a corn mill. Between the 16th and 19th centuries, Caithness was known for its corn production and exported meal to ports across Scotland and the rest of Europe.
2. Crichton Memorial Church, Dumfries
£175,528
• Crichton Memorial Church, Dumfries, is a late 19th century cathedral style church, and was designed as part of the Crichton Lunatic Asylum.
3. Theatre Royal, Dumfries
£ 24,624
• This is the oldest theatre in use in Scotland and an extremely rare survival of an 18th century theatre, with connections to Robert Burns. Designed by local architect Thomas Boyd in 1790 – 2, and apparently modelled after the Theatre Royal in Bristol, the original building was a simple rectangular structure with a gabled front and a classical portico. This was a relatively standard pattern – for example the Theatre Royal in Edinburgh of 1869 was a more decorated version of the same.
Georgian theatres are extremely rare in Scotland and even in Britain.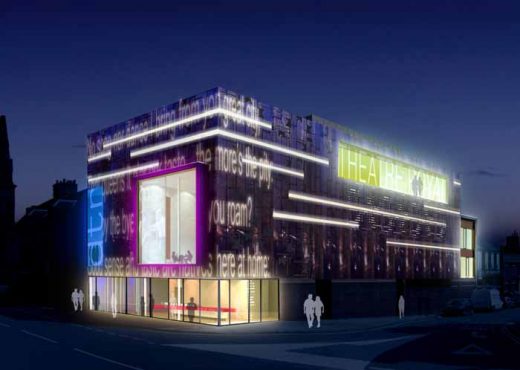 Dumfries Theatre exterior image from RMJM
Theatre Royal Dumfries
4. St Fillan's Mill, Killin, Stirling
£ 38,703
• This is very unusual in Scotland as it is a 19th century mill built in a romantic decorative style. Sited at the water's edge next to the Bridge of Dochart, just off the main street, it is built on the site of a succession of grain mills which date back to ancient times.
5. Alexandra Suspension Bridge, Tain
£ 50,000
• The Alexandra Suspension Bridge is an important decorative, wire-rope suspension bridge, the work of Rose Street Foundry Inverness 1902, the most important Highlands engineering foundry:
6. Roseburn House, Edinburgh
£ 76,878
• Roseburn House is a tower house dating back to 1582. It is believed that there may have been an earlier house on the site as many interesting carved stones are incorporated into the walls. It is an important example of a multi-period mansion house with significant early fabric in its 16th century tower
Location: Scotland, UK, north western Europe
Architecture in Scotland
Contemporary Architecture in Scotland
Comments for Historic Scottish Architecture – Building Heritage Scotland page welcome