University of Insubria Chemical Laboratories, Como and Varese Building, Italian Design
University of Insubria Chemical Laboratories 2015
DuPont Building Innovations News – Tyvek Products: High-Tech Membranes
24 Feb 2015
DuPont™ Tyvek® UV Facade advanced breather membrane protects the chemical laboratories of a University in Como, Italy
Comfort, energy efficiency and long-lasting protection for the laboratories of the University of Insubria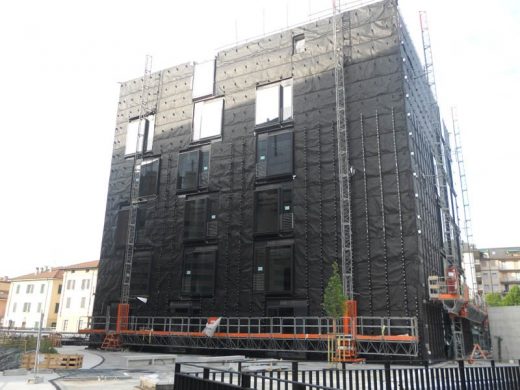 photograph : Airaudo Costruzioni, all rights reserved
University of Insubria Chemical Laboratories News
Università degli Studi dell'Insubria
February 2015 – The construction of the new chemical-environmental laboratories for the University of Insubria's Department of Science and High Technology's (located in Como, Italy, about 50 km north of Milan) is now complete, creating the ideal conditions for the well-being and productivity of students and researchers alike. Studio Ishimoto Europe, to whom the project was awarded, chose to protect the building envelope and guarantee its optimum performance by wrapping it with DuPont™ Tyvek® UV Façade, a special, UV-protected breather membrane for ventilated façade applications
Unique in its class, DuPont™ Tyvek® UV Facade is the only known protective membrane for open-jointed cladding systems to carry the CE marking, certifying full conformity with the European Union's rigorous construction products directive. To obtain the CE marking for open-jointed cladding use, a membrane must resist artificial aging by permanent UV radiation for 5000 hours (for standard wall/roof applications the criteria is 336 hours).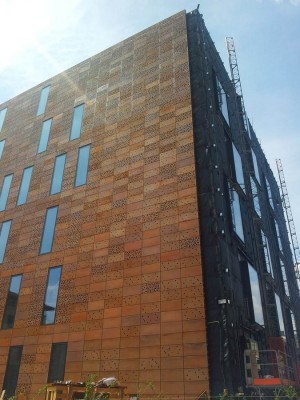 photo : Airaudo Costruzioni, all rights reserved
The 3000 square metre cube consists of six floors and is designed to host 25-30 scientific research laboratories. The northern aspect of this sober, clean-lined building has been designed with a ventilated façade, behind which DuPont™ Tyvek® UV Facade adds benefits both in terms of shielding the structure from the adverse effects of weather and in terms of sustainability and cost-savings through enhanced thermal performance.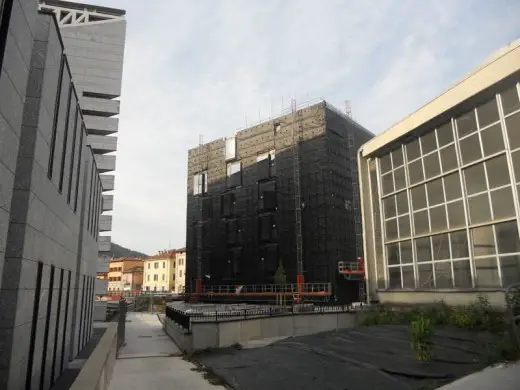 photo : Airaudo Costruzioni, all rights reserved
Furthermore, DuPont™ Tyvek® UV Facade protects the insulation materials that have been installed to the wall structure behind the exterior cladding, thus preventing moisture damage from degrading its fundamental performance.
The new building, an addition to the University that is both elegant and optimally functional, has been designed with an envelope composed of a structural layer of reinforced concrete, an insulating layer in polystyrene, an airtight 'wrapping' of DuPont™ Tyvek® UV Facade and exterior cladding made from perforated steel to form an attractive finish.
The necessity of a protective layer with proven performance in its resistance to wind, water and UV had to be matched with reliable vapour permeability, to avoid stagnation due to residual condensation in the insulating layer, which in turn lies in direct contact with the aeration system of the reinforced concrete.
DuPont™ Tyvek® UV Facade is a membrane of pure black, a colour which is both aesthetically discreet and which also ensures the essential resistance to UV radiation required of a membrane which may be exposed to direct sunlight as part of a ventilated façade system.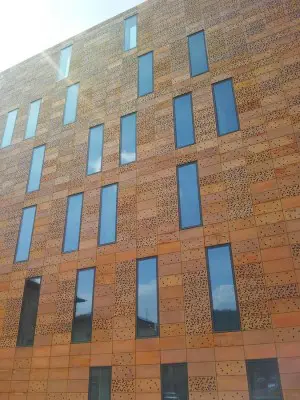 picture : Airaudo Costruzioni, all rights reserved
The benefits of the system extend beyond protection from the elements and to enhanced interior comfort and improved energy-efficiency. DuPont™ Tyvek® UV Facade has a functional layer with a thickness of 225µ, and together with its ability to withstand the degrading effects of sunlight, it is lightweight, robust and easy to install, thus also resistant to the kind of damage that can arise during the construction process.
DuPont™ Tyvek® UV Façade is CE certified and has passed rigorous testing against 5000 hours of permanent UV-radiation. The unique structure of the membrane is composed of millions of highly stabilised polyethylene microfibers that create a texture that guarantees the proper and homogenous diffusion of UV and thermal gains, offering superior durability and long term resistance to heat or solar radiation damage.
The construction contract for the project was awarded to Airaudo Costruzioni (Cuneo, Italy), responsible for creating the ventilated facade system. This functional layered solution comprises masonry support in a thickness of 250 mm, an insulating layer of 100+50mm thickness, an airtight yet vapour-open layer of DuPont™ Tyvek® UV Facade, a variable ventilation gap of between 170 and 200 mm, a load bearing structure in aluminum, and finally, perforated Corten A steel sheets for the exterior cladding.
Now standing proud as an integral aspect of the University of Insubria's campus, this massive yet elegant cube is also connected to the Educational Museum of Silk and Silk Processing, as if to create a bridge between Como's historic role in the silk industry and the city's bright future.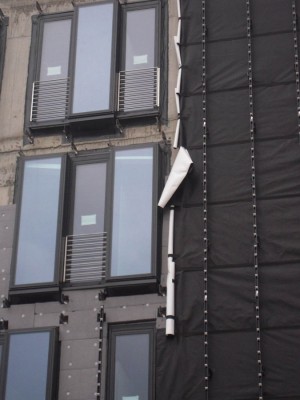 image : Airaudo Costruzioni, all rights reserved
For more information about DuPont™ Tyvek® in the UK please visit: www. tyvek.co.uk
or call 01275 337 660 (087 922 2740 in ROI)
The University of Insubria was founded on July 14, 1998, with the main facilities in the cities of Varese and Como united under a single logo, that of Insubria, from the name of the historic population that lived in this specific area of Lombardy, the Insubres. Situated in a strongly industrialised area and strategically positioned, the university has become an important reference point for the entire territory.
About the University of Insubria – with its twenty thousand graduates and a rich network of educational initiatives open to the community – is an instrument of cultural growth and social promotion. The bachelor's, master's, doctorates and programs of specialisation offered by the university consider the real life needs of the workplace and include numerous disciplines.
The rate of occupation amongst Insubria graduates is by far superior to the Italian average and is one of the distinguishing characteristics of the university: 61% of Insubria bachelor graduates are employed, compared to the national average of 41%. Also Insubria graduates within specialized fields register better results compared to their "colleagues" from other universities: 62% employment versus an average of 55% (source "XVI Rapporto Almaluarea – 2014").
The university has always given particular attention to both applied and basic research, conducted in high-tech laboratories and in the research centers of each department. This attention has allowed its researchers to obtain numerous awards and prestigious international recognition. In just a few years, the University of Insubria has seen student enrollment grow from 4,000 to approximately 10,000, its teaching staff is up from 130 to nearly 400 professors, and the university has furthermore attracted increasing international attention with growing numbers of bachelor and doctoral students, as well as visiting professors, from every part of the globe.
About DuPont™ Tyvek® (www.tyvek.co.uk) – Invented by DuPont research and development laboratories in the late '60s as a premium material for personal protection and packaging, DuPont™ Tyvek® is manufactured using a unique, proprietary technology, and has, over time been discovered and developed as ideally suited to a variety of further applications and markets. Around 1990, it was first adopted as a breather and water proof membrane for roofs and walls for building construction in certain countries in Europe.
Between 1990 and 1995, it was introduced to the Nordic Countries (Scandinavia), Switzerland, Germany and then to the United Kingdom. Today, DuPont™ Tyvek® is marketed in 35 countries in the Europe Middle East and Africa region, in addition to the USA, Canada and many other countries in the other regions. In 2005, the entire range of DuPont™ Tyvek® membranes achieved CE certification, the first to do so in the building membrane market.
About DuPont Building Innovations – DuPont™ Tyvek® is a product of DuPont Building Innovations. From innovative energy-saving systems to beautiful and long-lasting surfacing solutions, the extensive offering of DuPont Building Innovations delivers safety, durability, beauty and energy efficiency, providing a major contribution to the modern built environment – across the spectrum of building and architecture, roads, bridges and other infrastructure and also to landscaping and gardens, as well as to the preservation or the renovation of contemporary and historical constructions.
The main products and brands managed by DuPont Building Innovations are DuPont™ Corian® (www.corian.com), DuPont™ Tyvek® and DuPont™ AirGuard® (www.construction.tyvek.com), DuPont™ Typar® (www.typargeo.com) and DuPont™ Plantex® (www.plantexpro.dupont.com).
About DuPont – DuPont (NYSE: DD; www.dupont.com) has been bringing world-class science and engineering to the global marketplace in the form of innovative products, materials, and services since 1802. The company believes that by collaborating with customers, governments, non-governmental organizations, and thought leaders we can help find solutions to such global challenges as providing enough healthy food for people everywhere, decreasing dependence on fossil fuels, and protecting life and the environment.
The DuPont oval logo, DuPont™, AirGuard®, Corian®, Plantex®, Typar® and Tyvek® are registered trademarks or trademarks of E.I. du Pont de Nemours and Company or its affiliates. Other logos, registered trademarks and trademarks are property of their respective owners.
University of Insubria
Address: Via Valleggio, 11, Como CO, Italy
Phone: +39 031 238 6001
University of Insubria Chemical Laboratories images / information received 24022015
The University of Insubria is an Italian university located in Como and Varese, with secondary locations in Busto Arsizio and Saronno.
Address: Via Valleggio, 11, Como CO, Italy
Phone: +39 031 238 6001
Founded: 1998
DuPont Links – Selection
Corian® High-Tech Surface
Corian® High-Tech Surface
Corian Sphere, England
Selection of Architectural Products featured on e-architect
Libeskind House : Daniel Libeskind
Zaha Hadid Jewellery – Celeste Necklace
Comments / photos for the University of Insubria Chemical Laboratories – DuPont™ Tyvek® Timberframe Solutions page welcome
Website: University of Insubria