Lifton Home Lifts, Home Access, Domestic Building Product, Property Stairwell Images
Lifton Home Lifts: Stair Products
Accessibility in the Home – Stairwell Product for the House Article
15 November 2018
Lifton Home Lifts Stairwell Products
THE HOME LIFT WHICH IS PERFECT FOR FLEXIBLE LIVING DESIGNS
After thinking long and hard about the art of shaping space, channeling light, and finding inventive ways to construct shelter, an architect considers how to connect the levels of a home.
With more housing being built to suit intergenerational, flexible living solutions, home lifts are increasingly becoming an integral part of housing designs.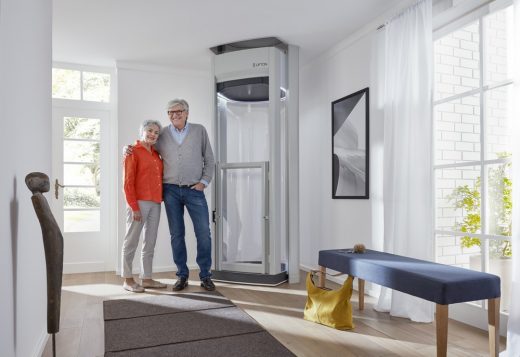 Leading the way in providing architects with flexible lift solutions is premium domestic lifts specialist, Lifton Home Lifts.
Lifton manufacture, deliver and install their lift range of lifts to any property, making the process of ordering and installing a lift extremely simple. In fact, a standard fitting can take as little as one day, as every lift is modular so there are very few constraints in terms of positioning.
The Lifton Home Lift is freestanding and travels on innovative, self-supporting vertical rails. It requires no hydraulics as it plugs straight into a domestic power socket, so design plans do not need to factor in a machine room or lots of building work.
The high spec design of the Lifton Home Lift is its most salient feature. As well as being whisper-quiet, it is a masterclass in style with its muted colours, curved profile and ambient lighting. Highly desirable to clients, it has a space- saving compact footprint, a smooth ride between floors and moves at the touch of a button or a call from the two handy remote controls.
As well as offering a fantastic alternative to the stairs, this domestic lift is hardworking and multi-tasking, coming into its own when transporting heavy luggage, laundry and, even grandchildren, safely and efficiently between floors.
Identifiable by its sleek and sophisticated design, the Lifton lift virtually 'disappears' when stationed upstairs leaving only its slender stilts blending effortlessly into the background. When downstairs, a piece of flooring attached to the lift lid, ensures the upstairs flows as it should.
The maximum requirement needed to install a Lifton Home Lift is a standard building notice application which involves an inspection by an authorised independent body, usually during the building phase. This process can be organised on behalf of the architect by Lifton.
The Lifton Home Lift Step by Step Guide To How It Works explains exactly what happens on installation and how it is priced in this How Much Do Home Lifts Cost In The UK? Feature.
Location: UK
Product Links Selection
Memco's Elite elevator safety systems
Elite elevator safety system
Home Travel
Home Travel – Stairwell Product
Corian Sphere, England
Selection of Architectural Products featured on e-architect
Libeskind House : Daniel Libeskind
Zaha Hadid Jewellery – Celeste Necklace
Comments / photos for the Lifton Home Lifts page welcome