Breathes New Life into Heritage Renovations, Arlon Building Material Innovations Images
DuPont Tyvek Heritage Renovations Materials
DuPont Tyvek plays part in important restoration work at Saint-Martin Church in Arlon, Belgium
19 May 2016
Location: Saint-Martin Church, Arlon, Belgium, western Europe
DuPont Tyvek breathes new life into heritage renovations
Heritage Renovations Materials: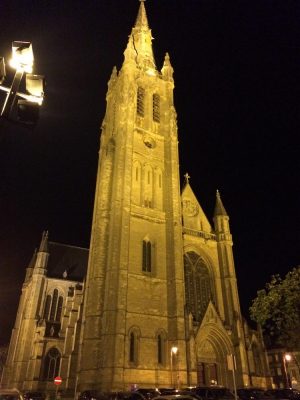 Saint-Martin Church (designated as a major Walloon heritage site), Arlon, Belgium
DuPont Tyvek Breathes New Life into Heritage Renovations
Tyvek® has a long history of proven performance, and of playing its part in important restoration work. Sacred buildings benefit in particular and many architectural treasures around the world now feature this advanced breather membrane installed under a traditional slate roof. In Belgium, two churches have recently been restored by specialists Golinvaux: The Church of Saint-Martin in Arlon, Belgium, which is designated as an exceptional Walloon heritage site, and Saint-Nicolas-en-Havré in Mons.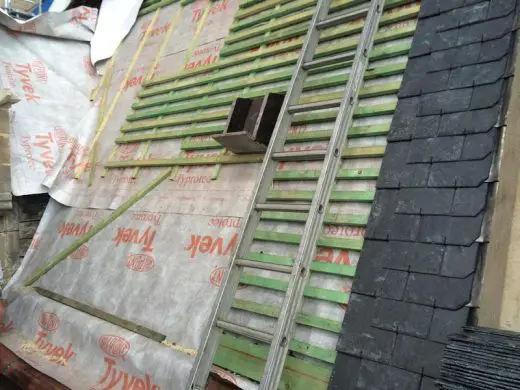 Saint-Martin Church (designated as a major Walloon heritage site), Arlon, Belgium
In order to protect the renovated structures against the elements, both during the build and for the long-term, Golinvaux has fitted its usual underlay of choice: DuPont™ Tyvek®.
Pierre Raeven, Golinvaux site manager, says, "The true advantage of Tyvek® is that we can remove the old external roof covering and directly fit the protective underlay in just one day – and then not have to touch it again for the entire duration of the construction work. If no such underlay has been specified, we have to cover and uncover the open roof with a tarpaulin every day – and that takes a lot of manpower.
Plus, a tarpaulin is neither solid nor tight and offers little protection from the wind. Tyvek® allows us to work in optimal conditions. What's more Tyvek® is a workhorse – and when compared to the cost of water damage, very affordable. Architects are sometimes apprehensive about using it but there is zero risk of condensation – in fact, it's a fully breathable material."
Based in Bertrix in Belgium, Golinvaux are renowned experts in the restoration of roofs, towers and steeples, particularly for historical monuments from cathedrals to castles. The company combines the use of natural slate with the most modern of techniques, and – whenever possible – Tyvek® underlays.
The Church of St. Martin in Arlon is architecturally impressive, dominating the landscape of Arlon thanks to its 97 metre tower. The existing structure was built between 1907 and 1914 and is considered one of the finest examples of neo-Gothic buildings in Belgium.
The church has been undergoing a substantial renovation project over several years, including the restoration of the original masonry, stained glass, sculpture, artworks, plus repairs and refits to newer additions such as electricity and joinery etc. To date, one third of the roof has been completed, with 1,180 m² of Tyvek® installed.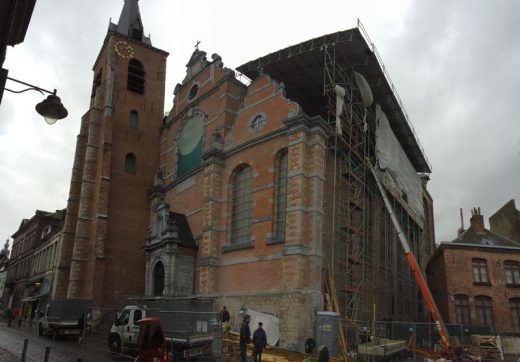 Saint-Nicolas-en-Havré Church, Mons
Although the parish has existed since the 11th century, the original Saint-Nicolas-en-Havré Church in Mons was built in the 15th century, then was destroyed by a fire in the 17th century and rebuilt in 1664. The tower of the present church, however, remains a relic from that original structure. The present church has a typically baroque façade and a classic interior that is also renowned for its rich Baroque-style woodwork. However, for this building too, the current roof was nearing the end of its life.


Saint-Nicolas-en-Havré Church, Mons
"For the Saint-Nicolas-en-Havré Church project we used an umbrella scaffolding and laid the structure over the entire surface (600 m²)," adds Pierre Raeven, "the Tyvek® membrane perfectly fulfilled its role as a rainscreen during the construction work and thus the roof frame was completely protected from the elements during this complex project."
Both these precious relics of the past now benefit from the kind of advanced technology and performance that has made DuPont™ Tyvek® the modern choice for roofs that are built to last.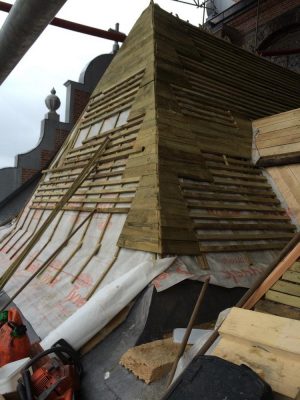 Saint-Nicolas-en-Havré Church, Mons
Other significant church restorations benefitting from Tyvek® include the much-loved St. Mel's Cathedral in Longford, Ireland which was devastated by fire on Christmas day 2009, the medieval St. Germanus church on the Rame peninsula which receives the full force of the Cornish coastal weather, and St. Augustine's grade A listed church in Scotland.
About DuPont™ Tyvek® Invented in the DuPont research and development laboratories, the DuPont™ Tyvek® family of advanced building membranes are distinctive in several key ways that make them ideal for today's construction projects. All the crucial requirements for a high-performance breather membrane are embodied in DuPont™ Tyvek® which is unique in the market because of its high-quality single layer construction.
DuPont™ Tyvek® is naturally vapour open but also wind and water-tight due to its composition of millions of micro fibres bonded together to make a "maze" that's impermeable to air and moisture but allows water vapour to pass through its natural pores. Lightweight yet robust, DuPont™ Tyvek® is easy to install to exterior walls and roofs and offers long-term proven reliability and durability. Designed to protect the building envelope against the effects of weather and moisture, the membranes also offer optimal air-tightness and can help to improve the thermal performance, energy-efficiency and interior climatic stability and comfort of a building.
For more information about DuPont™ Tyvek® in the UK please visit: www.construction.tyvek.co.uk or call 01275 337660 (087 922 2740 in ROI)
DuPont Tyvek Breathes New Life into Heritage Renovations images / information received 190516
Location: Saint-Martin Church, Arlon, Belgium, western Europe
Belgium Architectural Designs
Contemporary Architecture in Belgium – architectural selection below:
University HOGENT Ghent Campus Schoonmeersen Buildings
Design: SADAR + VUGA d.o.o. with LENS°ASS Architecten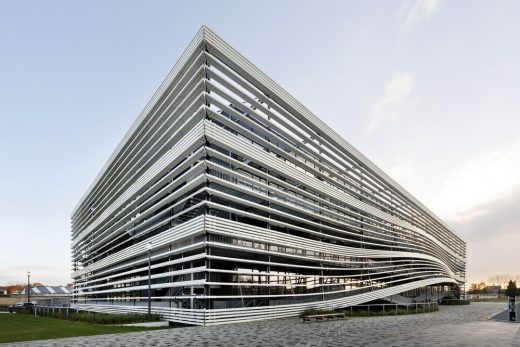 photo : German Luis Bourgeat
University HOGENT Ghent Campus Schoonmeersen Buildings
Rain Amplifier, Sint-Arnolduspark
Architects: Matthijs la Roi Architects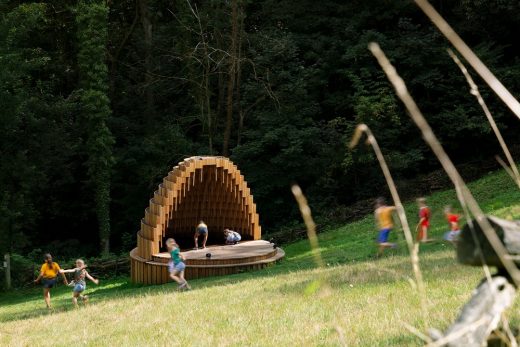 photo : naaro
Rain Amplifier Folly
DuPont Links Selection
Corian High-Tech Surface
Corian® High-Tech Surface
Corian Sphere, England
DuPont Tyvek Roofing Underlays Testing
Selection of Architectural Products featured on e-architect
Libeskind House : Daniel Libeskind
Zaha Hadid Jewellery – Celeste Necklace
Comments / photos for the DuPont Tyvek Breathes New Life into Heritage Renovations page welcome
Website: Tyvek