Ambar Light Fitting, Richard Rogers Lighting Design, Lamp Product Image, RSHP Project News
Ambar Light Fitting by Reggiani
Lighting Product for Reggiani design by Rogers Stirk Harbour + Partners
7 Jul 2009
Reggiani And Rogers Stirk Harbour Collaborate On New 'ambar' Light Fitting
Ambar Reggiani Richard Rogers Light Fitting
Leading European lighting specialist, Reggiani has teamed up with renowned architecture practice, Rogers Stirk Harbour + Partners, to create 'Ambar', a new versatile light fitting for exhibitions and retail spaces.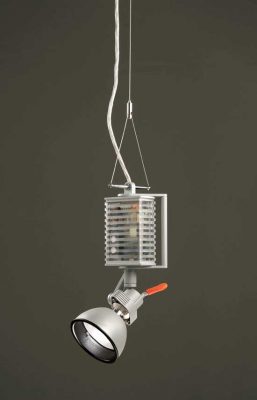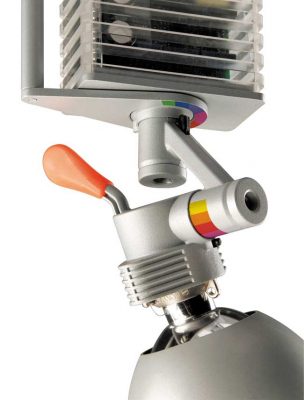 Ambar light fitting image © Reggiani
Ambar Light – Design for Reggiani
Ambar was designed for the fit-out of the 'Richard Rogers + Architects From the House to the City' travelling retrospective exhibition – which debuted at the Pompidou Centre in Paris in 2007 before moving to the London Design Museum in 2008 and Barcelona's CaixaForum in 2009. For its next stop, the exhibition will be opening at the CaixaForum in Madrid, Spain this week and will run from 9 July to 18 October 2009.
An interesting departure from traditional exhibition lighting, the elegant design of Ambar, with its die-cast aluminium, and translucent casing that expresses the workings of the lighting system, was designed specifically for display lighting. Ambar has the flexibility of being either track or ceiling mounted and is fully adjustable to 356º in the horizontal axis and 90º in the vertical.
For the exhibition, Ambar has been fitted with cdm-tc 70w 6500k lamps to illuminate the timeline walls and hanging graphics in the exhibition and 70w cdm-tc 4200k to illuminate models. These provide a white luminescence that was of prime importance to Ab Roger Design – the exhibition designers – to display the vibrant colours of the architecture. Lighting is concentrated in order to highlight the models and graphics and glare is controlled by using a honeycomb accessory.
Ambar was used to solve the problem of finding a light that would give a precise source of directional light without interfering with the simple design of the exhibition. As designer Amarjit Kalsi, Director at Rogers Stirk Harbour + Partners explained: "Ambar is suspended from a fine cable, it appears to hover in the air, and directs the rays of light that are precisely focussed on the objects. Working with Reggiani was a collaborative experience, with the objective of developing a product that was not only functional, but a beautiful design.


Ambar in Barcelona's CaixaForum – photo © John Short
Roberto Martello, Head of Design at Reggiani said: "It was a real pleasure to work with Rogers Stirk Harbour + Partners. The Ambar is a great addition to the Reggiani range and an innovative solution to exhibition lighting design."
Ambar is fitted with Reggiani's IOS reflector technology. The IOS is a significant advancement in traditional reflector systems used to improve the energy efficiency of lighting (LOR 90% Lighting Output Ratio). Whilst the flexible nature of the IOS enhances a typical performance of the output ratio by 25 per cent, power consumption is reduced by over 20 per cent.
'Richard Rogers + Architects, From the House to the City' is scheduled to run from 9 July – 18 October 2009 at the Caixa Forum, Madrid, Spain. Reggiani have previously collaborated with Roger Stirk Harbour + Partners on the 'Maantis' lighting system in 2006.


Ambar Sketch
Reggiani Lighting Ltd
Reggiani Lighting Ltd is one of Europe's most respected architectural and retail lighting specialists manufacturer for both interior and exterior applications. Reggiani Lighting Ltd has been operating as a leader in the lighting technology sector for over 50 years, producing technical lighting fixtures for worldwide markets.
Pioneers of low voltage and HID display lighting, Reggiani has five manufacturing and commercial facilities (Sovico – Italy, Borehamwood – UK, New York – US, Dubai and Ningbo – China); two research centres in Sovico and RIDC in London,(Reggiani International Design Centre) and showrooms in Milan, Paris and Ningbo as well as a sales structure that interfaces with retail clients, lighting and retail designers on major international roll out projects.
International awards include: IF Hannover, Industrie Forum Design Hannover, Light Product Award, Compasso d'Oro, Premio de Diseño La Habana, Excellence Award London, Trophée du Design Paris, IBD Institute of Business Designers New York, Roscoes Chicago, Lighting Design Award, Britespot Fixture Design Competition and Light of the Future.
Richard Rogers – architect
About Rogers Stirk Harbour + Partners
Over three decades, Rogers Stirk Harbour + Partners (RSHP), formerly Richard Rogers Partnership, has attracted critical acclaim and won dozens of awards including the Stirling Prize 2006 for Terminal 4, Madrid Barajas Airport and the Manser Medal in 2008 for an energy-efficient housing scheme in Milton Keynes. Richard Rogers was awarded the Pritzker Prize in 2007.
RSHP is an international architectural practice based in London, currently working on a range of high profile projects including; two office buildings in Washington DC; an extension to the British Museum in London; One Hyde Park, a luxury residential development in Knightsbridge; a major mixed-use development near Florence, Italy; and a wide range of major masterplans in cities across three continents.
The practice is currently participating in the Greater Paris project, which looks at the future of the city as a more integrated metropolitan region as it faces the social and environmental challenges of the 21st century.
Notable buildings include: the Pompidou Centre in Paris (with Renzo Piano); Lloyd's of London; the European Court of Human Rights in Strasbourg; the National Assembly for Wales, Cardiff; Heathrow Terminal 5; and headquarters buildings for Channel 4 Television, Lloyd's Register of Shipping and Marks & Spencer, all in London. Our clients include: AENA (Aeropuertos Españoles y Navegación Aérea Madrid), BAA (British Airports Authority), British Land, Canary Wharf Group, Candy & Candy, Daimler Chrysler, le Ministère de la Culture et de la Communication, Reuters, Stanhope plc, Silverstein Properties, and Native Land.
Richard Rogers was Chief Advisor on Architecture and Urbanism to the former Mayor of London, Ken Livingstone and continues to play an advisory role on design to the current Mayor of London, Boris Johnson. He has acted as Chairman of the British Government's Urban Task Force and was a member of the Mayor of Barcelona's Urban Strategies Advisory Council.
Rogers Stirk Harbour + Partners
Location: Italy
Selection of Architectural Products featured on e-architect
Genesy lamp for Artemide : Zaha Hadid Architects
Kanera sink : GRAFT
Libeskind Villa : Daniel Libeskind
Arzu Rugs : Hope by Designers Rug
Architecture Product Designs
Building Products – chronological list
Architectural Product Profiles – recent selection:
Tile of Spain Products for a Post-pandemic World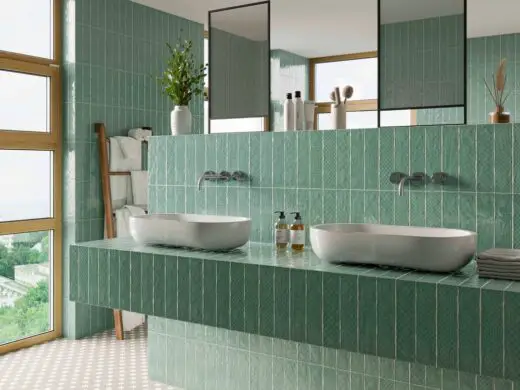 image courtesy of architects practice
Tile of Spain Products for a Post-pandemic World
Oneiric Catamaran
Design: Zaha Hadid Architects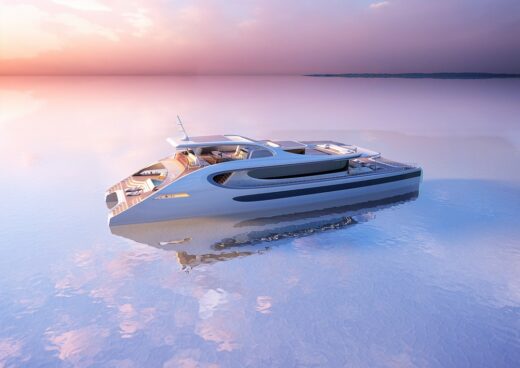 Oneiric catamaran
Oneiric Catamaran, Zaha Hadid Superyacht
Comments / photos for the Ambar Light Fitting page welcome