Project V7_Underground, Prague Vltavská Metro Design, U/U Studio, Contemporary Czech Architecture Photos
Project V7_Underground, Vltavská Metro Public Realm
4 December 2021
Project V7_Underground, Vltavská Metro Prague Design
Design: U/U Studio
Location: Hlávkův most underpasses, Vltavská metro, Prague 7, Czech Republic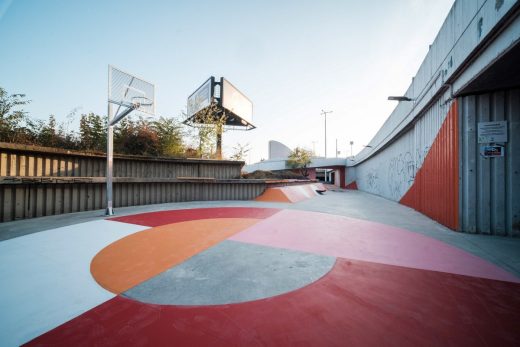 Photos & Axo rendering by U/U Studio
As part of the project to revive the Hlávkův most underpasses near the Vltavská metro station in Prague, U/U Studio implemented skateboarding and other leisure activities in places where people were previously afraid to go. Obstacles for skate and bmx riders, new concrete floor and lighting, bouldering wall with overhang, basketball hoop, café with amphitheatre. The space under the roof, which is permanently illuminated, becomes both pleasant and safe. It is no longer just a place to pass through, but more importantly a place to meet.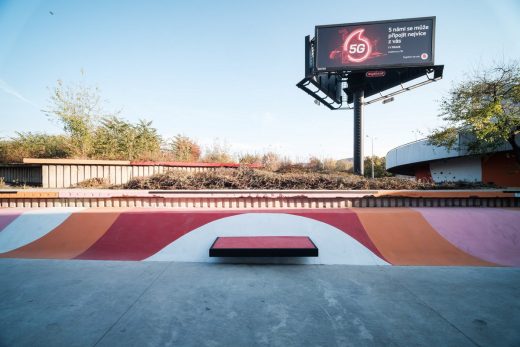 Project V7_Underground at Vltavská Metro Prague
U/U Studio are finalizing a project for the revitalization of underpasses at the Vltavská intersection in Prague. U/U Studio study, observe and live the urban reality. In the last 10 years, the architects have formulated and implemented broad-based projects that have attractively modified the public space of the Czech capital. The architects are always surfing on the " trinity " of sport, music, and visual arts (Bajkazyl, Fuchs2, Holešovická šachta, Altenburg 1964, Bike 7, Bike Jesus, Dvojka and others…).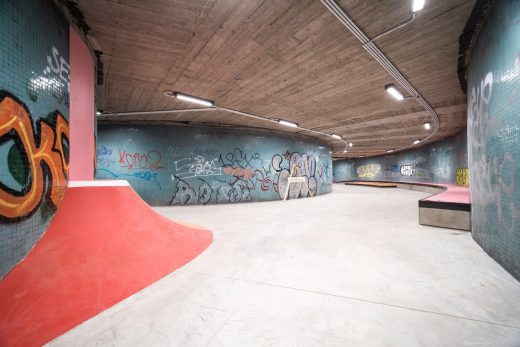 In the autumn of 2021, in cooperation with the Prague 7 municipality, U/U Studio transformed the neglected underpasses on Vltavská Street into a barrier-free sports spot (unique in Central Europe). The classic no-go zone quickly became a place that attracts hundreds of visitors every day even before its official opening.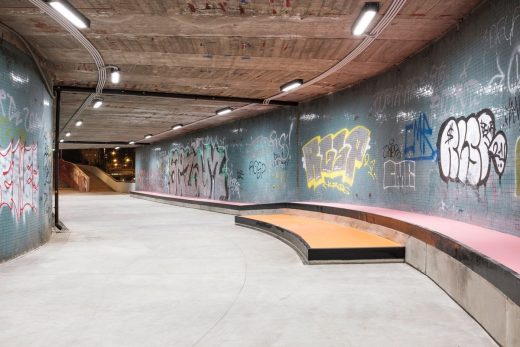 During a press presentation of the project, the mayor of Prague 7 said that "the repulsive underpasses on Vltavská Street make sense for the first time in my life." This is an exaggeration, but it can be taken seriously. The point of the transformation was to turn the chain – to attract a wide range of residents and visitors to a place where no one wants to (or is even afraid to) go. Sharing is and will be the leitmotif of the reflections and processes. U/U Studio had no intention of building another enclosed skate park.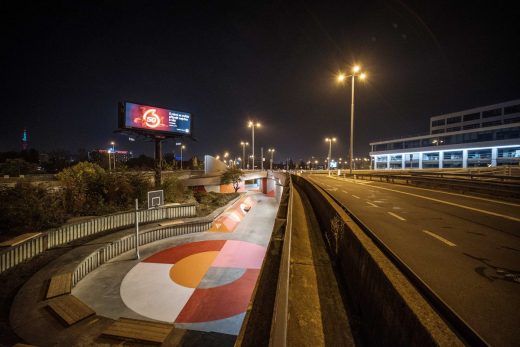 U/U Studio mapped the needs of everyone – women and men across generations. At one point they crossed paths – only open sharing (in this case, the sharing of a sports site) has a chance to awaken empathy and respect in people within the contours of contemporary big-city stress. And that's the point: when you meet, you have to find a way to get along. It is the leitmotif of every major settlement and connects Mumbai, Berlin, Sao Paulo and New York.
It was a challenge – neither U/U Studio, nor the architects they approached, nor the authorities – no one had experience with a park combining skateboarding, bouldering and basketball, operating not behind a fence but on an open transport road. In the labyrinth of rules, the architects searched together for – and found – a solution that can be considered a "sample" for other similar projects.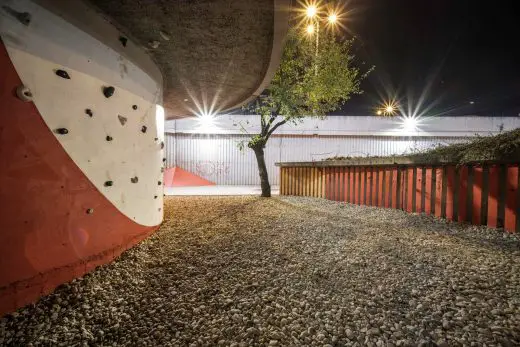 U/U Studio are fascinated by intersections as media of contemporary urban life, the shape of which is fundamentally determined by traffic. Vltavská Street is one of Prague's biggest nodes – extremely attractive with its permanent movement and extremely burdened with its externalities (noise, smog, etc.). The architects want to promote the positives and suppress the negatives.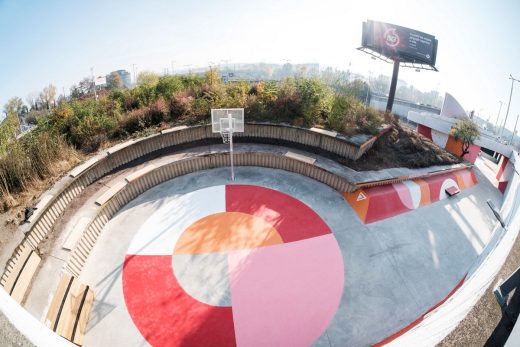 As well as the traffic movement, U/U Studio are fascinated by sport – another medium of our time. U/U Studio were looking for a space for sport that doesn't need complex and expensive infrastructure but goes back to its roots. U/U Studio are building a "blink" to childhood – sport, practiced where they live. Not sport as a place with a coach where a parent has to "drop you off" with a car, but sport as a model that you freely and easily – find.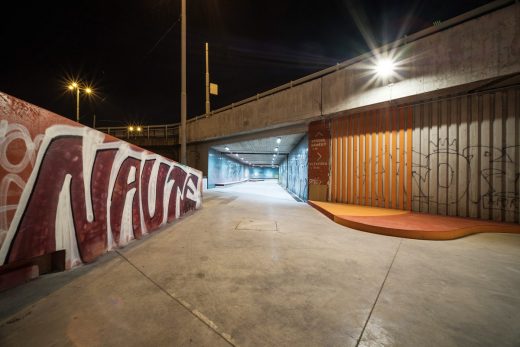 The essential requirement was lightness. U/U Studio are discovering dead spots in the city and looking for their hidden potential. The architects never wanted to demolish and build new solutions. U/U Studio rely on low costs and fine tuning – they want to inject "new energy" into the concrete that has been standing around us for decades. The architects designed the obstacles and elements to meet the needs of both beginners and experienced riders (including professionals). The criteria were the assumption that the modifications would not suppress the transportation character of the local road. The emphasis is on a color scheme that humanizes the mass of concrete.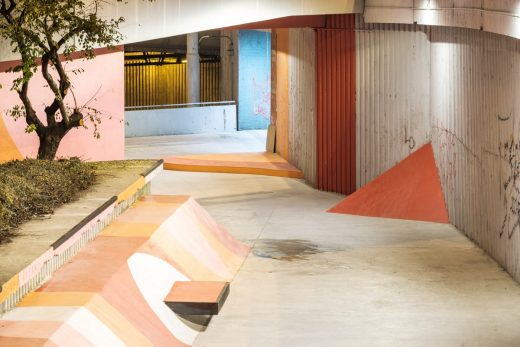 The architects want to remove barriers: that's why they designed a park that is well lit and open 24 hours a day, 365 days a year. The experience of the first days after the completion of the construction suggests that the plan has been successful.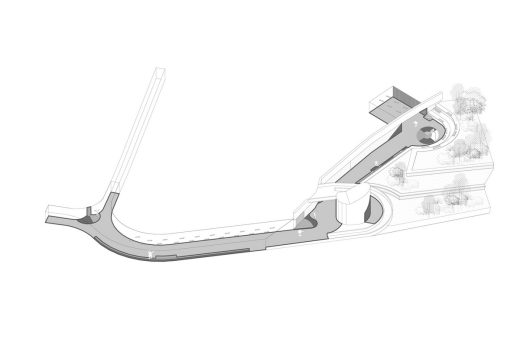 Rudolfinum Prague Entrance Interiors – Building Information
Project V7_Underground
General Information:
Project Name: V7_Underground
Architecture Firm: U/U Studio
Website: https://uustudio.cz/project/vltavska and https://www.re-place.cz/projects/vltavska
Contact e-mail: [email protected]
Firm Location: Prague, Czech Republic
Completion: 11/2021
Gross Built Area: 1000 m2
Project location: Vltavská metro, Prague 7, Czech Republic
Lead Architects: U/U Studio: Martin Hrouda, Jiří Kotal
Lead Architects e-mail: [email protected]
Renderings credits: U/U Studio
Video link: https://youtu.be/BNrg-wNBxEs
Photos: U/U Studio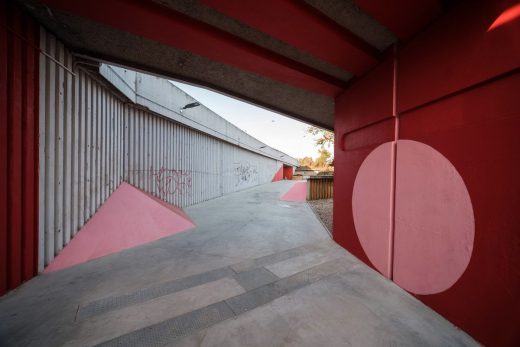 Additional Credits:
Design team: Re_place, U/U Studio
Clients: Re_place, Municipality of Prague 7
Engineering: Bondee Skateparks
Landscape: U/U Studio
Consultants: Richard Preisler, Martin Kontra, Hana Třeštíková
Wall art: Jakub Karlík, Maxo Šimko
Project V7_Underground, Vltavská Metro Prague Building images / information received 031221 from U/U Studio
Location: Rudolfinum, Alšovo nábřeží 12, 110 01 Prague 1, Czech Republic, central eastern Europe
Skateboarding Designs
PAS House, Malibu, Los Angeles, CA, USA
Architects: Francois Perrin and Gil Lebon Delapointe



photo : Mike Manzoori / Sam McGuire
Malibu House
Conceptually, the house functions as a ribbon that creates a continuous surface to be skated from the exterior to the interior!
How skateboarding offers a boost to urban regeneration
Architecture in Prague
Prague Architecture
Prague Building Designs – chronological list
Architecture Tours Prague – Czech capital city walks by e-architect
J&T Finance Group Headquarters, Sokolovská 700/113a, Prague 8 – Karlín
Design: CMC architects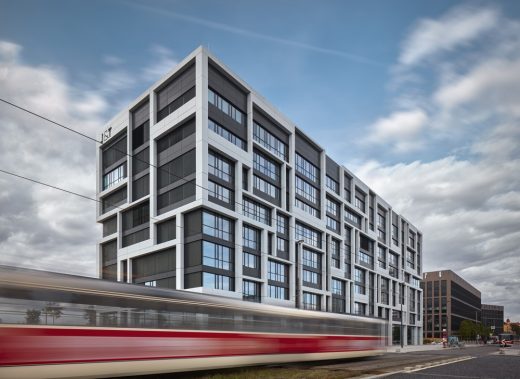 photograph : BoysPlayNice
J&T Finance Group Headquarters
Elementary School Amos, Pražská 1000, Dolní Jircany, 252 44 Psáry, Czech Republic
Architects: SOA architekti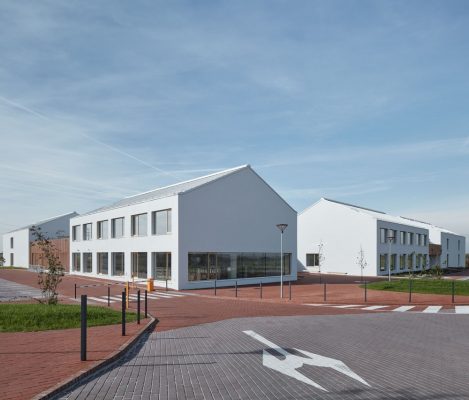 photos : Jakub Skokan and Martin Tuma
Elementary School Amos for Psáry & Dolní Jircany
Men's Lair
Architects: boq architekti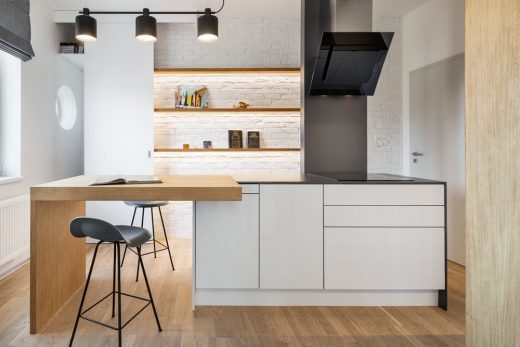 photo : Tomas Dittrich
Men´s Lair
Comments / photos for the Project V7_Underground, Vltavská Metro Prague Building design by U/U Studio page welcome