Prague Tomorrow? Prague Priorities Exhibition, Center for Architecture and Metropolitan Planning, Architecture Photos
Prague Tomorrow? Prague Priorities Exhibition
5 Oct 2020
Center for Architecture and Metropolitan Planning
Location: Prague, Czech Republic
New concert hall, a Prague "High Line", and a neo-cubist bridge across the river. 25 projects that will significantly change the face of Prague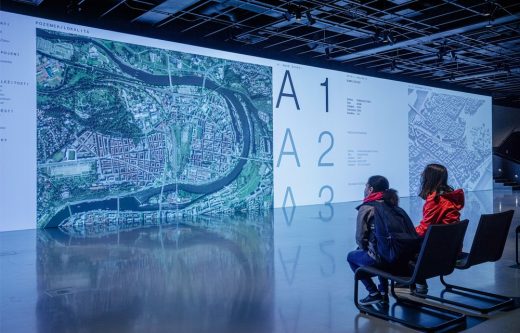 Prague Tomorrow? Prague Priorities Exhibition News
Have you ever wondered what the Czech capital city will look like in twenty years? Prague Tomorrow? Prague Priorities is an exhibition that takes us on a journey into the future, show-casing 25 ambitious development projects that could bring substantial changes to the face of Prague. The exhibition, taking place at CAMP – Center for Architecture and Metropolitan Planning – maps five basic categories in the Czech capital city's development areas: from new neighbourhoods, and large infrastructure projects, to streets, squares and parks.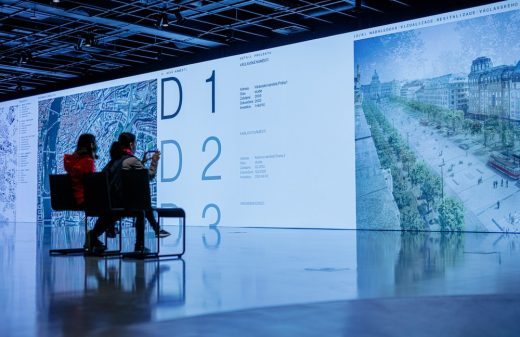 The projects differ in size and location. They do, however, have one thing in common: most of them represent a direct investment by the city. "The Prague Priorities exhibition presents a se-lection of twenty-five far-reaching projects that will change the face of Prague as we know it. We want to tap the city's inner reserves and potential – by improving the city's streets, squares, public spaces and transport links we want to raise the overall quality of life of Prague's citizens," said Ondřej Boháč, Director of the Prague Institute for Planning and Development (IPR), describing the exhibition.
Concert hall for the 21st century
Besides large infrastructure projects such as the new "D" Line of the city's metro system and a ring road around the city, a new Vltava Philharmonic has been announced.
"When our ancestors built the 19th century symbols of the Czech capital city like the National Theatre or the Rudolfinum, they first had to completely transform the riverbanks, and that was a project that radically changed the face of the entire city. Until then, these areas were peripheries overcome by flood every spring. Today, we are facing a similar opportunity with a plan to build a new concert hall", said Petr Hlaváček, First Deputy Mayor of Prague, describing one of the key fu-ture projects. "Besides kicking off the transformation of the entire brownfield at Bubny Zátory, the project could become a symbol of Prague for the 21st century."
The Czech capital already took a first crucial step this summer by choosing Danish studio Henning Larsen Architects to come up with a feasibility study, ahead of an international architectural competi-tion planned for next year.
Prague's high-line and pedestrian-friendly centre
The exhibition also presents some of the less well-known future transformations. One of these is the Railway Line Promenade. Not unlike the NYC High Line, a new city park will replace an abandoned railway line connecting Czech capital's Vršovice and Strašnice neighbourhoods. A plan to revamp of some of the public spaces in the historic center has also been laid out. The City Walls Promenade running along the former fortification on the border of Czech capital's Old and New Town will become more pedestrian-friendly, with an added emphasis on cyclists and public transport. A similar vision has been put into motion for the Wenceslas Square, a tourist hotspot, where reconstruction is already under way.
New bridge over the river
The Czech capital city has always been unique for the use of cubism in architecture in early 20th century. A hundred years later, a neo-cubist Dvorce Bridge across the Vltava river has been commissioned, a result of an architectural competition – won by two local studios, Tubes and Atelier 6, which narrowly beat Santiago Calatrava's design that came in second place. The bridge itself has been designed as a sculpture: architects cooperated with well-known Czech artist Krištof Kintera who placed a poly-functional cubist landscape artwork on one end of the bridge, and a quirky "botanical garden" made of street lamps from around the world, on the other one.
Finally, the exhibition focuses on the issue of new housing, or rather lack thereof, by introducing five brownfields, which will become home to thousands of new residents in the upcoming years. "I think our biggest problem right now is a the shortage of affordable housing. I would like to see the largest brownfield in central Prague, Bubny-Zátory, opened for development. This is a key theme for the future development of the city," said Zdeněk Hřib, Mayor of Prague. While some Brownfields still have a long way to go before construction begins, a 400 thousand square meter Smíchov City redevelopment has already begun, expecting up to 12 000 new residents within the next ten years.
Choose your own!
Visitors at CAMP are also encouraged to voice their opinion about city's upcoming projects. They are given five paper tokens, which they can use to give support to a project or projects they view as most important. They can even choose a 26th priority, suggesting a completely different project they feel has been overlooked.
No admission is charged to visit the exhibition, which runs from 23 September to 20 December 2020 at CAMP and in Mariánské Square, where the projects are presented on outdoor panels.
CAMP, the Center for Architecture and Metropolitan Planning, has set itself a goal to improve public discussion about the development of the Czech capital. It is striving to become an essential source of clear and accessible information about the present and future of the capital city and functions as an open platform, a "basecamp" for anyone interested in the collective planning and development of the Czech capital city.
CAMP is located at Charles Square, in the Prague Institute for Planning and Development building. CAMP has a large exhibition hall with a unique, large-scale wide-screen projection system, a library with a large selection of foreign-language publications about architecture, urbanism and design, a pleasant café, an outdoor patio, and a modern lecture hall offering a diverse programme of public discussions, lectures, workshops, film screenings and other activities.
CAMP also administers and edits the prahazitra.camp map portal, which provides essential information about development plans and projects in Prague – from initial ideas and project commencement to construction and completion.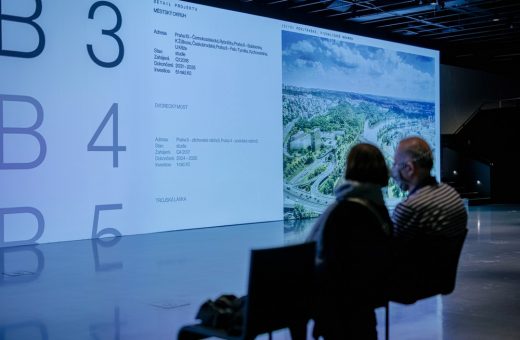 Prague Tomorrow? Prague Priorities in Czech Republic images / information received 051020
Location: Prague, Czech Republic, central eastern Europe
Architecture in Czech Capital
Prague Architecture
Prague Building Designs – chronological list
Architecture Tours Prague by e-architect
Nelahozeves Castle Library and Research Centre
Design: Wright & Wright Architects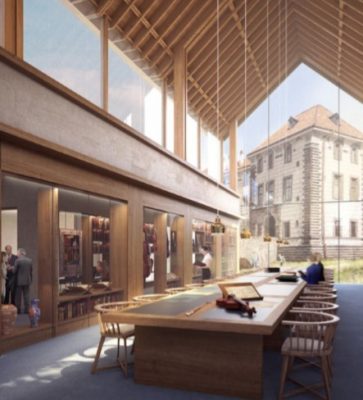 image courtesy of architects
Nelahozeves Castle Library and Research Centre
Prague Congress Centre Design Competition
Design: OCA Barcelona Architects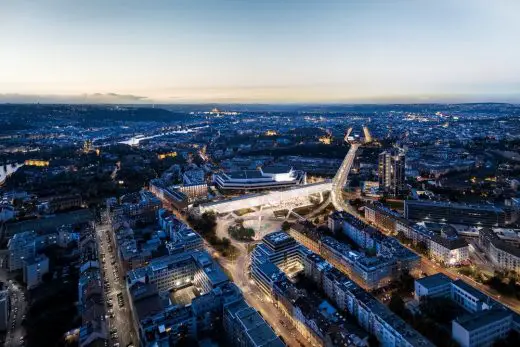 image : Play Time – Architectonic Image
Prague Congress Centre Design Competition
Janosik Design Window Showroom, Vinohradská
Design: Mjölk architects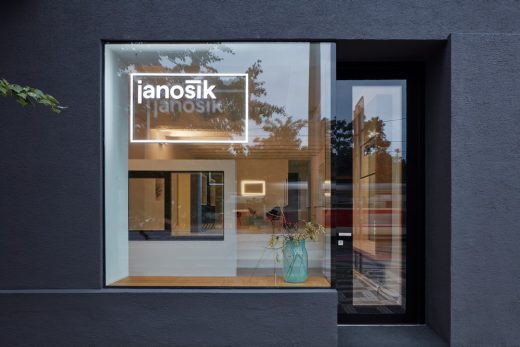 fotografie : BoysPlayNice
Janosik Design Window Showroom
JETLAG Tea & Wine Bar
Architect: Mimosa architekti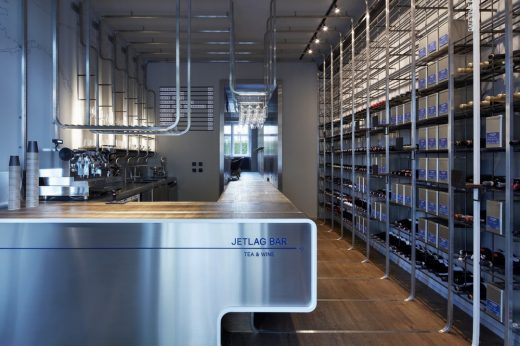 photo : BoysPlayNice
JETLAG Tea & Wine Bar
Prague Architect Studios – design studios on e-architect
Dancing House
Design: Frank Gehry
Czech National Library
Design: Future Systems
Comments / photos for the Prague Tomorrow? Prague Priorities – exhibition at CAMP – Center for Architecture and Metropolitan Planning page welcome