Prague Building Photos, Czech Architecture Pictures, Design News, CZ Property Images
Prague Architecture Photos
Architectural Images in the Czech Capital, Central-Eastern Europe
18 + 17 + 16 + 15 Mar 2015
Prague Building Photos
Architecture photographs from 2015
Czech Architecture Images
e-architect directors Isabelle Lomholt and Adrian Welch are just back from five days in the Czech Republic. Isabelle was a jury member for the Czech Architecture Awards and Adrian visited key new buildings in the Prague area.
We will post photos and updates throughout this week.
Prague Building Photos © architect Adrian Welch, e-architect Editor
The Villa Müller: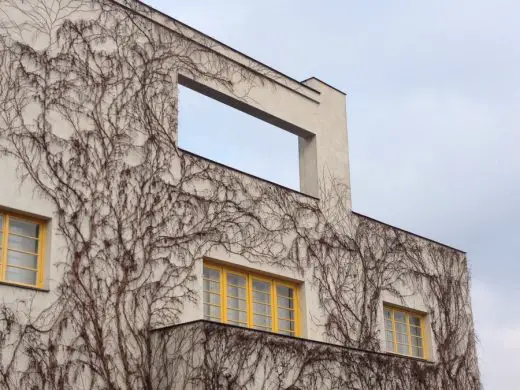 Villa Müller
The villa for Milada and František Müller in Prague (1928-30) – known as an innovative landmark of early Modernist architecture, the Villa Müller embodies Adolf Loos' ideas of economy and functionality.
Žižkov Television Tower: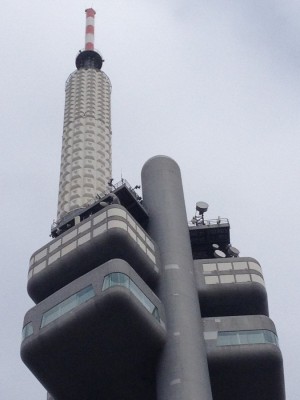 The Žižkov Television Tower is an unusual transmitter tower built in Prague between 1985 and 1992.
DOX Centre for Contemporary Art: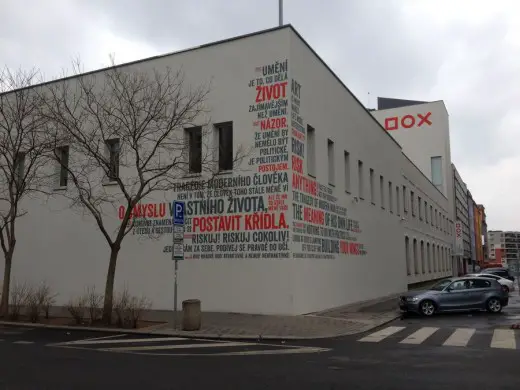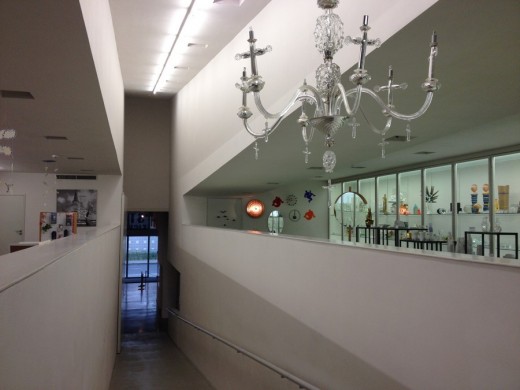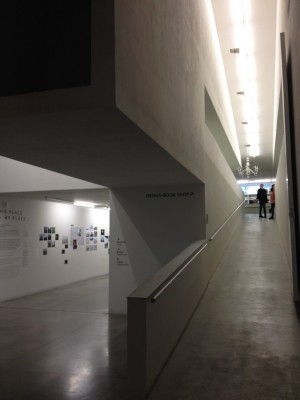 DOX Centre for Contemporary Art is an art hub with temporary exhibitions, a library, a chic design store & a cafe with an outdoor terrace.
"This multifunctional space for presenting international and Czech art, architecture and design is located in Prague's Holešovice district, in a renovated complex of industrial buildings from the 19th century."
Address: Poupětova 1, 170 00 Praha
Zlatý Anděl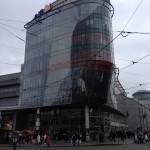 The Golden Angel (Czech: Zlatý Anděl) is an administrative complex situated in Prague, by French architect Jean Nouvel.
Hotel Josef: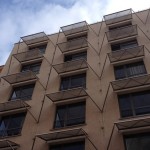 Hotel Josef by Eva Jiricna Architects – Hotel Josef Prague page on the EJAL website
Karlin Quarter
This new area to the north east of the city centre incudes Amazon Court by Danish architects office Schmidt Hammer Lassen.
House of the Black Madonna
This is a cubist building in the "Old Town" area of Prague, designed by architect Josef Gočár: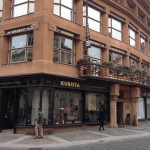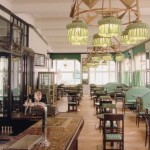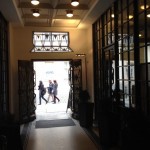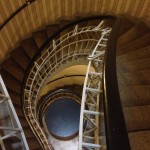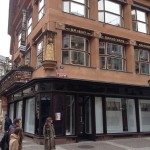 Prague apartment building located in the north west of the city between the Villa Müller and St Vitus Cathedral: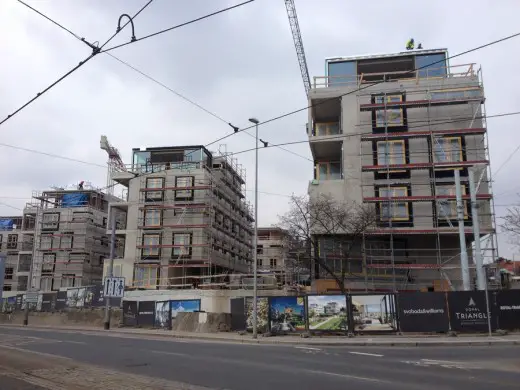 Obecní dům: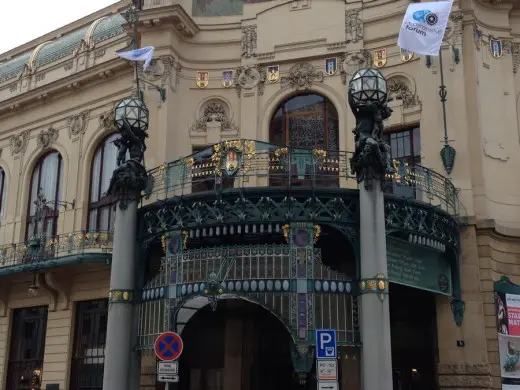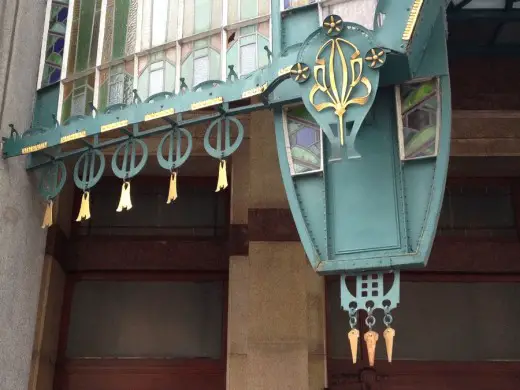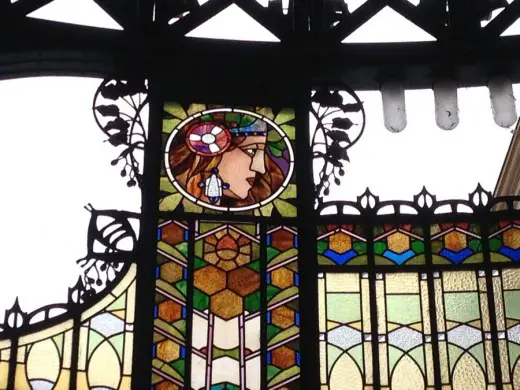 Municipal House (Czech: Obecní dům) is a civic building that houses Smetana Hall, a celebrate concert venue, in Prague, Czech Republic. Its address is Náměstí Republiky 5, next to the Powder Gate in the center of the city.
The Rudolfinum is a music auditorium: this neoclassical Czech concert hall is designed in the neo-renaissance style and located on Jan Palach Square on the bank of the river Vltava: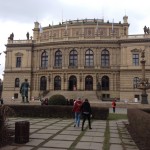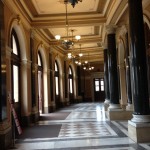 Address: Alšovo nábřeží 12, 110 00 Praha 1, Czech Republic
Phone: +420 227 059 227
Quadria Praha – new retail building, strong and quite interesting but lacking depth and finesse: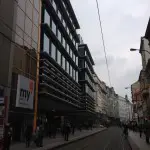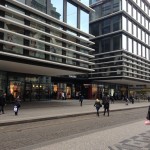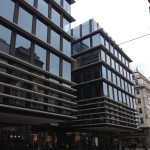 Prague Cubist buildings, souith of the city centre, use trams 3, 17 or 52: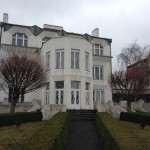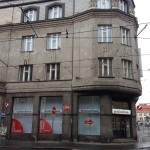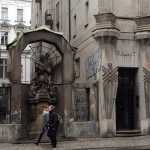 more Cubist buildings in Prague: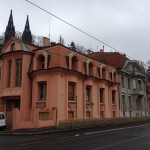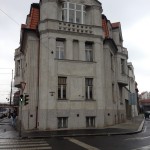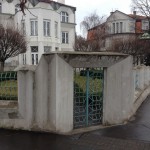 Kotva Modern Prague building: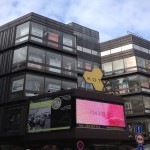 20th century building: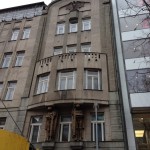 Podolská building, south of Vyšehrad: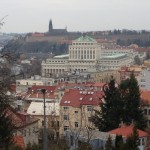 Pařížská Street – the principal high-end shopping street with Prada, Gucci, etc.: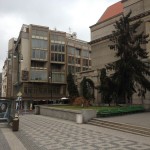 Panorama Prague building: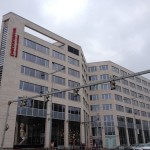 Palac Archa – fairly heavy facade: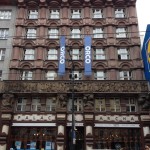 Palac Akropolis, east of the centre, just north of the TV tower: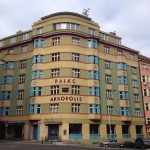 New house on Vápencová, south of Vyšehrad: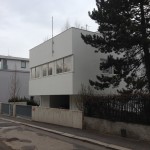 House on Vápencová: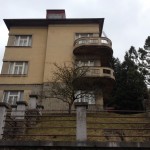 u Kublova housing: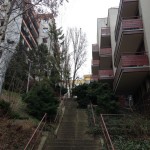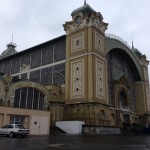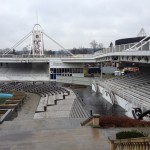 Výstaviště in Prague is an exhibition ground which is used for exhibitions, concerts and other cultural events, founded in 1891. It is located near the metro station on Metro line C Nádraží Holešovice. In the immediate area on the west side there is a large park Stromovka and a planetarium, on the eastern side tha rather plain-looking Tipsport Arena, home hall of the club HC Sparta Praha. The dominant building on its premises is the Industrial Palace, pictured.
Czech Television:
Ceska Televize buildings on a hill to the south of the city centre: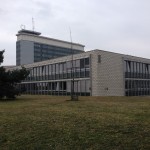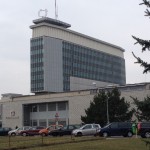 Veletržní palác: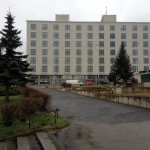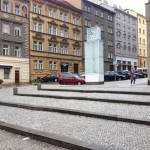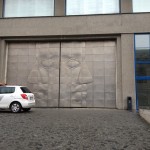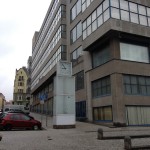 National Gallery in Prague, located north of the city centre at Dukelských Hrdinů 530/47, 170 00 Praha 7-Holešovice.
Veletržní Palace – Národní galerie v Praze – is a state-owned art gallery in Prague, which manages the largest collection of art in the Czech Republic. It is described as a palace but looks more like a very large grey box with lots of square windows! The collections of the gallery are not housed in a single building, but are presented in a number of historic structures within the city of Prague, as well as other places. The largest of the gallery sites is the Veletržní Palác, which houses the National Gallery's collection of modern art.
The Church of the Most Sacred Heart of Our Lord: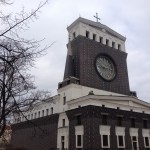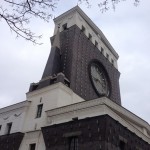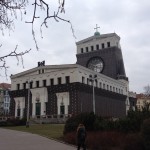 The Church of the Most Sacred Heart of Our Lord (Czech: Kostel Nejsvětějšího Srdce Páně) is Roman Catholic church at Jiřího z Poděbrad square in Prague's Vinohrady. It is built in 1929-1932 and designed by famous architect Jože Plečnik. Plečnik found the inspiration for this construction in the old Christian and antique patterns.
National Museum New Building: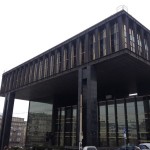 A rather severe building located immediately north of the National Museum.
Narodni store building: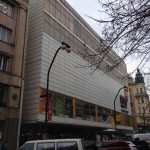 Narodni Modern building: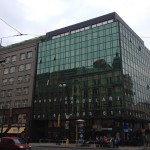 Na příkopě building: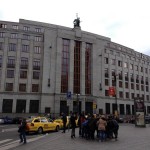 Na příkopě is a street that connects Wenceslas Square with the Square of the Republic.
Nad Cementárnou property, south of the city centre: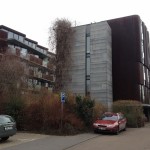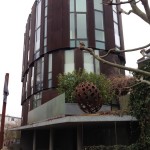 Letohrádek královny Anny – Queen Anne's Summer Pavilion (Belvedere), north east of St Vitus Cathedral: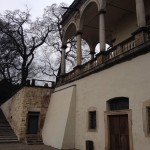 Petřín Lookout Tower: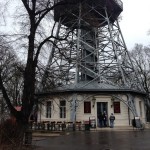 The Petřín Lookout Tower is a 63.5-m-tall steel-framework tower west of the city centre across the river, which strongly resembles the Eiffel Tower. Although it is much shorter than the Eiffel Tower, it stands atop a sizable hill, Petřín, so the top is at a higher elevation than that of the Eiffel Tower. The Petřínská rozhledna was built in 1891 and was used as an observation tower as well as a transmission tower. The two observation platforms are accessible via 299 stairs.
Petřín funicular: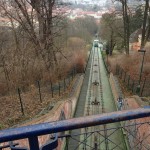 Petřín maze building, a mini folly: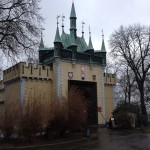 Karlův most – The Charles Bridge, a famous historic bridge that crosses the Vltava river. Its construction started in 1357 under the auspices of King Charles IV, and finished in the beginning of the 15th century: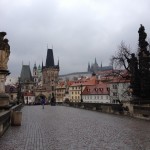 Karlova building: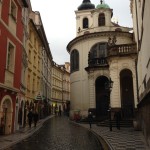 Intercontinental Prague Hotel: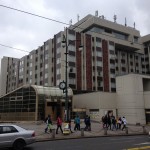 Holešovice Prague railway sculpture – remembering a terrible wartime history: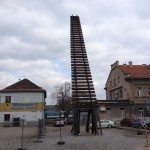 Holešovice Prague building: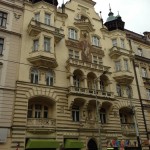 Charles Bridge tower: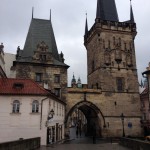 Cathedral of Our Lady before Tyn – a key landmark on the Old Town Square: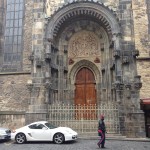 British Embassy in Prague: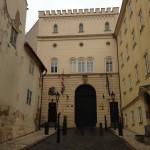 VZP Klientske Centrum – rather severe Czech Modern architecture: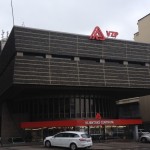 V rovinách building: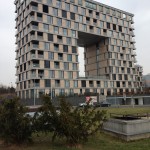 Valdštejnská: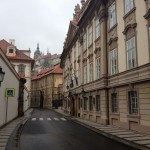 Hradčany Square Buildings: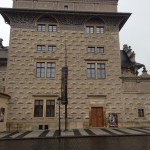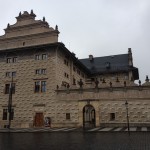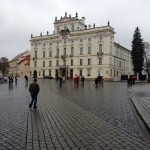 Several imposing palaces dominate Hradcany Square: Schwarzenberg Palace, Archbishop's Palace and Sternberg Palace.
Hradčany Buildings: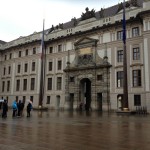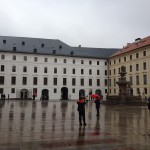 Hradcany lies on the left bank of the Vltava river and is dominated by the 16th-century Prague Castle including St. Vitus Cathedral.
Hradčany steps up from the city centre: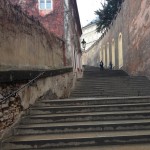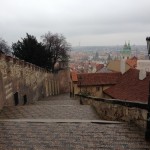 St Vitus Cathedral window: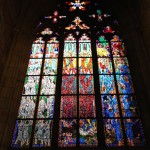 St Vitus Cathedral interior: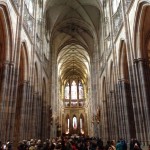 Stemovni building: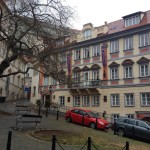 Staronová synagoga: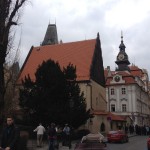 The Old New Synagogue situated in Josefov, Prague, is Europe's oldest active synagogue. It is also the oldest surviving medieval synagogue of twin-nave design. Completed in 1270 in gothic style, it was one of Prague's first gothic buildings.
Spanish Synagogue in Prague – Španělská synagoga Praha, with newer visitor centre building in front: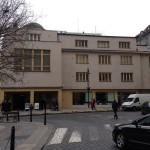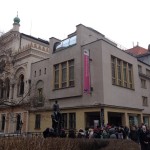 The Spanish Synagogue is a Moorish Revival synagogue built in Prague in 1868 to the design of Vojtěch Ignátz Ullmann.
River Vltava clocktower: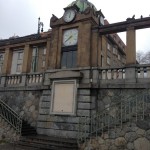 River Vltava view: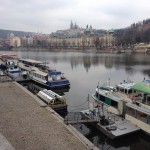 River Vltava buildings: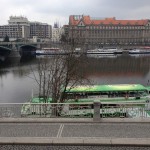 Prague pavilion building: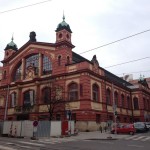 Prague Modern architecture: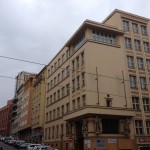 Kaprova building: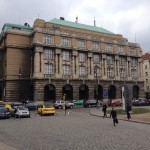 Dilapidated building in Holešovice: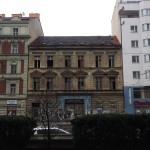 sources: site vitis to each building + wikipedia
Previous visits to the city were in 1991 – on a Scholarship to study Expressionist Architecture in Eastern Europe, provided by Manchester Society of Architects – and in 1998 working for Eva Jiricna Architects on the opening of The Orangery (and also visiting the site of Hotel Josef to take photos and to Brno to visit the completed Lavka Bridge and the Tugendhat Villa).
Prague architecture photos – from 1991


Location: Prague, Czech Republic
New Prague Architecture
Contemporary Prague Architecture
Prague Architecture Designs – chronological list
Prague Architecture Tours – city walks by e-architect
Prague Office Building : Amazon Court
Franz Kafka Society Center by Steven Holl Architects
Prague Building Photos © Adrian Welch
Bridge near Prague – in the south of the Czech Republic
Comments / photos for the Prague Building Photos page welcome