City Municipal Bonneuil-sur-Marne Design, French Civic Building
Cité Municipale de Bonneuil-sur-Marne
City Hall Building Paris, France – design by ECDM architectes
26 Mar 2012
City Hall Bonneuil-sur-Marne
Location: south east Paris, northern France
Design: ECDM
English text (scroll down for French):
The context in which the new city hall will be located is the starting point of our reflection. Here more than elsewhere, the town hall will articulate, unify urban landscapes of great diversity, contribute to the implementation of a new polarity high symbolic value in a heterogeneous urban environment.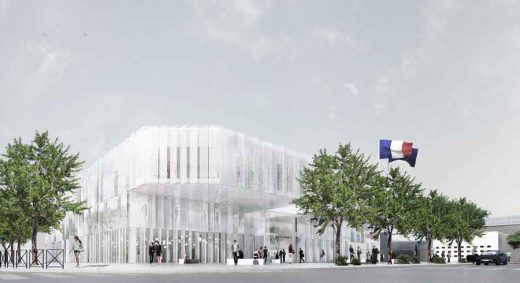 The intersection of two major pathways of Bonneuil-sur-Marne, between the Avenue de Verdun and the provincial road 19 is a strategic crossroads at the edge of urbanity strong and gives our response as an interface between the different territories of the city. It is a building backbone that we offer, a building that articulates the modern city and ancient city, a vessel on the defi nition of an urban landscape, a building that promotes the values of an open society on its environment.
This is around the definition of an open space, a space featuring the city, organizing services and programs open to Bonneuillois, a place run by its players and users. This is a lively and attractive and the dynamism of Bonneuil is on view for a close and civic administration.
General Operation
The volume of the Town Hall is divided into three levels, the first two are used to bring services to the public while the last level welcomes the elected Mayor and his deputies. The last level is used to create slides and south side terrace associated with the relaxation of staff and a north side door overhang above the square marking and protecting the entrance of City Hall.
The design of a building developed on three levels allows us to stay within 8 m at the last floor available and manage all of the Town Hall as a single volume. This unit allows a much better spatial fluidity between levels with stairs open, visual continuities and breakthroughs, better functioning by limiting the airlock doors and firewalls, and more accessible in terms of maintenance and operation.
Designed as a true incubator of the town, the town hall organizes these three levels around a large atrium lobby and two large patios planted. Wide open and thought as continuity of the court, the atrium is an input space of around 300 m². This is an open, welcoming space where citizens circulate and exchange information and services in the municipality of Bonneuil-sur-Marne.
The reception develops lengthwise in the axis of the building and over its entire height. Natural light enters through a long glass roof, and a large bay window defining a patio. The project builds on the particular geometry of the plot at the last level to create a large opening facing the Avenue de Verdun. This geometry, combined with the mayor's office as well as meeting rooms and reception offers a dedicated lookout on the ancient city of Bonneuil-sur-Marne and highlights the relationship between the mayor and its inhabitants.
City Municipal Bonneuil-sur-Marne – Building Information
Program: City Municipal Bonneuil-sur-Marne
Owner: SADEV 94 on behalf of the City Council Bonneuil-sur-Marne
Project Manager / Architect: architects ECDM
Structure: EIFFAGE Val de Seine
Engineering and design fluid: SNC Lavalin
General contractor: EIFFAGE Val de Seine
Location: 3 rue Ampere, IGNY (93)
Land area: 3800 m²
Built area: 7045m ² GFA
Floor area: 4500m ²
Cost: 14 M €
Contest: 2011
French text:
Cité municipale – Bonneuil-sur-Marne
Le contexte dans lequel le nouvel hôtel de ville sera implanté est le point de départ de notre réflexion. Ici plus qu'ailleurs, l'hôtel de ville devra articuler, fédérer des paysages urbains d'une grande diversité, concourir à la mise en oeuvre d'une nouvelle polarité à haute valeur symbolique dans un environnement urbain hétérogène. L'intersection de deux voies majeures de Bonneuil-sur-Marne, entre l'avenue de Verdun et la route départementale 19 constitue un carrefour stratégique à la lisière d'urbanités fortes et confère à notre intervention un rôle d'interface entre les différents territoires de la ville. C'est un bâtiment fédérateur que nous vous proposons, un bâtiment qui articule la ville moderne et la ville ancienne, un bâtiment qui participe à la défi nition d'un paysage urbain, un bâtiment qui porte les valeurs d'une société ouverte sur son environnement.
C'est donc autour de la définition d'un espace ouvert, un espace mettant en scène la ville, organisant des services et des programmes ouverts aux Bonneuillois, un lieu animé par ses acteurs et utilisateurs. Il s'agit d'un lieu vivant et attractif où le dynamisme de Bonneuil est donné à voir pour une administration proche et citoyenne.
Fonctionnement général
Le volume de la Mairie se décompose en trois niveaux dont les deux premiers sont destinés à accueillir les services aux publics tandis que le dernier niveau accueille les élus, le maire et ses adjoints.
Le dernier niveau glisse et permet de créer côté Sud une terrasse associée à l'espace détente du personnel et côté Nord un porte-à-faux au dessus du parvis marquant et protégeant l'entrée de l'hôtel de ville. La conception d'un bâtiment développé sur trois niveaux nous permet de rester à moins de 8 m au dernier plancher accessible et de gérer l'ensemble de l'Hôtel de Ville comme un seul et même volume.
Cette unité spatiale permet une bien meilleure fluidité entre les niveaux avec des escaliers ouverts, des percées et continuités visuelles, un meilleur fonctionnement en limitant les sas et les portes coupe-feux, ainsi qu'une meilleure accessibilité en terme de maintenance et d'exploitation. Pensé comme véritable incubateur de la ville, l'hôtel de ville organise ces trois niveaux autour d'un grand hall atrium ainsi que deux grands patios plantés. Largement ouvert et pensé comme continuité du parvis, l'atrium constitue un espace d'entrée de près de 300 m².
C'est un lieu ouvert, accueillant, un espace citoyen où circulent et s'échangent les informations et les services de la commune de Bonneuil-sur-Marne. L'espace d'accueil se développe en longueur dans l'axe du bâtiment et sur toute sa hauteur. De la lumière naturelle pénètre par une longue verrière zénithale, et par une large baie vitrée délimitant un patio arboré. Le projet tire parti de la géométrie particulière de la parcelle pour créer au dernier niveau une large ouverture orientée vers l'avenue de Verdun. Cette géométrie, associée au bureau du maire ainsi qu'aux espaces de réunion et de réception dédiés offre un belvédère sur la ville ancienne de Bonneuil-sur-Marne et met en avant la relation entre le maire et ses habitants.
Cité Municipale de Bonneuil-sur-Marne – Fiche Technique
programme : cité municipale de Bonneuil-sur-Marne
maître d'ouvrage : SADEV 94 pour le compte de la mairie de Bonneuil-sur-Marne
maître d'œuvre/Architecte : ECDM architectes
bureau d'étude structure : EIFFAGE CONSTRUCTION Val de Seine
bureau d'étude fluide : SNC LAVALLIN
entreprise générale : EIFFAGE CONSTRUCTION Val de Seine
localisation : 3 rue Ampère, IGNY (93)
surface terrain : 3800 m²
surface construite : 7045m² SHON
surface utile : 4500m²
coût : 14 M€ HT
concours : 2011
Cité Municipale de Bonneuil-sur-Marne images / information from ECDM architectes
Location: Bonneuil-sur-Marne, Paris, France
New Paris Architecture
Contemporary Paris Architecture
Paris Architecture Design – chronological list
Paris Architecture Tours by e-architect
Beaugrenelle Shopping Mall, 15th arrondissement
Agence Search
Beaugrenelle Shopping Centre
Tour Horizons
Ateliers Jean Nouvel
Tour Horizons
Tours du Pont de Sèvres Paris, Boulogne-Billancourt
Dominique Perrault Architecture
Pont de Sèvres Towers
EDF Campus Saclay, south west Paris
ecdm
EDF Campus Saclay
Novancia business school
Architecture-Studio
Novancia business school
Le Monde
Atelier Christian de Portzamparc
Le Monde Paris
Comments / photos for the City Municipal Bonneuil-sur-Marne – French Civic Building page welcome