Naust paa Aure Norway, More og Romsdal Architecture, Aure Kommune Building, Norwegian Design
Naust paa Aure, Norway : More og Romsdal Building
Norwegian Boathouse Building – design by TYIN tegnestue Architects
26 Mar 2012
Naust paa Aure, Aure Kommune
Design: TYIN tegnestue Architects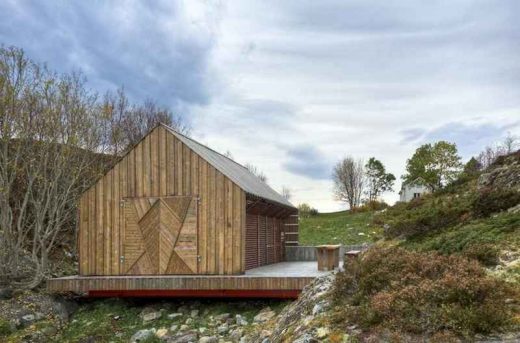 Norwegian Boathouse
The boathouse is a cultural and historical hallmark of Norway's coastal regions, where fishing used to be the primary profession. They have traditionally been used for storing boats and fishing gear, but today many of them are being converted for recreational summer use.
This particular boathouse is located on the outermost reaches of the Moere-coast, and it hails from the middle of the eighteenth century. It was in such a bad state that the owner decided to tear it down and build it anew.



photos : Pasi Aalto / pasiaalto.com
The disclosed and somewhat unavailable location made material-reuse very desirable. Old windows from a nearby farmhouse were collected and sorted. The placement of these windows became key in deciding what distance to use between the pillars in the main construction.





photos : Pasi Aalto / pasiaalto.com
An adaptable design approach and flexibility in the building process coupled with a high degree of presence on the work site have been crucial for the final result of this project. Rational choices in regards to material use, method of construction and detailing have given this boathouse its distinguished architectural features.
The building remains true to the historical and cultural heritage of Norways coastal regions while catering to new modes of usage.
Norwegian text:
Tradisjonelt har de norske naustene vært et sted for lagring av båter og fiskeutstyr. I den senere tid har flere ønsket å bruke disse byggene til rekreasjonssteder om sommeren. Ytterst på Mørekysten lå et gammelt naust fra midten av 1800-tallet, som var i så dårlig forfatning at eieren bestemte seg for å rive og bygge nytt.
Det gamle naustets enkle form, gode plassering og ærlige materialbruk ble viktige inspirasjonskilder for utformingen av det nye bygget. Det ble lagt stor vekt på hovedkonstruksjon, portene i gavlveggen og den fleksible langfasaden.
Tomtas skjermede og utilgjengelige beliggenhet gjorde det ønskelig å gjenbruke mest mulig av materialene fra eiendommen. Blant annet er materialer fra det gamle naustet brukt til å forskale bakveggen; dette gir en struktur i betongoverflaten som minner om det opprinnelige naustet. Samtidig ble gamle vinduer fra gårdsbruket samlet og sortert. Plasseringen av disse ble etterhvert bestemmende for avstanden mellom søylene i hovedbæringen.
Underveis i rivingsarbeidet ble det oppdaget at naustet var bygget på leiregrunn. Det nye bygget hviler derfor på åtte meter lange H-profiler, som spenner fra fjell til fjell. Naustets hvitmalte hovedkonstruksjon er bygget på stedet. For å lette fundamenteringsarbeidet hviler en del av konstruksjonen direkte på grunnfjellet.





photos : Pasi Aalto / pasiaalto.com
Som utvendig kledning på vegger, tak og gulv er det brukt norsk furu som er trykkimpregnert med et produkt basert på miljøvennlig biologisk avfall fra sukkerrørsprodusjon (Kebony). Kledningen krever intet vedlikehold og vil over tid gi naustet en sølvgrå patina. Portene på langfasaden svinges ut og inn ved hjelp av enkle stålbeslag og bolter. Uteplassen belyses gjennom seilduk av bomull, og det gamle naustets ståltak beskytter portene mot vær og vind.
150 år gammel kledning fra det gamle naustet er brukt som innvendig overflate, og bak kledningen finnes en stor del av konstruksjonens avstiving. Benkeplaten hviler på gamle jernbanesviller og gir en fire meter lang arbeidsbenk til sløying av fisk og oppbevaring av redskaper.
En fleksibel prosess med tett oppfølgning på byggeplassen har vært avgjørende for det endelige resultatet. Rasjonelle valg i forhold til materialer, konstruksjon og detaljer har gitt naustet dets arkitektoniske uttrykk.
TYIN tegnestue Arkitekter AS



photos : Pasi Aalto / pasiaalto.com
Naust paa Aure More og Romsdal – Building Information
Project Description: Naust paa Aure
Location: Aure Kommune, More og Romsdal, Norway
Client: Stein Erik Sørstrøm
Project: Boathouse
Cost: 250.000 NOK, (45,000 USD)
Time: Apr 2010 – Jan 2011
Built by: TYIN tegnestue Architects
Architects: Marianne Løbersli Sørstrøm, Yashar Hanstad
Photos: Pasi Aalto
Naust paa Aure images / information from TYIN tegnestue Architects
Aure Boathouse, Møre og Romsdal, Norway – further information
TYIN tegnestue Architects
TYIN tegnestue – external link
Pasi Aalto – external link
Location: Aure Kommune, More og Romsdal, Norway, northern Europe
Norwegian Architecture
Contemporary Norwegian Architecture
Norwegian Architectural Designs – chronological list
Oslo Architecture Tours by e-architect
Svalbard Science Centre
Design: Jarmund/Vigsnæs AS Architects MNAL
Svalbard Science Centre
Arctic Airport
Design: Narud Stokke Wiig / Haptic Architects
Arctic Airport
Knut Hamsun Center
Design: Steven Holl Architects
Knut Hamsun building
Juvet Landscape Hotel, Gudbrandsjuvet
Design: Jensen & Skodvin Arkitektkontor
Juvet Landscape Hotel
Comments / photos for the Naust paa Aure More og Romsdal page welcome