July 22 Memorial, Norwegian Design Competition, Utøya Public Art Project, Memory Wound Images
July 22 Memorial Sites, Norway
Design for Island of Utøya + Oslo, Norway – Norwegian Architecture Contest News Update
2 Jan 2017
July 22 Memorial Sites News
Memorial and Learning Centre on Utøya Nominated for Mies van der Rohe 2017 Awards
Memorial and Learning Centre on Utøya – 12 + 2 Jan 2017
Memorial and Learning Centre on Utøya, Hole by Blakstad Haffner Arkitekter AS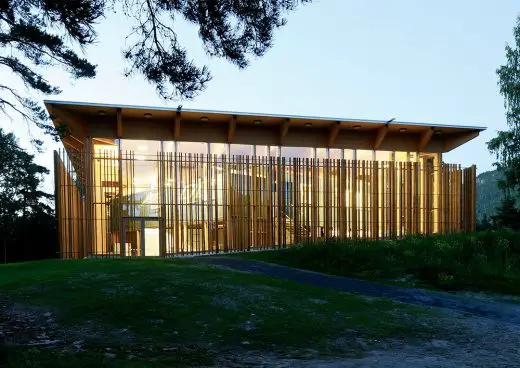 photo © Are Carlsen
Mies van der Rohe 2017 Award Nominations
21 Sep 2016
Utøya Memorial News
Utøya Memorial Design Abandoned?
'Memory Wound' by Jonas Dahlberg, Swedish conceptual artist, at the tip of the Sørbråten peninsula.
The Norwegian government has offered to replace a controversial Utøya memorial in an effort to appease local residents, reports www.thelocal.no.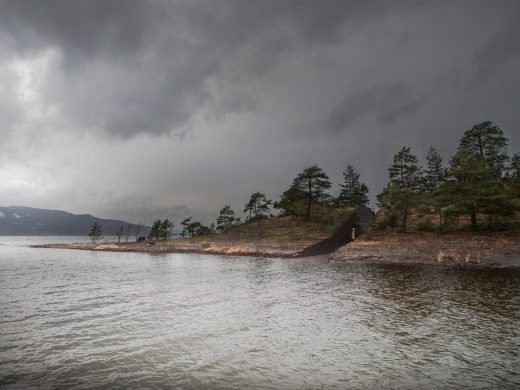 The 'Memory Wound' memorial to commemorate the massacre of 69 people, mostly teenagers, on the island in 2011 has been fraught with controversy for years.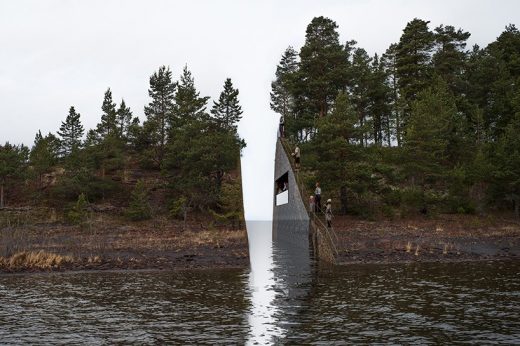 Designed by Swedish conceptual artist Jonas Dahlberg, the memorial is a "permanent scar" that would see the tip of Sørbråten, the peninsular which juts out into the Tyrifjorden towards Utøya, severed from the lakeside, and the names of the dead then carved on the exposed surface of the new island.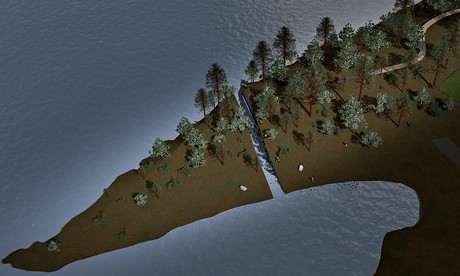 Some residents of Sørbråten have fiercely opposed the memorial, condemning Swedish conceptual artist Jonas Dahlberg's design as a "rape of nature", a "tourist attraction ", and a "hideous monument".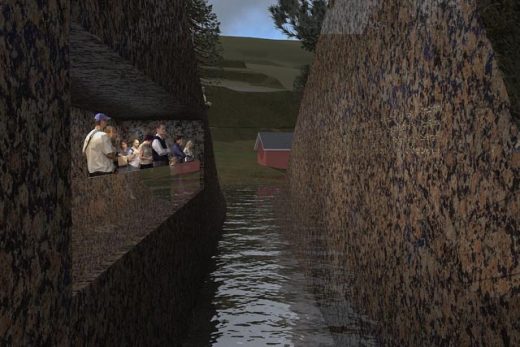 The residents hired one of Norway's top lawyers to prevent the memorial's construction but the government said as recently as May that it would not change course.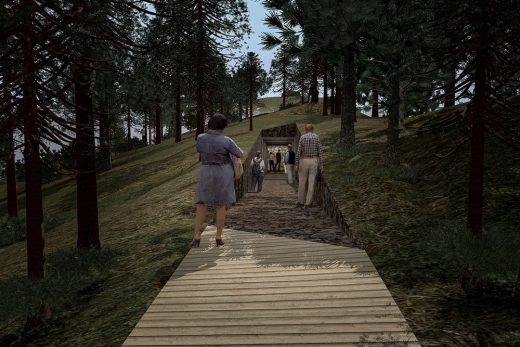 In an apparent turn-around, Local Government Minister Jan Tore Sanner said that the government has now offered to scrap the controversial Utøya design by Jonas Dahlberg.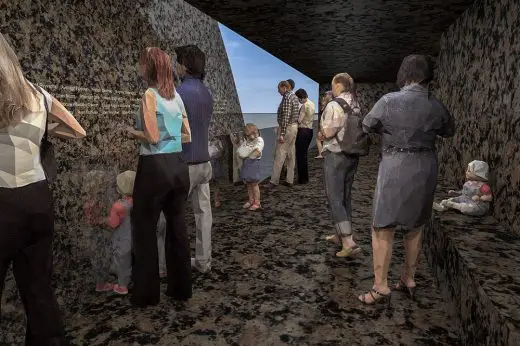 Jonas Dahlberg announced as the design competition winner
10 Oct 2013
July 22 Memorial Norway
Shortlist announced for July 22 Memorial Sites
Eight international candidates have been selected for the second phase of the international competition to design two national public art memorial sites to commemorate the 2011 terror attacks in Oslo and on the island of Utøya.
Artists and architects worldwide were invited to respond to an international open call for pre-qualification by 3 September 2013. The Art Selection Committee received 300 submissions from artists, architects, landscape architects, poets, musicians, urbanists and academics from 46 different countries. The open call was published in French, Arabic, Russian, Chinese and Spanish, in addition to Norwegian and English.
The selected short listed candidates to enter the closed competition for the 22 July memorial sites are:
Jonas Dahlberg (SE)
Jeremy Deller (UK)
Estudio SIC (ES)
Goksøyr & Martens and Snøhetta (NO)
Olav Christopher Jenssen and LPO arkitekter (NO)
Haugen/Zohar arkitekter (NO)
Paul Murdoch Architects (US)
NLÉ & Kunlé Adeyemi (NL/NG)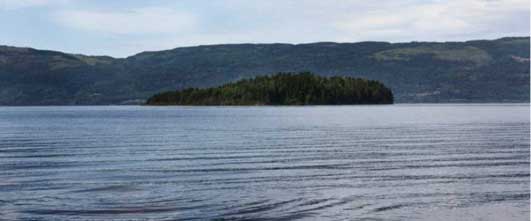 image from organiser
This second phase of the competition ends on 15 February 2014, with the announcement of the winning candidate. The memorial in Hole and the temporary memorial in Oslo should be completed by 22 July 2015. The date of completion for the permanent memorial in Oslo will be determined by the redevelopment of the Government Quarter.
Ten million Norwegian kroner (NOK) have been earmarked for the permanent memorial site in the Government Quarter in Oslo, and two million NOK to the temporary project. Five million NOK have been earmarked for the memorial site in Hole Council.
Further Information: www.minnesteder.no
Jonas Dahlberg
Jonas Dahlberg is a Swedish artist, who lives and works in Stockholm, Sweden. His practice includes photography, film, installations and public commissions. A recurring feature of his work is the notion of time and the study of the psychological aspects of architectural space. Exhibitions include Manifesta 4 in Frankfurt (2002), the Italian Pavilion at the 50th Venice Biennale (2003), the 26th Bienal de São Paulo (2004), the Taipei Biennial (2006), the Kunstmuseum Stuttgart (2009), and the Lisbon Architecture Triennale (2010).
Jeremy Deller
Jeremy Deller is a British artist, who works conceptually across a range of different mediums, often beyond the traditional confines of the gallery. His work transcends the distinction between work of art and audience, and viewers are invited to immerse themselves in his work and consider it from the inside. Deller's projects include Acid Brass (1997) and The Battle of Orgreave (2001). Recent exhibitions include Joy in People, Hayward Gallery, London (2012) and English Magic the British Pavilion at the 55th Venice Biennale (2013).
Estudio SIC
Estudio SIC
Estudio SIC is an architectural office based in Madrid, Spain. Estudio SIC is an architectural practice that develops its designs while paying particular attention to the creation of public space. This approach enters many spheres: the domestic, urban, landscape and territorial. Projects include the 11th March Memorial, Madrid (2007), Rehabilitation Espacio VIas, León (2010) and the Biotechnology Headquarters, Armunia (work in progress).
Goksøyr & Martens/Snøhetta
Snøhetta
Goksøyr & Martens is an Oslo-based performance project, established in 1997 by Toril Goksøyr and Camilla Martens. Together they have produced participatory art projects and performances for galleries, museums and theatre stages within and outside Norway. Projects include Palestinian Embassy, Oslo (2009)/Liverpool (2012), This is no dream, Johannesburg Art Gallery, Johannesburg (2008), It would be nice to do something political, the Nordic Pavilion, Venice Biennale, Venice (2007). Goksøyr & Martens work in team with Snøhetta, an architecture, landscape architecture, and interior design office, based in Oslo and New York City. Projects include Bibliotheca Alexandrina, Alexandria (2002), the Oslo Opera House, Oslo (2008) and the National September 11 Memorial Museum Pavilion, New York (2011)
Haugen/Zohar Arkitekter (HZA)
Haugen/Zohar Arkitekter (HZA) is an Oslo-based practice, established in 2006 by architect and artist Marit Justine Haugen and architect Dan Zohar. The office operates in a field between art and architecture, and emphasizes sustainability through its use of materials, areas of applicability and recycling practices. Projects include 'Fireplace for Children', Trondheim (2009), 'Cave for Kids', Breidablikk Kindergarten, Trondheim (2012) and 'Diamond for the Elderly', the Health Care Centre, Askøy Municipality (2012).
Olav Christopher Jenssen/LPO
Olav Christopher Jenssen is a Norwegian artist known internationally for his abstract paintings and sculptures. Since 2007, Jenssen has held a professorship at the Hochschule für Bildende Künste Braunschweig, Germany. His work features in several collections, including the Museum of Modern Art, New York, Moderna Museet, Stockholm and the Centre Pompidou, Paris. Olav Christopher Jenssen works in team with LPO, a Norwegian architectural firm based in Oslo. LPO have been responsible for a number of Norwegian and international projects, and their portfolio includes Oslo Spektrum, Oslo (1991), The Norwegian Pavilion at the Worlds Fair, EXPO 92, Sevilla (1992) and Le Prix de la Liberté, Arromanches (1994).
Paul Murdoch Architects
Paul Murdoch Architects is a professional corporation based in Beverly Hills, California, specializing in architecture, urban design and interiors for higher education, governmental and cultural institutions. The firm focuses primarily on large and mid-sized projects in public spaces. Projects include the Flight 93 National Memorial, Shanksville, PA (2005 to present), the Central Avenue Constituent Services Center, South Los Angeles (2010) and Monterey Park Bruggemeyer Library, Monterey Park, CA (2010).
NLÉ & Kunlé Adeyemi
NLÉ is an acclaimed international and multidisciplinary practice with a portfolio of work that includes architecture, design, urban planning and public arts projects, based in Amsterdam, the Netherlands. NLÉ was founded by Nigerian architect, urbanist and researcher Kunlé Adeyemi. Projects include Queensday Lagos, Amsterdam (2011), the Makoko Floating School, Lagos (2012) and the Lagos Water Communities Project, Lagos (2012).
Public Art Norway (KORO) received the official assignment notification for the national memorial sites from the Ministry of Culture on July 10, 2012. It was decided that a permanent memorial site should be built in Hole along with a temporary one for the Government Administration Complex, due to the still pending plans for the rebuilding of the complex. The memorials should then be finalized by July 22, 2015. Additionally, a main memorial site shall be established in the Government Administration Complex. This site will be designed in tandem with the rebuilding plans for the complex, so its timeline has yet to be set.
Public Art Norway (KORO) is the government's specialized body for art in public buildings and environments. KORO's mission is to organize and encourage the integration of art as an essential part of public buildings and spaces. Through art production, art dissemination, arts administration and as a resource center, KORO seeks to stimulate increased interest in art in public spaces. KORO strives to participate in the development of international networks within the professional field.
July 22 Memorial Norway image / information received 101013
21 Jul 2015
The Clearing, Memorial at Utøya
Design: 3RW
Location: Utøya, Tyrifjorden, Hole, Buskerud, Norway – just north west of Oslo, the Norwegian capital city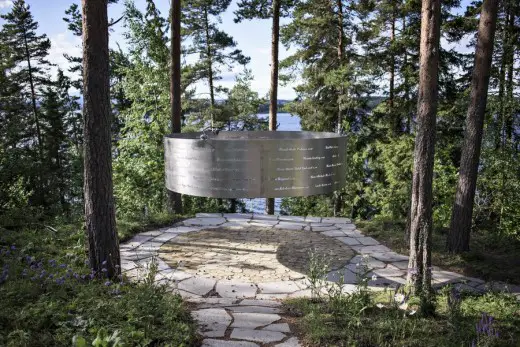 photo from 3RW
Location: Utøya, Tyrifjorden, Hole, Buskerud, Norway
Norwegian Architecture
Contemporary Norwegian Architecture
Norwegian Building Designs – chronological list
Architecture Tours Oslo by e-architect
Another memorial in Norway on e-architect:
Tsunami Memorial Oslo
Tsunami Memorial in Oslo
Memorial Architecture
Atocha Train Station Memorial, Madrid, Spain
Design: estudio de arquitectura fam
London Bombings Memorial, England
Design: Carmody Groarke Architects
The Plus Furniture Factory, Magnor
Architects: BIG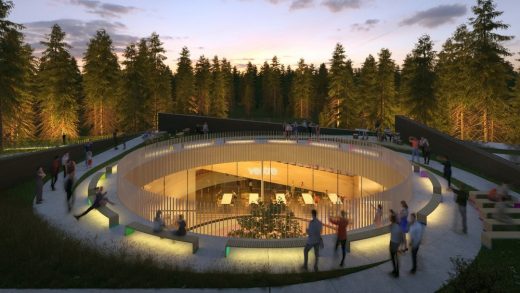 image © Lucian R
The Plus Furniture Factory, Magnor
Comments / photos for the July 22 Memorial Norway Architecture – Memory Wound by Swedish conceptual artist Jonas Dahlberg page welcome