Memorial and Learning Centre on Utøya, July 22 Site in Hole, Norwegian Design Images
Memorial and Learning Centre on Utøya
Design for Island in Norway: Norwegian Architecture – design by Blakstad Haffner Arkitekter AS
12 + 2 Jan 2017
Hegnhuset, minne og læresenteret på Utøya
Memorial and Learning Centre on Utøya
Location: Hole, Buskerud county, Southern Norway
Design: Blakstad Haffner Arkitekter AS
The architects' ambition was to reflect and strengthen values of community, solidarity, diversity and democracy, both through form and function by establishing a small village with small streets, belfry and a town square on the very top of the island.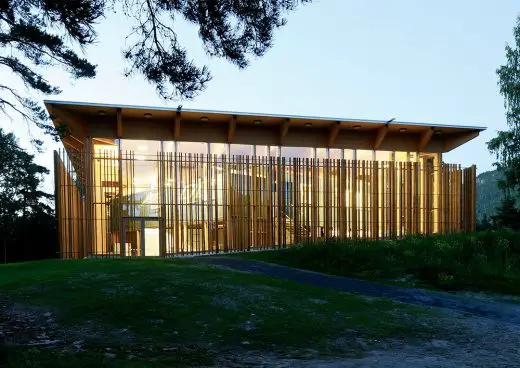 photo © Are Carlsen
In the wake of the terrorist attacks on Utøya 22 July 2011, Fantastic Norway/ Blakstad Haffner Arkitekter was engaged to create a strategy for the re-establishing of a political camp on the island, in close relation to the Labour Youth Party (AUF). Utøya is a meeting place for youths, a political workshop and a place for culture, sports, friendship and love.
Photos below © Espen Grønli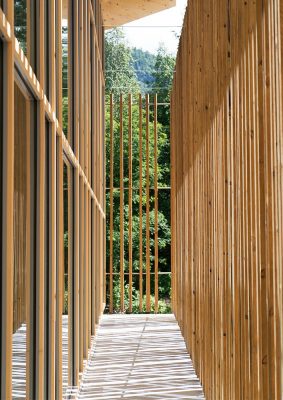 For over 60 years it has been the arena for AUFs summer camp. It is a place where new ideas are formed ñ ideas that have made it into Norwegian politics and changed people's lives for the better.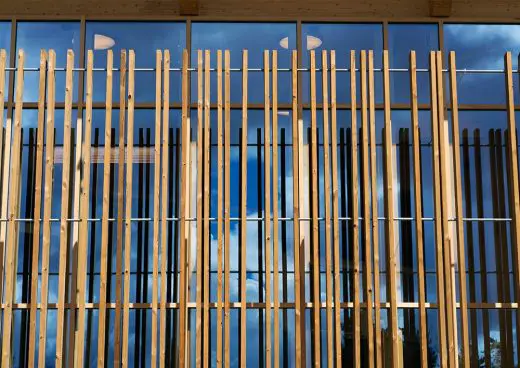 Utøya has also been used extensively by other civil society organisations. Scout camps have been held at the island, environmental organisations have made controversial and ground breaking decisions here, while religious organisations have celebrated their beliefs.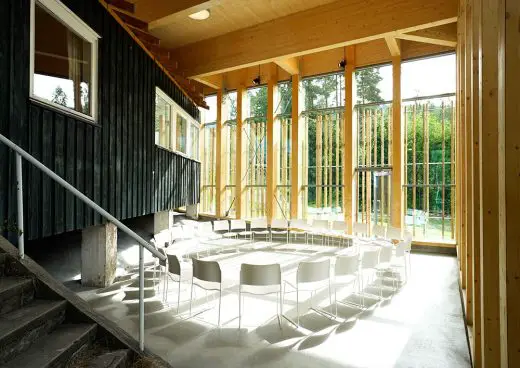 The attack on July 22nd left few physical traces on Utøya. The visible ones are found in the cafe building, where 13 people were killed, and many scared physically and physiologically for life. We have designed a building that honour the areas of the building directly affected by the massacre and preserved parts that created a safe hiding place. We "protected" areas where there were 13 casualties and the restrooms where 19 survived and removed parts not central to preserving the memory. The new building body was laid in the same axis as the other new buildings we are erecting on Utøya.
Photo below © Are Carlsen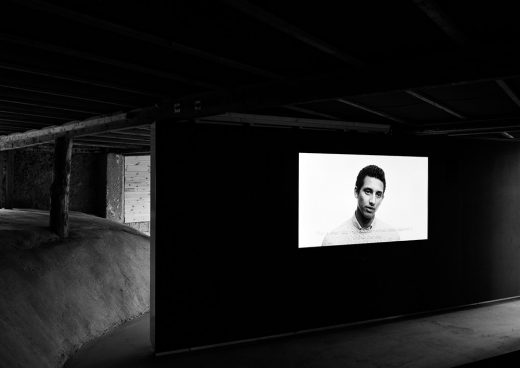 It represents and clarifies shift. 69 pillars of wood support the building's roof, representing those who died on the day. Around these 69 columns there are 495 outer poles by number representing the people who survived the tragedy and who carry the memories of this day. They filter the entry into the building through a charged spatial sequence. The cloister is open between each pillar in the fence for visibility and transparency. From the cloister there are 5 different entrances to the building to give fluidity in the movement and to exclude the feeling of being enclosed.
Pictures below © Blakstad Haffner Arkitekter AS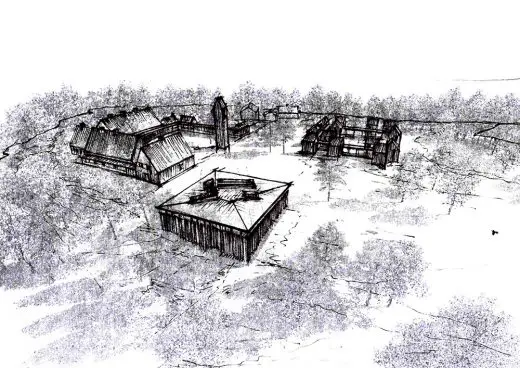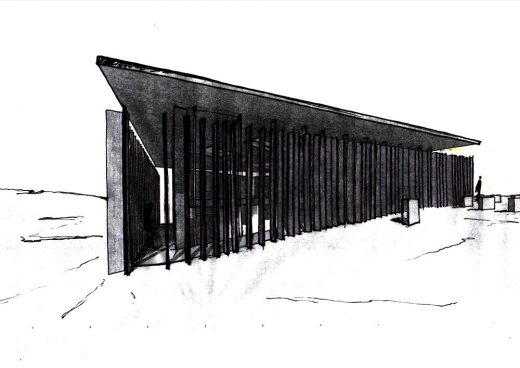 Main baring structure is composed of 32 baring wood columns spanned in north south direction by laminated timber (glulam) beams to form the roof. Cantilevered roof part is structurally extender from beams and in opposite direction supported directly by column below. Non baring columns are distributed in the inner rim and in line with the baring columns to create symbolic link with number of lost lives. Outer pillars are free standing non baring decorative wood pillars, providing semi enclosed appearance.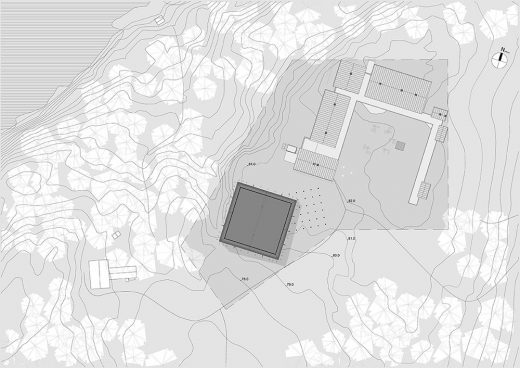 All new floors and levels, both outside and inside are casted concrete, polished as finish.
Facade system consists of 50 mm wide insulated aluminum profiles covered with wood planks.
The profiles are designed so as to ensure stability under the dimensioning loads. Facade is complemented with opening units and entry doors.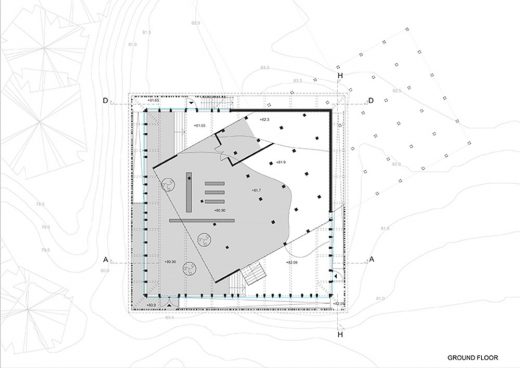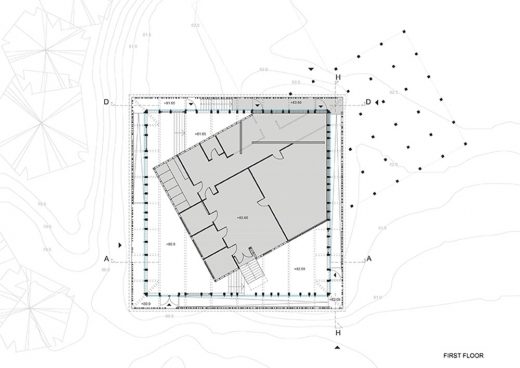 Memorial and Learning Centre on Utøya – Building Information
Name of work in English: Memorial and Learning Centre on Utøya
Name of work in original language: Hegnhuset, minne og læresenteret på Utøya
Location: Hole, Norway
Year completed: 2016 (Year began 2015)
Studio: Blakstad Haffner Arkitekter AS
Authors: Erlend Blakstad Haffner (1980 Norway); Branko Belacevic (1981 Serbia); Vladimir Cvejic (1980 Serbia); Kurt Breitenstein (1946 Switzerland); Petar Stelkic (1981 Serbia); Ivana Barandovski (1986 Serbia); Bjørn Cappelen (1947 Norway); Atle Aas (1960 Norway); Siri Blakstad (1938 Norway)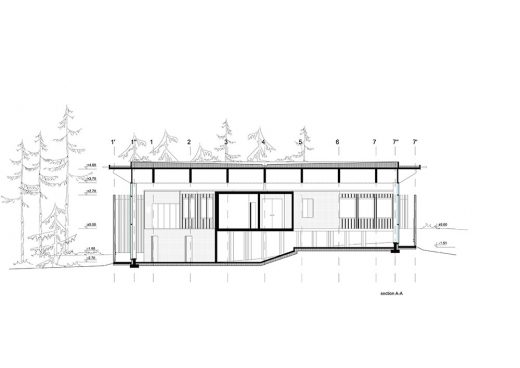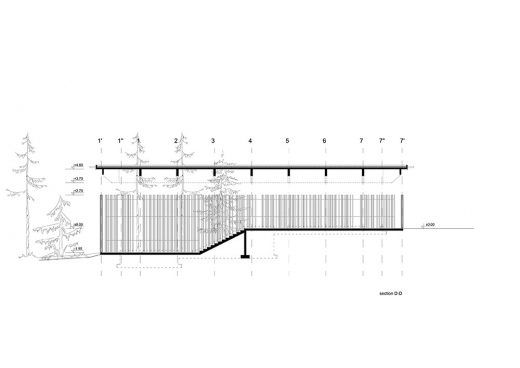 Program: Mixed use – Cultural & Social
Total area: 6784.5m2
Usable floor area: 767m2
Cost: 2768 eur/m2
Client: UTØYA AS / AUF
Client Type: public
Map: LatLng: (60.0232675, 10.247680400000036)
Memorial and Learning Centre on Utøya Nominated for Mies van der Rohe 2017 Awards
Mies van der Rohe 2017 Award Nominations
21 Sep 2016
Utøya Memorial News
Utøya Memorial Design Abandoned?
'Memory Wound' by Jonas Dahlberg, Swedish conceptual artist, at the tip of the Sørbråten peninsula.
The Norwegian government has offered to replace a controversial Utøya memorial in an effort to appease local residents, reports www.thelocal.no.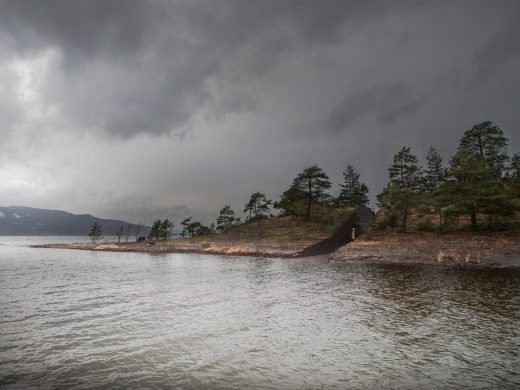 The 'Memory Wound' memorial to commemorate the massacre of 69 people, mostly teenagers, on the island in 2011 has been fraught with controversy for years.
21 Jul 2015
The Clearing, Memorial at Utøya
Design: 3RW
Location: Utøya, Tyrifjorden, Hole, Buskerud, Norway – just north west of Oslo, the Norwegian capital city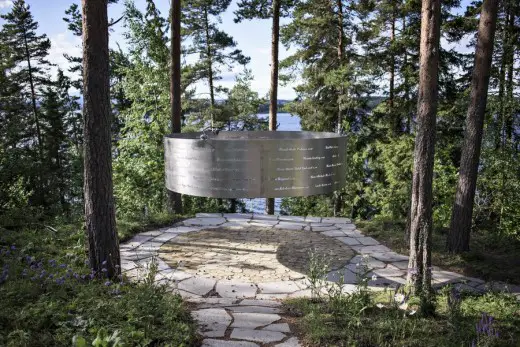 photo from 3RW
Location: Utøya, Tyrifjorden, Hole, Buskerud, Norway
Norwegian Architecture
Contemporary Norwegian Buildings
Norwegian Building Designs – chronological list
Architecture Tours in Oslo by e-architect
Another memorial in Norway on e-architect:
Tsunami Memorial Oslo
Tsunami Memorial in Oslo
Memorial Architecture
Atocha Train Station Memorial, Madrid, Spain
Design: estudio de arquitectura fam
London Bombings Memorial, England
Design: Carmody Groarke Architects
Eco Cube Oslo
Design: a-lab
Oslo Operahouse by Snøhetta
Design: Snøhetta
Comments / photos for the Memorial and Learning Centre on Utøya page welcome
Website: Blakstad Haffner Arkitekter AS