Len Lye Centre New Zealand, NZ Filmmaker Building, New Plymouth Architecture
Len Lye Centre, New Plymouth Building
Contemporary NZ Building – design by Patterson Associates, architects
18 Sep 2019
Len Lye Centre New Plymouth
"Great architecture goes fifty-fifty with great art" – Len Lye
The Govett-Brewster Art Gallery announces pivotal New Zealand Government support for the proposed Len Lye Centre and launches the architectural design by Patterson Associates.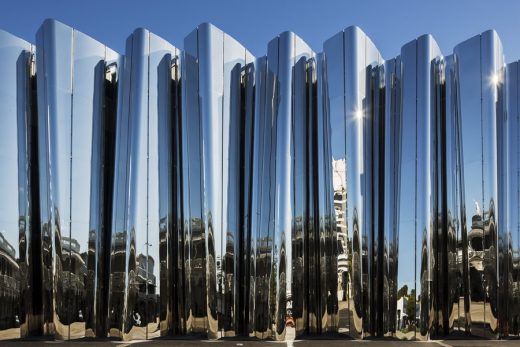 The Len Lye Centre will be a new home for the care, research, preservation and engagement with the art and ideas of pioneer New Zealand-born modernist filmmaker and kinetic artist Len Lye (1901-80).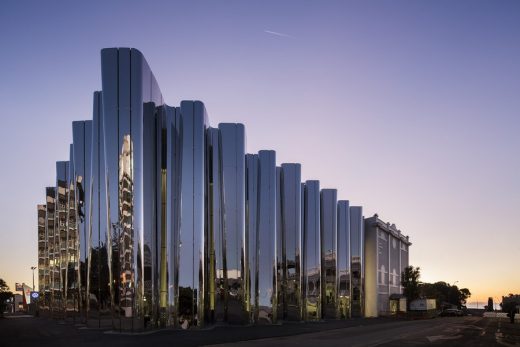 The Len Lye Collection and Archive has been cared for and exhibited by the Govett-Brewster since it was gifted by the artist to the Len Lye Foundation 'for the people of New Zealand' in 1980.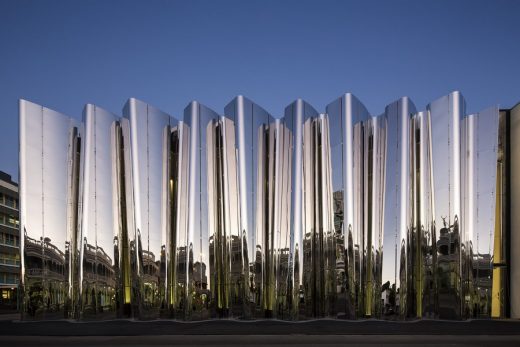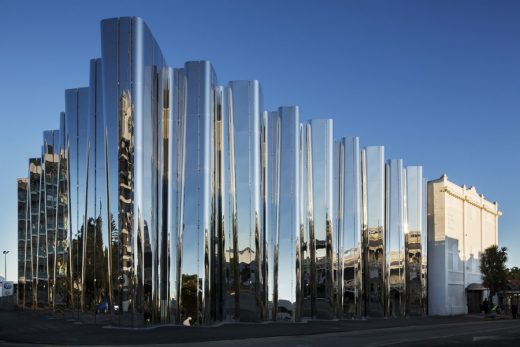 The Len Lye Centre project is a collaboration between the Govett-Brewster Art Gallery, New Zealand's foremost contemporary art museum, its owner and operator the New Plymouth District Council, and the Len Lye Foundation.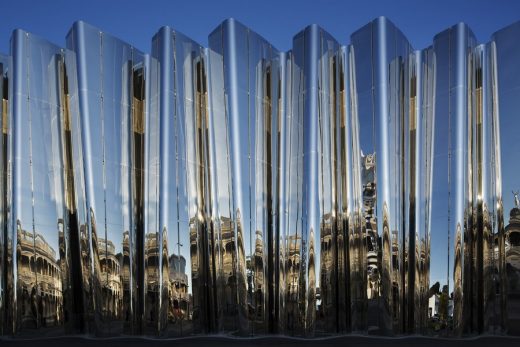 Govett-Brewster Director Rhana Devenport says: "The Len Lye Centre/Govett-Brewster will present an outstanding combined facility in New Plymouth that will simultaneously offer an exceptional contribution to contemporary New Zealand architecture and an absolutely unique museological experience".
"The project will formalise the entwined relationship that has existed for more than three decades between the Govett-Brewster as a space dedicated to contemporary art and culture, and the importance of the Len Lye Collection and Archive as a modernist collection of international significance," Ms Devenport says.
"The Centre will feature exemplary exhibition spaces, a cinema, research, information and archive lounges, specialised storage facilities and education suites. The Centre will offer something absolutely unique in the world and be a catalyst for conversations about innovation with passion; valuing, art, beauty and culture; endless inquiry and transforming minds," she says.
"Unprecedented experiences for audiences, students, researchers and the wider community will be offered from within an inspired architectural space that is truly empathetic with Lye's explorations in light and motion."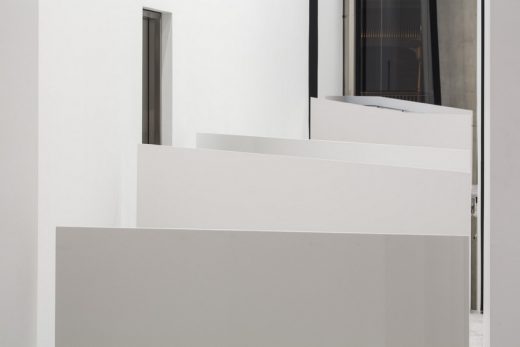 The momentum for the Centre accelerated with the announcement it has received support of $4 million over two years from the Government's Regional Museums Policy for Capital Construction Costs. This was announced at the Govett-Brewster on 25 June by New Zealand's Minister for Arts, Culture and Heritage, the Hon Christopher Finlayson. This support builds on significant and early support of $1 million from the TSB Community Trust in 2009.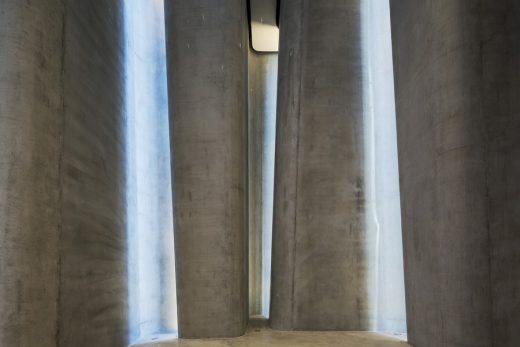 This week the Len Lye Centre secured another half million dollar investment with a grant from the New Zealand Lottery Grants Board's Environment and Heritage Committee.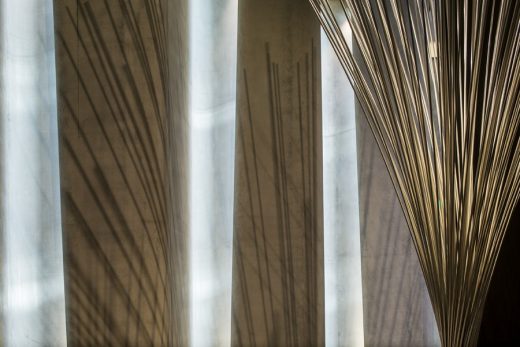 If the remainder of the fundraising is successful, the new building, adjacent and connected to the existing Govett-Brewster, is planned to start in late 2012 and be completed late 2014.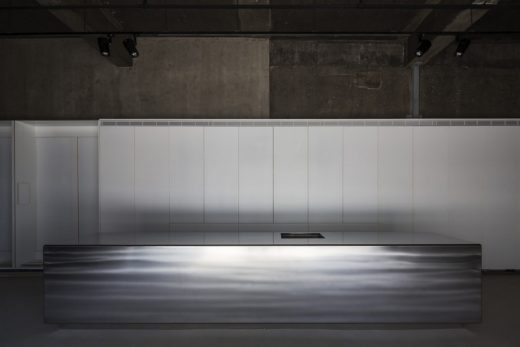 Also announced on 25 June 2011 was the design from internationally acclaimed New Zealand architects, Patterson Associates. Director Andrew Patterson said, "The nationwide selection process was the most rigorous we have encountered, with multiple interviews about our process and philosophy rather than a design competition".
"Given the diversity of viewpoints and experience involved in this project, we immediately established a set of principles that all could agree upon for the Centre. These principles are, 1 – that it would be a place that evokes a sense of pride and identity in the local community; 2 – that it will be the best place in the world to view and appreciate the works and ideas of Len Lye; and 3 – that it would reflect the close relationship between the Len Lye Centre and the Govett-Brewster," Mr Patterson said.
"The resulting layout was a building that allowed fluid circulation with the Govett-Brewster (itself originally a picture theatre). The Len Lye consists of two large flexible galleries, with outer public circulation ramps set around these spaces and all the public facilities such as education, cinema, storage and preparatory workshops underneath. This is wrapped in a shimmering reflective wall as an outer skin or theatrical curtain," he said.
"Given the strength of the local dairy and oil and gas industries, it was clear that stainless steel is New Plymouth's 'local stone'. Using the local material engages the local economy, develops expertise and local intellectual property. In the case of the Len Lye, we have designed the building to showcase this regional expertise in a form that we expect to last 100 years or more."
"We then began working with engineers, suppliers and fabricators on the transluminesence of light and reflectivity of stainless steel to model various ways of creating an exceptional stainless steel envelope for the building. Finally we settled on this sculptural envelope which operates like a periscope, transmitting images and working them through the building down into the circulation ramp and refracting light into the interior.
"Len Lye is synonymous with the movement of light, as projected through film and as reflected by kinetic stainless steel sculpture. We knew then that the design solution was right when it brought multiple aspects of Len Lye's work and the community into unity with commodity and elegance."
Patterson Associates are seen by many as New Zealand's most internationally recognised architects. They are New Zealand's only Architectural firm to be listed in Phaidon's definiteive 10×10 Book of the World's Emerging Architects. In early 2011, Patterson Associates was named by prestigious publication World Architecture News in their 21 for 21 program as one of five selected international architectural practices that are "set to shape the future of architecture in the 21st Century".
Pattersons will be collaborating with New Plymouth architectural firm Chapman Oulsnam Speirs on the procurement stages of the project.
Renowned New Zealand architect Sir Miles Warren, often cited as the father of modern New Zealand architecture has said, "Patterson's have designed a stunning building, a superb concept worthy to house and enhance Len Lye's work".
Architect's image of the Len Lye Centre exterior:



image from Govett-Brewster Art Gallery
Meanwhile, the Govett-Brewster presents New Zealand's most comprehensive Len Lye exhibition to date, All Souls Carnival, from 10 September to 27 November 2011. For the first time, Len Lye will inhabit all spaces of the Govett-Brewster. The exhibition, curated by Len Lye Curator Tyler Cann, will include many of Lye's most memorable works, as well as important new reconstructions and restorations as yet unseen.
Len Lye in the 1930's:



image from Govett-Brewster Art Gallery
Len Lye Centre – Background Information
Len Lye (1901-1980) is one of the most important artists to have emerged from New Zealand. Legendary amongst experimental filmmakers, his 'direct' films made by painting and scratching on celluloid were part of Lye's prescient vision for a new 'art of movement'. His dynamic, motorised steel sculptures of the 1960s express a creative energy that Lye brought to film, painting, photography and poetry. The Len Lye Collection and Archive is housed and cared for by the Govett-Brewster Art Gallery in partnership with the Len Lye Foundation. Lye's sculptures are found in the collections of the Whitney Museum of American Art, the Art Institute of Chicago, the Albright-Knox Art Gallery and the Berkeley Art Museum.
His films are held primarily at the New Zealand Film Archive in Wellington and also in archives at the British Film Institute, Museum of Modern Art in New York City and the Pacific Film Archive at the University of California, Berkeley.
Lye's 45m-high kinetic sculpture Wind Wand has featured on New Plymouth's Coastal Walkway since 2000 and Water Whirler has featured on Wellington's waterfront since 2006.
Len Lye, A Colour Box 1934 (film still):



image Courtesy Len Lye Foundation
Patterson Associates
Patterson Associates, based in Auckland, are acknowledged as New Zealand's most internationally recognised architects. Their projects range from complex developments and urban infrastructure through to bespoke residential homes and three-dimensional strategic thinking. Established by Andrew Patterson in 1996, the firm is committed to sustainable methodology, innovative use of materials and creating simple, beautiful projects that encourage people to engage on many levels.
Patterson's, designed the Michael Hill Clubhouse in Wakatipu which was selected as one of the nine best sports and leisure buildings in the world at the Barcelona World Architecture Awards in 2008. The same year internationally awarded was a domestic building in Auckland called Mai Mai, voted one of the 16 best houses in the world during 2007. Patterson's are also multiple recipients of The New Zealand Institute of Architects' NZ Supreme Award for Architecture.
Another of Patterson's recent projects, the Geyser building in Auckland, has achieved New Zealand's first six Green Star – Office Design certified rating. Six stars signify world leadership in sustainability. Sustainability is integral to Patterson's ethos. "We believe that at their highest levels, the ecology of a building, which is measureable, and the poetic dimensions of architecture, which are harder to quantify, are essentially the same".
Patterson Associates was named in May 2011 by World Architecture News in their 21 for 21 program as one of five selected international architectural practices that are "set to shape the future of architecture in the 21st Century".
Rather than the exploration of any particular architectural style, Patterson's motivation is in bespoke architecture, where design is a considered response to a client's individual goals and to a site's particular characteristics.
Pattersons are committed to "giving people an appurtuant quality of place, appurtuancy denotes the quality of naturally belonging. Andrew Patterson continues: "For example, we believe that the human species is as indigenous to the planet as the landscape (or any other natural thing), and that our structures should reflect this. This philosophy differs from current protectionist attitudes that discourage the introduction of built forms on our landscapes or cityscapes. This philosophy also counters modernist insensitivity towards local settings altogether".
"Our type of architecture is generated through the logical response to site, climate, sun, resources, budget and other physical constraints, then applying this as three dimensional form. But it is also informed by people, time and culture. Thus, our buildings are generated to fit both materially and spiritually."
"At Patterson's, we believe that if a building logically and emotionally 'belongs' in a place, in its landscape, its time, its culture or community, its streetscape, then its occupants cannot but feel like they 'belong' too." – Andrew Patterson.
Len Lye Universe 1963-1966 (authorized 1998 reconstruction):



image Courtesy Len Lye Foundation
The Len Lye Centre
The Len Lye Centre is a partnership between New Plymouth District Council, the Len Lye Foundation and the Govett-Brewster Art Gallery. It will be run as a parallel facility with the Govett-Brewster Art Gallery and will offer a unique and complimentary programme of exhibitions and public engagement. The centre and gallery will share management team and operating costs as well as facilities such as the education suite and commercial facilities such as the art and design shop and cafe.
Govett-Brewster Art Gallery
The Govett-Brewster Art Gallery is New Zealand's most courageous contemporary art museum and home since 1980 to the collection of modernist filmmaker and kinetic sculptor Len Lye.
Opening in 1970, the Govett-Brewster offers audiences energised and memorable encounters with the art and ideas of today. The Govett-Brewster has been recognised as a pathfinder; relentlessly dedicated to generating new artist projects, exhibitions, publications, events and discussion that stimulate ideas, challenge preconceptions and enrich the imagination.
The Govett-Brewster is dedicated to offering exceptional opportunities for artists and audiences both within the Gallery and beyond its walls. Distinctive exhibitions and residency programmes – presented through four seasonal suites annually – include the commissioning of new and site-specific projects by national and international artists.
Architect's axonometric view of the Len Lye Centre:



image from Govett-Brewster Art Gallery
NZ Regional Museums Policy
The Regional Museums Policy for Capital Construction Projects is a capital construction assistance fund which prioritises those few non-central government funded museums and art galleries holding collections of the greatest national significance. To qualify for funding under the Regional Museums Policy, a museum must be able to demonstrate that it holds a nationally significant collection that is of special or outstanding significance to New Zealand and makes a substantial contribution to New Zealand's cultural heritage. Previous recipients of the fund have included the Hawke's Bay Museum and Art Gallery, Auckland Art Gallery, Rotorua Museum, Otago Settlers Museum and Puke Ariki.
Len Lye Foundation
Len Lye Foundation – Shortly before Len Lye's death in 1980, arrangements were made to establish the Len Lye Foundation. In accordance with the artist's Deed of Trust, his collection of work returned to New Zealand, the country of his birth.
Lye's archives, sculpture, painting, textiles, and photographic work are housed at the Govett-Brewster Art Gallery in New Plymouth, where regular exhibitions of his work are held. The New Zealand Film Archive is the repository of the Len Lye Foundation's film collection.
The Foundation is registered in New Zealand as a non-profit incorporated society. Its function is to provide for the conservation, reproduction and promotion of the works of Len Lye and to make facilities available for research. The Foundation holds copyright for much of the material it owns, and is empowered to issue prints of the artist's films (where copyright and licence allow), authorize the publication of his written work, and to develop and edition reconstructions of his kinetic sculptures. From a vitally creative life of exploration and experiment, the foundation has inherited a substantial body of work. The existence of the Len Lye Foundation ensures that this work remains an active cultural force.
The Len Lye Centre image / information from Govett-Brewster Art Gallery
Location: Corner of King Street and Devon Street West, New Plymouth, Aotearoa, New Zealand
Location: Devon Street West, New Plymouth, New Zealand
New Zealand Building Designs
Another New Zealand building design by Patterson Associates on e-architect:
The Michael Hill Clubhouse, Otago, South Island
Patterson Associates building
New Zealand Building Designs – architectural selection below:
The Blyth Performing Arts Centre, Havelock North, Hastings, Hawkes Bay
Design: Stevens Lawson Architects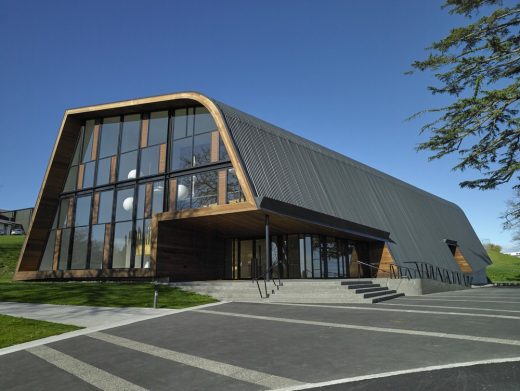 photograph © Mark Smith
Blyth Performing Arts Centre in Havelock North
The Chapel of St. Peter, Auckland, North Island
Design: Stevens Lawson Architects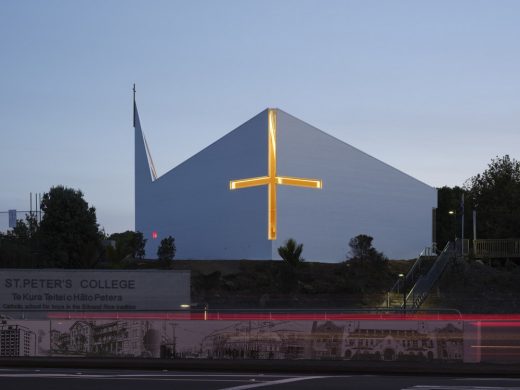 photograph : Mark Smith
The Chapel of St. Peter in Auckland
Mai Mai, Auckland
Design: Patterson Associates Limited
Mai Mai building
Mountain Retreat, Southern Lakes, southern New Zealand
Design: Fearon Hay Architects
Mountain Retreat
Comments / photos for the Len Lye Centre New Zealand – New Plymouth Building page welcome
Website: New Zealand