Verizon Media Manhattan Design, 770 Broadway New York, NYC Architecture Images
Verizon Media New York City, NY
May 19, 2021
Verizon Media, 770 Broadway, Manhattan
Architect / Interiors: Perkins+Will ; Broadcast Production Studio Architect: Kostow Greenwood Architects
Location: 770 Broadway, New York City, NY, USA
Size: 21,700 square feet
Overview
Verizon Media, a division of Verizon Communications, Inc., houses a trusted ecosystem of digital brands like Yahoo, TechCrunch, HuffPost, RYOT, and MAKERS, that help people stay informed and entertained, communicate and transact. From XR experiences to advertising and content technology, Verizon Media is an incubator of innovation and is leading the charge on the next generation of content creation in a 5G world.
This workplace and broadcast production studio project coincided with the formation of Verizon Media, and the primary project directive was to create a signature facility that could foster connection and collaboration across brands.
The photographs represent a pre-pandemic work environment and are not representative of current protocols. The original design intention incorporated flexibility, which will allow Verizon Media to adapt to future needs.
Perkins+Will served as lead project designers and architect of record with Kostow Greenwood Architects as broadcast studio design architects. A principal aim shared by all was to highlight the broadcast production activity and spaces for both staff and visitors.
At the Reception Hub, the spatial design encourages the intersection of environments and activities. Here, open lounge seating and live broadcast production exist side-by-side for visual interaction. As a media company, this confluence of atmospheres reflects the varying modes and dynamism of Verizon Media's work: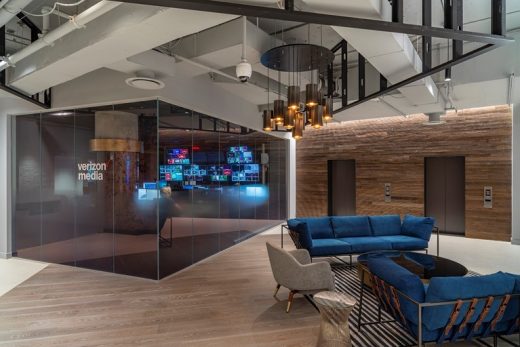 The design purposely breaks down the hierarchy of individual spaces, allowing for movement through the hallways and breakout rooms and providing an array of accessible workspaces. The Reception Hub and Control Room 1 were carefully calibrated to balance contrasting work environments. The new reception hub serves as both a gateway for visitors and lounge-like workstation for staff meetings, off camera interviews and editing, while offering clear site lines into the control room: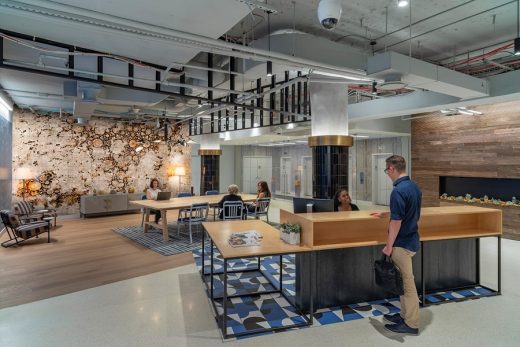 Design Challenges
1. A new company & executive organization
2. Differing brands, teams and broadcast production requirements
3. Lack of connection between production areas and the rest of the facility
4. Design process was simultaneous to staff restacking and consolidation efforts
5. Need to maintain operations in and around work area for elevator access and continuous broadcast production in Studio A
A principal goal shared by all was to highlight the broadcast production activity and spaces for both staff and visitors. This aim was a direct challenge to the inherent nature of production spaces, which require acoustic and visual isolation to maximize the workspace.
Throughout the design process, the client continued to consolidate staff and productions to a single location. This greatly influenced scope and costs and required the project to respond to broader restacking efforts and facility planning. Also, during the design phase, the client was in negotiations with the building landlord to rededicate building elevators and lobby entrances.
Through construction, over half of the floor would still need to function as a typical workplace, along with support spaces for pantry and food catering needs. In addition, select broadcast spaces like Studio A and Green Rooms needed to continue operations and production through construction.
The configuration of the Reception Hub and Control Room 1 were carefully considered to balance contrasting work environments. As Control Room 1 is a glass-enclosed space, visual contrast and sound transmission was controlled by variable light settings and acoustical treatment in the Control Room. An applied film with gradient opacity helps provide privacy for broadcast operators within the room: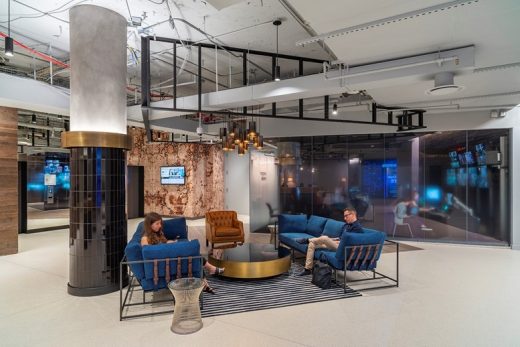 Studio A received multiple upgrades to prepare for Yahoo Finance, which expanded to full-time production while relocating from another Verizon Media property. New broadcast hardware, LED lighting and controls advanced the production capabilities for current and future programming, while a new, custom set maximized the possible shooting angles by utilizing all four corners of the room: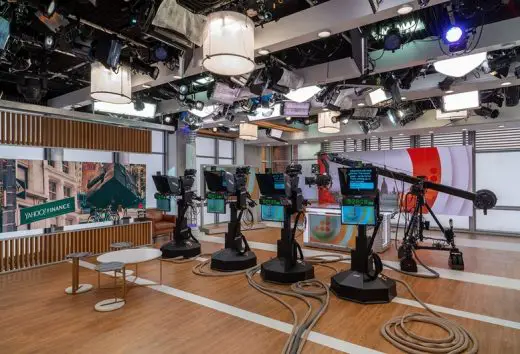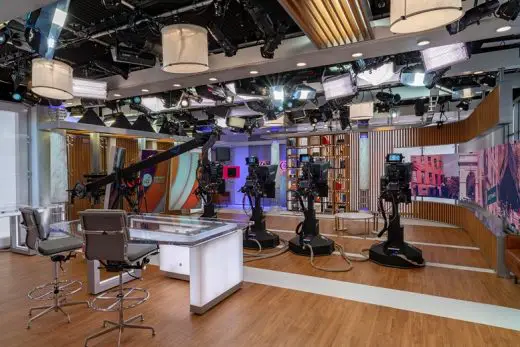 Design Solutions
1. Create a new, signature space that exemplifies the company ethos and exudes a unifying aesthetic for all brands
2. Design process and communication fostered collaboration across company brands and teams, to develop shared goals and project scope
3. Emphasize the content creation and production activity as a part of the viewing experience by offering a visible connection between broadcast control rooms and the reception hub area
4. Expand on existing infrastructure and production spaces
5. Keep origin of infrastructure (rack room, risers, etc.) to reduce costs, but reorganized major pathways for technical and equipment upgrades and anticipated future use.
6. Develop a phasing plan and a precise temporary protection plan for access and operations that needed to continue through construction.
The new reception hub serves as the main reception for Verizon Media offices. It is a destination for both staff and visitors, offering open lounges for working and waiting. The entry area features a branded media wall that can display a varied amount of programming. The space is particularly special by inviting viewers to see the production activity inside Control Room 1 and Master Control.
Each Control Room has a dedicated Audio Booth providing multiple positions with visual connectivity to the Control Room and Reception Hub beyond: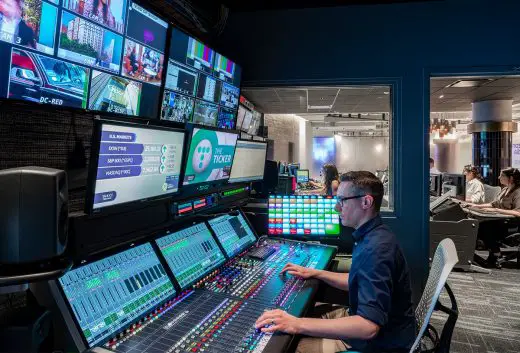 In contrast to Studio A, Studio B was outfitted for flexible programming and is expected to support varying brands and content. The studio received new broadcast hardware, LED lighting and controls to advance technical capabilities. An existing truss grid was expanded to optimize shooting angles at multiple corners. The former glass-enclosed studio received new acoustically treated partitions and wall treatment for improved sound isolation along with a new raised floor system: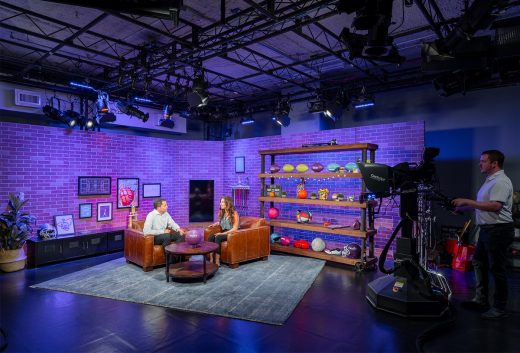 Control Room #2 and its surrounding corridor is playfully refreshed with a dynamic wall treatment, bringing a new energy and vibrance to the work environment: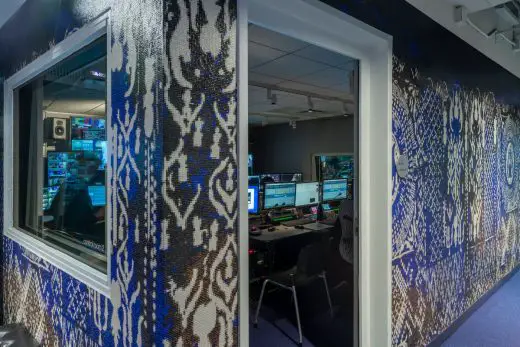 The reimagined broadcast production studio provides a physical platform where all brands can produce media content. There was a forward-looking effort to sustain all existing programming while providing capabilities for future growth. Multiple studios, control rooms and plug-and-play locations provide flexible shooting opportunities and respond to different production needs. Production will encompass live broadcast and pre-tape studio content, with shared resources across different locations. Control Room 1 and Control Room 3 are used for a daily, eight-hour live Yahoo! Finance broadcast and ancillary shoots. Control Room 2 is a general-purpose studio for other company brands.
The final design kept critical elements that were available for reuse. Studio A and Control Room 2 with Audio Booth were reimagined and improved to receive new finishes along with upgraded hardware and equipment. Studio A was a priority for preservation since it is column-free space and acoustically isolated to high broadcast standards. Studio B was the site of an existing glass studio.
The glass partitions were removed and saved for reuse at other glazed locations, and the studio was enclosed with new solid, acoustic partitions. Both studios received new LED theatrical lighting and controls, and Studio A was outfitted with a new custom set for Yahoo! Finance.
Control Rooms 1 and 3 were newly construction and were planned to accommodate a high number of positions with some room for additional seating. These rooms also incorporate in-room Audio Booths to maximize production workflow. The rooms are outfitted with new broadcast equipment, consoles and monitor walls.
An increase in edit rooms was possible by reusing existing offices and enclosing ancillary spaces, bringing the total to twelve. The edit rooms received new fabric wrapped acoustic panels, along with new broadcast consoles & monitors.
Additional production support was consolidated into the space, including multiple green rooms for talent, graphics suite, and huddle rooms. The open concept extends throughout the environment to ease movement and workflow: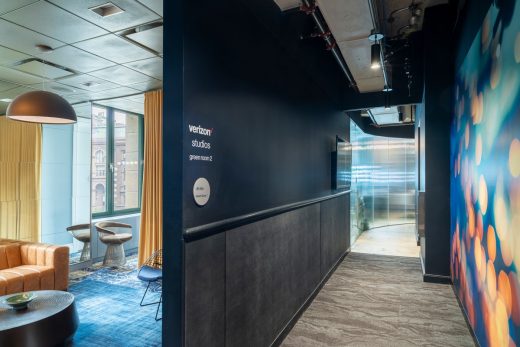 The entry into the Broadcast Suite highlights activity in the Master Control Room, while providing immediate access to the main workflow circulation. In addition to standard master control functions, it is also equipped to act as a remote control room for any studio or off-site production. New cable tray infrastructure was installed throughout. As an exposed pathway, they provided easy access during broadcast integration and will remain easily accessible for any future upgrades or changes:

The orientation and organization of Control Room 1 is formed to be a feature element of the main Reception Hub. Monitors and consoles are placed in a standard hierarchy for production workflow but are oriented so that reception guests and viewers can witness the action: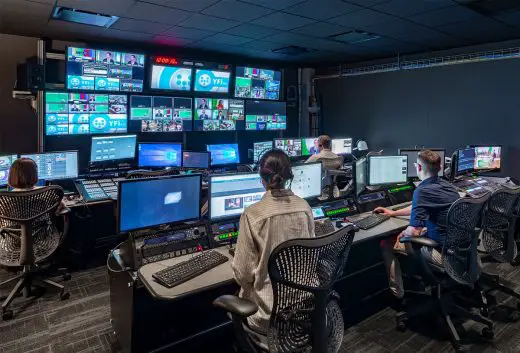 In order to support the consolidation of production from other facility locations, this location required an increase and expansion of the infrastructure. A new rack room was constructed in the existing location. This helped to reduce costs by maintaining critical existing pathways but allowed an increase in size and an upgrade in equipment and HVAC system.
A new cable tray network was also installed throughout the broadcast area. As an exposed pathway, it provided easy access during broadcast integration and will provide ease of access for any future upgrades or changes.
Workplace and Broadcast Area components
Reception Desk
Work & Waiting Lounges
3 studios
3 control rooms with audio booths
1 master control room
1 Broadcast Equipment room
12 edit rooms
1 audio suite
6 breakout/huddle rooms
Additional Details
Distinctive wallcoverings and unique floor transitions add personality, color and texture. They also serve to highlight important elements of the facility. The reception hub is an intersection of different masses. Primary corridors of the broadcast area are clad in dynamic patterns and textures.
Wood Paneling:
• Pioneer Millworks B+T
Backpainted Glass:
• Bendheim VintageMirror
Finished Columns:
• Metal Trim: Gage Architectural Products, Bronze
• Wall Tile: T&C Surfaces, Retro in Black Matte
Wallcoverings:
• Glamora – Mishan, Jacquard, Bogolan, Privacy, Glaze, Cabaret
• Kelly Wearstler – Avant, Chalet
• Groundworks – Verge
• Flavor Paper – Glow
• Élitis – Parade Bazaar
• Rebel Walls – Chalkboard
• Aimee Wilder – Analog Nights
Acoustic Panels:
• DFB
• Zintra
Upholstery:
• Carnegie, Stitch
• Designtex, Reppweave
Carpet Flooring:
• Mannington, Online
• Ege Carpets, Contra Stripe
• Milliken, Sylvan
• Milliken, Breakline
Tile Flooring:
• Stone Source, Puzzle
Wood Flooring:
• Carlisle, Wide Plank in Chalet, Snow Drift
• Carlisle, Wide Plank in Casual, Weathered Windmill
• Carlisle, Wide Plank in Urban, Optimistic Stone
Countertops:
• Caesarstone, Coastal Grey
Reception Desk:
• Chemetal, Blackened Aluminum
Design Team:
Architect / Interiors: Perkins+Will
Broadcast Production Studio Architect: Kostow Greenwood Architects
MEP/FP Engineer: Syska Hennessy Group
Acoustician (General): Longman Lindsey
Acoustician (Broadcast): Harvey Marshall Berling Associates
Code Consultant / Expeditor: Archetype Consultants, Inc.
Audio / Visual Systems: TAD Associates
Lighting Designers: HDLC Architectural Lighting Design
Specialty (Broadcast) Lighting: Lighting Design Group
IT Consultants: Syska Hennessy Group
Security: Syska Hennessy Group
Signage/Privacy Film: Coyle Design
Media Displays: Iron Oaks
Project Team:
Project Manager: Principle Project Management, LLC / Himes Associates
Contractor: L&K Partners, Inc.
Broadcast Contractor: DSI / Blade Media, Inc.
Broadcast Integrator: Diversified
Furniture Dealer: Office Resources, Inc.
Photography: Adrian Wilson
Verizon Media New York City, 770 Broadway images / information received 190521
Location: 770 Broadway, New York City, USA
New York City Architecture
Contemporary New York Buildings
Manhattan Architectural Designs – chronological list
New York City Architecture Tours by e-architect
Il Makiage pavilion
Design: Zaha Hadid Architects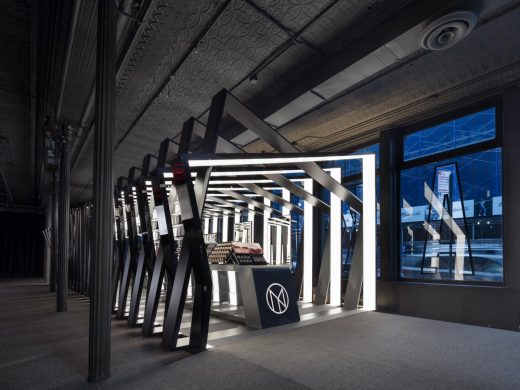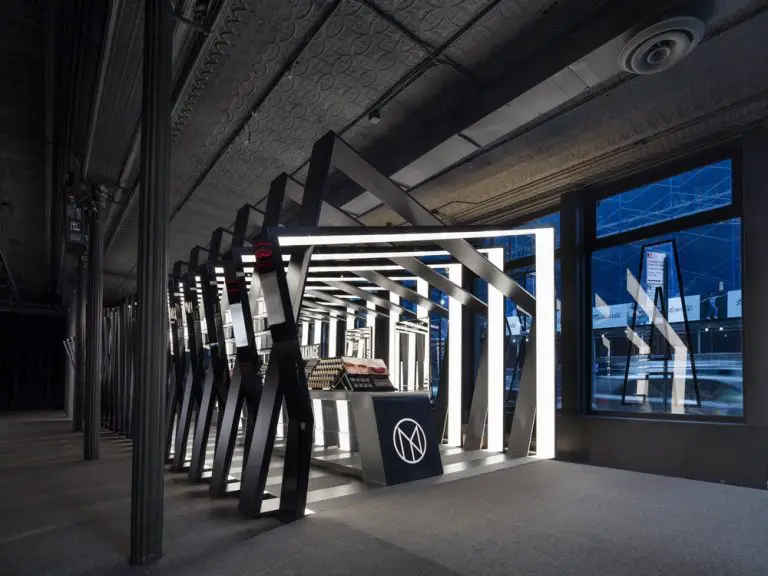 photograph : Paul Warchol
Il Makiage pavilion by Zaha Hadid
45 Park Place, Tribeca, Lower Manhattan
Design: SOMA Architects ; AOR: Ismael Leyva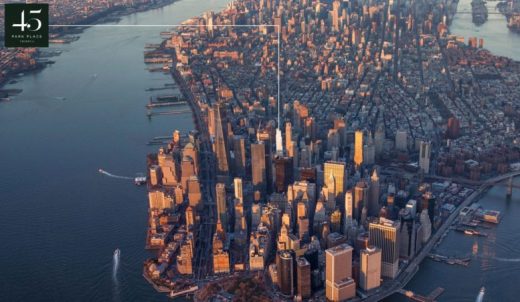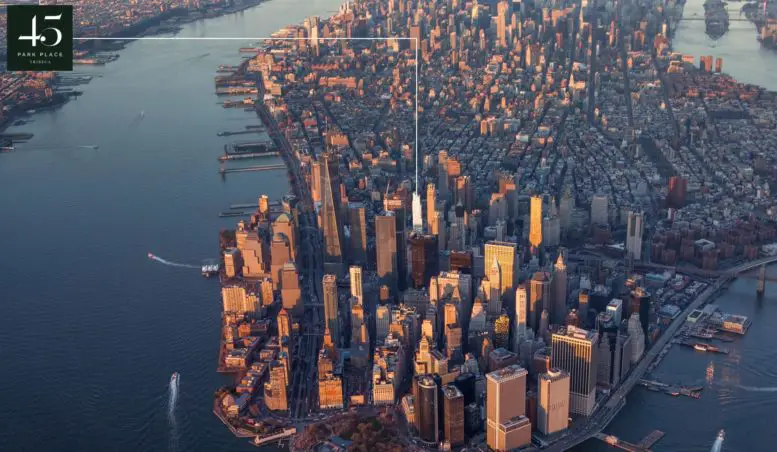 rendering : Williams New York
45 Park Place Tower
Pier 40 Hudson River Apartments
Design: DFA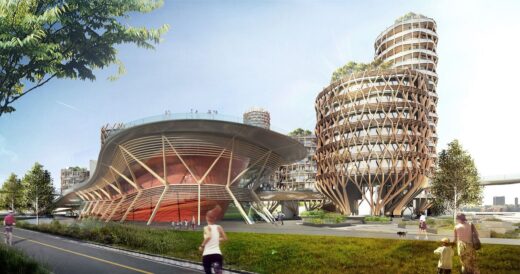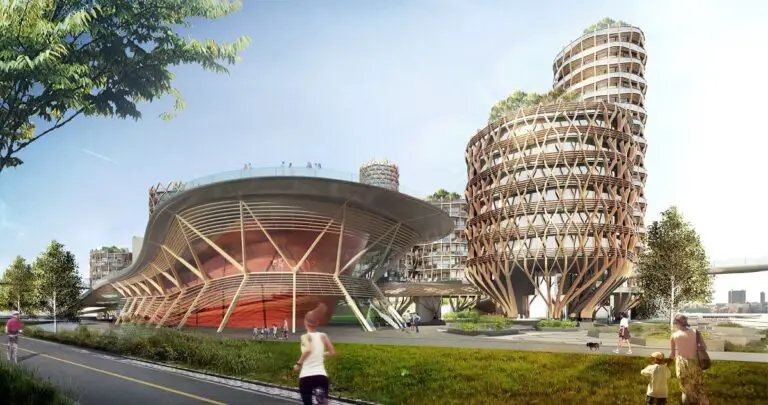 images courtesy of architects
Pier 40 Building
432 Park Avenue Skyscraper
Design: Rafael Viñoly Architects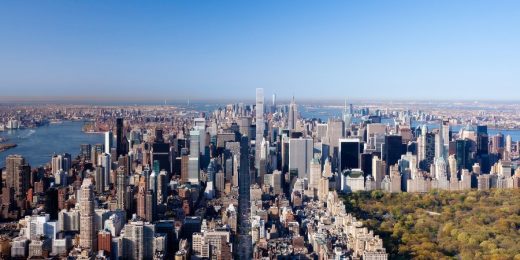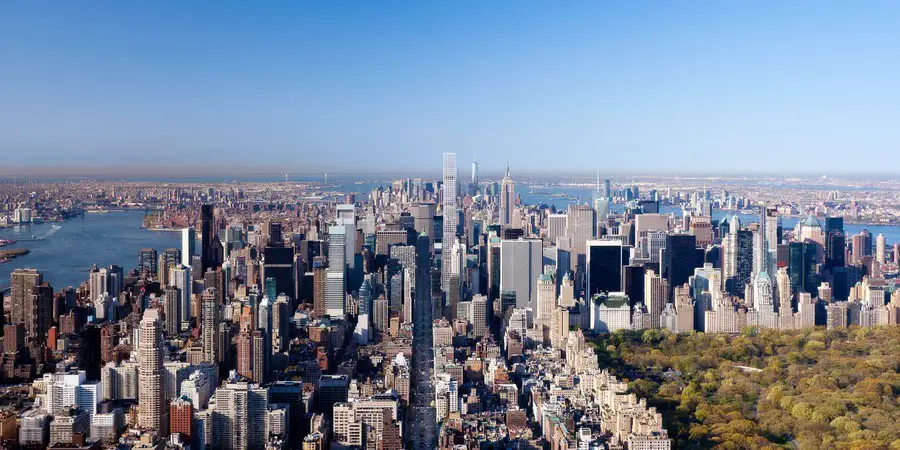 image © dbox for CIM Group & Macklowe Properties
432 Park Avenue Tower New York
New York Bridges
Brooklyn Bridge East River, Brooklyn / New York, NY
Design: John A. Roebling, designer / civil engineer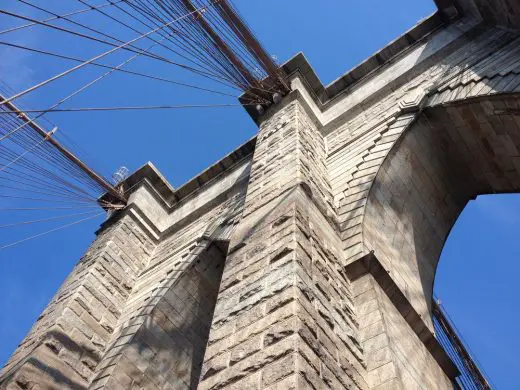 photo © Adrian Welch
Brooklyn Bridge
Bridge for Laboratory Sciences at Vassar College, City of Poughkeepsie, Dutchess County, New York State, USA
Design: Ennead Architects
Bridge for Laboratory Sciences at Vassar College
American Architecture Links : links
American Bridges
American Bridge Designs – selection:
Everett Grand Avenue Pedestrian Bridge, Everett, Washington, USA
Design: LMN Architects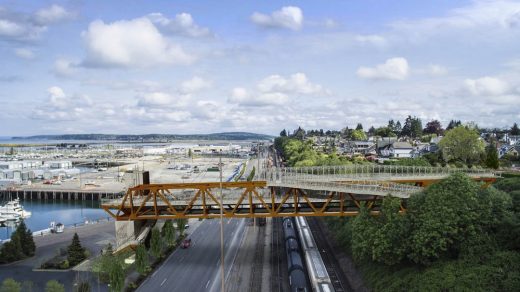 image Courtesy LMN Architects
photography : Adam Hunter/LMN Architects
Everett Grand Avenue Pedestrian Bridge
San Diego Coronado Bridge, California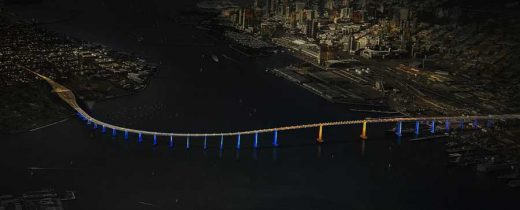 image from Peter Fink
San Diego Coronado Bridge
Comments for the Verizon Media New York City, 770 Broadway page welcome