HL23 Project, New York High Line, Architect, Manhattan Apartments Design, Location, Images
HL23 Project New York
Manhattan Residential Tower: 21st Century Urban Building design by Neil Denari architect
Jul 4, 2016
HL23 New York High Line
HL23 – New York High Line Building
Building images from 24 Jun – 2 Jul 2016 © Adrian Welch: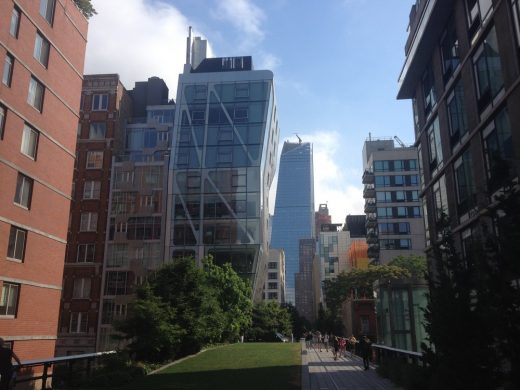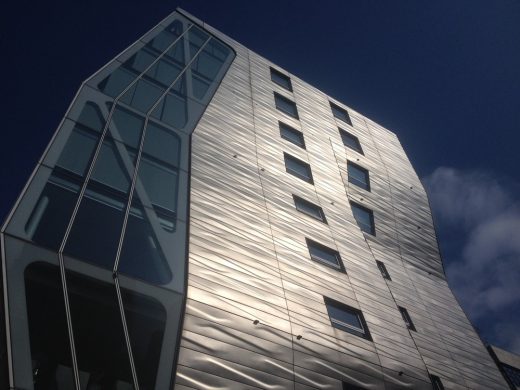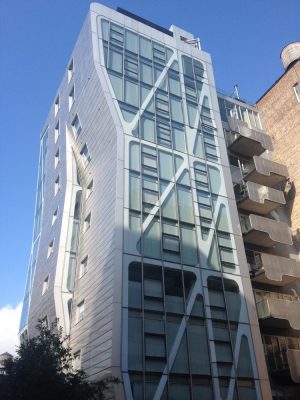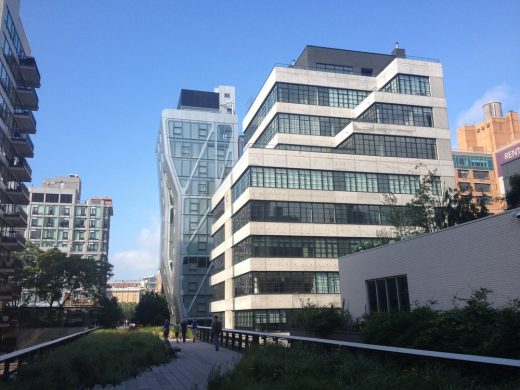 Mar 4 + 6, 2011
HL23
BIRTH OF AN ICON: HL23, NEIL DENARI NEW YORK LANDMARK BUILDING, COMES TO COMPLETION JUNE 1, 2011
New photos of the finished HL23 New York interiors:





HL23 photos : Douglas Friedman
New York, NY, March 3, 2011– Alf Naman, Developer, and Erin Boisson Aries, SVP and Director at Brown Harris Stevens, announced today that HL23, the eagerly awaited residential tower by acclaimed Los Angeles architect Neil Denari, will be ready to welcome its first occupants on June 1st. Just as the High Line has reinvigorated West Chelsea, HL23 has participated in the radical transformation of the cityscape. HL23 now stands as a new beacon for the district that has firmly established itself as a major cultural hub. All interiors are scheduled to be complete to coincide with the opening of Section 2 of the High Line.
New photos of the completed HL23 New York exterior + interior:
With a striking silhouette of patterned, brushed steel panels and glass, which is unmistakable from the High Line, the fourteen-storey building elegantly integrates itself into the public space. The reverse tapering design allowed the architect to realize larger spaces on particular floors, making them close to 40% wider than the street-level footprint, while the low-iron glass gives its façade a more open and fluid appearance. Sustainably built, HL23 expects to receive Gold LEED Certification.
"I can't tell you how satisfying it is to pursue a challenging, formal project," says Neil Denari. "It is rare that a building is built as it was designed – without compromise."
The unconventional shape of the building influences each units' unique interior layout which have been designed by Thomas Juul-Hansen. Juul-Hansen's precise plans focus on clean, welcoming and simple designs that articulate moments throughout the spaces. The units combine grandness with livability: floor-to-ceiling low-iron glass windows constitute two of the three exterior walls and an open central loft-like living space is paired with more traditional domestic spaces that provide privacy. The building contains eleven homes, including nine full-floor residencies and two duplexes. The first duplex on floors two and three includes a living room with 18 foot ceilings and a 700-square foot private outdoor space. The penthouse duplex includes a modernist glass cube living room featuring oversized sliding doors that open onto the 1,100-square foot wraparound private terrace.





HL23 images © Hayes Davidson, London
According to Naman, "HL23's airy interiors were inspired by elegant modernist environments and the aesthetics and openness of traditional artist's spaces. Exposed structural elements highlight the overall sculptural quality of these stunning interiors."
Strategically placed windows frame dramatic vistas of both the city and the river, while others frame unique architectural angles and draw the sculptural elements of the exterior inside. Carefully chosen interior details include handselected, book-matched slab marble in the bathrooms, hardwood floors throughout all residences, either rift-sawn or Dinesen wide plank, and handforged, Nanz hardware.
To introduce the buildings interiors and to complement their meticulous design, artist / designer Ryan Lawson is curating a selection of vintage and mid-century furniture from two highly-respected dealers, Magen H Gallery and Sebastian + Barquet. Collaborating with Lawson for the ninth floor home, April Magen of Magen H Gallery selected mid-century furniture and decorative elements to accentuate the modernist influenced interiors. An array of museum-quality works from Sebastian + Barquet chosen for the eleventh floor apartment were designed by internationally recognized masters who have left an indelible mark on the design field.
Beginning in March, HL23 will also host Off Modern, a curated collection of contemporary art that enhances the furnished two floors. The evolving selection of artwork includes some of the most influential artists exhibiting in the neighboring galleries. The ongoing selection includes works by prominent artists such as Ed Ruscha, Jack Pierson, Jason Rhoades, Tracey Emin, and Kate Shepherd, among others. Off Modern is organized and curated by Sandra Antelo-Suarez of TRANS> and Sara Meltzer of Sara Meltzer Gallery/projects and will also include a dynamic program of events including performances, dining experiences and conversations.
Additionally, visitors and residents will be welcomed by a specially commissioned artwork by acclaimed conceptual artist Joseph Kosuth located in the lobby.





HL23 Manhattan – image from Neil M. Denari Architects
A passionate team of professionals dedicated to the vision of Denari's innovative ideas, have tirelessly supervised the most intricate details to bring this project to fruition. As a result, the building has won several awards including The SARA NY 2010 Visionary Architecture Award, the Honor Award from the Los Angeles Chapter AIA Next LA Awards Program and has been included in several exhibitions including Manhattan in Fast Forward: Neil Denari Builds on the High Line, Museum of the City of New York; and Skin + Bones: Parallel Practices in Fashion and Architecture, Museum of Contemporary Art, Los Angeles, CA.
Previously:
HL23 Project
HL23 : New York High Line Proposals
Cantilevering Over Manhattan's High Line, Neil Denari's "HL23"
2008
NEW YORK, NY. Since founding his practice in 1988, Los Angeles based architect and theorist Neil Denari, principal of Neil M. Denari Architects (NMDA), has achieved the status of cult figure.


HL23 Manhattan – imag from Neil M. Denari Architects
Formerly director of SCI-ARC, the radical Southern California Institute of Architecture, he has been a leader in his generation's use of advanced technology to propose architecture that shifts, bends, folds and unfolds, always challenging conventional geometry with pure beauty and a quality he refers to as "cultural sustainability" — the ambition to give each new building enduring public relevance through a highly progressive, experimental design approach that nevertheless draws upon the history and culture of the site.
In March 2008, Denari's special vision of architecture will finally take full physical form when construction begins in New York City on the first freestanding building of his career: HL23.
Denari's HL23 will rise fourteen stories from a singularly challenging site: a 40 foot-wide footprint located at 515-517 West 23rd Street, just steps from Tenth Avenue and half covered by the High Line, the historic elevated railway bed slated for transformation into one of the nation's most lyrical urban parks. Overcoming this through-block site's inherited restrictions while exploiting them with boldness, Denari has conceived a building that will dramatically increase in size as it rises from its slender footing to cantilever gracefully over the rails. Made possible by a Special Authorization, comprising of seven waivers, granted by the New York City Department of City Planning in support of the building's unique contribution to the cityscape, HL23's reverse-tapering form will make it a local landmark while creating cinematic views and unrivaled intimacy with the High Line for residents inside.
"Quite frankly, I felt like it was the last great site in urban America, it was so amazing," Denari has said. "In the early 1980s, I lived in New York City and spent a great deal of time in far West Chelsea, imagining and even drawing designs for buildings that would celebrate its gritty, industrial romance and the beautifully decaying form of the High Line. I cannot overstate how satisfying it is for our firm to create a formally challenging, artistic project here more than twenty five years later, addressing a practical demand for the people who will live inside the building and a local demand for the public who will experience it from the sidewalks, the High Line, and from other buildings throughout the West Chelsea arts district."
HL23 will house eleven residences — nine full-floor homes, a duplex penthouse with terraces, and a twofloor maisonette with a private garden at the building's base. No two homes will be alike. A pale, luminous exterior will give the building the appearance of an elegant, partially dressed figure: By strategically draping and fitting the structure with a gleaming pressed-pattern steel skin that covers here and slips back there, Denari alternately reveals and protects, simultaneously opening remarkable vistas through massive expanses of glass and concealing private life by wrapping areas of the structure in fitted metal panels — all while suggesting dramatic new directions for public architecture that is as sensitively crafted as the art objects presented at neighboring Chelsea galleries.
The residences at HL23 will range in size from approximately 1,850 to 3,600 square feet, and in price from $2.65 million to $10.5 million. Upon completion, the building is expected to receive a prestigious Leadership in Energy and Environmental Design (LEED) Gold Certification from the United States Green Building Council. The architecture of HL23 and its relationship to the West Chelsea arts district and the High Line will be the subjects of the upcoming exhibition Fast Forward: Neil Denari Builds On The Highline, opening in June 2008 at the Museum of the City of New York. Studies for HL23 were included in the acclaimed landmark exhibition Skin + Bones: Parallel Practices in Fashion and Architecture, at the Museum of Contemporary Art (MOCA), Los Angeles, in 2007.
HL23 has been developed by Alf Naman and Garrett Heher of 23 High Line Development LLC, New York. Exclusive sales agent for the project is Erin Boisson Aries of Brown Harris Stevens. Marc Rosenbaum, Architect, New York, served as collaborating architect for HL23, while The Spector Group, New York, is consulting architect for construction administration.
The interiors of HL23 have been designed by noted young New York architect Thomas Juul-Hansen, principal of Thomas Juul-Hansen LLC. The Danish-born Juul-Hansen, formerly a design architect at Richard Meier & Partners, is best known for bringing a refined, rigorous and modern sensibility to his residential, commercial and hospitality interiors. Since founding his firm in 2003, Juul-Hansen has attracted attention for homes designed for multi-media mogul Damon Dash, advertising guru David Lipman, and renowned chef Jean-Georges Vongerichten; interiors at Perry St and Jean Georges restaurants; and the New York headquarters of jeweler David Yurman, for whom Juul-Hansen has also designed retail stores throughout the United States. In addition to the interiors of HL23, Juul-Hansen is currently working on One Madison Park, a condominium building underway on the southeast corner of Manhattan's Madison Square Park.
"We are honored to be able to bring a building like HL23 to New York City and West Chelsea," said Alf Naman, developer of HL23 and one of the district's earliest and most ambitious and influential real estate investors. "The neighborhood, with its fantastic combination of industrial history, proximity to the High Line and the Hudson River, and thriving international arts scene, is unique in the city and the nation. It is fitting that a building like HL23 would become part of the transformation of Manhattan's far West Side, which is now evolving into a treasury of great architecture and design that should ultimately be to New York what Michigan Avenue is to Chicago. It is truly exciting for us to participate in that evolution."
HL23 : The Architecture
HL23 offers proof to the notion that extraordinary architecture often arises from the most challenging sites — an idea that has had no better testing ground than New York City. "The building's reverse-tapering form is more 'carved' or 'shaped' than set back," Denari explains. "But the inverted geometry — the way the building gets larger as it goes higher — was not just a dare on our part. It was an upfront response to the tough conditions of our site and its proximity to the industrial structure of the railway. We also generated HL23's profile to make the building appear slimmer than it is, and thus more hospitable to the surrounding buildings — a friendly if unconventional neighbor for the High Line and West Chelsea."
HL23 is a concrete and steel frame structure with diagonal perimeter bracing that allows for a minimum of interior columns that would interrupt the flow of open, usable space within interiors. An extensive research and development phase was undertaken in the two-year design process to arrive at a precision-engineered structure: The spandrel-free north and south curtain walls of HL23, conceived in collaboration with Front Inc. of New York City, consist of some of the largest single-pane windows ever used in residential high-rise construction.
Façade window panels are over eleven feet high by six feet wide, creating soaring floor to ceiling visual spans ranging from 38 to 45 feet in every home, allowing unrivaled intimacy with the plantings and paths of the restored and re-invented High Line, and breathtaking, seemingly infinite panoramas north and south from each unit. With low-iron, colorless and perfectly clear glass, the windows of HL23 — some operable to bring fresh air circulation into interiors — will achieve additional drama through the use of exceptionally thin, stainless steel mullions that seem to disappear. Patterned white ceramic frit will be applied to carefully selected areas of the building's windows in co-ordination with the functions of the spaces behind them, following the dynamic lines of the structure's steel bracing, protecting privacy and minimizing glare.
The building's east façade will have the appearance of a monumental public sculpture clad with a system of custom-designed, three-dimensionally curving stainless steel panels, each 11.6 feet wide. Designed by Neil Denari and fabricated on a unique oversized die press by TISI S.A. of Buenos Aires, Argentina, the pattern of the east façade will move along the dramatically shaped skin in much the same way a printed pattern moves across an avant-garde garment, slipping into different visual effects with the change of the body beneath. HL23's steel surface will also read differently throughout the day and during different weather patterns, glowing and seeming to change color with the movement of the sun and the passing of clouds. At the center of this façade, the structure and its skin will appear to split apart, revealing windows and cast ever changing shadows in a radical play of light.
HL23's distinctive metal panels will be affixed with open joints that, like many other carefully selected structural details of HL23, reveal precisely what they are to the naked eye. Such purity of expression, the architect has said, "is also a tribute to the honesty of the High Line, with its exposed rivets and articulated beams on display. We wanted to make new architecture that honors the old in certain ways, but that stands as an elevated world, integrated with the High Line in a new way."
HL23 : The Interiors
Residents of HL23 will enter the building through a discreet lobby on West 23rd Street, in the shadow of the High Line's muscular beams. From the lobby space, designed as a transition from the street and the building's expressive exterior, they will ascend to residences designed by New York City-based architect Thomas Juul- Hansen. "The homes at HL23," he explains, "will complement in every way the poetic form of the building, the romance of the views, and the natural impulse to live with great art that is inspired the neighborhood's character and the proximity to some of the greatest galleries in the world."
Every residence at HL23 responds to the exterior sculpture of the building with a unique shape and floor plan. The building has been maximized for highest spatial efficiency of the units, which range in size from 1,849 to 3,587 square feet and have living rooms — facing south over the High Line and downtown — of up to 24 by
45 feet in scale.





HL23 NYC images © Hayes Davidson, London 2008
According to Juul-Hansen, "We have designed the homes within HL23 to maximize the qualities of sensuality and calm, to choose materials that cosset residents and sculpt space that orients them to the spectacular presence of the park outside their windows." Gracious entry foyers off the private, keyed elevator allow for a transition into the home. Floors throughout the building are rift cut solid oak planks with two layers of sub-floor for high levels of sound insulation, further enhanced by an extra thick layer of concrete floor slab.
Most residences have been designed to anticipate the possible conversion of a third bedroom and an eat-in kitchen to other functions, without any compromise in the quality of the home's spatial flow. Master bathrooms throughout the building have custom-designed, glass-enclosed "Wet Rooms," eleven foot-long vanities, and shade systems that provide coverage from floor to ceiling to allow maximum privacy and the ability to control the flow of daylight. The upper floors of HL23 — Levels 11, 12, and the duplex penthouse — have wood-burning fireplaces. And both of the building's duplexes — the maisonnette at the base of the building and the penthouse at the top — enjoy serene outdoor spaces with window-wall doors designed to create an indoor-outdoor effect.
Summarizing the HL23 project, Neil Denari has said: "The fact that HL23 is a building with homes for sale is really just a comment on the tremendous opportunities my generation of architects enjoys today and the opportunities that New York in particular presents to us. Every architect wants to build museums, but there simply are not enough museum commissions to go around. There are, however, enough condominiums to go around; those have trickled into my generation as a premier platform for experimentation, insight and achievement. For us and, hopefully, for the public, these buildings have enormous cultural value of their own. We're following the generational pathway before us, this is our moment to launch, and it is a thrill to be moving along that pathway with a building like HL23." The sales and design tin for HL23 — a specially customized industrial construction trailer — is located on the building site, with an entry on West 24th Street between Tenth Avenue and Eleventh Avenue, beneath the High Line.
HL23 project text by Neil Denari
NDMA – Neil Denari
HL23 location
515-517 W 23rd St New York, NY 10011
Phone 212 317 3680
Fax 212 243 4524
Location: 515-517 W 23rd St New York, NY 10011
New York City, USA
New York City Architecture
Contemporary New York Buildings
Manhattan Architecture Designs – chronological list
New York City Architecture Tours by e-architect
56 Leonard Street
Herzog & de Meuron
56 Leonard Street
Giorgio Armani, Fifth Avenue
Massimiliano Fuksas Architects
Giorgio Armani New York
Comments / photos for the HL23 Project New York – Residential Tower Manhattan Architecture page welcome