Charles River Associates New York City Office Building, CRA Manhattan Interior Architecture
Charles River Associates New York
New Interior Architecture at 1411 Broadway, USA – design by Elkus Manfredi Architects
January 27, 2020
Charles River Associates New York City Offices
Design: Elkus Manfredi Architects
Charles River Associates New York City Office
Location: 1411 Broadway, New York City, NY, USA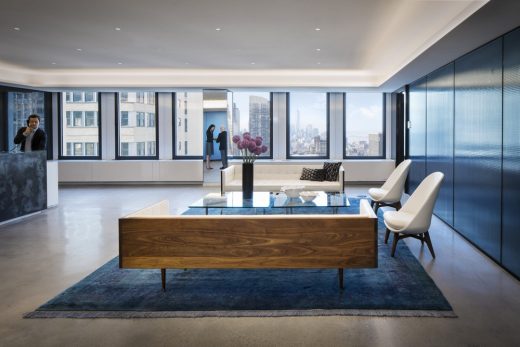 Size:
27,500 square feet on two floors
Program:
Reception: 1
Offices: 42
Workstations: 74
Bench Seats: 24
Phone Rooms: 3
Game Room: 2
Team Rooms: (16) 3-6-person
Conference Rooms: (2) 6-person, (1) 10-person (3) 14-person
Training Room: (1) 44-person
Open Collaboration Area: (2) 8-person
Great Room Café: 2
Copy/Print Room: 4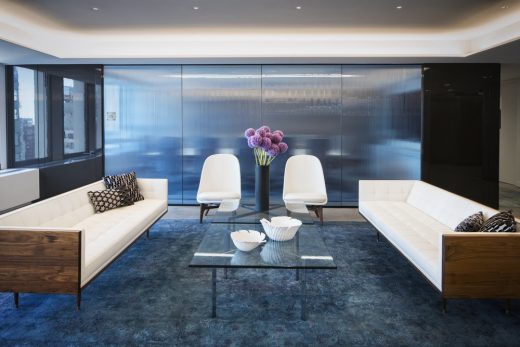 The design of CRA's New York office involved renovation of both the 35th and 25th floors at 1411 Broadway. The central design inspiration was the office's location in the heart of the city, and the sophistication of the Manhattan aesthetic.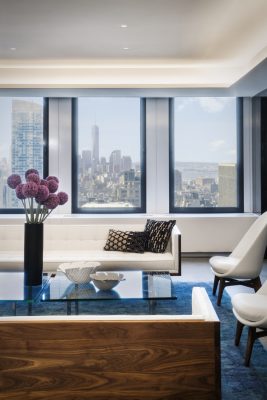 While parallel in metrics to the Chicago, Boston, and Washington, D.C. offices, the New York office is designed to reflect the specific New York team culture, facilitate the merging of teams, maximize knowledge-sharing, and support staff revitalization through the workday. Raw industrial elements are combined with sophisticated finishes, a palette of deep blues and purples, and oversized windows providing extraordinary views of Manhattan.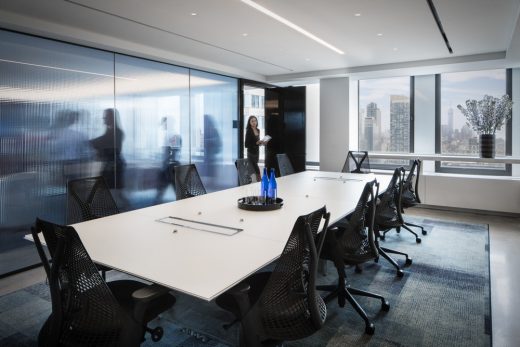 Project Scope
The scope encompassed renovation of two floors at 1411 Broadway. The 35th floor's office fills the high-rise's full floor plate and includes 15,750 square feet of usable space, while the 25th floor's area is slightly smaller, covering about three-quarters of the floor plate. The project relocates the CRA New York team from its previous dark and overcrowded office space into a light-filled office designed specifically for CRA's work style.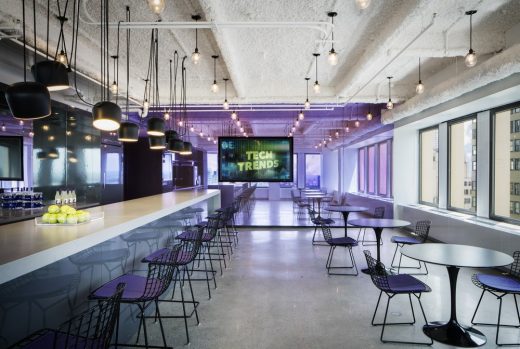 Design Intent
The charge was to design two floors of technology-infused work environments, based on the company's customized space metrics, which create a distinctive, sophisticated, and inspiring atmosphere. The design for the 35th floor also supports the incorporation of CRA's Marakon consulting team, previously working on a different floor, within the larger CRA New York team.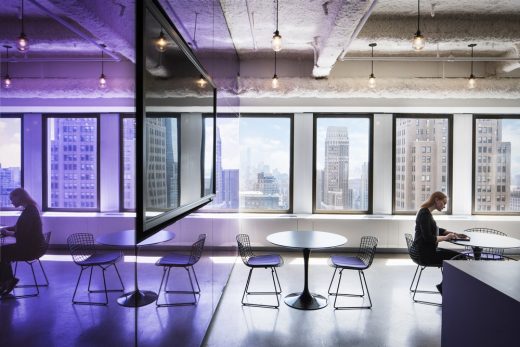 Design Challenges
 Create an inviting, sophisticated, inspiring work environment that reflects the characteristics of New York City.
 Understand the unique culture of CRA and design a space that drives cross-fertilization of ideas while supporting heads-down work.
 Encourage interaction and maximize knowledge-sharing among employees with open communal spaces and private workspaces that also feel accessible.
 Accommodate different work processes among multiple generations of workers.
 Move to reduced-size and single-size offices and workstations to increase collaboration and community spaces while achieving high-density real estate efficiencies.
 Create a design aesthetic that will stand the test of time.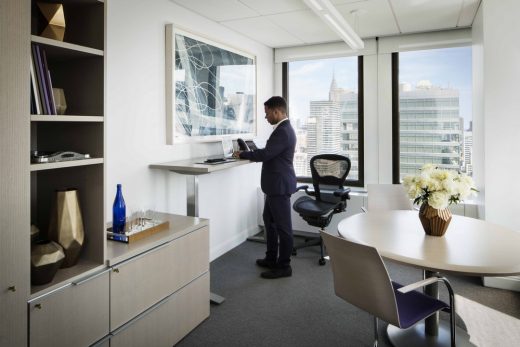 Design Solutions
 An urban industrial loft aesthetic captures the essence of New York City, featuring polished concrete, exposed ceilings, dark bronze finishes, interior glass walls, and a palette of soft neutrals, punctuated by pops of blue and purple. The palette was selected by the CRA team through an extensive engagement process exploring a wide range of design options.
 Circulation spaces feature polished concrete floors; the workstation spaces are carpeted in a neutral grey for a smooth visual transition from the concrete.
 Efficient use of real estate was important. The reception area is immediately adjacent to three conference rooms, so it was important that it would not acoustically overpower the conference rooms. Using a semi-opaque, sound-diminishing textured glass for the conference room walls that faces reception, the design allows light into the meeting spaces while also providing visual and acoustical privacy.
 The reception area's spatial planning leverages magnificent views to lower Manhattan and the Hudson River, while team rooms, individual offices, collaboration spaces, and workstations make the most of tall windows and energizing city views for the whole CRA team.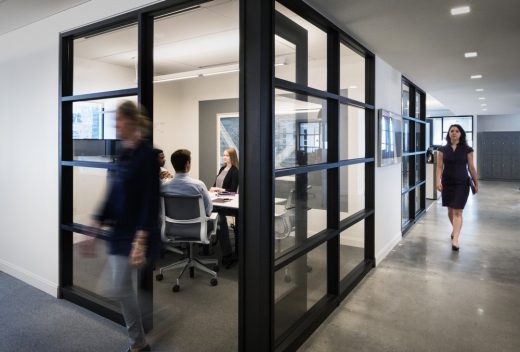  The reception area features a classic Oriental rug custom over-dyed blue to balance the space's concrete and glass aesthetic with a touch of softness.
 Merging of CRA and its acquired Marakon team within the new 35th-floor workplace was also critical. The Elkus Manfredi team designed an open team workspace, defined spatially by its exposed industrial ceiling, with adjacent collaboration areas, and a game room that reflects the energy and work style of the Marakon team. This team space is set cohesively within the new office, creating a unified whole.
 Bright pops of color energize the workplace with back-painted laminated glass in blue and purple.
 Great Room cafés on both floors are intentionally distinct from the workspaces, providing staff with a refreshing change of environment. With dramatic views, sophisticated lighting, café tables, and a riveting reflective purple glass end-wall, it is a place for recharging, eating, and casual connection with colleagues.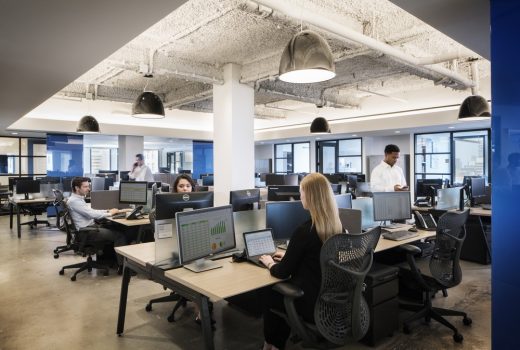 Charles River Associates New York Office – Building Information
Interior Architecture: Elkus Manfredi Architects
MEP/FP Engineer: Robert Derector Associates
Lighting Design: HDLC
General Contractor: ICON Construction
Photographs © Andrew Bordwin
Charles River Associates New York Building images / information received from Elkus Manfredi Architects
Phone: +1 212-520-7100
Address: Charles River Associates New York, 1411 Broadway 35th floor, New York, NY 10018, United States
Architecture in New Jersey
Lewis Arts Complex Princeton University
Design: Steven Holl Architects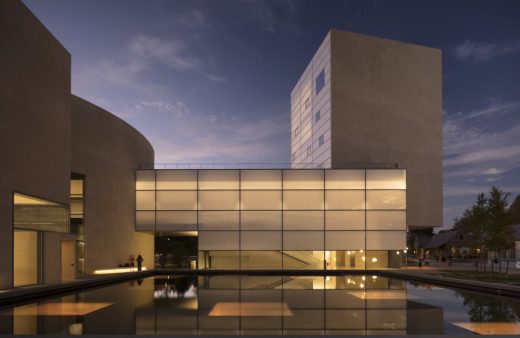 photo © Paul Warchol
Lewis Arts Complex Princeton University Building
Lotus Equity Group Office Building, Newark
Design: Michael Green Architecture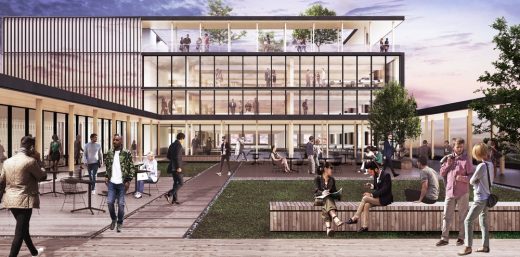 image courtesy of architects
Lotus Equity Group Office Building in Newark
Architecture in USA
Comments / photos for the Charles River Associates New York page welcome
Website: Fort Lee, NJ