685 First Avenue Tower, New York Building, RMP Design NYC, American Architecture Images
685 First Avenue Tower in New York
Manhattan Residential Apartment Building design by Richard Meier & Partners, Architects, USA
Nov 7, 2016
685 First Avenue Tower
Design: Richard Meier & Partners, Architects
685 First Avenue Tower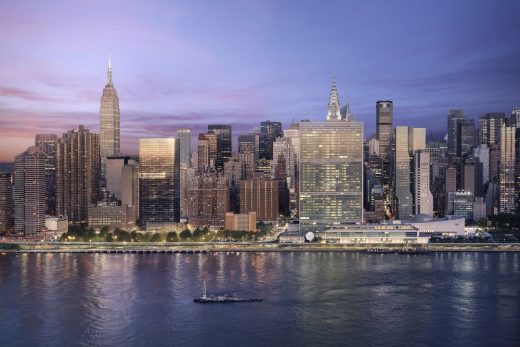 Richard Meier & Partners in collaboration with Developer Sheldon Solow's East River Realty Development is pleased to celebrate the design and construction of the new 685 First Avenue tower in New York City.
The 42-story, 460-foot high residential tower, Meier's tallest in New York City, will rise just south of the United Nations Headquarters in Manhattan overlooking the East River. The 685 First Avenue site occupies a 32,365 SF parcel between East 39th and East 40th Streets along the West side of First Avenue. It will be home to 556 rental and condominium apartments and feature panoramic views of the river and the city.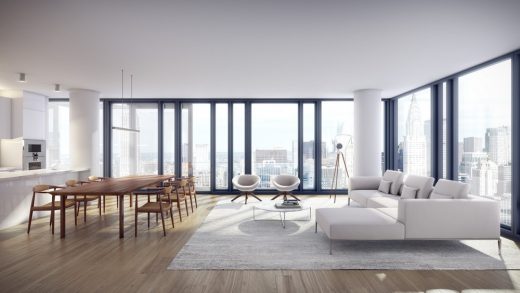 Minimalistic in form, the design of this predominantly glass building evidences great consideration for materiality, lightness, transparency and order. Its taut curtain wall is incised with modular subdivisions and articulated with selective metal panel elements in the form of balconies, canopies and corners. A distinguishing feature—an architectural cut-out at the 27th and 28th floors—will exist in dialogue with the building's context and be visible from across the East River.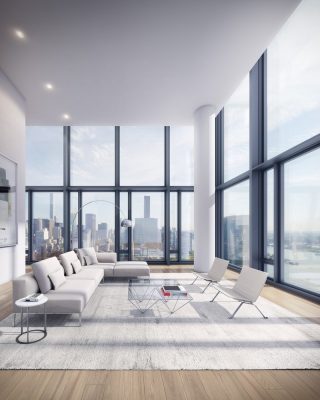 "This is a milestone project for us, as our first all-black glass and metal panel building, the tallest tower in New York City by our firm, and a complete Richard Meier & Partners project including both architecture and interiors," comments Dukho Yeon, design partner-in-charge at Richard Meier & Partners.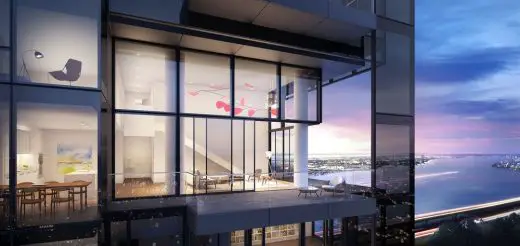 "The black glass curtain wall is a departure from our trademark white palette, Yeon continues, "When this intriguing challenge was proposed by developer Sheldon Solow, we accepted it with great enthusiasm and curiosity. We approach all our designs thoughtfully and with an open mind, and with this project we have remained true to our fundamental principles—distinctiveness in scale, proportion, light and power. That is the legacy of our white and clear glass buildings, and the design of 685 First Avenue foregrounds and celebrates these same elements."
At street level, the project is designed to promote urban activity by providing retail space along First Avenue. The expansive glazing of the grand, double-height residential lobby has a direct visual and physical connection with the surrounding context, the future public park across First Avenue and the East River. The light colored materials rely on principles of light, order and geometry to create a modern and open space.
Residents of the tower's 408 rental units and 148 condominiums will have access to distinctive amenities located on the second floor, including an indoor swimming pool, fitness center, children's playroom, tablet/work room, game room, private dining room, and lounge. These amenities and public spaces come alive through a rich palette of colors and textures, and tactile materials. All living room and bedrooms in the building are configured to take advantage of the outstanding views. The light palette of the interiors—whites, grays and earth tones—complement the smooth and textured surfaces of wood, plaster and glass.
Richard Meier comments: "We asked ourselves, can formal ideas and the philosophy of lightness and transparency, the interplay of natural light and shadow with forms and spaces, be reinterpreted in the precise opposite – white being all colors and black the absence of color? Our perspective continues to evolve, but our intuition and intention remain the same – to make architecture that evokes passion and emotion, lifts the spirit, and is executed perfectly.
"Having the opportunity to work with Sheldon Solow and his team on this project has enabled us to continue our contribution to the urban fabric of New York City. The singular form of 685 First Avenue is borne of a desire to create an iconic building unique to Midtown Manhattan. With advanced technologies and building materials, we seek an innovative and timeless design that adds to the history and roster of Manhattan's landmark buildings. The architecture will be finely crafted, precise, elegant and striking. It is very meaningful to me personally to work in New York City, and to give something enduring to the city I call home," Meier continues.
Window bays and modules are maximized in size to full floor-to-floor heights, altogether eliminating any horizontal or vertical shadow panels. Each module is subdivided further proportionally and geometrically into a system of operable window panels, joints and reveals, and mullion profiles that keep the façade open and elegant. The black glass unifies the façade, provides privacy for residents, and modulates the reflections of the context.
Sheldon Solow, developer of 685 First Avenue, comments: "I have known Richard for a long time and have always admired his work. I was thrilled when he agreed to lend his inimitable sensibility to this project. Richard and his team have truly created an inspired design that marries the streamlined look of the black glass with the interior brightness and transparency of a trademark Meier masterpiece. The result will be both a dramatic addition to the East River skyline and a fantastic place to live."
Sheldon Solow has been a leader in New York City real estate since the 1970's. His firm's portfolio includes the Solow Building, a signature 50-story, 1.5 million square foot, black glass office tower at 9 West 57th Street, designed by SOM partner Gordon Bunshaft; as well as residential developments: One and Two Sutton Place North; One East River Place at 525 East 72nd Street; 265 East 66th Street, and the 10 Solow Townhouses designed by Eli Attia, also along East 66th Street. 685 First Avenue is the first building of a larger East River Development Plan approved by the City of New York in 2008 that allowed for creation of a new 9.7-acre mixeduse development with residences, commercial and public open space on a long-abandoned site in Manhattan long the East River.
685 First Avenue will join 18 Richard Meier & Partners Architects designs for sites in New York City, including the iconic Perry Street & Charles Street Condominiums, the Westbeth Artists' Housing in the West Village, the Aye Simon Reading Room at the Guggenheim Museum, and proposed but unbuilt plans for the World Trade Center and Madison Square Garden Site Redevelopment.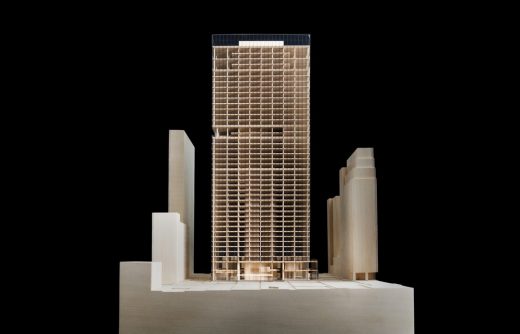 685 First Avenue Tower New York City – Building Information
Major Building Materials: Glass and Aluminum Curtain Wall, Metal Panel, and Stone
Program: Residential Tower, Street Level Retail and below grade Garage
Floors: 42 floors above grade, cellar, and sub-cellar
Site Area: 32,365 SFT
Floor Area: 765,590 SFT
Project Credits
Design Team: Richard Meier, FAIA, FRIBA Dukho Yeon, AIA Stefan Scheiber-Loeis
Project Manager: Richard Liu
Project Architect (Architecture): Sang-Min You
Project Architect (Interiors): Bori Kang Hans Put
Project Team: Tetsuhito Abe, Diana Carta, Luis Arturo Corzo, Joseph DeSense III, Ana Paola Hernandez, Henry Jarzabkowski, Graham Kervin, Peter J. Liao, Jackson Lindsay, Cameron Longyear, Diana Lui, Sharon Oh, Greg Chung Whan Park, Luciana Ruiz, Anne Struewing, Xiaodi Sun, Yuanyang Teng
Owner & Developer: Sheldon Solow, East River Realty Development LL
Renderings: bloomimages
Model Photograph: Scott Frances
About Richard Meier & Partners Architects
The work of Richard Meier & Partners is instantly recognizable and internationally respected. For over five decades, the Firm has been appointed to design important buildings, and it has successfully completed over 130 projects across North America, South America, Europe, and Asia. Among its best known works are: the Smith House in Darien, Connecticut; the Getty Center in Los Angeles, California; the United States Courthouse in Islip, New York; the Perry Street & Charles Street Condominiums in New York City and the Jubilee Church in Rome, Italy.
Richard Meier & Partners is led by founder and Pritzker Prize laureate Richard Meier and six partners – Michael Palladino, James R. Crawford, Bernhard Karpf, Vivian Lee, Reynolds Logan, and Dukho Yeon. The offices in New York and Los Angeles employ a multicultural staff of talented professionals practicing architecture, urbanism, product design and exhibition design. The quality of the work has been recognized with almost 300 design awards, including major awards from the American Institute of Architects (AIA) and the Royal Institute of British Architects (RIBA).
685 First Avenue Tower in New York information / images received 071116
Richard Meier Residential Tower on the East River : information on the architect
Location: 685 First Avenue, New York City, USA
New York City Architecture
Contemporary New York Buildings
Manhattan Architecture Designs – chronological list
New York City Architecture Tours by e-architect
Richard Meier Model Museum, Long Island City
Richard Meier Model Museum New York
Pier 55 Manhattan – Hudson River Park
Design: Heatherwick Studio, with landscape architect Mathews Nielsen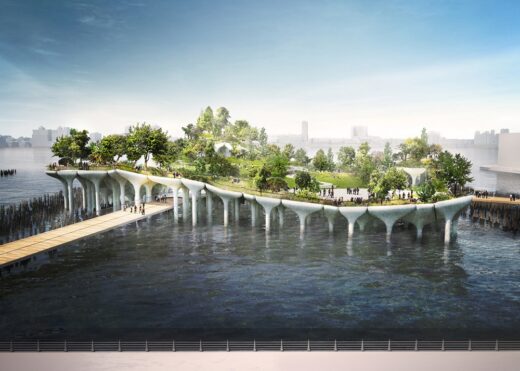 image courtesy Heatherwick Studio
Pier 55 Manhattan
77 Greenwich Street Tower, Manhattan
Design: FXFOWLE Architects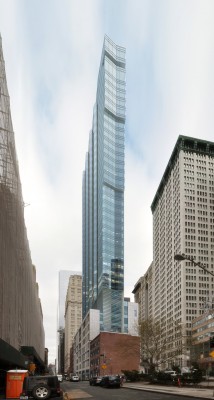 image from architects
77 Greenwich Street Tower
Hudson Yards Development Manhattan
Architects: various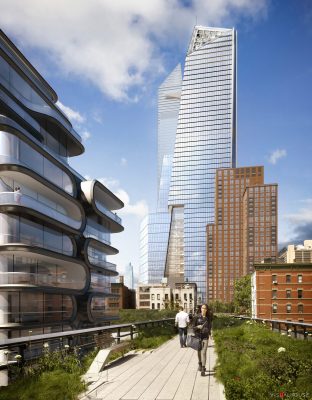 picture courtesy Related-Oxford
Hudson Yards Development Manhattan
340 Flatbush Avenue Skyscraper Brooklyn
Design: SHoP Architects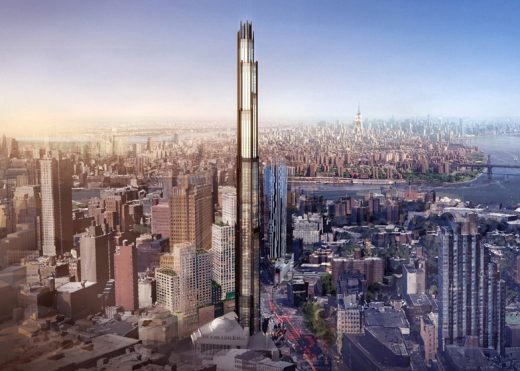 image courtesy of SHoP Architects
340 Flatbush Avenue Skyscraper Brooklyn
Rockefeller Center
Raymond Hood, Architect
Rockefeller Center NY
Comments / photos for the 685 First Avenue Tower in New York page welcome
Website: Richard Meier & Partners, Architects