Patricia and Phillip Frost Museum of Science Miami Building, Architecture, Architect
Miami Museum of Science, FL
Patricia and Phillip Frost Museum of Science Florida, USA, design by Grimshaw architects
Jun 30, 2018
Patricia and Phillip Frost Museum of Science Shortlisted at World Architecture Festival 2018 Awards
Patricia and Phillip Frost Museum of Science, Miami, is one of 536 shortlisted entries across 81 countries:
World Architecture Festival Awards 2018 Shortlist
May 20, 2017
Patricia and Phillip Frost Museum of Science in Miami
Design: Grimshaw
Phillip and Patricia Frost Museum of Science, Miami Building
Since opening last spring, nearly a million visitors have visited the new home of the Patricia and Phillip Frost Museum of Science in downtown Miami.
Far surpassing attendance expectations, Miami residents and visitors, both adults and children alike, have flocked to the multi-faceted museum and its planetarium, aquarium and wide range of exhibitions.
Situated on the Biscayne Bay waterfront, visitors experience the smell of the seafoam and the touch of the ocean breeze as they move about the catwalks and curves that define the institution's new home.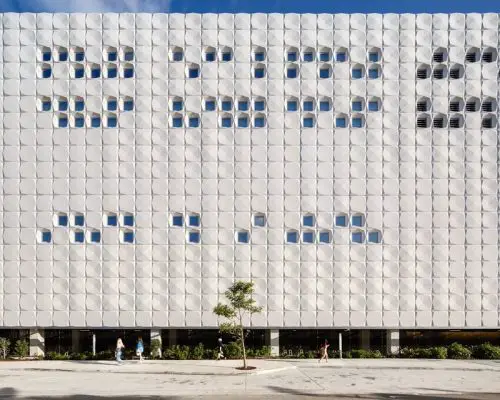 photo courtesy of architects
Composed of unique venues organized to create an outdoor campus, the museum anchors a corner of Museum Park. Dynamic and varied, each building was sculpted to take advantage of cooling winds and plentiful sunlight. From the spherical planetarium to the curved walls of the core building, unusual finishes and materials create reflections and textures, casting shadows that change throughout the day.
Utilizing the flora and fauna of Florida as a teaching tool, the museum offers close encounters with plants, animals and the living city around it. One of the highlights of the museum is the Gulf Stream Aquarium.
Visible from many angles including from an outdoor deck and portholes in the aquarium's side, visitors can descend from surface to submarine. The distinctive 'martini glass' form punctuated by an expansive oculus culminates in a one-of-a-kind immersive view of the 'ocean' from below.
Bringing science and discovery to new heights in the City of Miami, the Frost Museum of Science continues to draw wide-eyed visitors in its fresh, inspiring setting. Grimshaw is pleased to have designed this unique home for the institution, utilizing sustainable design principles, leading edge parametric design tools and the vibrant ecology and urbanity in Miami to bring it to life.
May 20, 2017
Patricia and Phillip Frost Museum of Science
Architects: Grimshaw
Phillip and Patricia Frost Museum of Science opens its doors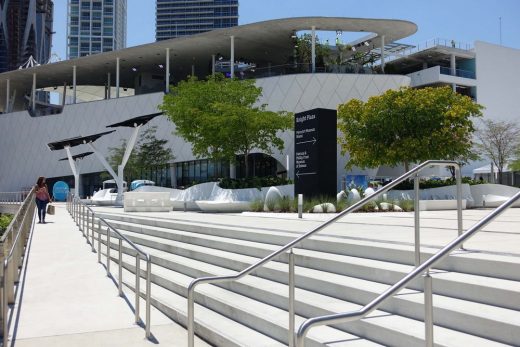 Grimshaw is pleased to announce the opening of the Phillip and Patricia Frost Museum of Science (Frost Science) in Miami, Florida. This exciting new 250,000 square foot facility brings together an aquarium, planetarium and science museum onto one campus in downtown Miami's Museum Park.
Taking advantage of the city's plentiful sunshine, ocean breezes from nearby Biscayne Bay and views to a growing downtown skyline, the inventive architecture of the museum furthers Miami-Dade County's cultural offerings in a sophisticated, contemporary building.
"To echo the sentiments of many in the community, it has been a privilege to have been part of this journey," said Grimshaw Partner Vincent Chang, "bringing science and true contemplation of the world around us into the heart of vibrant, ever-changing downtown Miami."
Grimshaw's response to the project brief resulted in a complex of four buildings situated in an open-armed stance, inviting visitors to walk amongst them and opening up the building to the outdoors. This conscious effort to link the building to the outdoors connects the world at large to the science exhibits within and reinforces the museum's ties to both the city and nearby marine habitats.
An open-air atrium threads between the buildings connecting them to one another and creating a dynamic environment that directly connects the community to the experience of the outdoors and the city around them.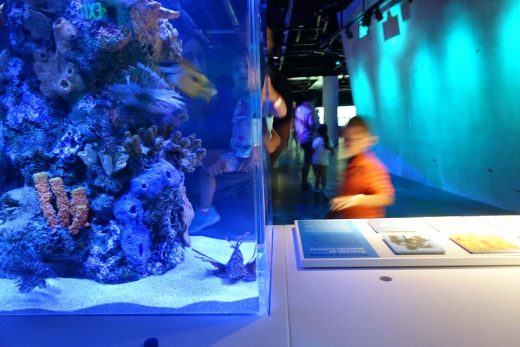 The shapes of each individual building are dynamic and varied, sculpted to take advantage of filtered light and breezes. The ensemble is united by a soft white colour palette expressed through a variety of materials that create unique patterns and shadows across the building facades. The bar-shaped buildings of the North and West Wings are clad in a faceted, pixelated geometrical texture that allows the passage of the sun to animate the buildings across daylight hours.
The aquarium, more organic in shape, is nestled between the wings, appearing in shape as a water droplet from above and not unlike the prow of a ship when approached from the ground. The iconic planetarium, spherical in shape, completes the site, creating an intriguing landmark that contrasts the more rigid building massing of adjacent developments.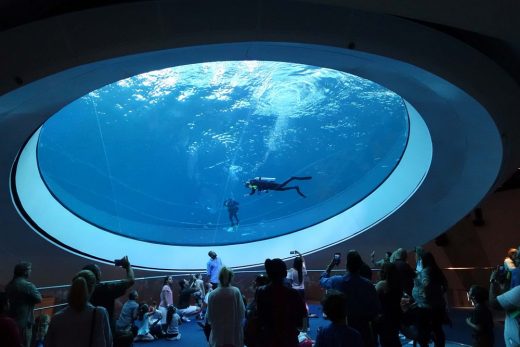 The aquarium building lies at the heart of the site and is where most guests will begin their exploration. Grimshaw has created a unique, vertically-oriented experience that allows guests to encounter aquatic ecosystems at various depths from an open-air rooftop "surface" level to more intimate, immersive galleries "below the waterline." This portion of the museum is dominated by the 500,000-gallon Gulf Stream Aquarium.
The aquarium's unique cone shape spans three floors to provide a cornerless environment for ocean-cruising wildlife. The bottom of the cone resolves in a massive, 31-foot circular viewing window that allows visitors a dramatic view up and into the aquarium from below, immersed in the blue depths of the Gulf Stream. Other viewing points offer glimpses to the same aquarium including carefully placed portholes and an open-air deck with an aviary and other exhibits highlighting Florida ecosystems.
"It has been such a joy for our team to see firsthand visitors move throughout the building, simultaneously engaging with the exhibits and enjoying the spectacular views from the building's many open terraces," said Chang.
The opening of Frost Science is the culmination of a process that began in 2009 with outreach workshops that polled local residents to find out what kind of science museum they aspired to visit. The museum is pursuing LEED Gold certification utilising a variety of environmental strategies including a rooftop solar farm, rain water cisterns, and a building design that takes maximises the abundant sunshine and breezes from the bay.
The museum is also accessible via public transportation including Miami's Metromover, Metrobus, the Miami Trolley and the city's bikeshare program. The museum will be open 365 days a year bringing science and discovery to Miami residents and visitors alike in a new, inspired setting.
Mar 2, 2012
Patricia and Phillip Frost Museum of Science in Miami – Design
Patricia and Phillip Frost Museum of Science in Miami Design
After years of planning and widespread community support, the new Patricia and Phillip Frost Museum of Science today broke ground in Downtown Miami's Museum Park on the 24th of February. The groundbreaking ceremony took place at the museum's new site overlooking Biscayne Bay, marking the continuation of Miami's rise as one of the world's most culturally rich cities. The groundbreaking event marks the beginning of construction, with the new museum scheduled to open to the public by early 2015.
"Great cities are home to top tier museums. The new Patricia and Phillip Frost Museum of Science will elevate Miami into this rank while contributing to the city's emergence as a major international destination for culture and innovation," said Trish and Dan Bell, co-chairs of the Museum's Board of Trustees. "Our new building should serve as a delightful gathering place for residents and visitors, and we look forward to the Museum greatly enhancing the motivation for science and technology education in the community. It will also be an outstanding economic and architectural asset for the city."
Designed by internationally recognized Grimshaw Architects, the 250,000 square-foot complex will be among the world's most innovative and sustainable science museums. According to Grimshaw the Museum is intended to act as a demonstration of ecological and sustainability principles. The building will harness energy from water, sun, wind and even museum visitors to power exhibits and conserve resources.
"We are delighted that the new Miami Science Museum has reached this exciting milestone," said Grimshaw partner Vincent Chang. "As designers we began a journey three years ago and have seen wonderful ideas from so many contributors coalesce into a truly innovative museum. A museum in which the building itself serves as a significant exhibit, welcoming interaction and showcasing an optimistic story of environmental responsiveness."
The Museum is structured around a lushly landscaped indoor and outdoor "living core" of terrestrial and aquatic spaces, featuring a 600,000 gallon aquarium facility, a full dome 3-D planetarium, interactive exhibits, innovative technology and two additional wings of exhibition space, learning center and cafes.
As construction on the new facility begins, support from the public and private sectors for the Museum's capital campaign remains strong. In 2004, $165 million was approved by voters, through the Miami-Dade County's Building Better Communities Bond Program, to support design and construction. In March 2011, Dr. Phillip and Patricia Frost committed $35 million to the Museum, the largest single contribution in the institution's history.
The gift has served as a springboard for additional private sector support. In January 2012, the John S. and James L. Knight Foundation committed a challenge grant of $10 million. To date, the Museum has secured approximately $70 million of its $100 million private fundraising goal.
"The construction of this Museum will be remembered as the beginning of a new era for Miami – characterized by an emphasis on technology and all that it adds to our quality of life," said Dr. Phillip and Patricia Frost, name donors of the Museum. "We are proud that it will be a major cornerstone in the development of this new reputation." The groundbreaking ceremony featured remarks by Miami-Dade County Mayor Carlos Gimenez and City of Miami Mayor Tomás Regalado, Superintendent of Miami-Dade Public Schools Alberto Carvalho, as well as Dr. Phillip and Mrs. Patricia Frost, Mr. Dan and Mrs. Trish Bell, and Miami Science Museum President Gillian Thomas.
"Groundbreaking at Museum Park is certainly an exciting moment for us, but even more exciting are the new learning opportunities being created both during construction and, of course, after opening. Every aspect of the building, its exhibits and facilities has potential for enjoyable learning, opening doors to new ideas, new opportunities, and new careers," said Miami Science Museum President and CEO, Gillian Thomas. "The new Patricia and Phillip Frost Museum of Science will be a powerful representation of how science can transform lives and inspire innovation."
Thomas adds that the museum currently serves anywhere from 30,000 to 50,000 school children on an annual basis, with this number expected to double when it moves into its new location at Museum Park.
The groundbreaking event will mark the launch of two pilot education programs that the Museum intends to prototype in advance of its grand opening at Museum Park. "Science Stars" will bring leading scientists, such as astronomers, physicists, marine biologists, and engineers into the Miami-Dade County Public School System to provide children (K-12) with an opportunity to learn interactively about science in a school-based setting.
Additionally, Miami Science is beginning an internship program at the museum to enhance real-world training for high school students interested in embarking on a career in science and/or technology. This internship program will be piloted in partnership with Coral Gables Senior High and MAST Academy, and will provide 11th grade students with class credit in exchange for the experiential learning opportunity.
About Miami Science Museum
Miami Science Museum aims to make a difference in people's lives by inspiring them to appreciate the impact that science and technology can have on every facet of our world. For over 60 years, Miami Science Museum's award-winning educational programs, family-focused exhibits, historic planetarium, Wildlife Center and rehabilitation Clinic have enriched locals and tourists alike.
In 2015, the legacy continues with the Patricia and Phillip Frost Museum of Science, a new world-class, state-of-the-art facility designed by Grimshaw Architects in the heart of downtown Miami. Miami Science Museum is accredited by the American Association of Museums and is an affiliate of the Smithsonian Institution and a member of the Association of Science and Technology Centers.
For more information about the current Museum or our future home, the Patricia and Phillip Frost Museum of Science, visit www.miasci.org/blog or call (305) 646-4200. Miami Science Museum is funded with the support of the Miami-Dade County Department of Cultural Affairs and the Cultural Affairs Council, the Miami-Dade County Mayor and Board of County Commissioners.
Patricia and Phillip Frost Museum of Science images / information from Grimshaw
Address: The Miami Museum of Science and Planetarium, 3280 South Miami Avenue, Miami, Florida, United States
Contact Miami Science Museum: phone (305) 646-4269
Location: 3280 South Miami Avenue, Miami, Florida, USA
Miami Architecture
Contemporary Miami Architecture
Miami Architectural Designs – chronological list
Miami Architecture Tours by e-architect : exclusive guided walks
Miami Architecture Offices : Studio Listings
Recent Miami Museum building design on e-architect:
New Norton Museum of Art Building, West Palm Beach
Design: Foster + Partners



image courtesy of Foster + Partners
New Norton Museum of Art Building
A recent Miami Museum building design on e-architect:
Miami Pier Museum of Latin American Immigrants, South Beach
Design: Maciej Jakub Zawadzki
Miami Pier Museum
Another Miami Museum design on e-architect:
Pier Migrant Mangrove Museum, Lummus Park
Paul Cremoux W. / Manuel Angel Bugallo O.
Pier Migrant Mangrove Museum
No. 279, 1111 Lincoln Road, Miami Beach
Design: Herzog & de Meuron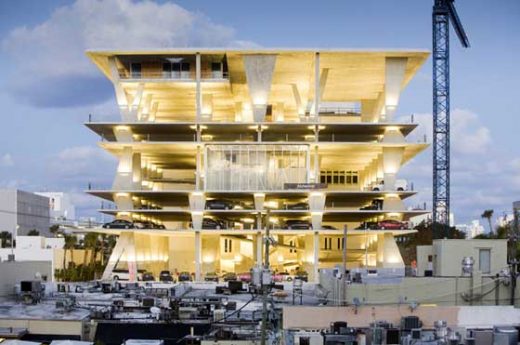 photograph : Nelson Garrido/1111Lincoln Road MBeach1, LLLP
1111 Lincoln Road Miami Beach
Another US building design by Grimshaw:
Washington Union Station Concourse Modernization Project
Design: KGP Design Studio, Grimshaw and Arup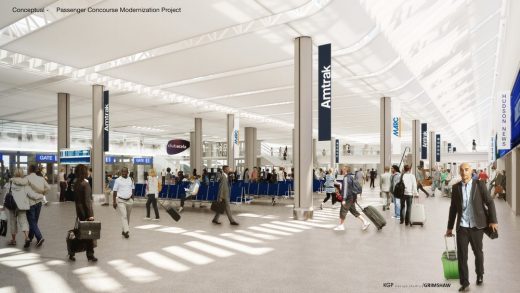 image from architect
Washington Union Station Concourse Modernization Project
Comments / photos for the Miami Science Museum page welcome
Website: www.miamisci.org