Stubbs Mill Housing, New Islington Manchester Homes, Fanatics, Architect, Ancoats Building Renewal
Stubbs Mill: Urban Splash Housing
Urban Splash Homes in Ancoats, northwest England, UK Building Redevelopment News – design by DSDHA
18 Dec 2016
Stubbs Mill Building News
Urban Splash and Fanatics announce commercial deal at Stubbs Mill
Design: DSDHA Architects
Location: Stubbs Mill, Piercy Street, Ancoats, Central East Manchester, England, UK
Urban Splash completes the restoration of Stubbs Mill and unveils images of its finished look for the first time. The mill, which originally made machines for industry, was constructed between 1880 and the early 20th century, Stubbs has been sensitively restored for contemporary commercial uses.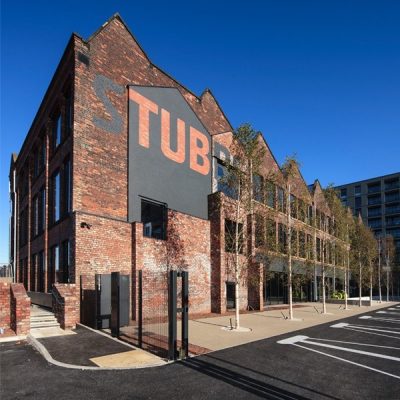 Award-winning regeneration company Urban Splash and Fanatics, the world's largest retailer of licensed sports merchandise and the leading sports e-commerce provider, have announced a deal that will move Fanatics into the 25,000sq ft Stubbs Mill in New Islington in one of the biggest office deals in Manchester this year.
The international arm of Fanatics, which formerly operated as Kitbag until it was bought by the American sports licensing giant in February, will use the move to develop a new base that will further its expansion plans across all areas of the business.
Urban Splash director Nathan Cornish explained: "Stubbs Mill was a bold and brave move for us; it's on the periphery of the city centre and in an area that has only recently been established. It would've been an easy move to turn it into apartments but we thought we could make it work commercially, thus bringing hundreds more people into New Islington. Fanatics will greatly add to mix of uses and community here."
Fanatics CEO Andy Anson added: "This is a fantastic development for the company, its staff and for the city of Manchester. We needed to move to accommodate our aggressive growth plans but it was incredibly important to us that we stayed true to our roots and remained in Manchester. Moving closer to the city centre means we'll be right at the heart of Manchester's commercial and tech resources and the choice of Stubbs Mill means we'll be operating from one of the coolest environments that any e-commerce business could wish for."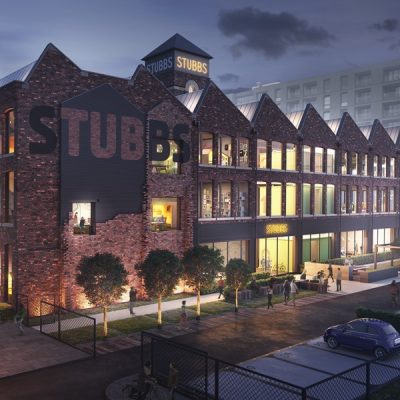 The general restoration process of the site, which began in 2015, has seen many of the original features retained. Nathan continued: "Aesthetically Stubbs had all the hallmarks of a typical Urban Splash scheme; stunning original features which we've retained and fused with new design features to create a high spec, well-designed office for Fanatics. We're delighted that they'll soon be moving in."
Andy Anson added: "The reputation of Stubbs Mill as an historic textile centre, means there's a great synergy with our own product base in the sport and leisure wear market. We have plans to use an extensive area for product development and design and we're proud of the fact we'll be continuing the legacy."
Urban Splash will now continue its work on the broader regeneration of New Islington with the development of Mansion hoUSe, a modular apartment concept currently in for planning. Earlier this year the company announced it had completed and fully sold out all of its 43 modular hoUSes which are just a few minutes' walk from Stubbs.
"This year's been pivotal for New Islington," added Nathan. "Urban Splash has completed hoUSe, welcoming new residents into every single unit and now we've completed and let Stubbs Mill. Add to that the opening of the permanent building for the New Islington Free School and the area's very much on the Manchester map; it changes every time you visit."
Andy concluded: "This move for Fanatics is supported by our U.S. parent and creates an environment suitable to a world-leading sports business. It will allow us to continue to grow our international business in a way we otherwise could not have done. As we develop domestically and across Europe and Asia, it's fantastic to think we'll be doing so from the heart Manchester and we look forward to welcoming visiting partners and suppliers from across the globe to a location we'll be proud to call 'home'."
18 Apr 2008
New Islington News
Urban Splash Housing at Stubbs Mill
RT HON HAZEL BLEARS VISITS NEW ISLINGTON, MANCHESTER'S MILLENNIUM COMMUNITY AS FUTURE NEW PHASES ARE ANNOUNCED
Rt Hon Hazel Blears MP will visit New Islington, Manchester's Millennium Community from 12.30 – 1.30pm on Friday 18 April 08 to celebrate the success of the scheme with the first four phases already complete and a further two on site, as well as announcing details of the next four phases of the development.
At the event Urban Splash will be announcing it is to build its first family houses; plans for a new shell apartment scheme; information on its forthcoming developer competition and details about its self build site Tutti Frutti. Norman Askew, Chairman, Taylor Wimpey plc will also be talking about its Bryant Homes development; The Botanic, which is the result of the first developer competition held at New Islington.
Family Houses
Designed by architects DSDHA, the 29 two, three and four bedroom houses are currently in planning, and Urban Splash hopes to start on site later this year with show houses due for completion in early 2009.
The houses will include their own private gardens leading into a secure central communal kick about space for kids to play in safety.  The space has been designed to be flexible so purchasers can decide which rooms they want as bedrooms and which as living space themselves.
"This is a first for Urban Splash and we're really excited about the houses, we've worked hard with the architects and we've all thought about the little things we think would make our own homes better," said Richard Hattan, director of development, Urban Splash.  "For example we've created a concealed charging station in the downstairs cloak cupboard. You can charge your phones, computers and ipods all in one place, so you've not got leads trailing all around the house."
The family homes are being built to exceed the code for sustainable homes level 3 which has replaced the Eco Homes rating system in line with English Partnerships' standards.  The houses will include such features as; better insulation, soundproofing and daylighting. They will also receive their heat and power from the private New Islington utilities network, which generates a significant proportion of electricity required on site.
Shell Apartments at Stubbs Mill
Urban Splash will be working with Ben Kelly Design (BKD) on the redevelopment of Stubbs Mill in New Islington.  Formerly a machine works, making and assembling equipment for the cotton industry including mills within the surrounding area, it is planned to turn Stubbs Mills into "shell" apartments and 15,000 sq ft of commercial space, comprising office, retail and leisure facilities.

Ben Kelly is well-known for his involvement in the design of Manchester's famous Hacienda nightclub and other Manchester landmarks such as Dry Bar and Factory Records' HQ.  BKD's proposals for Stubbs Mill retain the form and robustness of the existing building – including the "saw-tooth" north-lit roof reminiscent of the Factory Records logo – and use these as a reference point for an extension, creating public space, knitting Stubbs Mill into the New Islington landscape.
"Stubbs Mill is one of the few existing buildings in New Islington," said Chris Stalker, associate director of development, Urban Splash. "Sitting next to Chips, by SMC Alsop, Stubbs will include 18 apartments, which we'll sell as "shells" giving purchasers the opportunity to design and fit out their own loft, a proper loft, and further adding to the mix of interesting spaces and great architecture in Manchester's Millennium Community."
The scheme is waiting for planning permission and Urban Splash plans to start work on Stubbs Mill in early 2009.
Developer Competition
Urban Splash and its partners at New Islington will shortly be holding a second competition to find a developer and architect team to design and construct a mixed use scheme on another major plot in New Islington. The first developer competition in New Islington resulted in Taylor Wimpey being selected for The Botanic scheme which is currently on site. The next competition is expected to launch in early June.
The Botanic
Bryant Homes' The Botanic includes 200 new homes and ground floor commercial space. It will bring a new style of living to Manchester with a range of one, two and three bedroom apartments overlooking a private garden of mature trees and grassed areas. The garden is sandwiched between the two apartment buildings creating the feel of a secret oasis.
Many of the homes are designed in an innovative way as duplexes, and all of the properties feature floor to ceiling windows to make the most of the garden views. They also have a dual aspect, looking onto both the central garden and the city outside.
Mark Mainwaring, Director and General Manager for Bryant Homes Northwest, said: "We believe we're creating a benchmark development in terms of intelligent urban regeneration, which befits New Islington's sustainable living outlook and strong community ethos."
For more information visit www.bryant.co.uk
Tutti Frutti
Tutti Frutti, the first Urban Splash self build scheme, offers 20 canal side building plots at New Islington for people to unleash their vision and build their dream home. The first six plots are currently in for planning and are expected to start on site this summer.
Each plot will be 15 metres in length with widths S, M and L ranging from four to five metres. The plot prices start from £160,000.
"We love the idea of Tutti Frutti," said Richard Oakes, managing director, Urban Splash Manchester. "We know there's strong interest from people itching to design and build their own homes but finding the right plot can be the most frustrating part of the process. We've got lots of plots up for grabs at Tutti Frutti and as the name suggests we're looking for a real mix of styles, from the flamboyant to the quietly understated, anything really as long as it is fantastic."
The buildings are restricted to six storeys in height however purchasers can build their houses from any materials they want to, but their designs need to impress Urban Splash.
For more information visit  www.newislington.co.uk/tuttifrutti
New Islington, Manchester's Millennium Community, is one of national regeneration agency English Partnerships' seven Millennium Communities – New Islington is a partnership between Urban Splash, English Partnerships and New East Manchester Ltd together with appointed social landlord, Manchester Methodist Housing Association. The 30 acre site, just east of Manchester city centre is being radically transformed to a strategic and ambitious vision created by Will Alsop.  A new canal and water park, over 1700 new homes, office space, a school, a health clinic, shops, bars and restaurants are planned to be created, using the world's best architecture.
www.newislington.co.uk + www.urbansplash.co.uk
Highlights to date at New Islington
Work started on site in 2003.  Historically the area was filled with canals serving huge Victorian Mills but gradually from the 1920s to the 1970s the canals were filled in and the Mills demolished leaving a legacy of chemicals and metals in the ground. At New Islington sustainability has started literally from the ground up. Approx 100,000 tons of land has been decontaminated and re-used at the site to help create the walls of the new canals and the islands in the Water Park.
The park is complete and includes an orchard, mature Scots pines, public spaces, seating areas and several special features to encourage wildlife.  It will open to the public in 2008.
The first new homes in New Islington were completed in spring 2006. Islington Square, designed by FAT (Fashion Architecture Taste) working with the people who now live in them, the 23 houses make up the first phase of social housing, which is managed by Manchester Methodist Housing Association (MMHA). Following a RIBA competition FAT was selected unanimously by the residents and New Islington partners to design the scheme which has received a great deal of national and international acclaim.
In March 2007 residents moved into the second phase of social housing, Guest Street.  Designed by DeMetz Forbes Knight (dMFK), who were also selected through a RIBA competition and very different to Islington Square, Guest Street is a contemporary interpretation of the traditional terraced house.
Building work is progressing on Chips, the first homes for public sale at New Islington. Designed by Will Alsop, his first residential scheme in the UK, the 142 apartments are sold and the building is expected to be completed in 2008.
New Islington hosts its own annual festival.  In 2007 over 4000 people attended the event on Saturday 01 September enjoying a huge range of diverse acts from the edgy beats and raps at the Unity Radio Stage to the gentle folk music of Kate and Greg's Boat Band in the Park.
The £6.5m Health Centre located on Old Mill Street, near the site of the former hospital, overlooking the new water park, opened in February 2008.
Location: Stubbs Mill, New Islington, Manchester, Northwest England, UK
Manchester Buildings
Contemporary Manchester Architecture
Manchester Architectural Designs – chronological list
Manchester Architecture Walking Tours
Addington Street Housing, New Cross
Design: Hawkins\Brown Architects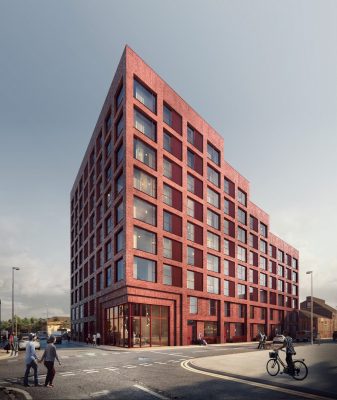 image courtesy of Far East Consortium (FEC)
Addington Street Housing
Website: Stubbs Mill in Ancoats – Manchester history
Manchester Residential Building – Nick Everton House
Website: Stubbs Mill Ancoats by Urban Splash
Timber Wharf Manchester Housing
Comments / images for the New Islington Manchester – Stubbs Mill Housing page welcome