Preston Mosque Design Competition, Architect, Lancashire Architecture Contest, Building Site Photo
New mosque near Preston, Lancashire
17 September 2021
Preston Mosque Architecture Competition Winner
Design: Luca Poian Forms
Preston Mosque Architecture Competition Winner
14 June 2021
Preston Mosque Architecture Competition Entry
Preston Mosque Architecture Competition Entry
26 February 2021
Preston Mosque Architecture Competition
Thursday 25 February 2021
The RIBA launches an international design competition for a new Mosque near Preston, Lancashire, northwest England, UK.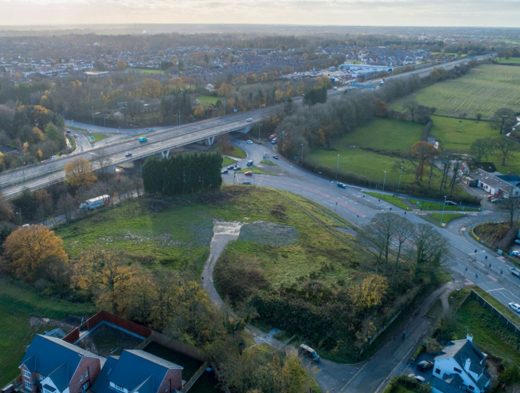 The Royal Institute of British Architects (RIBA) has today (Thursday 25 February) launched a competition for the design of a new mosque on a site near Preston in Lancashire on behalf of a local registered charitable trust.
The client is looking to create a landmark, timeless building on this site, close to the city centre.
This site is located close to the city centre but in its own, prominent setting, visible from a large part of the surrounding area including key routes into Preston therefore there is a great opportunity to design a building which will become a proud element of Preston's skyscape for many years to come.
At phase one, the competition seeks initial anonymous design concepts. A shortlist of up to five teams will then be selected to develop their designs.
The RIBA competition is open to registered architects worldwide. Further details about the competition and how to enter can be found here.
Initial design proposals must be submitted by 14:00 (BST) on Thursday 22 April 2021.
Date: 22 April 2021, 14:00
Place: Preston, Lancashire, UK
Contact: call+44(0)113 203 1490 | [email protected]
Fee: £4,000 +VAT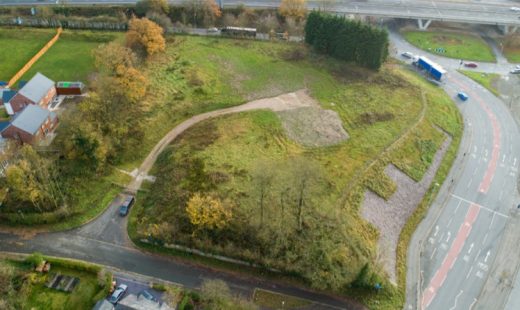 Introduction
A local charity is seeking a talented and ambitious architect to develop ideas for a new Mosque on
the northern outskirts of Preston, Lancashire.
The design solution should be of the highest quality, both enduring and at the same time modern and
reflective of current trends. As such, the design team should seek to create a landmark building.
Examples of landmark buildings of worship in the local area include:
• Preston England Temple in Chorley, Lancashire – The Church of Jesus Christ of Latter-day Saints
• Fairhaven United Reformed Church in Lytham St Annes
• Church of St Walburge's in Preston – boasts the third tallest spire in the country
Location
The site for the proposed Mosque is at the western end of D'Urton Lane on the northern edge of the
City of Preston. The site has been cut off by the recent completion of the Broughton bypass alongside
the junction of the M55 and M6 and as such sits in a particularly prominent and elevated location.
Drone footage of the site is available to view here:
Design Guidance
The intention is to produce a strong and bold design that is clearly identifiable as a place of worship
but not necessarily to the extent that it is dominated by the traditional Islamic designs. Similarly, it is
acceptable to have an element of Islamic flair or features but this is not paramount and if the building
has minarets they should be subtle and modern in appearance. The building should have a clear
focal point or strong design features which gives character and visibility at some distance. It should
not be so institutionalised as to simply have the look of a contemporary office building.
Consideration should be given to the potential for the creation of an external courtyard area or sahn
which would be part of the public realm and available for informal meetings or relaxation.
Detailed consideration should be given to the appropriate use of materials as part of the design
but also in terms of the future maintenance and operating costs of the building which will be run
by a charity. For example, it may be that a material such as marble or other high quality stone is
acceptable whereas timber, although having the potential to add a contemporary element to the
design, is not due to the ongoing maintenance requirements. Simple composite panels and cladding
are unlikely to be the solution and the preference is most probably for the use of more traditional
materials such as brick or stone, including marble.
Maintenance should also be considered not simply over 25 years but much longer.
Scale
It is expected that the mosque will extend to the equivalent of three storeys, with a large prayer hall
of double or triple height and a capacity for some 450 prayer mats plus circulation space. This area
should be open to allow clear views for all worshippers. There should be no columns in this area, but
the prayer hall does require a domed roof to accommodate a double or triple height grand space.
In addition to the prayer hall, there should be three floors of other accommodation including a ladies'
prayer hall on a separate floor with a separate entrance and clear views into the main prayer hall.
This area should extend to approximately half the overall footprint of the building.
The charity's retained architects have prepared an indicative sketch of how the site may be laid out.
This demonstrates a footprint of at least 730m2 is achievable but this should not be regarded a minimum or maximum requirement.
Interior
The building should make maximum use of natural light where possible.
At this stage it has not yet been determined how the interior design will be addressed. Entrants
are therefore encouraged to put forward their general ideas for the interior design which should be
simple and not ornate with a general open and contemporary approach.
Sustainability
The architect should seek to achieve a zero carbon development or as close to this as is reasonably
possible, subject to the demonstration of costs and benefits. This may include the achievement of a
BREEAM Excellent rating or the equivalent but should look at all opportunities for the incorporation of
renewable energy, enhanced thermal efficiency and sustainable materials where possible. However, such
renewables should not be visually dominant and should not be clearly visible in views of the building.
Prominence
Given the location of the site, the potential is there for this to be a visually prominent building and the
design should take advantage of this. It will be visible from both motorways, the surrounding area and, of
course, close up.
It is therefore essential that the building makes a real visual statement from whichever angle it is viewed.
It should become a real focal point and landmark building for North Preston and the approaches to it.
Landscaping
Consideration should be given to the potential for landscaping of the site. This should take into account
short and longer distance views of the site to maximise the quality of the setting within which the building
will site. There is a preference for the landscaping to incorporate a majority of evergreen species, but it
should also address the emerging requirement for a 10% biodiversity uplift.
There may be an opportunity to combine the scheme of landscaping with that to be undertaken by the
highway's authority on adjacent land. Maintenance of the grounds should be taken into consideration also.
Parking
The layout should maximise the opportunities for parking with a minimum of at least 140 spaces
including disabled spaces and electric charging points. There should be no underground parking.
Cycle parking should also be provided and thought should be given to the overall pattern of travel and
accessibility to the site.
The parking should respect the landscaping scheme and not dominate the site
Preston Mosque Design Competition images / information received 250221 from the RIBA
Location: near Preston, Lancashire, north west England, UK
Preston Architecture
Contemporary Architecture in Lancashire – architectural selection below:
Preston Buildings
Preston Bus Station
Date built: 1969
Design: Building Design Partnership (BDP)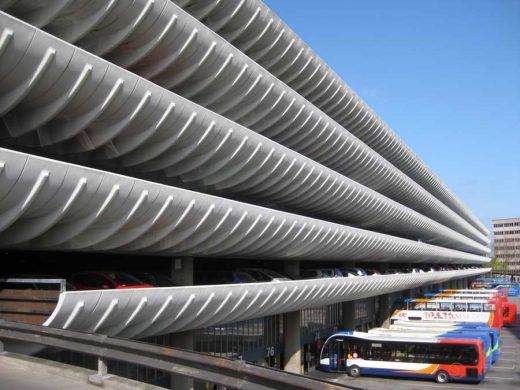 photograph © Adrian Welch
Preston Bus Station Building
Beautiful and Brutal: 50 Years in the life of Preston Bus Station
Curator: Charles Quick
Location: Harris Museum, Art Gallery & Library, Market Square, Preston, PR1 2PP, England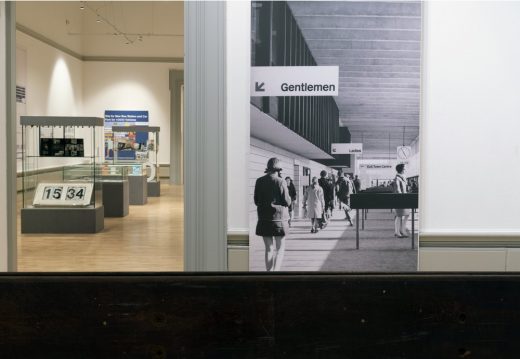 photograph : Ian Clegg
Preston Bus Station Birthday Exhibition
Preston Bus Station is an internationally important piece of architecture that was built for everyday use by the people of Preston.
Brockholes Wetland and Woodland Nature Reserve Visitor Facilities, east of Preston
Design: Adam Khan Architects
Lancashire nature reserve
National Football Museum, Deepdale
Design: OMI Architects
National Football Museum Preston – the contents have now moved to Manchester's Urbis building.
Avenham Park Pavilion
Design: McChesney Architects
Avenham Park Pavilion
Sika Liquid Plastics Limited
Design: Frank Whittle Partnership
Sika Liquid Plastics Preston
Preston Design Competitions
Preston Design Competition
RIBA University of Central Lancashire in Preston Design Competition
Preston Office Building Competition
Design: Moxon Architects
Preston Office
Preston Housing Competition
Preston Housing Competition
Park Houses
Design: Ushida Findlay Architects and Holmes Partnership
Preston Houses
Manchester Architecture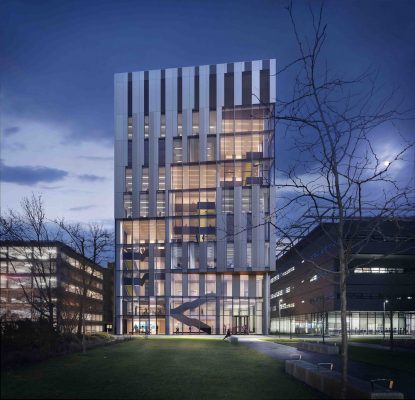 image courtesy of architects office
Comments / images for the Preston Mosque Design Competition page welcome