SCI-Arc LA Architecture Events in 2015, Lectures, CA Exhibitions, Los Angeles Architects News, Talks
SCI-Arc Events 2015, Los Angeles
Southern California Institute of Architecture, California, USA: Exhibition + Events
SCI-Arc Events – current programme and news
SCI-Arc Scholarship Events Archive for 2015
SCI-Arc Launches SCI-Arc Shanghai, a New International Platform
SCI-Arc Shanghai News – Dec 1, 2015
Hypostyle Installation – March 3rd, 2015: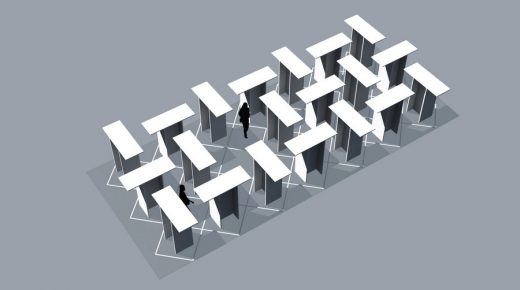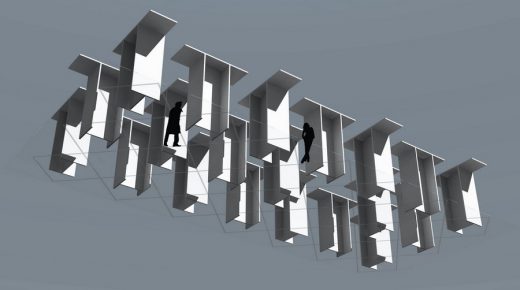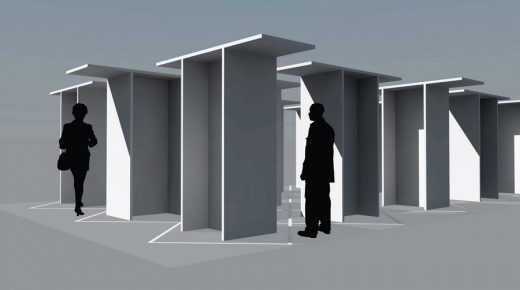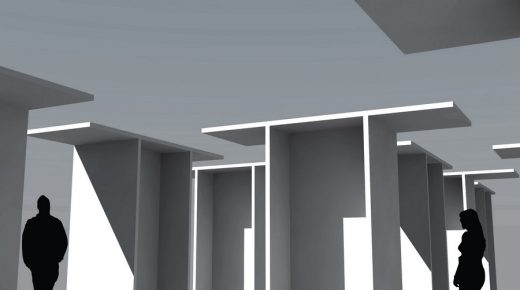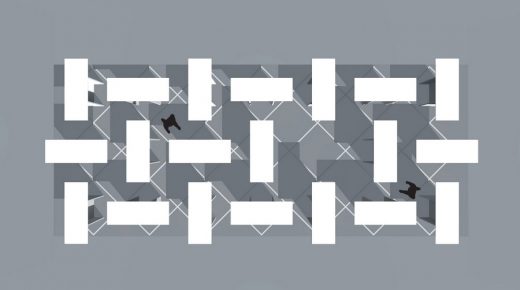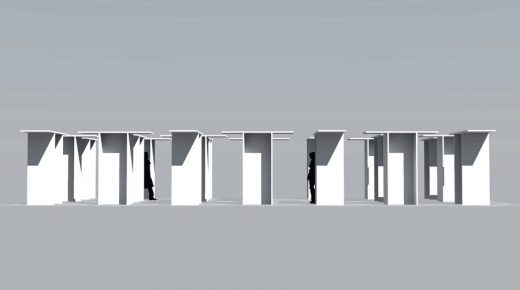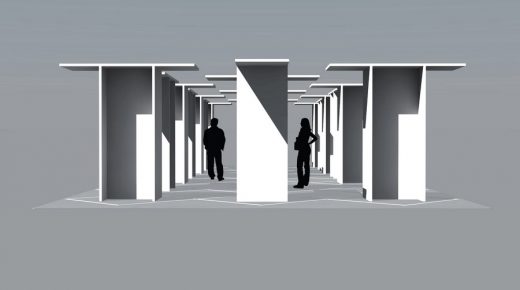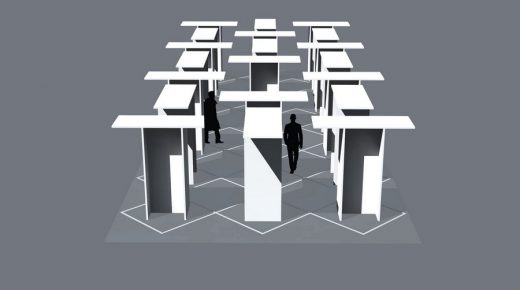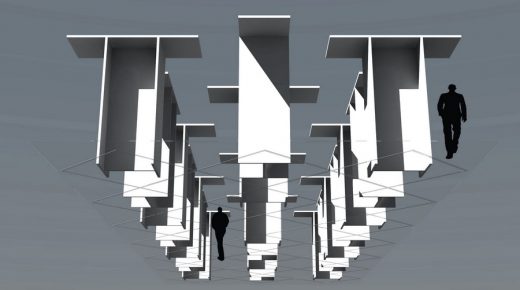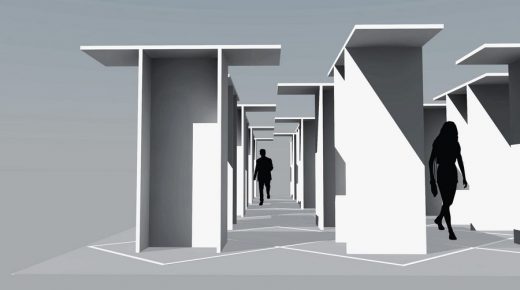 Mar 4, 2015
SCI-Arc Gallery Exhibitions
Henry N. Cobb's "Hypostyle" Installation Opens April 2, SCI-Arc Gallery, Los Angeles, CA, USA
Apr 2, 2015
LOS ANGELES, CA (March 3, 2015) – Thursday, April 2, 7pm: Exhibition Discussion with Henry N. Cobb and SCI-Arc Director Eric Owen Moss, followed by an opening reception
The Southern California Institute of Architecture (SCI-Arc) is pleased to present Hypostyle, a site-specific SCI-Arc Gallery installation by architect Henry N. Cobb. Since time immemorial, hypostyles have been constructed as halls wherein highly ordered arrays of vertical supports populate roofed spaces that are conceptually limitless—but to widely varying effect.
In the Great Hall of the Temple of Ammon at Karnak (1408-c.1300 B.C.), massive columns take preemptive pride of place within a space that is consequently experienced as entirely residual. By contrast, in the Great Mosque at Cordova (786-c.1000 A.D.), tiered arches supported by relatively slender columns grant primacy to a lofty space ennobled by their intricately contrived celebratory presence. More ambiguously, in the Basilica Cistern at Istanbul (532 A.D.), space and structure achieve an uncanny balance that stirs both wonder and apprehension.
And in the Grain Storage Warehouse at Altdorf (1912 A.D.), the flared heads of Robert Maillart's octagonal columns induce an altogether thrilling sense that the space has been created by compressing what had once been a solid block of concrete into a forest of slender vertical supports.
The hypostyle in this SCI-Arc Gallery installation is an experiment. Far from being intended to demonstrate or test a general theory, its purpose is simply to discover the experiential consequence of populating a hypostyle not with columnar solids but with planar elements joined to form vertical constructs that shape figural spaces both within and between them.
Each of the twenty constructs comprising the installation is composed of four 3-foot by 8-foot 1-3/4-inch thick hollow-core doors: three joined to form an H-shaped vertical that is then capped by a fourth roofing the space below. Rotation of the constructs in alternating rows sequentially in both directions introduces a larger-scale order, further enhancing a complex interplay that blurs the distinction between solid and void, open and closed. One construct in the center row is omitted to create a gathering space within an otherwise uninterrupted array. A hypostyle thus constituted is without precedent, and its effect on the occupant cannot be fully predicted by drawings: it must be experienced.
Exhibition Team
Henry N. Cobb is a founding principal of Pei Cobb Freed & Partners Architects, based in New York City. During the six decades since his firm was established in 1955, his practice has embraced a wide variety of building types in cities across North America and around the world. Throughout his career, he has coupled his professional activity with teaching, most intensively during a five-year term (1980-85) as Studio Professor and Chairman of the Department of Architecture at the Harvard Graduate School of Design, where he continues to teach occasionally as a visiting lecturer.
He is a recipient of the Gold Medal for Architecture, awarded by the American Academy of Arts and Letters, and the Topaz Medallion for Excellence in Architectural Education, awarded jointly by the American Institute of Architects and the Association of Collegiate Schools of Architecture.
Installation project manager and SCI-Arc faculty member John Southern is the principal of Urban Operations, an architecture and research firm based in Los Angeles, California. The office specializes in both architecture and installation projects that expand critical discourse within the design profession.
Through its research division, Urbanops.org, Urban Operations explores a wide variety of themes within contemporary discourse and produces publications that reveal and critique architecture's cultural impact upon the built environment. The firm's research projects and built work have appeared in exhibitions and publications around the world, including the 2012 Venice Biennale.
Sep 5, 2014
SCI-Arc Graduation Ceremony
SCI-Arc All-School Graduation Ceremony Presents Los Angeles Mayor Eric Garcetti, Architect Greg Lynn as 2014 Commencement Speakers
SCI-Arc is pleased to welcome Los Angeles Mayor Eric Garcetti and architect Greg Lynn of FORM as commencement speakers at the school's graduation ceremony taking place on Sunday, September 7.
Ceremony will be broadcast live at www.sciarc.edu/live.
Entry by invitation only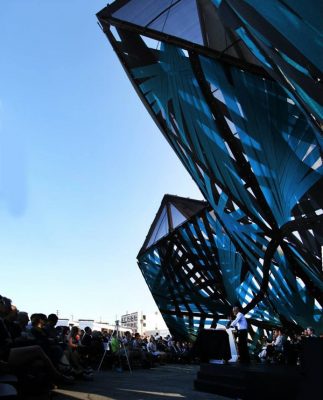 WHEN:
Sunday, Sept. 7 5 p.m. – 7 p.m.
WHERE:
SCI-Arc Campus, 960 E. 3rd Street, Los Angeles, CA 90013
WHO:
• Eric Garcetti, Los Angeles Mayor
• Greg Lynn, Professor, UCLA AUD
• Eric Owen Moss, SCI-Arc Director
• Hsinming Fung, Director of Academic Affairs, SCI-Arc
• Hernan Diaz Alonso, Graduate Programs Chair, SCI-Arc
• John Enright, Undergraduate Program Chair, SCI-Arc
• Anthony Morey (B.Arch '14), Student speaker
WHY:
SCI-Arc's Graduate Thesis Weekend & Graduation Ceremony will take place September 5-7, 2014 on the architecture school's campus in downtown Los Angeles. The three-day event features thesis projects designed by close to one hundred graduate students who will present their designs to critics from around the world. Event will culminate in an all-school commencement ceremony for the undergraduate and graduate Class of 2014, featuring Los Angeles Mayor Eric Garcetti and architect Greg Lynn of FORM as commencement speakers.
Dec 12, 2013
Spring 2014 Public Programs at SCI-Arc
SCI-Arc Announces Spring 2014 Public Programs
SCI-ARC ANNOUNCES SPRING 2014 PUBLIC LECTURES AND EXHIBITIONS
Admission to SCI-Arc events is always free
Los Angeles, CA (December 11, 2013) – The Southern California Institute of Architecture (SCI-Arc) is pleased to announce its Spring 2014 schedule of public lectures, discussions and exhibitions. The downtown LA architecture school's highly anticipated series of public events provides audiences with access to award-winning architects, urban historians, artists, designers, curators, writers, scholars, and other cultural figures. Upcoming programs span from innovative theory to contemporary architecture, technical practice, writing, and urban planning. Admission to SCI-Arc-hosted public events and exhibitions is always free and open to the public.
Johnston Markee, Los Angeles: Vault House, Oxnard, California, 2013: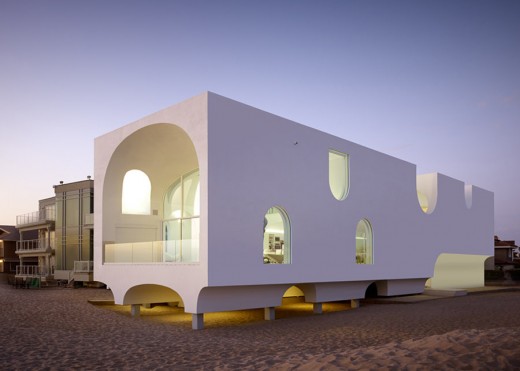 photo from architects via SCI-ARC
The school's spring 2014 public programs series features the following lectures and exhibition talks:
Jan 15 Jen Stark Lecture
Jan 17 Jeffrey Kipnis + Stephen Turk Exhibition Talk + Opening Reception
Jan 22 Alberto Kalach Lecture
Jan 31 Lars Müller Lecture
Feb 5 Barry Bergdoll Lecture
Feb 7 Onramp No.4 Book Launch + Discussion
Feb 12 Antoni Vives Lecture
Feb 19 Kevin Ratner Lecture
Mar 5 Wolf Prix (Raimund Abraham Memorial Lecture)
Mar 12 Johnston Marklee Lecture
Mar 14 Florencia Pita/fpmod Exhibition Talk + Opening Reception
Mar 19 Stan Allen Lecture
Mar 26 Mark Z. Danielewski Lecture
Apr 4 Baumgartner + Uriu Exhibition Talk + Opening Reception
Apr 19 Spring Show School-wide Exhibition of Student Work, Opening
Jun 20 Heather Flood Exhibition Talk + Opening Reception
LECTURES
All events begin at 7pm unless otherwise noted. Lectures takes place in the W. M. Keck Lecture Hall and are broadcast live on www.sciarc.edu/live. Gallery discussions and opening receptions are held in the SCI-Arc Gallery. For additional information including lecture updates and gallery hours, please visit www.sciarc.edu.
January 15, 7pm in the W.M. Keck Lecture Hall
Jen Stark: Art, Science & the Cosmos
Artist, Los Angeles
Stark's sculptures seemingly reconstruct elements of time, nature and the cosmos on an exponential scale. Her artwork is instantly recognizable for its breathtaking color spectrums rendered in mind-bending forms cut from paper, wood and other organic materials. During her presentation, she will explain her art process and her works relationship to math, science & the universe.
She will reveal universal designs in nature that have the same shapes regardless of their size: from the shape of a huge galaxy, to fractals and tiny microorganisms under a microscope. Stark also draws inspiration for her works from the rhythmic visual qualities of mandalas and other such sacred objects, as well as the imagery of topographic maps, geometric repetitions and 3-dimensional prisms. www.jenstark.com
Alberto Kalach, TAX, Mexico City: José Vasconcelos Public Library, Mexico City, Mexico, 2005-2011: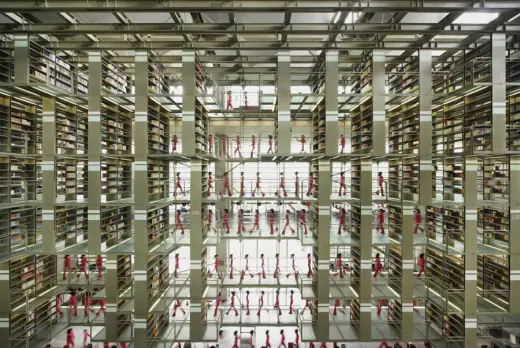 photo from architects via SCI-ARC
January 22, 7pm in the W.M. Keck Lecture Hall
Alberto Kalach: Alberto Kalach Workshop
Principal, Taller de Arquitectura X (TAX), Mexico City
Cited as one of the most versatile and prolific architectural voices in Mexico City today, Alberto Kalach co-founded the firm Taller de Arquitectura X (TAX) in 1981. Kalach's concern for the emerging problems of his vast native city has inspired projects at a range of scales, from his minimal $5,000 houses to housing developments and urban master plans. Kalach's most ambitious speculative plan, México Ciudad Futura, is the largest project ever conceived for Mexico City. www.kalach.com
January 31, 7pm in the W. M. Keck Lecture Hall
Lars Müller: 2014: Avant-Garde is Analog
Lars Müller Publishers, Zurich
Lars Müller is a graphic designer and publisher based in Switzerland. He established his design-studio in 1982 and started publishing books on typography, design, art, photography, and architecture. Lars Müller Publishers have published over 600 titles to date, many winning awards for their content and design. Müller has taught at various universities in Switzerland and Europe and is currently a guest lecturer at the Harvard University Graduate School of Design. www.lars-mueller-publishers.com
February 5, 7pm in the W.M. Keck Lecture Hall
Barry Bergdoll: Out of Site/In Plain View: On the Origins and Modernity of the Architecture Exhibition
Meyer Schapiro Professors of Art History and Archaeology, Columbia University
Curator of Architecture and Design, MoMA, New York
Barry Bergdoll is the Meyer Schapiro Professor of Modern Architectural History at Columbia University and a curator in the Department of Architecture and Design at the Museum of Modern Art, where from 2007-2013 he served as The Philip Johnson Chief Curator of Architecture and Design.
At MoMA, he has organized, curated, and consulted on several major exhibitions of 19th and 20th-century architecture, including last year's "Le Corbusier: An Atlas of Modern Landscapes" with Jean-Louis Cohen and "Henri Labrouste: Structure Brought to Light" with Corinne Bélier and Marc LeCoeur. He served as President of the Society of Architectural Historians from 2006-2008, Slade Professor of Fine Art at Cambridge University in winter 2011, and in 2013 delivered the 62nd A.W. Mellon Lectures in the Fine Arts at the National Gallery of Art. He is a member of the American Academy of Arts and Sciences and an honorary fellow of the Royal Institute of British Architects.
February 12, 7pm in the W. M. Keck Lecture Hall
Antoni Vives: Barcelona 5.0: The Polis is Back
Deputy Mayor, Barcelona, Spain
Antoni Vives currently serves as Deputy Mayor of Barcelona, where his vision for the next generation "smart city" is redefining the city's approach to urbanism, infrastructures, environment and urban services. An influential thinker and city planner, he plays a significant role in Barcelona's long-term efforts of repositioning itself within the global economy. In his role, Vives oversees Urban Habitat, an area that includes urbanism, town planning, housing, infrastructures, environment and urban services and ICT. He is also Vice President of the Barcelona Metropolitan Area and Counselor for the City District of Les Corts, and serves as Senior Advisor for the Prince of Asturias Professorship of Spanish Studies of the London School of Economics.
February 19, 7pm in the W. M. Keck Lecture Hall
Kevin Ratner: High-Rise Modular
President, Forest City West
Kevin L. Ratner is President of Forest City West, a subsidiary of Forest City Enterprises, Inc. Forest City is an owner, developer and manager of a diverse portfolio of premier real estate located throughout the nation, with approximately $10.9 billion in total assets. Ratner is responsible for Forest City's commercial and residential businesses on the West Coast.
In addition to the development of market rate, affordable, and high-density urban housing, Ratner and his team are currently involved with several mixed-use, developments focusing on technology and today's innovation economy. Ratner has worked in Forest City's Los Angeles office since 1998 and has been extensively involved in the development of more than 1,500 multi-housing units, including several high-profile redevelopment projects in Southern California. www.forestcity.net
Wolf Prix, Coop Himmelb(l)au, Vienna: Dalian International Conference Center, Dalian, China, 2008-2012: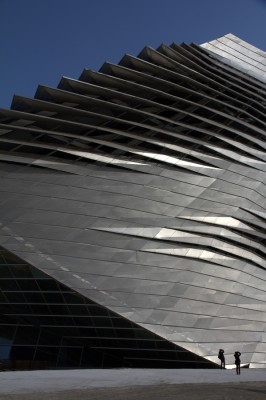 photo from architects via SCI-ARC
March 5, 7pm in the W. M. Keck Lecture Hall
Wolf Prix: On Raimund Abraham: "Visions in Exile or Before We Were So Suddenly Interrupted"
Principal, Coop Himmelb(l)au, Vienna
Wolf D. Prix co-founded COOP HIMMELB(L)AU in 1968. He studied architecture at the Vienna University of Technology, the Architectural Association of London, and at SCI-Arc. His most well-known international projects include the Falkestrasse attic conversion in Vienna, the multifunctional UFA Cinema Center in Dresden, the BMW Welt in Münich, the Akron Art Museum in Ohio, the Central Los Angeles Area High School #9 for the Visual and Performing Arts, the Busan Cinema Center in Korea, as well as the Dalian International Conference Center in China. Projects currently under construction include the Musée des Confluences in Lyon, France and the European Central Bank (ECB) in Frankfurt am Main, Germany. www.coop-himmelblau.at
March 12, 7pm in the W. M. Keck Lecture Hall
Sharon Johnston & Mark Lee: Too Fast to Live Too Young to Die
Principals, Johnston Marklee, Los Angeles
Johnston Marklee's diverse portfolio, led by principals Sharon Johnston and Mark Lee, is unified by a singular conceptual approach to each project where the relationship between design and building technology are explored to create unique works of architecture. While maintaining a deep commitment to architecture history and the discipline's ongoing discourse, Johnston Marklee draws upon an extensive network of collaborators in related fields to broaden the breadth of design research, which has a particular focus on the arts.
Current projects include The Menil Drawing Institute in Houston, Texas; a campus for the UCLA Graduate Art Program in Culver City, California; DEPART Foundation's Poggio Golo winery in Montepulciano, Italy; Pavilion of Six Views, in Shanghai, China for the West Bund 2013: A Biennial of Architecture and Contemporary Art; and Chile House/META, a community arts center in Penco, Chile. www.johnstonmarklee.com
Stan Allen, SAA/Stan Allen Architect, New York: M&M House, New York, 2013: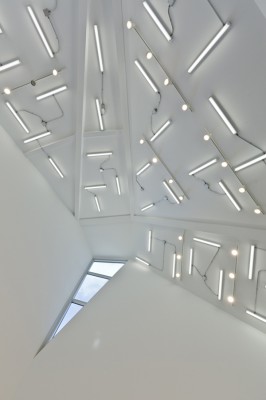 photo from architects via SCI-ARC
March 19, 7pm in the W. M. Keck Lecture Hall
Stan Allen: Landscapes and Buildings
Principal, SAA/Stan Allen Architect; Professor, Princeton University School of Architecture, New York
Stan Allen is an architect working in New York and George Dutton '27 Professor of Architecture at Princeton University. From 2002 to 2012 he was Dean of the School of Architecture at Princeton. He holds degrees from Brown University, The Cooper Union and Princeton.
His architectural firm SAA/Stan Allen Architect has realized buildings and urban projects in the United States, South America and Asia. Responding to the complexity of the modern city in creative ways, Allen has developed an extensive catalogue of innovative design strategies, in particular looking at field theory, landscape architecture and ecology as models to revitalize the practice of architecture. www.stanallenarchitect.com
March 26, 7pm in the W. M. Keck Lecture Hall
Mark Z. Danielewski: Parable #8: Z is for Zoo (or Transgressing Barriers Against Creative Survival)
Novelist, Los Angeles
Mark Z. Danielewski is the author of the award-winning and bestselling novel House of Leaves, National Book Award finalist Only Revolutions, and The Fifty Year Sword, which was performed on Halloween three years in a row at REDCAT. He is currently finishing the very beginning of The Familiar, a 27-volume novel about a 12-year-old girl who finds a kitten. www.markzdaneilewski.com
EXHIBITIONS
January 17 – March 2, 2014 in the SCI-Arc Gallery
Jeffrey Kipnis + Stephen Turk
Figure Ground Game
Exhibition Discussion & Opening Reception: Friday, January 17, 7pm
Jeffrey Kipnis discusses the exhibition with SCI-Arc Director Eric Owen Moss
The Figure Ground Game, a multi-media, multi-disciplinary romp, draws upon animation, film, computer games and art to reaffirm and amplify architecture's ongoing speculative contest with instantiated power staged on the ground. Not an exhibition, but rather a curated show, the Figure Ground Game features the work of a half-dozen architects, painters, a sculptor and more, all related to one another by a desire to mine the tradition and history of figurality in the arts as it has been inflected in recent years by technology, media and the discourse of enfranchisement in order to rethink the consequences of the building-ground relationship a step or two further.
Among the conjectures foregrounded in the show are new building postures, co-dependent structures, non-local contextualism, and perhaps most important of all, an assertion of a desire to see comedy achieve an equivalent status to tragedy in architecture, as it has for centuries in all of the other arts to the profound increase in their powers and the resultant existential benefit to each and all of us.
March 14 – April 20, 2014 in the SCI-Arc Library
Florencia Pita/FPmod
UMMA Table & Objects
Exhibition Discussion & Opening Reception: Friday, March 14, 7pm
Florencia Pita and SCI-Arc Director Eric Owen Moss discuss the exhibition
The SCI-Arc Library presents an installation of Florencia Pita's work, UMMA Table & Objects, originally commissioned by Museum Director Joseph Rosa for the University of Michigan Museum of Art. The installation explores the provocations and intersections of digital technology, material experimentation, and ornament in the work of Argentina-born, Los Angeles-based architect and designer.
It traces the evolution of Pita's design ideology through installation pieces, urban design, tableware, furniture, and architecture, as well as small adornments. Her boldly colored works draw from literary, art, and biological sources; employ cutting-edge architectural fabrication techniques; and cross borders of visual art, architecture, and design.
The works on view where displayed at the University of Michigan Museum of Art from January 19 to June 16, 2013, in an exhibition titled: Florencia Pita/ FPmod. The Umma Table and several objects here commissioned by Museum Director Joseph Rosa for Florencia Pita's first retrospective exhibition.
April 4 – May 18, 2014 in the SCI-Arc Gallery
Baumgartner + Uriu
Apertures4
Exhibition Discussion & Opening Reception: Friday, April 4, 7pm
Herwig Baumgartner and SCI-Arc Director Eric Owen Moss discuss the exhibition
Apertures4 is part of an ongoing topic in the work of Herwig Baumgartner and Scott Uriu that challenges the notion of apertures as flat glazed openings and redefines it as three dimensional objects creating thresholds between interior and exterior. It thus confronts the idea of the static frame with edges that are always in flux and can respond to environmental forces, such as sun and wind, exploiting the latent potential of energetic exchanges between the natural and the built environment. Apertures4 re-defines the DNA of the window in terms of function, components, appearance and materiality.
In particular, it attempts to refine a current discourse of digital ecologies emphasizing an architecture in between nature and technology that can evolve into an interactive building organism. By using advanced silicone composites that allow a gradient of material properties within a single object, Apertures4 is able to respond to environmental forces without mechanical parts, creating a symbiotic relationship between nature, building morphologies and material expressions.
June 20 – August 3, 2014 in the SCI-Arc Gallery
Heather Flood/F-Lab
Punk'd
Exhibition Discussion & Opening Reception: Friday, June 20, 7pm
Heather Flood and SCI-Arc Director Eric Owen Moss discuss the exhibition
Heather Flood is a designer of information, graphics, and architecture. In 2007 she founded F-lab, a form laboratory that focuses on the popular application of contemporary design and fabrication techniques.
F-lab's recent commissions include a retail expansion strategy and store prototype for a new frozen yogurt brand, the design and installation of an exhibition that showcased the work of 45 contemporary designers, and the design and fabrication of a winning scheme for the SCI-Arc Board of Directors conference table, dubbed CHUB. Prior to founding F-lab, Flood was a founding partner in the research and design firm HOLA. With HOLA, Flood completed projects for the Los Angeles office of TBWA/Chiat/Day, the New York office of Bartle Bogle and Haggerty, Nissan/Infiniti, CKOne, Coca-Cola, Samsung, the City of Chicago, Pitti Imagine Discovery, Yogini Apparel, and Soledad Enrichment Academy.
Nov 20, 2013
SCI-Arc New Lab
SCI-Arc Announces New Lab for Design Prototyping and Fabrication
SCI-ARC ANNOUNCES NEW LAB FOR DESIGN PROTOTYPYING AND FABRICATION
LOS ANGELES—(November 20, 2013)—The Southern California Institute of Architecture (SCI-Arc) today announced that it will break ground on a technologically transformative new digital fabrication space that will ignite the kinds of innovation, entrepreneurship and out-of-the-box thinking that are the hallmark of a SCI-Arc education.
Dubbed the Magic Box, the 4,000-square-feet, 2-story digital fabrication lab will be built at the south end of the SCI-Arc building and will connect to the school's existing Robotics Lab and Analog Fabrication Shop to form the RAD Center—a one-of-its-kind, multi-dimensional facility providing access to several different methods of fabrication and assembly. The Magic Box will house three times as many high-speed laser cutters, 3D scanners and ABS plastic printers as are currently available to students and faculty.


picture : SCI-Arc
"With the new Magic Box, SCI-Arc enlarges its capacity to produce conceptual and technical magic," says SCI-Arc Director Eric Owen Moss.
The school is half-way through planning and on schedule to start construction in the beginning of 2014, and it looks like incoming students will walk through the doors of SCI-Arc's quarter-mile-long building and into the new robotics, analog and digital fabrication space next fall. And what they'll find will be impressive.
Embracing and integrating the most up-to-date technologies from the moment they become available, the lab will allow students to build, vacuum form or 3D print their models to life using a wide array of materials, from wax to translucents, to plastic, to flexible materials, to metal. These models would then undergo further experimentation with the help of 6-axis robots, which have already been in use at SCI-Arc for more than 2 years.
"By creating the Magic Box, SCI-Arc reinforces its most critical priority to prepare students to work with today's most revolutionary technologies, in an environment designed for tomorrow's world," says SCI-Arc Director of Academic Affairs Ming Fung, who oversees new research initiatives for the school. SCI-Arc's new Magic Box is being built for change in a world in which change is constant. Together with the revamped woodshop and existing cutting edge robotics lab, it will provide a one-of-its-kind platform for research, experimentation and prototyping. But most importantly, it is designed to shape-shift as new generations of students make the building their home and new technologies yield new approaches to teaching and learning.
19 Sep 2013
SCI-Arc New Trustees
SCI-Arc Welcomes Richard Baptie, Tim Disney & Enrique Penalosa as New Trustees
Richard Baptie of the general contractor Hathaway Dinwiddie, Writer, Director and Producer Tim Disney, and Urban Strategist Enrique Peñalosa, a Former Mayor of Bogotá, Colombia, Join SCI-Arc's Board of Trustees
LOS ANGELES (September 18, 2013)—The Southern California Institute of Architecture (SCI-Arc) elected three new trustees to its ranks today: Richard Baptie, a Senior Vice President of Hathaway Dinwiddie and head of their Southern California office; Director and producer Tim Disney, a principal of Blu Homes; and urban strategist Enrique Peñalosa, formerly the mayor of Colombia's capital, Bogotá.


photo : SCI-Arc
"SCI-Arc has extended the political reach and intellectual capacity of its board of trustees by adding Tim Disney, Richard Baptie, and Enrique Peñalosa to its board," said SCI-Arc Director Eric Owen Moss. "Disney brings a supportive interest in art and design along with expertise in housing pre-fabrication; Baptie is an alumnus and long-time advocate for architecture education, and a builder with a unique reputation for constructing large and complex urban projects; and Peñalosa brings an international political pedigree and an expertise in Latin American urbanism to the SCI-Arc community. Welcome all."
SCI-Arc's Board is chaired by land-use attorney Jerry Neuman. It now includes 25 members, among them noted individuals such as Rick Carter, William Fain, Frank Gehry, Tom Gilmore, Thom Mayne, Kevin Ratner, and Ted Tanner.
"As one of the highest ranked architectural institutions in the country and among the foremost thought leaders in the world in the areas of planning, design and the built environment, we believe it is important to have a Board that reflects that same stature," stated Neuman. "Dick, Tim and Enrique more than fit that bill, they personify it and I am proud to have them join the school as Trustees."
The SCI-Arc trustees unanimously elected Baptie, Disney and Peñalosa to the board at their quarterly meeting held September 18th on the school's campus in downtown Los Angeles.
Richard Baptie is a Senior Vice President and head of the Southern California office of Hathaway Dinwiddie Construction Company. He is currently the Principal-in-Charge of the Emerson College construction project in Hollywood and a large office complex for an entertainment company in Glendale, among other duties. He has been involved as a leader in many notable projects in Southern California including The Getty Center, The Reagan Library Air Force One Pavilion and the 2000 Avenue of the Stars project.
Baptie joined Hathaway Dinwiddie in 1985, having studied Architecture at SCI-Arc. He received his Bachelor's Degree in Economics from California State University, Los Angeles. Involved in the community, Baptie is on the Board of Directors of the Los Angeles Business Council, The Kidspace Museum, past President of the USC Architectural Guild and has served on the capital campaigns for the Music Center and the Downtown YMCA.
Tim Disney has written, directed or produced 15 feature films, documentaries, and television programs. From 1992 – 2000, he served as Chairman and CEO of Virtual World Entertainment, a leading developer and operator of 3D gaming and simulation technology. Disney was a founding investor and currently serves on the Board of Directors of Blu Homes Inc., the leading manufacturer of green pre-fab housing.
He also serves as President of The Rowena Group, a private investment firm, and as a Director of Shamrock Capital Advisors, a leading private equity investor in the fields of media, entertainment, and communications. A graduate of Harvard University with a degree in Fine Arts, Disney serves as a Trustee of California Institute of the Arts. He co-founded the international aid organization World Connect, and serves on the Board of several other charitable organizations.
Enrique Peñalosa is an urban strategist whose vision and proposals have significantly influenced policies in numerous cities throughout the world. He currently is President of the Board of the Institute for Transportation and Development Policy of New York. As Mayor of Colombia's capital city of Bogotá from 1998 to 2001, Peñalosa profoundly transformed the city, turning it into an international example for improvements in quality of life, public spaces, mobility and equity.
He implemented a model giving priority to children and public spaces and restricting private car use, building schools and libraries in the poorest neighborhoods, as well as adding hundreds of miles of protected bicycle paths, sidewalks, pedestrian streets, bicycle highways, greenways, and parks. Peñalosa has lectured all over the world in governmental, academic and citizens' forums, and his ideas have been featured in many of the world's most important media.
SCI-Arc News
Jun 9, 2013
Confederacy of Heretics Symposium
Jun 14-15, 2013
SCI-ARC PRESENTS "A CONFEDERACY OF HERETICS" SYMPOSIUM ON JUNE 14-15TH IN DOWNTOWN L.A.
Keynote Address by Architecture Gallery's Coy Howard and Thom Mayne
LOS ANGELES – Hosted by the Southern California Institute of Architecture (SCI-Arc) as part of the Getty's Pacific Standard Time Presents: Modern Architecture in L.A., the "A Confederacy of Heretics" exhibition related symposium offers a unique lens through which to analyze a pivotal moment in the development of late 20th century architecture. The two-day event features a roundtable conversation with original Architecture Gallery participants, and panel discussions on exhibition related topics.
WHAT: "A Confederacy of Heretics, The Architecture Gallery, Venice, 1979" Symposium
WHO: Keynote: Thom Mayne & Coy Howard
Moderators: Jeffrey Kipnis, Todd Gannon and Ewan Branda
Thom Mayne:



photo : Richard Schulman
Featured Panelists:
• Original Architecture Gallery participants: Eugene Kupper, Frederick Fischer, Frank Dimster, Peter de Bretteville, Thom Mayne, Michael Rotondi, Craig Hodgetts, Eric Owen Moss and Coy Howard
• Panel discussions with Barbara Bestor, Annie Chu, John Enright, Hsinming Fung, Paul Goldberger, Wes Jones, Mark Mack, Nick Seierup and Andrew Zago
WHEN: Friday, June 14, 3-9pm
3:00pm – Revisiting the Architecture Gallery, a conversation with original Architecture Gallery participants moderated by Jeffrey Kipnis
6:00pm – Keynote lecture by Thom Mayne and Coy Howard, introduced by Eric Moss
7:30pm – Reception in the SCI-Arc Gallery Saturday, June 15, 10am-4pm
10:00-12:00pm – Media and Globalization of Los Angeles Architecture panel discussion moderated by Ewan Branda
1:30-3:30pm – Eccentric Projections panel discussion moderated by Todd Gannon
WHERE: W.M. Keck Lecture Hall Southern California Institute of Architecture (SCI-Arc) 960 E. 3rd Street, Los Angeles, CA 90013
Please RSVP to [email protected] to secure a spot.
For more information, visit: http://bit.ly/sciarcheretics.
May 30, 2013
Lebbeus Woods is an Archetype

image from Southern California Institute of Architecture
Jun 28 – Dec 1, 2013
Earthwave Installation, Traction Triangle at Bloom Square
At the intersection of Traction Avenue, Rose Street & East 3rd Street, the Arts District, Los Angeles, CA 90013
June 28–December 1, 2013
June 28, 7pm: Earthwave Opening Reception
SCI-Arc Gallery
October 11–December 1, 2013
October 11, 7pm: Exhibition Opening Reception & Symposium with Hernan Diaz Alonso, Christoph a. Kumpusch, Dwayne Oyler and Alexis Rochas, and introduction by SCI-Arc Director Eric Owen Moss
Los Angeles, CA – (May 28, 2013) – The Southern California Institute of Architecture (SCI-Arc) is pleased to announce Lebbeus Woods is an Archetype, an exhibition and public art installation assembled by an exhibition team including Hernan Diaz Alonso, Christoph A. Kumpusch, Dwayne Oyler and Alexis Rochas. Complemented by a symposium and catalog, this exhibition in the SCI-Arc Gallery and related large-scale public art installation in the Arts District's Bloom Square, aims to demonstrate the fearless nature with which the late visionary architect and draftsman created.
When Lebbeus Woods lectured at SCI-Arc in 2003, he was introduced on stage by director Eric Owen Moss: "And finally, 'I will forge in the smithy of my soul the uncreated conscience of my race. And I will try to express myself in some mode of life or art as freely as I can and as wholly as I can, using for my defense the only arms I allow myself to use: Silence, exile, and cunning.' So said Joyce's Stephen Daedalus. I don't know that Joyce's goal is attainable. But it's the most moving advocacy I know for Daedalus' heroic aspiration. That aspiration also resonates in Lebbeus Woods' voice. That is the Woods archetype. Silence. Exile. Cunning."
Three blocks away from its campus in the Los Angeles Arts District, SCI-Arc will complete Woods's Earthwave, an "inhabitable drawing" originally designed, but never built, for the 2009 Biennale of Architecture and Art of the Mediterranean in Reggio Calabria, Italy. Earthwave was one of twenty drawings that reinterpreted area buildings destroyed in the 1908 Messina earthquake.
The temporary 18'x 18', two-and-a-half-ton steel structure built by SCI-Arc is set to be unveiled on June 28. It includes four parallel steel frame "swarms," each frame penetrated by a dense field of steel vectors, using the urban Arts District as a backdrop for Woods's dystopian vision. The public will be invited to conceptually inhabit the sculpture in a 1:1 scale, giving the piece a new dimensionality and relating back to the 2-D and 3-D nature of the project.
The SCI-Arc Gallery component of Lebbeus Woods is an Archetype, opening October 11, will include several original, rarely seen Woods drawings from private collections, and most notably, recently uncovered video footage from a 1998 interview recorded in Vico Morcote, Switzerland, then part of a SCI-Arc European campus program. The video articulates Woods's philosophy and the forces and influences which shaped his thinking, including the work of Heinz von Foerster and the systems-thinking theory of Cybernetics. A public symposium on opening night will feature a panel of young architects who will discuss Woods's influence on their generation.
Support for Lebbeus Woods is an Archetype provided by Angel City Brewery. Additional assistance provided by the MAK Center Los Angeles, LADADspace and LARABA.
SCI-Arc exhibitions and public programs are made possible in part by a grant from the City of Los Angeles, Department of Cultural Affairs.
Earthwave project team: Adam Orlinski, Ali Fouladi, Ryan J. Simons, William Orlando, Carlos Rodriguez, Cecil Barnes, Joe Jacobson.
12 Apr 2013
Hsinming Fung of SCI-Arc Appointed ACSA President-Elect
LOS ANGELES (April 11, 2013) — The Southern California Institute of Architecture (SCI-Arc) today announced that the Association of Collegiate Schools of Architecture (ACSA) designated Hsinming Fung, SCI-Arc's Director of Academic Affairs, as president-elect of the prestigious organization representing accredited architecture colleges nationwide. The appointment recognizes Fung's leadership and forward-thinking vision in today's rapidly shifting political and economic context that has brought about profound changes in architecture education.


photo from Southern California Institute of Architecture
"It is time to re-tune the expectations of our programs," says Fung. "As the practice of architecture transforms, and it will, it is the schools and their programs which must look ahead to exploit the opportunities of new, practical and effective roles for the profession."
Fung will serve on the ACSA Board for a three-year term, beginning on July 1, 2013, with the first year served as Vice-President, the second as President, and the third as Past President.
In her role, Fung will be part of a variety of ACSA committees, including Finance and Publications, will head the committees for Scholarly Meetings and Planning, and will nominate the chairs of ACSA conferences to be held during her term as President.
Committed to architectural education for nearly thirty years, Fung was appointed Director of Academic Affairs at SCI-Arc in 2010, after eight years of teaching and serving as the school's Director of Graduate Programs. Previously, she has taught at California State Polytechnic University, Pomona, for 16 years, with stints at Yale University as the Eero Saarinen Professor in 1995 and 2000, and at Ohio State University as Herbert Baumber Professor in 1996.
An AIA registered architect, Fung is principal and Director of Design for the renowned Los Angeles-based architecture firm Hodgetts+Fung (H+F). Since founding H+F in 1984 with partner Craig Hodgetts, FAIA, she has overseen the design of distinguished projects such as the renovated Hollywood Bowl, the Menlo-Atherton Performing Arts Center, the Wild Beast Pavilion at California Institute of the Arts, and a host of other influential designs. Current projects include renovation of the historic Robert Frost Auditorium in Culver City, the Rosa Parks Metro station, a mixed-use development in West Hollywood, the Chapel of the North American Martyrs at Jesuit High School in Sacramento, and the Diamond Head Theatre in O'Ahu.
Fung's studio has also earned a reputation for high-caliber exhibition design through such installations as the Library of Congress/Ira Gershwin Gallery at Walt Disney Concert Hall, and the landmark exhibitions Blueprints for Modern Living: History and Legacy of the Case Study Houses, The Work of Charles & Ray Eames, and most recently at LACMA, California Design, 1930-1965: "Living in a Modern Way." The firm also received numerous prestigious awards, including the Fellowship Architecture Award, the Gold Medal from the AIA/LA, the AIA California Council Firm of the Year Award, the GSA Design Excellence Award, and most recently, the R+D Award for their innovative fiberglass roof design for LAUSD modular classrooms.
6 Sep 2012
Frank Gehry Offers Generous Gift to SCI-Arc
SCI-ARC TRUSTEE, ARCHITECT FRANK GEHRY OFFERS GENEROUS GIFT TO THE SCHOOL
Gift Will Endow an Annual Prize to Recognize Outstanding SCI-Arc Graduate Thesis Projects
Los Angeles (September, 2012) — The Southern California Institute of Architecture (SCI-Arc) today announced it has received a transformative $100,000 gift from world-renowned architect and SCI-Arc trustee Frank Gehry, and his wife, Berta. The noteworthy contribution will go toward the establishment of the Gehry Prize, to be awarded annually to the best thesis projects selected by critics and jurors in the Graduate Thesis Weekend hosted in September.


photo © Melissa Majchrzak
SCI-Arc Director Eric Owen Moss suggested a quote from Thucydides which conveys the spirit in which the prize is given: "They were born never to live in peace and quiet themselves and to prevent the rest of the world from doing so." He also praised the donors, after whom the graduate thesis prize will be named, for the generosity of the donation and its prestigious nature. "The entire school community, including students, faculty, staff, administration and board, is extremely appreciative of this extraordinary gift to SCI-Arc," said Moss. "Thanks to this contribution, we can warranty that SCI-Arc's advocacy for architecture as a rousing, speculative adventure will endure." The first Gehry Prize will be awarded at the 2012 graduation ceremony held September 9, 2012.
A SCI-Arc trustee since 1990, Gehry has kept close ties with the school, attending lectures, reviews and special events, and having an active role in the evolution of the institute beginning with its 1972 founding. Gehry's long-time commitment to SCI-Arc will also be celebrated at the school's 40th anniversary reception forthcoming in April 2013.
Frank Gehry has built an architectural career that has spanned four decades and produced public and private buildings in America, Europe and Asia. His work has earned him several of the most significant awards in the architectural field, including the Pritzker Prize, the Arnold W. Brunner Memorial Prize in Architecture, the Wolf Prize in Art (Architecture), the Praemium Imperiale Award, the Dorothy and Lillian Gish Award, the National Medal of Arts, the Friedrich Kiesler Prize, the American Institute of Architects Gold Medal, and the Royal Institute of British Architects Gold Medal.
He is Design Partner in the firm he established in 1962, currently known as Gehry Partners. He is also co-founder and chairman of Gehry Technologies, a global leader in applying technology to building industry challenges. Recent and current projects include 8 Spruce Street, the Campus for New World Symphony, The Pershing Square Signature Center, The Luma Foundation/Parc Des Ateliers, Dr. Chau Chak Wing Building for UTS, The Panama Puente De Vida Museo, New West Campus for Facebook, Eisenhower Memorial, and the Foundation Louis Vuitton pour la Creation.
Frank Gehry, Architect, Gehry Partners, LLP, Los Angeles



picture of architect
May 2, 2012
SCI-Arc Gallery Exhibition
Ball-Nogues Studio "Yevrus 1, Negative Impression" Exhibition Opens June 1 @ SCI-Arc Gallery
'YEVRUS 1, Negative Impression'
Jun 1 – Jul 8, 2012
SCI-Arc Gallery
June 25: Exhibition Discussion with Benjamin Ball, Gaston Nogues and SCI-Arc Director of Academic Affairs Hsinming Fung
Los Angeles, CA (May 1, 2012)—The Southern California Institute of Architecture (SCI-Arc) is pleased to present "Yevrus 1, Negative Impression," an installation designed for the SCI-Arc Gallery by alumni Benjamin Ball (B.Arch '03) and Gaston Nogues (B.Arch '94) of Los Angeles-based Ball-Nogues Studio, opening June 1 at SCI-Arc.


picture from SCI-Arc
Constructed from non-architectural artifacts, Yevrus 1, Negative Impression is a disposable architecture of literal references that calls into question the contemporary architectural vogue for digital complexity and abstraction. The cast impressions of 1973 Volkswagen Beetles and speedboats unite to form a strong structural whole that serves as a lookout tower in the SCI-Arc Gallery.
The designers chose the individual components from within the Los Angeles suburban-scape for their iconic and structural potential, as well as their availability. Once chosen, the parts were digitally scanned in three dimensions and cast in biodegradable paper pulp using a proprietary technique the studio refers to as a "Yevrus"—the word "Survey" spelled backwards. With this work, the first in a series of experimental Yevrus projects, Ball-Nogues rethinks the purpose of the site survey. No longer seen as a simple tool for construction and engineering, the survey becomes an instrument for finding form, seeking structural stability and realizing iconic meaning.
Apr 18, 2012
SCI-Arc News in 2012
Abigail Scheuer & Abby Sher Welcomed as New SCI-Arc Trustees
SCI-ARC WELCOMES ABIGAIL SCHEUER AND ABBY SHER AS NEW TRUSTEES
NYC Alumna Abigail Scheuer (M.Arch '93) and LA Philanthropist Abby Sher Join SCI-Arc's Board of Trustees as the LA Architecture and Design School Prepares for its 40th Anniversary Celebration
LOS ANGELES, CA (April 18, 2012)—The Southern California Institute of Architecture (SCI-Arc) today announced it has elected two new trustees to its ranks: SCI-Arc alumna Abigail (Abby) Scheuer (M.Arch '93) and Los Angeles philanthropist and developer Abby Sher. "Two design visionaries, twin Abby's, one from the east, one from the west, will now meet on the SCI-Arc Board," remarked SCI-Arc Director Eric Owen Moss. "It is a double coup for architecture and culture in Los Angeles."
Abigail Scheuer (left) and Abby Sher (right):




photos from SCI-Arc
The 25-member SCI-Arc Board is chaired by land-use attorney Jerry Neuman, who stated "At the center of SCI-Arc are creativity and an enduring ability to challenge convention and change it for the better. Our two new trustees personify these core values, bringing an incredible amount of expertise, vision and leadership to the board and our school. We are pleased to welcome them to the SCI-Arc community." The SCI-Arc Board includes noted individuals such as Frank Gehry, Thom Mayne, Ted Tanner, Kevin Ratner, Tom Gilmore and Rick Carter. The trustees unanimously elected Scheuer and Sher at their quarterly meeting held April 13 in Los Angeles.
Abigail (Abby) Scheuer received her Master of Architecture from SCI-Arc in 1993. While in school, she interned with architect Peter Eisenman and SCI-Arc founding faculty Ray Kappe. Upon returning to New York, Scheuer worked for the architecture firm Perkins Eastman, then at a boutique firm specializing in high-end residential projects. In 1997, she co-founded Atema Scheuer Design with fellow alumnus Ate Atema (M. Arch '93); their firm focused on commercial and residential projects. During this time, she was a member of the Women in Architecture and Housing Committees of the AIA NY chapter. With the birth of her daughter, Scheuer became a full time mother and focused on fundraising, advocacy and community outreach.
She is on the board of KiDS of NYU Medical Center Foundation; on the advisory board—and recently nominated to join the board of directors—of the Jazz Foundation of America; is a member of the Natural Resources Defense Council (NRDC) New York Council, and of the Studio Partners Leadership of Studio in a School, which supports visual arts programming in NYC public schools; and co-founded Green Team in collaboration with NYC Partnerships for Parks and the Lower East Side Ecology Center. Scheuer has served on the SCI-Arc Alumni Council since 2010, recently co-hosting the Alumni and Friends New York event at the Museum of Modern Art, and the Alumni and Friends Los Angeles event at the L House in Culver City.
Abby Sher grew up in Los Angeles in a house designed by mid-century modernist architect Douglas Honnold, and from an early age architecture has been an important influence in her life. Sher studied French Literature at UCLA, followed by a Masters degree in Liguistics. Later, while working as a Clinical Linguist at the UCLA Neuropsychiatric Institute, she authored the Diagnostics Specifications Manual (DSM) III category "Elective Mutism." In the 1980s, Sher developed Edgemar on Main Street in Santa Monica. Under her guidance, the Edgemar Farms egg-processing plant was transformed into an inventive mixed-use center designed by SCI-Arc trustee Frank Gehry.
Sher enjoys a wide range of interests that have found expression in a variety of diverse and imaginative projects. Her creative pursuits have included making an award-winning documentary film about the Pacific Northwestern woodsman and artist Dudley Carter (1891-1992); founding the Santa Monica Museum of Art as part of the development of Edgemar; performing the political performance art piece A Red Line Connects Us for six months in 2006, and writing an accompanying blog; and performing the Ramayana at REDCAT in 2010 with the CalArts Balinese gamelan group, Burat Wangi.
Sher has served on the boards of several social justice, social service and homelessness organizations including Chrysalis, the Liberty Hill Foundation, the Westside Family Health Center, and The Shefa Fund. She is interested in contemporary "new music" and provided the lead gift and name for the CalArts outdoor music pavilion, The Wild Beast, designed by Hodgetts + Fung.
Feb 2, 2012
SCI-Arc Welcomes Art Director Rick Carter as New Trustee
The Prolific Academy Award-Winning Art Director Joins
SCI-Arc's Board of Trustees as the LA Architecture and Design School Prepares for its 40th Anniversary Celebration
LOS ANGELES, CA (February 2, 2012)—The Southern California Institute of Architecture (SCI-Arc) today announced it has elected Academy Award winner Rick Carter to join its Board of Trustees. The 23-member SCI-Arc Board is chaired by land-use attorney Jerry Neuman, who stated "At the center of SCI-Arc is creativity and an enduring ability to challenge convention and change it for the better. Rick is the personification of these core values.
He brings an incredible amount of expertise, vision and leadership to the Board and our School." The SCI-Arc Board includes noted individuals such as Frank Gehry, Thom Mayne, Ted Tanner, Kevin Ratner and Tom Gilmore. The trustees unanimously elected Carter during their quarterly meeting held January 19-20 in Los Angeles.


photo from SCI-Arc
SCI-Arc Director Eric Owen Moss says of Carter: "The quintessential 'landscape' architect has joined the SCI-Arc board."
Born in 1950, Rick Carter grew up in Los Angeles surrounded by the movie industry—his father was a publicist for the actor Jack Lemmon—but took a while to come to the world of film himself. He entered the art department for the first time as an assistant on Hal Ashby's "Bound for Glory" in 1976, followed by "The China Syndrome" in 1979. His first credit as art director was with Ashby again on "Second-Hand Hearts" (1981), but art directing "The Goonies" in 1985 was a pivotal job, however, as it led to another key meeting for Carter—with that film's writer and producer, Steven Spielberg. Working on the second unit together, the two hit it off and began a close working relationship that endures to this day.
While Carter's first credit as production designer was on Francis Veber's "The Three Fugitives" (1985), it was Spielberg's TV series "Amazing Stories" (1985-86) that cemented their relationship and also led to an encounter with Robert Zemeckis. Carter proceeded to work solely with Spielberg and Zemeckis for the next 20 years, on everything from "Back To The Future II and III" (1989 and 1990), "Death Becomes Her" (1992) to "Jurassic Park" and its sequel (1993 and 1997), "Forrest Gump" (1994), "Amistad" (1997), "What Lies Beneath" (2000), "Cast Away" (2000), "A.I.: Artificial Intelligence" (2001), "The Polar Express" (2004), "War of the Worlds" (2005) and "Munich" (2005).
Carter then took up the three-year challenge that was the giant, ground-breaking production of "Avatar" (2009) for another Hollywood titan—James Cameron—and his most recent credits are "Sucker Punch" (for director Zach Snyder, 2011), Steven Spielberg's "War Horse" (2011) and the director's upcoming "Lincoln" (2012).
Carter has been nominated twice for an Academy Award. The first time was for his work on "Forrest Gump" in 1994, and he won the Oscar for Art Direction for "Avatar" in 2010 (an honor he shared with Robert Stromberg).
Jan 12, 2012
SCI-Arc Exhibition
SCI-Arc / Caltech Hanwha Solar House


image : Ryan Tyler Martinez/SCI-Arc
Los Angeles, CA – The Southern California Institute of Architecture (SCI-Arc), Caltech Institute of Technology (Caltech), global solar panel manufacturer Hanwha SolarOne Co., Ltd. (Hanwha Solar) and California Science Center are pleased to announce the unveiling of the SCI-Arc/Caltech Hanwha Solar CHIP House at the California Science Center in downtown Los Angeles. A ribbon-cutting celebration with Los Angeles Councilwoman and Mayoral Candidate Jan Perry, Director Eric Owen Moss of SCI-Arc, Caltech Resnick Institute Director Harry Atwater, California Science Center Deputy Director of Education Ron Rohovit, and Justin Lee, Chief Commercial Officer of Hanwha Solar, will be held Tuesday, January 17, at 2pm at the California Science Center at Exposition Park.
Location: 960 E 3rd St, Los Angeles, CA 90013, United States of America
Los Angeles Buildings
Contemporary Los Angeles Architecture
L.A. Architecture Designs – chronological list
Los Angeles Architecture Tours – architectural walks by e-architect
Drawing Show Exhibition at A+D Museum Los Angeles
Architects associated with SCI-Arc
Eric Owen Moss
SCI-Arc Spring Show:



photo from SCI-Arc
SCI-Arc Mexico City – Feb 2016
SCI Arc Architecture News – 2010-11
SCI Arc Architecture Lectures – 2009
SCI-Arc Exhibition : L.A. in Wien / Wien in L.A.
Los Angeles Architecture Designs
SCI-Arc Atelier Hitoshi Abe Exhibition
SCI-Arc Competition : Contest 2010
SCI-Arc Distinguished Alumni Awards
Comments / photos for the SCI-Arc Events 2015Lectures + Exhibitions – Los Angeles Architecture Event page welcome
Website: www.sciarc.edu