SCI-Arc Lecture, Exhibition, Los Angeles Architects News, Talk, Show, Design
SCI-Arc Exhibition Los Angeles
Lectures + Exhibitions, Los Angeles, California, USA
14 Sep 2009
SCI-Arc Events for 2010
SCI-Arc Announces Fall 2009 Public Lectures and Exhibitions
Sep – Dec 2009
The Southern California Institute of Architecture (SCI-Arc), the downtown Los Angeles-based architecture school known for its progressive thinking and innovative design, is pleased to announce the fall 2009 schedule for lectures, talks and exhibitions.
SCI-Arc hosts renowned architects and other practitioners in the fields of Architecture and Design from around the globe to discuss current theory and practice. Guests include architects Toshiko Mori, Preston Scott Cohen, and Alejandro Zaera-Polo, landscape architect Laurie Olin, graphic designer April Greiman, and writer and theorist Eugene Thacker, among other notable figures. Exhibitions include deegan day design: Blow x Blow, investigating cinematic projection and architecture as installation, and Jean-Pierre Hébert: Drawings as Thoughts, conceptual digital drawings based on computer-driven language.
SCI-Arc WEDNESDAY LECTURES
SCI-Arc Lectures are free and begin at 7pm in the W. M. Keck Lecture Hall
September 23, 7pm
Eugene Thacker: After Life
Eugene Thacker is an Associate Professor in the School of Literature, Communication and Culture at Georgia Institute of Technology. His areas of research include continental and post-continental philosophy, science fiction and horror, media and science studies.
September 30, 7pm
Alejandro Zaera Polo: Envelopes



Alejandro Zaera-Polo is co-founder of Foreign Office Architects in London. Zaera-Polo's architectural theories and architecture practice are based on the building volume – the envelope. He describes the envelope as the most relevant element of architecture because it best expresses the link between technology, representation and politics.
October 7, 7pm
Marcelo Spina: Wholes, Holes, and All the Other Stuff in Between



Marcelo Spina is the founder and co-principal, along with Georgina Huljich, of P-A-T-T-E-R-N-S, a design research architectural practice based in Los Angeles. His work has gained international recognition for its innovative approach to design and architecture that fuses advanced computation techniques with an extensive understanding of form, tectonics and materials. Since 2001, Spina has been on the Design Faculty at SCI-Arc, where he is also the coordinator of the Applied Studies program.
October 14, 7pm
Laurie Olin: It's Called Landscape Architecture, Not Landscape Gardening for a Reason
Laurie Olin is a distinguished teacher, author, and one of the most renowned landscape architects today. His firm has worked on projects including the J. Paul Getty Museum, the Gap Headquarters in San Francisco, and the United States embassy in Berlin. Olin is an honorary member of the American Institute of Architects.
October 28, 7pm
Yung Ho Chang: The Other Project
One of China's most accomplished contemporary architects and the founding head of the Graduate Center of Architecture at Peking University, Yung Ho Chang is Head of the Department of Architecture at the Massachusetts Institute of Technology. He received his Masters of Architecture from the University of California at Berkeley and taught in the U.S. for 15 years before returning to Beijing to establish one of the first independent practices in China, Atelier FCJZ.
November 4, 7pm
Toshiko Mori: Works and Projects
Toshiko Mori is the principal of Toshiko Mori Architect, which she established in 1981 in New York City. She was the Chair of the Department of Architecture at Harvard University Graduate School of Design from 2002 to 2008 and is currently the Robert P. Hubbard Professor in the Practice of Architecture. Mori has been recognized for her strong research based approach to design. She is currently preparing her next publication: Textile Tectonic in Architecture.
November 11, 7pm
Preston Scott Cohen: Discretized Curves and Tectonic Language
Preston Scott Cohen, principal Preston Scott Cohen, Inc., is the Gerald M. McCue Professor in Architecture and Chair of the Department of Architecture at Harvard University Graduate School of Design. His work is known for its synthesis of architectural typologies, descriptive geometry, and digital media. Preston Scott Cohen, Inc. encompasses projects ranging in scale from residences to educational and cultural institutions.
November 18, 7pm
Mack Scogin: The Anxiety of Difference
Mack Scogin is Kajima Adjunct Professor of Architecture at Harvard University Graduate School of Design and Principal, Mack Scogin Merrill Elam Architects in Atlanta. Scogin is known for architectural designs featuring the unconventional use of materials and for subtle, often unexpected narrative associations to place and program.
December 2, 7pm
Andrew Holder: Drop It Like It's Fake: Architecture and the Necessity of Faux Science
Andrew Holder has been principal at the Los Angeles Design Group in Hollywood California since 2007. Prior to working in the field of architecture, he spent several years in the real estate finance and business development fields. Holder also maintains an active career in academia and has recently taught at UCLA, SCI-Arc and Otis College of Art and Design. Holder received his Master of Architecture degree with distinction from UCLA. He is the recipient of a Truman Fellowship, the Barbara Hirschi-Neely Fellowship, and the AIA certificate.
SCI-Arc FRIDAY TALKS
Talks are free and begin at 1pm in the W. M. Keck Lecture Hall and are also broadcast live on the internet at www.sciarc.edu/live
October 2, 1pm
Volkan Alkanoglu: On Distortion
Architect, Germany, UK and USA



Volkan Alkanoglu
October 9, 1pm
Todd Gannon: Recent Work
Architect, Doctoral Candidate, UCLA
Friday, November 13, 1pm
April Greiman: Think About What You Think About
Graphic designer and principal of the Los Angeles design firm Made in Space
November 20, 1pm
Raymond Richard Neutra: The Richard and Dion Neutra VDL Research House- 1932, 1940 and 1966: Significance and Survival
Chief Emeritus, Division of Environmental and Occupational Disease Control, California Department of Public Health
The Richard and Dion Neutra VDL Research House
2009 FALL EXHIBITIONS
SCI-Arc is open to the public daily from 10am-6pm
September 12-13, 2009
Graduate Thesis Presentations
On view throughout SCI-Arc, the Graduate Thesis presentations offer examples of work by some of the best emerging architects and designers in the country.
September 25-October 4, 2009
Selected Thesis Exhibition
SCI-Arc Gallery
September 25, 7-9 pm: Opening reception
A juried exhibition of exceptional thesis projects by SCI-Arc 2009 graduate students
October 23-December 13, 2009
deegan day design: Blow x Blow
SCI-Arc Gallery
October 23, 7-9pm: Opening reception
November 6, 7pm: Exhibition discussion with Joe Day and Eric Owen Moss
Blow x Blow stages a bout between two trends in exhibition: Gallery space as installation designed by architects versus the use of the gallery space within the realm and possibilities of new media. To chart this collision, deegan day design, headed by Joe Day, repurpose techniques of cinematic projection and scripting to spur new orders of spatial and structural sequencing, and new environments for communing with new art.
Complementing the installation and running for the initial two weeks is Corrections + Collections: Architectures for Art and Crime, a series of programs organized by deegan day design that investigate prisons, museums and their complementary roles in contemporary high design and U.S. urban renewal. Duration in exhibition, like sentencing in incarceration, is a variable to be tested. After a two week-run of Corrections + Collections, the installation will host work by leading artists working in new media in a series entitled Friends of Friends.
October 23-December 13, 2009
Jean-Pierre Hébert: Drawings as Thoughts
SCI-Arc Library
October 23, 1pm: Exhibition discussion with Jean-Pierre Hébert
October 23, 7-9pm: Opening reception
The SCI-Arc Library will present drawings by Jean-Pierre Hébert, currently artist-in-residence at the Kavli Institute for Theoretical Physics at the University of California, Santa Barbara. Hébert pioneered the creation of conceptual drawings based on original code proofed by computer-driven devices.
There is a known history of conceptual art as instructions for a draftsperson. Hébert's recent computational drawings presented in the SCI-Arc Library are created instead from instructions for a computer and device. Their concept is precisely set in original computer code, for instance in a scripting language like Python, or in C, Scheme, or Mathematica. Once the computation has completed satisfying the instructions, only a single proof is produced on the inkjet or the plotter.
Location: SCI-Arc Los Angeles, Southern California, United States of America
Los Angeles Buildings
Contemporary Los Angeles Architecture
L.A. Architecture Designs – chronological list
Los Angeles Architecture Tours – architectural walks by e-architect
SCI-Arc Exhibition : L.A. in Wien / Wien in L.A.
Los Angeles architect : Frank Gehry
Los Angeles Architecture Designs
Audrey Irmas Pavilion, Wilshire Boulevard, Koreatown
Design: OMA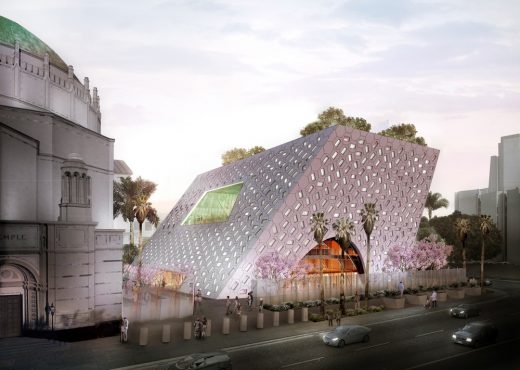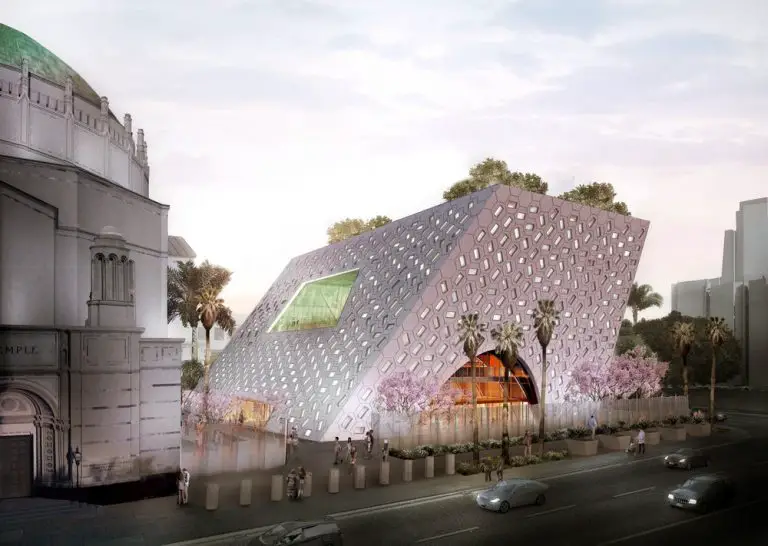 image Courtesy OMA New York
Audrey Irmas Pavilion
SCI-Arc Links
SCI-Arc Atelier Hitoshi Abe Exhibition
SCI-Arc Competition : Contest 2010
SCI-Arc Distinguished Alumni Awards
Comments / photos for the SCI-Arc Lectures + Exhibitions Los Angeles Architecture page welcome
Website: www.sciarc.edu