CBC Exhibition 2019 Seoul Biennale of Architecture and Urbanism, SBAU South Korea
2019 Seoul Biennale of Architecture and Urbanism
CBC Exhibition at SBAU: Architecture Development South Korea – design news
21 Sep 2019
Seoul Biennale of Architecture and Urbanism News
Location: Seoul, Korea
CBC Exhibition @ 2019 Seoul Biennale of Architecture and Urbanism(SBAU)
UED affiliated company China Building Centre (CBC) is honored to be the sole Chinese representative in this year's Seoul Biennale of Architecture and Urbanism
Sep 2019 – Nov 2019
The exhibition is titled "Creation of Spatial Value" including recent CBC projects "Louna International Architects' Village" and "Q- Village Xiamutang".
Famous architects Ryue Nishizawa, Li Xinggang, Cui Kai, and Na Risi, will also be part of the exhibition.
Q-Village Xiamutang, China: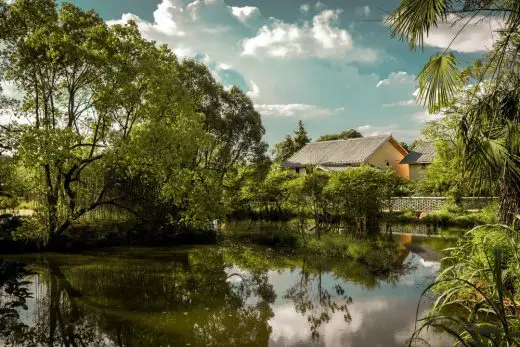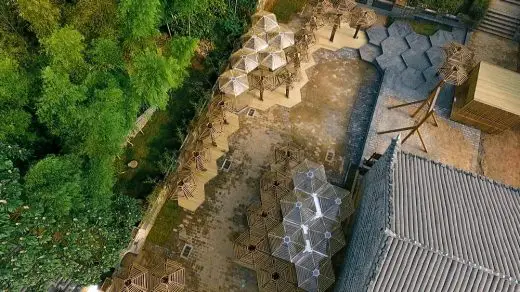 CBC Brings Rural Redevelopment Explorations in China to the SBAU 2019
"Creation of Spatial Value"
CBC (China Building Centre), has been invited to participate in the Seoul Biennale of Architecture and Urbanism (SBAU) 2019. With the exhibition "Creation of Spatial Value", CBC brings to this year's biennale its recent research in rural revitalization in China. Recent and ongoing projects "Louna International Architects' Village" and "Q-Village Xiamutang" will be presented within the exhibition. The SBAU 2019 is due to have its grand opening on the 7th September 2019 at the Dongdaemun Design Plaza (DDP), and will last two months afterwards until the 10th November, 2019.
Seoul Biennale of Architecture and Urbanism (SBAU) is an important part of the world biennales of architecture, which attracted 460,000 audiences worldwide upon its very first edition in 2017. In 2019, more than 80 cities around the world are invited to participate in SBAU, bringing case studies and creative solutions in urban-rural innovation and development from all over the world.
Covering perspectives from multiple disciplines, including but not limited to sociology, geography, economics, arts, culture, etc., the SBAU 2019 explores the solutions to the universal and crucial issues that modern cities are facing nowadays, emphasizing the significance of "Collective Space" in cities, the relationship between people and city, philosophies and methodologies of urban development, as well as the basic principles of the current development of cities.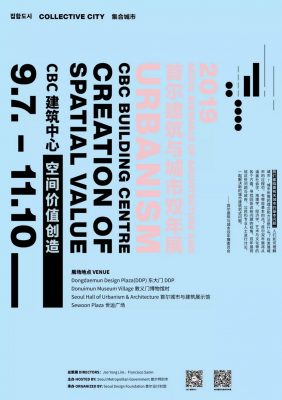 Images © CBC
"The reason we invited CBC is that they are the pioneers of China's micro-urbanism, exploring urban and rural development from a small scale to make big changes. Apart from large scale monuments, CBC focuses on micro-changes on rural area, which is unique and typical. While serving as a coordinator among government, community and architects, CBC is an institution of innovative philosophy in architecture, offering new strategies, values, rules and methodologies.
Through this Biennale, we hope that visitors from all over the world could have a better understanding of the contents and value of CBC's works. It is our wish to spread the words, showcasing the methodology of CBC as an example and reference for other projects."
——Francisco Sanin
Co-director of 2019 Seoul Biennale of Architecture and Urbanism
Q-Village Xiamutang, China: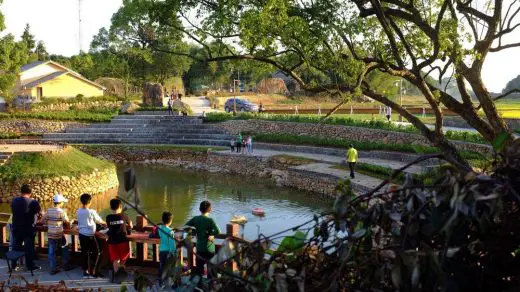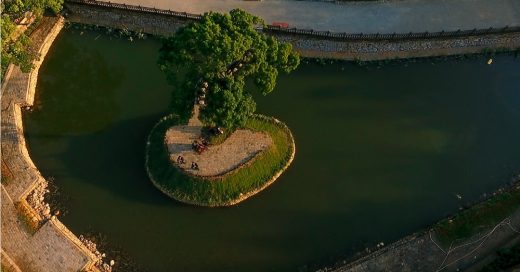 As the co-director of SBAU 2019, Prof. Francisco Sanin, conveys in the theme of this year's biennale– "Collective City: Reclaiming the City Redefining Architecture", he indicates that under the efficient and mechanized operation of contemporary cities, the pursuit of efficiency, profit, agglomeration effect and technocratic vision is undermining the collective nature of cities. However, it is our belief that, cities are only the symbol of human civilization not just because of its ability to achieve highly efficient production and capital circulation, but more for its humanistic care and disposition generated from sheltering more than 80% of the global population.
Instead of the efficient, centralized and top-down development mode, CBC focuses on the more profound and subtle human factors in urban-rural development. After years of exploration in China, the research conducted by CBC reflects specifically on how to achieve a delicate balance between social development, economy, culture and ecology; establishing a new position between the standard urban-rural dichotomy, and discovering new vitality in old towns full of historical traces.
CBC summarizes these series of explorations as "Creation of Spatial Value". The main strategy within these explorations is to exert the power of design, and architects as a whole, taking advantage of community building and promotion, whilst infusing resources of design, culture and community, in order to explore a more bottom-up, innovative and acupuncture approach to urban and rural issues."
——Peng Lixiao
Curator of "Creation of Spatial Value"
Q-Village Xiamutang at CBC Exhibition at SBAU 2019: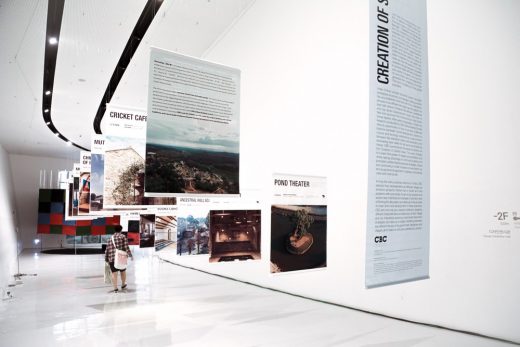 "Creation of Spatial Value" Opening Ceremony
"Creation of Spatial Value" Exhibition is curated by Peng Lixiao, Director of CBC (China Building Centre) and chief editor of Urban Environment Design (UED) Magazine, distinguished professor of School of Architecture Tianjin University and designed by Wang Yan, partner and principal architect of GOA. During its own opening ceremony in the morning of the 8th September, 2019.
CBC representative and UED Magazine executive chief editor, Liu Qing, relaid that CBC selected "Q-Village Xiamutang" and "Louna International Architects Village", as two different yet highly representative projects among the many practices currently on-going in China. Guest speakers at the exhibition opening included co-director of SBAU 2019, Francisco Sanin, and renowned South Korean architect, founder of IROJE Architects & Planners, Seung H-Sang.
Q-Village Xiamutang, China: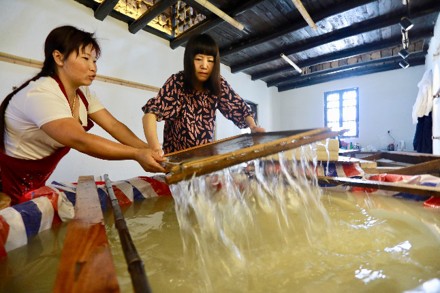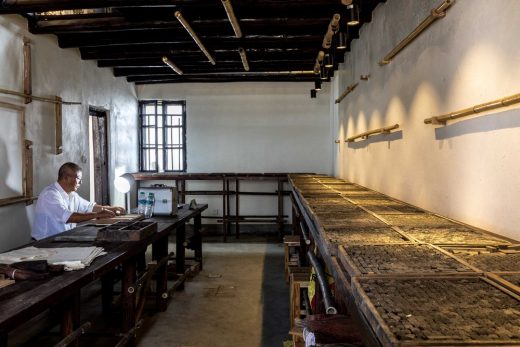 Xiamutang is a small village located in Wan'an County, Ji'an City, Jiangxi Province, in the southeast regions of China and in the middle lower reaches of the Yangtze River. The name "Xiamutang" means summer, trees and ponds in Chinese.
Like many others, in face of the rapid process of urbanization, Xiamutang has experienced a significant migration in populations towards the metropolitan, especially people in their prime age, leaving behind a vast age gap in the remaining population. With the vital work force leaving the village, Xiamutang is going through an inevitable loss of vitality and the constant abandoning of housing, infrastructure and farmland, resulting in the crisis of immediate deterioration.
CBC took initiative and implemented the notion of "Rural Revitalization Led by Design, Culture and Art". With "Q Village" as its theme, CBC invited architects, artists, writers, even intangible cultural heritage successors, etc., to participate in a design cluster in order to revitalize Xiamutang. While improving significantly the local built environment, the project injected design, culture and art resources into the village, triggering the innate value hidden within the existing fabric, and exploring an innovative approach towards rural revitalization.
Louna International Architects' Village at 2019 Seoul Biennale of Architecture and Urbanism: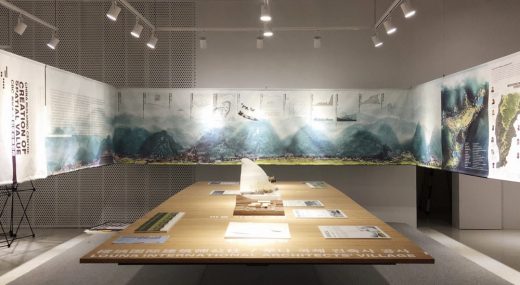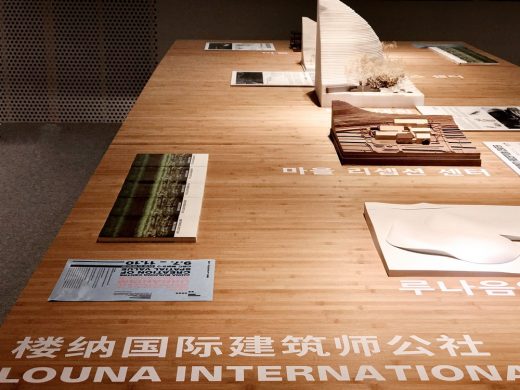 Louna is a beautiful village located in South-west China with its own geological qualities, unique landscapes and the rustic lifestyle of local ethnic minorities. CBC initiated "Louna International Architects' Village", in the hope to accomplish the transformation in rural construction approach through the power of design, culture, art and media. It aims to build a platform to explore practical design, construction technique and lifestyles suited for traditional villages in the immediate future.
This method of design implementation has attracted distinguished architects such as Ryue Nishizawa, Seung H-Sang, and Li Xinggang among others. Their works began to reveal a rural aesthetics that is rooted in China and motivated by design and art. Such collective wisdom has become an overall shaping force of the formation establishment and the growing logic in villages, defining the future living environment and life quality, and providing a "Village Vision".
Q-Village Xiamutang, China: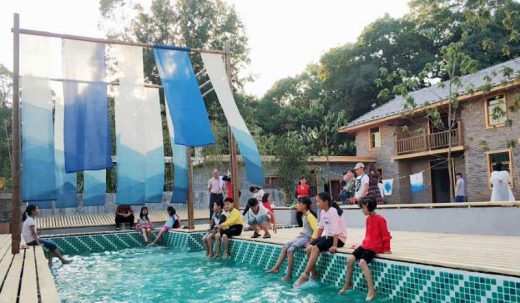 Rather than to "solve" all of the problems, CBC aims to explore a new method and strategy, by providing a platform for collaborative thinking and discussions in reference to the current process of urban and rural development. In these practices, CBC acts not only as a research institution targeting different characteristics and status quo of each village and city, exploring customized resolutions, but also as a bridge mediating the different forces of government, designers and villagers, all to reach a multi-party satisfactory solution as a "collective".
As such, the "Creation of Spatial Value" exhibition will commence as part of the two month Seoul Biennale of Architecture and Urbanism 2019. Within the exhibition and in reality, CBC shall continue exploring architecture and its role in rural development. With design, art, culture as its guide, CBC shall strive to provide innovative and systematic solution based on the "Creation of Spatial Value."
Images of Q-Village Xiamutang, China: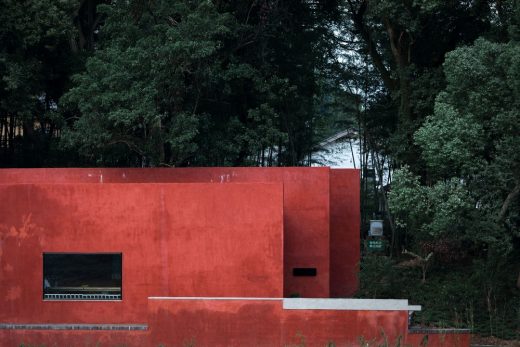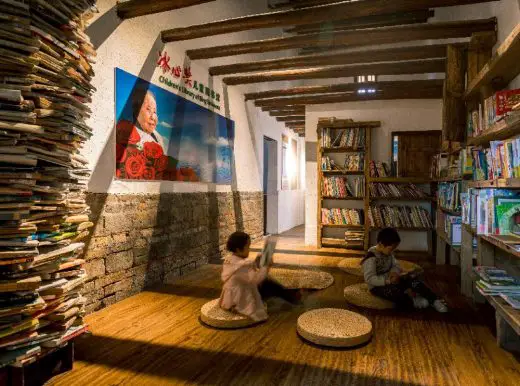 Seoul Biennale of Architecture and Urbanism 2019:
Duration: 7th September, 2019 – 10th November, 2019
Theme: "Collective City"
Venue: Dongdaemun Design Plaza (DDP), Seoul, Republic of Korea
Content(s): Thematic Exhibition, Cities Exhibition, Global Studios, Live Projects, Seoul Madang, and other Public Programs.
Co-Directors: Jae Y. Lim / Francisco Sanin
CBC "Creation of Spatial Value" · Seoul Biennale of Architecture and Urbanism 2019:
Theme: Creation of Spatial Value
Curator:Peng Lixiao, Chief Editor of Urban Environment Design (UED) Magazine, Distinguished Professor of School of Architecture Tianjin University, Director of CBC (China Building Centre)
Exhibition Design:Wang Yan, Partner and Principal Architect of GOA
Projects Exhibited:Q-Village Xiamutang, Louna International Architects' Village
Project Participants:Ryue Nishizawa, Seung H-Sang, Cui Kai, Li Xinggang, Cui Tong, Kong Yuhang, Sun Yimin, Liu Kecheng, Li Baofeng, Huang Jingtao, Xie Xiaoying, Zhou Xinmeng, Wei Chunyu, Zhu Ling, Zhai Hui, Wang Lu, Wang Weijen, Liu Heng, Liu Enfang, Deng Shuyang, Zhou Yufang, Zhang Ming, Peng Lixiao, Hao Jingfang, Wang Wei, Xue Minghui, Zhang Lufeng, Li Ji, Wang Yan, Ye You, Li Yinong, Li Ye, Li Yikao, Zhang Haiao, Na Risi, Han Wenqiang, Wang Qiu'an, Wang Dan, Zhao Dapeng, Wang Nanming, Chen Zhanhui, Xue Jie, Zhao Haitao, Zhang Haiyan, Xiao Huajing, Yu Hongtao, Bai Ye, Chong'er, Yang Lei, Long Wen, Long Zhanxian, Wen Zongyang, Zhong Guanheng, Liu Haitao, Wang Jinmei, Liu Jiaying, Li Qi, Cao Jun, Piao Guofeng
2019 Seoul Biennale of Architecture and Urbanism images / information received 200919
Location: Seoul, South Korea
Architecture in South Korea
Seoul Architectural Projects
Korean Architecture Designs – chronological list
Yangjaegogae Eco Bridge Design Competition, Seoul, Korea
Architects: KILD – Ksnelashvili . Išora . Lozuraitytė . Daunys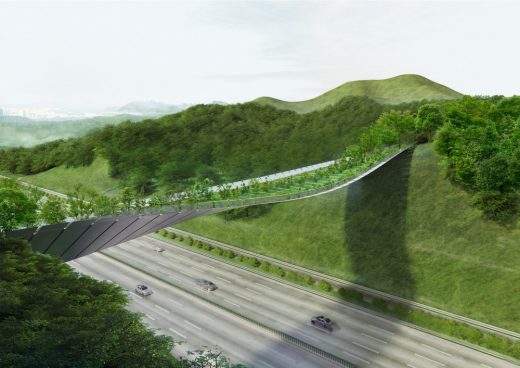 image from architect
Yangjaegogae Eco Bridge Design Competition by KILD
Seoul Creative Play Supporting Facility design by KILD architects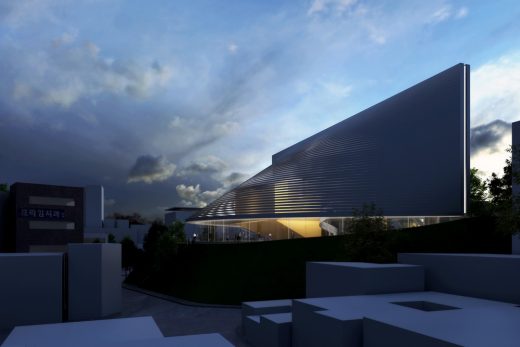 image from architect
Seoul Creative Play Supporting Facility Design Competition by KILD
Korean Architecture – Selection:
Comments / photos for the 2019 Seoul Biennale of Architecture and Urbanism page welcome