Zen House Photos, Hiroshima Building, Architect, Property Images, Residential Project Design
Zen house Japan : Hiroshima Architecture
New Japanese Home, Hiroshima design by Ryuichi Furumoto Architect
6 Aug 2008
Zen house, Hiroshima
date built: 2008
Design: Ryuichi Furumoto, Architect
Project Title "Zen House"
Awards: Architectural Institute of Japan, 2007 Selected Architectural Designs, etc.
New House in Hiroshima
This is the residence of an industrial designer couple in their 20s.
The lot is situated in a typical suburban housing development in Japan, among an array of terraced modest sites. The majority of the houses in the development are of prefabricated, two-story construction, seemingly disconnected from their surroundings. Ryuichi Furumoto Architect chose a different creation path from those houses because he rather admired the character of the lot with its optimum solar exposure, distant scenic view, and access from the road via pre-existing exterior stairs. By linking those assets closely to the architecture, he attempted to generate an ideal living environment for the designer occupants that would maintain their tranquility, yet stir their creativity. Ryuichi Furumoto calls this home Zen House.
The building's structure is a mere 11 square meters wide, its one-story height reinforced concrete. The interior finishes, as well as the exterior ones, remain exposed concrete without cladding. As a result of constraining the architectural composition to a minimum, the house has been streamlined to implement an extremely effective design. It draws attention to the beauty of natural elements, highlights scenic charm, and smoothly integrates human creation with the larger environment. In particular, the water court planned for outdoor meditation acts as a significant trigger to enhance the lure of the house.
The water court surfaces, that is, the walls, floors, eaves, and even the water itself, reveal delicate impressions of shadow, transforming winds into visible moiré patterns, and reflecting varied indoor and outdoor scenes. The void above the court allows the whole ceiling of the Zen House to expand, giving the impression that the ceiling expands to the sky. Moreover, the architectural plan that positioned the court within the heart of the house frees endless layers of space and location sequences. Such design also creates an efficient and flexible area for living.
When entering this house, against the backdrop of a striking view and through a front door reminiscent of a nijiri, one's expectations increase that such a dramatic architectural experiment diminishes the stress of a busy life. Upon stepping into this house, one can indeed discover the ideal place to rest easy. You begin to feel more you. The physical building may be as static as concrete and its other materials, but Zen House also feels active, without limits, on or off the premises, a place that is spiritually free.
Zen house Hiroshima – Building Information
Architect: Ryuichi Furumoto
Structural Engineer: Takeo Sakuga
Constructor Firm: Kenchiku Kobo Sunsun
Location: Hiroshima, Japan
Project type: residential – single family
Structural system: reinforced concrete
Site area: 180.31 sqm
Built area: 97.52 sqm
Building coverage ratio: 54.08%
Total floor area: 97.52
Floor area ratio: 54.08%
Building scale: 1 floor
Major exterior finishing: exposed concrete trowel finish
Major interior finishing: exposed concrete, tatami
Photos: Seiichiro Ohtake
Location: Hiroshima, Japan, East Asia
Japan Architecture Designs
Contemporary Japan Architectural Selection
Japanese Architecture Design – chronological list
Japanese Architecture – key projects
Ryuichi Furumoto
Furumoto Architect Associates co.,ltd.- office based in Hiroshima-city, Japan
Japanese Houses
Concrete Square Tube House, Kyoto City
Architect: Eastern Design Office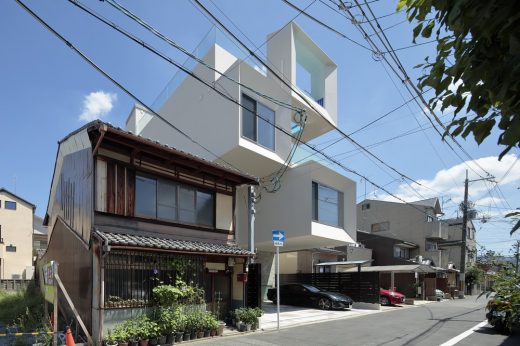 photograph : Koichi Torimura
New House in Kyoto City
Australia House, Niigata Prefecture
Design: Andrew Burns Architecture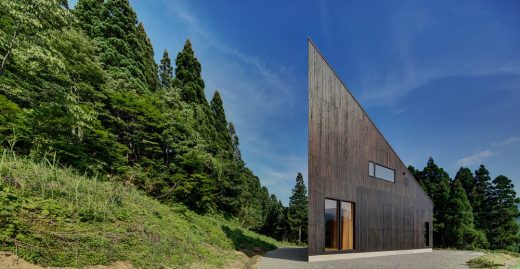 photography : Brett Boardman
Australia House, Niigata Prefecture
FU House in Shunan City, Yamaguchi
Design: Katsufumi Kubota Architect, Kubota Architect Atelier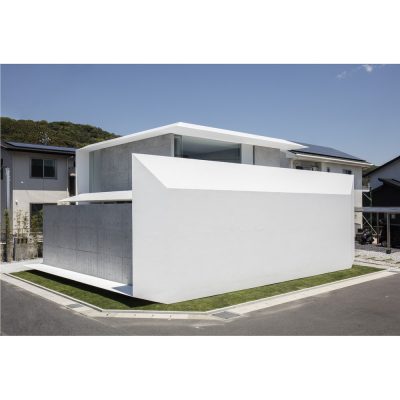 photography : Katsumasa Tanaka, Kenji Masunaga
FU House, Shunan City, Yamaguchi Property
Buildings / photos for the Zen house Architecture page welcome