Toyota Woven City Susono City, Shizuoka Building by BIG, Japanese Architecture Project
Toyota Woven City, Susono City
Urban incubator for advancement of mobility, Japan – design by BIG-Bjarke Ingels Group
7 Jan 2020
Toyota Woven City in Shizuoka
Architect: BIG-Bjarke Ingels Group
Location: Susono City, Shizuoka, Japan – near Mount Fuji
Toyota And Big Roll Out The Future Of Mobility With Woven City
Big's First Project In Japan Is An Urban Incubator For Toyota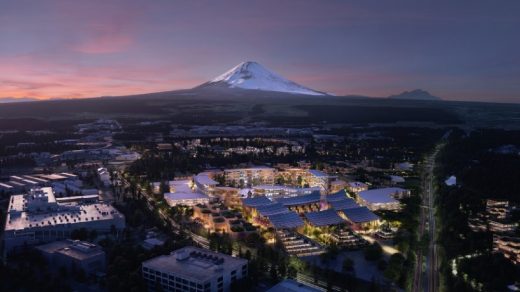 Image by Squint Opera
Together with Toyota Motor Corporation, BIG-Bjarke Ingels Group unveils Toyota Woven City as the world's first urban incubator dedicated to the advancement of all aspects of mobility at the foothills of Mt. Fuji in Japan.
Envisioned as a living laboratory to test and advance mobility, autonomy, connectivity, hydrogen-powered infrastructure and industry collaboration, Toyota Woven City aims to bring people and communities together in a future enabled by technology yet grounded in history and nature. The vision, along with an animation by Squint Opera, was presented at the Consumer Electronics Show (CES) in Las Vegas by the CEO of Toyota, Mr. Akio Toyoda, and BIG Founder Bjarke Ingels.
"In Higashi-Fuji, Japan, we have decided to build a prototype town of the future where people live, work, play and participate in a living laboratory. Imagine a smart city that would allow researchers, engineers and scientists the opportunity to freely test technology such as autonomy, mobility as a service, personal mobility, robotics, smart home connected technology, AI and more, in a real-world environment. This is a truly unique opportunity to create an entire community, or 'city' from the ground up and allow us to build an infrastructure of the future that is connected, digital and sustainable, powered by Toyota's hydrogen fuel cell technology." Mr. Akio Toyoda, CEO, Toyota Motor Corporation.
Located at a 175-acre former factory site in the city of Susono in Shizuoka, Toyota Woven City creates a new equality among vehicles, alternate forms of movement, people and nature, streamlined by the promise of a connected, clean and shared mobility. The city will utilize solar energy, geothermal energy, and hydrogen fuel cell technology to strive towards a carbon neutral society, with plans to break ground in phases beginning in 2021.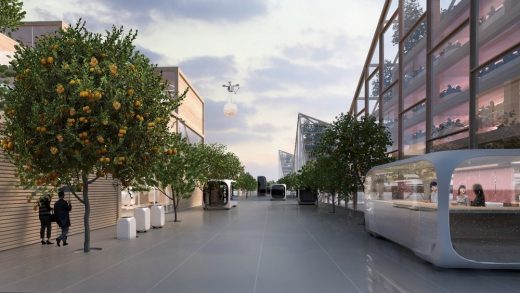 Image by BIG-Bjarke Ingels Group
The Woven City is conceived as a flexible network of streets dedicated to various speeds of mobility for safer, pedestrian-friendly connections. The typical road is split into three, beginning with the primary street optimized for faster autonomous vehicles with logistical traffic underneath. The Toyota e-Palette – a driverless, clean, multi-purpose vehicle – will be used for shared transportation and delivery services, as well as for mobile retail, food, medical clinics, hotels and workspaces.
"Today the typical is mess – with everything and nothing happening everywhere. With the Woven City we peel apart and then weave back together the three components of a typical road into a new urban fabric: a street optimized for automated vehicles, a promenade for micro-mobility, and a linear park for pedestrians. The resulting pattern of porous 3×3 city blocks creates a multitude of different econiches for social life, culture and commerce. In an age when technology – social media and online retail – is replacing and eliminating our traditional physical meeting places, we are increasingly more isolated than ever. The Woven City is designed to allow technology to strengthen the public realm as a meeting place and to use connectivity to power human connectivity." Bjarke Ingels, Founder & Creative Director, BIG.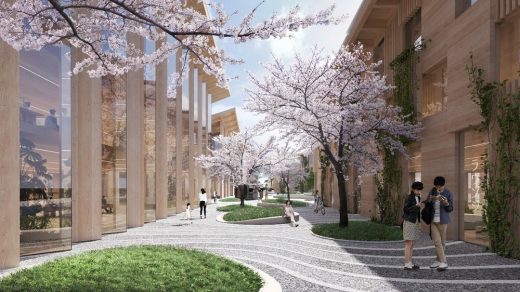 Image by BIG-Bjarke Ingels Group
The recreational promenade is occupied by micro-mobility types such as bicycles, scooters and other modes of personal transport, including Toyota's i-Walk. The shared street allows residents to freely meander at a reduced speed with increasing amounts of nature and space.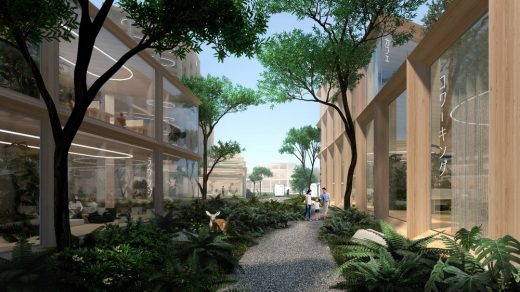 Image by BIG-Bjarke Ingels Group
The third type of street is the linear park, a path dedicated to pedestrians, flora and fauna. An intimate trail provides a safe and pleasant environment for leisurely strolls and nature breaks through the ecological corridor connecting Mount Fuji to the Susono Valley.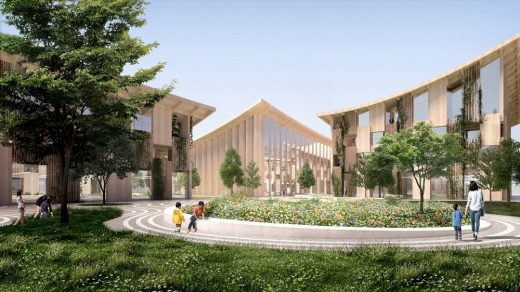 Image by BIG-Bjarke Ingels Group
The three street types are woven into 3×3 city blocks, each framing a courtyard accessible via the promenade or linear park. The urban fabric of the woven grid expands and contracts to accommodate a variety of scales, programs and outdoor areas. In one instance, a courtyard balloons to the scale of a large plaza, and in another, to become a central park providing a city-wide amenity. Hidden from view in an underground network lies the infrastructure of the city, including hydrogen power, stormwater filtration and a goods delivery network dubbed the 'matternet'.
"The Woven City bridges the gap that exists today between vehicles and accessibility, by looking at mobility and public space as a symbiosis. Furthermore, by designing desirability as an element of accessibility – through nature, space and safety – we can ensure an active public realm in the city, especially for an aging Japanese population.
As it happens Toyota was born in the 1920's as a loom company, helping people weave fabric. Now in 2020, the Woven City is a tribute to those origins while looking to the future of an urban fabric enabled by technology and mobility." Leon Rost, Partner, BIG.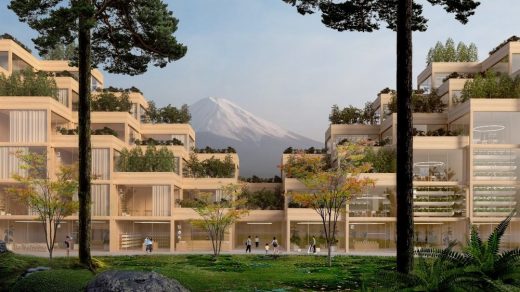 Image by BIG-Bjarke Ingels Group
The buildings at the Woven City will advance mass timber construction. By combining the legacy of Japanese craftmanship and the tatami module with robotic fabrication technology, Japan's construction heritage lives on while building sustainably and efficiently into the future.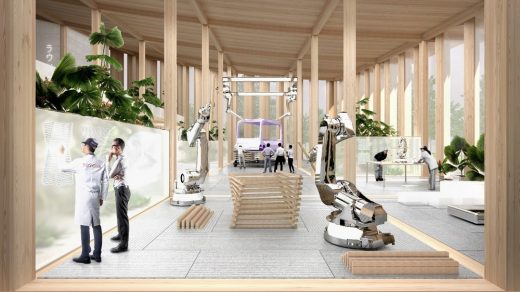 Image by BIG-Bjarke Ingels Group
A mix of housing, retail and business – to be built primarily of carbon-sequestering wood with photovoltaic panels installed on the roofs – characterize each city block, ensuring vibrant and active neighborhoods at all times of the day. Toyota's R&D spaces house robotic construction, 3D printing and mobility labs, while typical offices flexibly accommodate workstations, lounges and indoor gardens.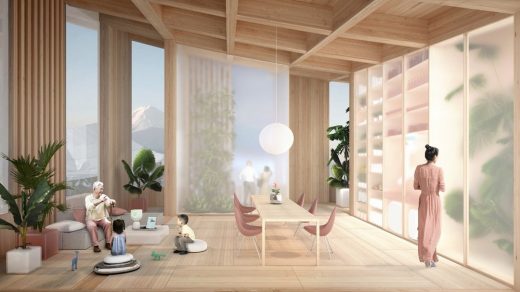 Image by BIG-Bjarke Ingels Group
Residences in the Woven City will test new technology such as in-home robotics to assist with daily living. These smart homes take advantage of full connectivity using sensor-based AI technology to perform functions including automatic grocery deliveries, laundry pick-ups or trash disposal, all while enjoying spectacular views of Mt. Fuji.
"As a replicable framework, the Woven City can serve both as a prototype for future cities and as a retrofit to current cities. By simply 'reprogramming' existing streets, we can begin to reset the balance between people, mobility, and nature in cities as diverse as Tokyo or New York, Copenhagen or Barcelona." Bjarke Ingels.
Toyota Woven City has the potential to lead as an example for how advances in mobility and technology will shape the physical world we live in. The Woven City is BIG's first project in Japan and the latest masterplan unveiling following Oceanix City at the United Nations last year.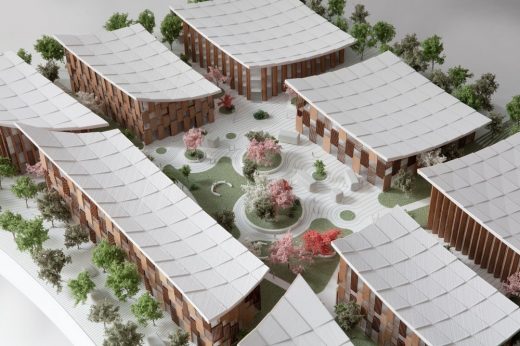 Image by BIG-Bjarke Ingels Group
Toyota Woven City – Building Information
TOYOTA WOVEN CITY FACTS
Name: Toyota Woven City
Type: Commission
Size: 175 acres / 708,200 m2
Location: Susono City, Shizuoka, Japan
Client: Toyota Motor Corporation + Kaleidoscope Creative
Collaborators: Squint Opera, Mobility in Chain, Atelier Ten
BIG – BJARKE INGELS GROUP
Partners-in-Charge: Bjarke Ingels, Leon Rost
Project Manager: Yu Inamoto
Project Leader: Giulia Frittoli
Team: Agla Egilsdottir, Alvaro Velosa, Brian Zhang, John Hein, Joseph Baisch, Mai Lee, Margherita Gistri, Nicolas Lapierre, Peter Sepassi, Raven Xu, Samantha Okolita, Shane Dalke, Thomas McMurtrie, Yi Lun Yang, Nasiq Kahn, Jeffrey Shumaker
Toyota Woven City images / information received 070120 from BIG-Bjarke Ingels Group
Location: Japan
New Japanese Architecture
Contemporary Japanese Architecture
Japanese Architecture Design – chronological list
Kasho Gyoen Hotel Accommodation, Minami-ku, Sapporo, Hokkaido, northern Japan
Architects: Hiramoto Design Studio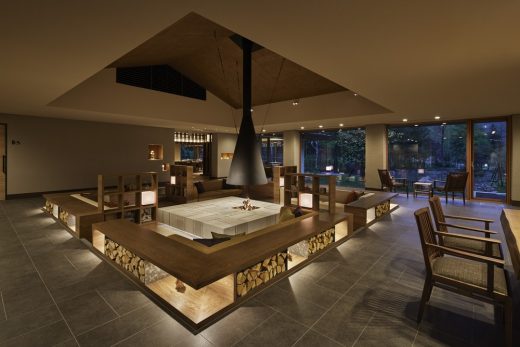 photography: Koji Fujii / Nacása&Partners Inc
Kasho Gyoen Hotel in Hokkaido
Kanoko Building, Hushiki-ku, Kyoto
Architects: Eastern Design Office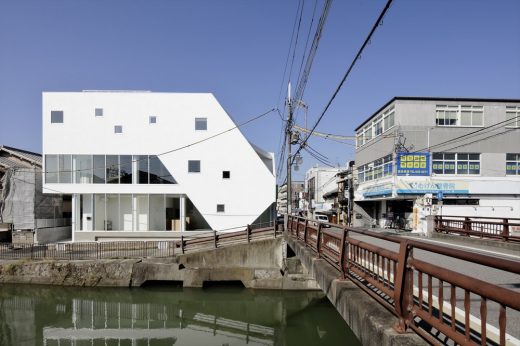 photographer : Koichi Torimura
Kanoko Building in Kyoto City
House in Muko
Design: Fujiwara Architects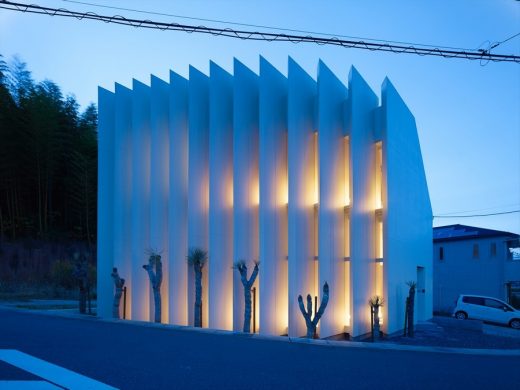 photo : Yano Toshiyuki
New Kyoto Residence
Kyoto Prefecture Library and Archives
Comments / photos for Toyota Woven City, Susono, Shizuoka building design by BIG Architects – page welcome