Panasonic Headquarters Kyoto Building, Japanese HQ Interior, Property Photos
Panasonic Headquarters Kyoto
New Commercial Interior in Japan: mixed-use studio – by Takehiro Ikeda
1 Jun 2018
Panasonic Headquarters Kyoto Building
Location: Kyoto, Japan
Panasonic Design Kyoto Building
Panasonic fuses culture and creativity with new design headquarters
Panasonic is marking its centenary with a new, mixed-use studio, tastefully incorporating core elements of Japanese culture into its design to help stimulate creative inspiration: Panasonic Headquarters in Kyoto.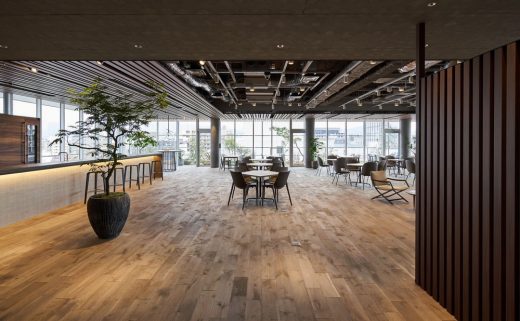 The minimalist, modern, glass-cladded building features a social hub inspired by co-working spaces around the world, and a roof garden designed to incorporate space for the public. In addition to this, Panasonic is launching FLUX, a new design and strategy team, to boost diversity in expertise and transform its design process.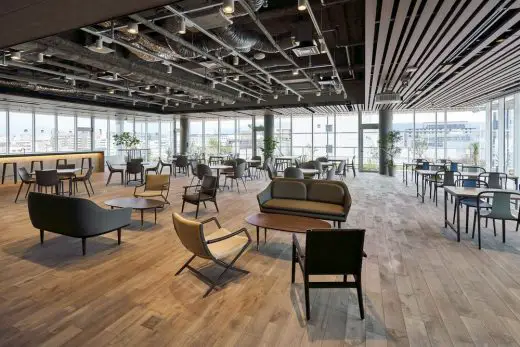 May 2018 sees Panasonic launch their new design headquarters in Kyoto, the cultural capital of Japan, further celebrating the transitions that it has undergone over the last 100 years as well as the showcasing the brand's ambitions to develop over the next century. The nine-storey studio acts as a filter, introducing insights from Japan's cultural heartland into the design process, with Panasonic planning to frequently open parts of the building to the public for the first time in its history.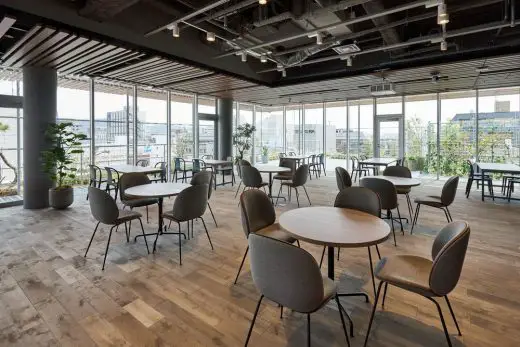 Features of the Kyoto Headquarters
• A minimalistic modern glass cladded building constructed some 15 years ago, with each floor designed to enhance fluidity and creative diversity
• A roof garden based on Japanese design principles, which will regularly be open to the public
• A social hub, taking inspiration from co-working spaces around the world and encouraging collaboration across a number of disciplines
• Studios for designers
• An experimental design lab for designers to have full freedom of creativity in exploring the full potential of the products and projects they are working on
• A major workshop where final testing and finishes take place – this area is top secret as it features Panasonic's soon-to-be-launched products
• The structure of the building reflects that of a filter. Insightful ingredients are gathered from the roof garden and distilled as they make their way down to the lower levels. The result is meaningful and carefully distilled design solutions
• An events programme to engage the public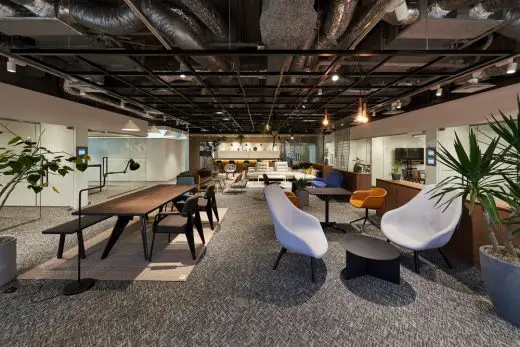 Takehiro Ikeda, Creative Director of Panasonic Design & Director of Panasonic FLUX, commented: "We decided to implement greater fluidity within Panasonic Design, and our incredible new studio is the medium through which we can achieve this. We have major plans to boost creativity and innovation by consolidating the four main divisions of the company under one roof in Kyoto, Japan's cultural capital. Kyoto was chosen as the city is imbued with authentic Japanese values, presence and aesthetics, and we hope that our designers can draw from these cues as inspiration. We felt this was essential for Panasonic to continue to grow a distinctive, creative philosophy with a strong identity at a time when the world is becoming ever more diversified."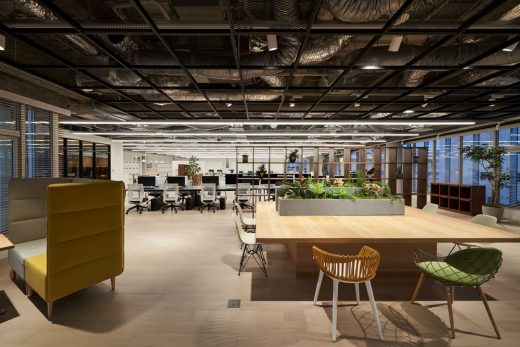 Panasonic FLUX
As part of its centenary, the brand is also launching FLUX, a new team in London to lead creative strategy and storytelling, gathering insights from the European design scene and revolutionising Panasonic's design process.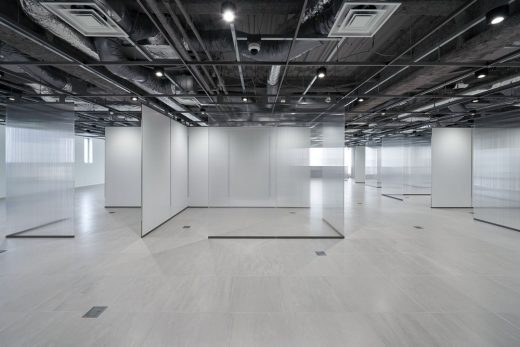 This new division is based in London (Angel) and will fuel the design development in Kyoto and Tokyo and help ensure that Panasonic continues to create new products and services that are relevant for today's changing market. In addition to his work on the new Kyoto HQ, Takehiro Ikeda, who previously worked for Seymourpowell as a design strategist for 11 years, will lead this team. The first, original, new products to come out of FLUX and Panasonic Design will be launched in 2020.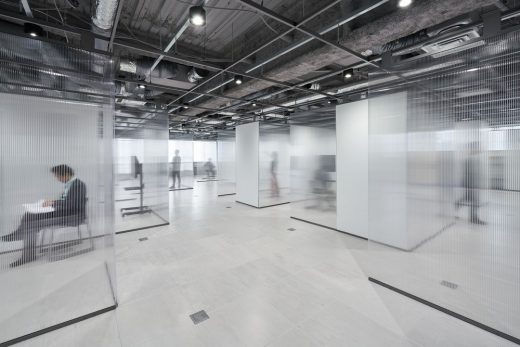 Takehiro Ikeda continued, "FLUX is a representation and embodiment of the transition towards the diversification of Panasonic Design. Previously, one designer would work on a single project for a lengthy period of time, but FLUX can now integrate processes, systems and expertise across the Panasonic Design business to facilitate and expedite the development of its product pipeline. FLUX will also gather and deliver insights from a number of different regions and markets to create a broader and more robust business plan, combatting the increasing market saturation and becoming a hub of expertise for Panasonic Design".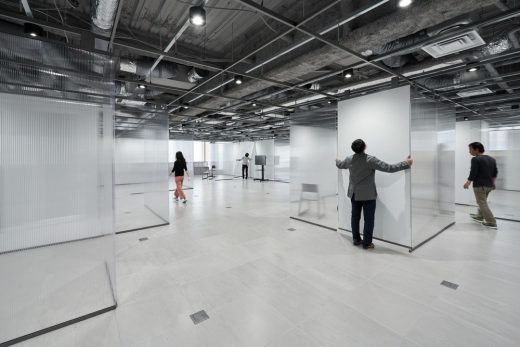 Location: 4-9F Kyoto Shijo Shinmachi Building, 444 Komusubidanacho, Shinmachi-dori Nishikikoji Sagaru, Nakagyo-ku, Kyoto
Floor space: Approx. 3000 m2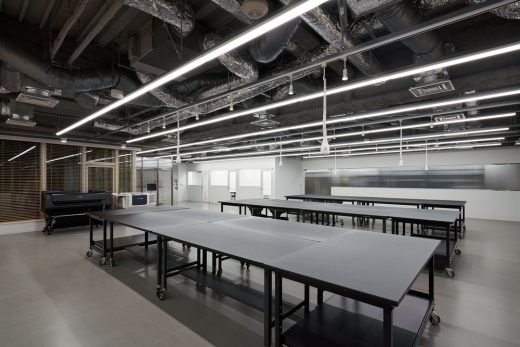 Related info:
Panasonic Design at Milan Design Week 2018
In April, Panasonic marked its centenary with an immersive installation at Milan Design Week celebrating not only its rich history, but the transitions it plans to undergo over the next 100 years. The installation was developed in collaboration with the renowned Pinacoteca Di Brera and featured Panasonic's innovative air purification technology, winning the Fuorisalone Best Technology Award at this year's festival. The theme of 'Transitions' was further highlighted through an In Conversation' series, which featured key opinion leaders from the likes of Vitra, Airbnb and the Pinacoteca di Brera.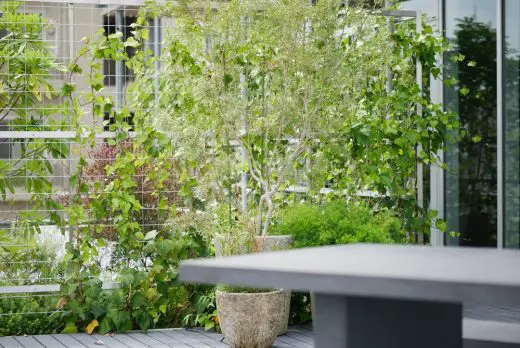 Images: Panasonic Design
Panasonic Headquarters Kyoto Building images / information from Jun Igarashi Architects Inc.
Location: 4-9F Kyoto Shijo Shinmachi Building, 444 Komusubidanacho, Shinmachi-dori, Kyoto, Japan
Kyoto Buildings
Contemporary Architecture in Kyoto
House in Muko
Design: Fujiwara Architects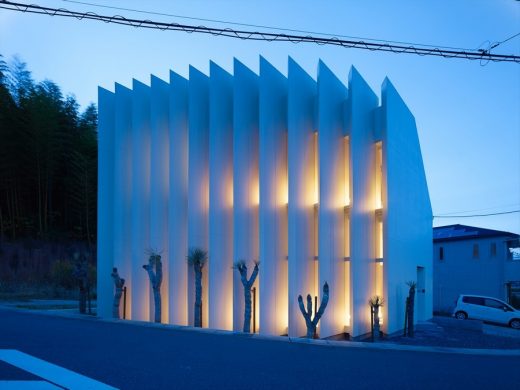 photo : Yano Toshiyuki
New Kyoto Residence
New Japanese Architecture
Contemporary Japanese Architecture
Japanese Architecture Design – chronological list
Japanese Office Architecture
Kakogawa City Office, Hyogo Prefecture
Design: Akira Sakamoto
Kakogawa City building
Kure City Ondo Civic Center, Kure City, Hiroshima Prefecture
Design: Kengo Kuma & Associates
Japanese Civic Center
Mitsumura Office, Kobe-city
Design: Tadashi Suga Architect
Mitsumura Office
Japanese Architecture – key projects
Comments / photos for Panasonic Headquarters Kyoto Building page welcome