The neglected strand of the Modern Movement, Ireland, Irish Building Interior, Images
The neglected strand of the Modern Movement
Irish Architecture on the World Stage by Peter Cully
19 May 2014
The neglected strand of the Modern Movement by Peter Cully
Author: Peter Cully
Irish architecture has made great strides in recent times, impressing both at home and abroad, where Irish architects have had some major successes. Beneath the headlines perhaps not all is as rosy as might be surmised. A worrying trend, not unique to Ireland, is the influence of the visual image, beguiling and enticing and instantly transmitted all over the world. This has given rise to imitation, without, it sometimes appears, regard to either content or the particularities of location (specifically climate).
Despite intensive training and, in many cases, years of practice, architects too often choose to mimic the formal qualities shown in these seductive images regardless of the fact that, for instance, Arizona and Achill have very different, but equally demanding environments. It is also sobering to reflect that, with very few exceptions, architectural awards are given out on the inspection of drawings and photographs without the building being physically experienced by the jury. This is surely not a coincidence, but rather a further weakness in how design decisions are arrived at.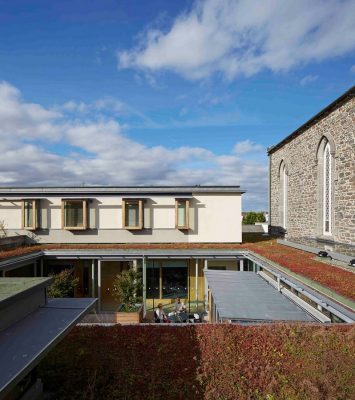 If architects were to choose to truly embrace the genius loci, of not just a site, but of a region, would that not be reflected in the design, to the greater enrichment of the architecture? When a wider lens is employed it might be seen that Irish architecture is over concerned with surface and image in recent times.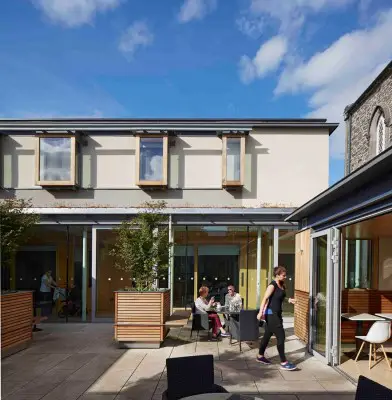 For example, and to illustrate the point, the climactic demands of the Pacific Northwest of America have given rise to an architecture of the ' big sheltering roof ' (as, for example, projects by the Miller Hull partnership of Seattle). This expression celebrates the local, the particular, and not the international or global. This seems a valid outcome resulting from the application of intelligent (detail) design.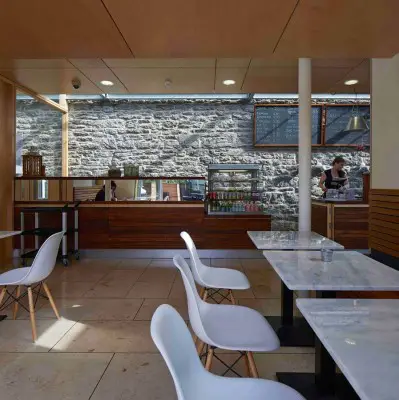 The architecture of Sean Harrington Architects (SHA) embraces these realities of place and climate and uses them as a springboard for visually rich design, with more and more layers of composition revealed, the closer inspection is made. One of their latest projects, the Malahide Parish Centre at the church of St. Sylvester, exemplifies this approach.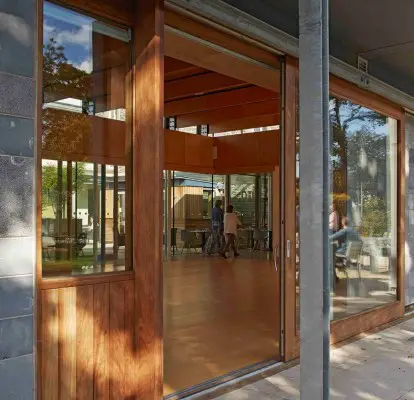 The existing church, of cut limestone calp limestone infill, was repaired sensitively with SHA using the closest match of stone, Irish blue limestone, with selected textures and patterns providing visual variety. This approach was inspired by the stone infill used by Carlo Scarpa at Castleveccio. A subtly greater amount of smooth limestone was used in locations closest to the church and the front door, to emphasise the hierarchy of the wall.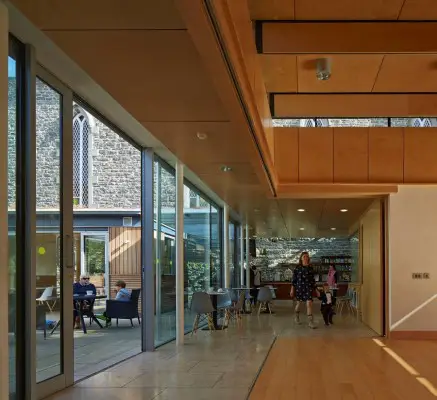 The new accommodation to the west is arranged in a coherent fashion with the parish office, multi-purpose room, offices, meeting rooms (for rent) arranged around a generous courtyard. Immediately on entry, and facing the visitor is the coffee shop, designed as an attractive space for informal meetings, and a respite from the high street.
On the other, east, side of the renovated church is a mortuary and prayer chapel, the latter expressed in circular form, clad externally in stone and internally in birch faced plywood. This latter facility provides a calm, centred, space for contemplation. Small windows rotate about the centre point, some incorporating stained glass. A fixed bench provides seating around the edge. It is a beautifully executed structure that sits happily with the existing church.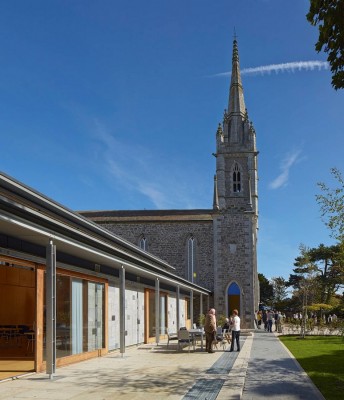 In the basement area a kitchen, resource centre, parish hall and toilets are provided, while at first floor to the north of the courtyard a generous two bedroom apartment is provided.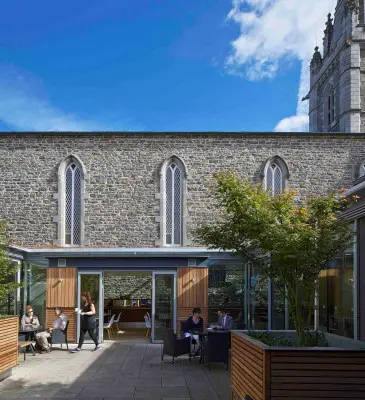 A steel structure allows cantilevered roofs to float over the enclosing rendered walls and glazed screens, both suggesting and providing shelter, while ensuring that weathering is controlled. These new roofs engage lightly with the walls of the church, a glazed slot allowing a strong visual connection.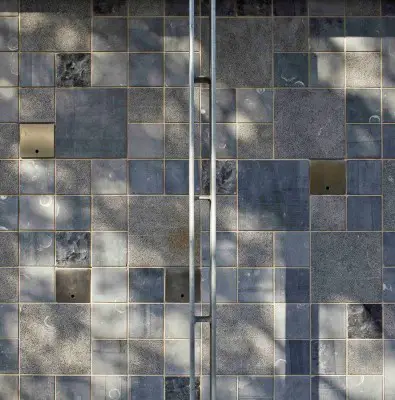 Flitch beams are employed to span the multi-purpose ('reception ') room and the elegant twin plated columns are expressed externally to the front elevation (internally, slender circular steel columns are employed). This elevation, arranged to both east and west of the church, consists of calp stone contained within a steel frame, providing a visual connection with the host building. This stone screen incorporates opening panels, allowing for a changing advent calendar to be installed by local artists. Throughout the roofs are planted with sedum.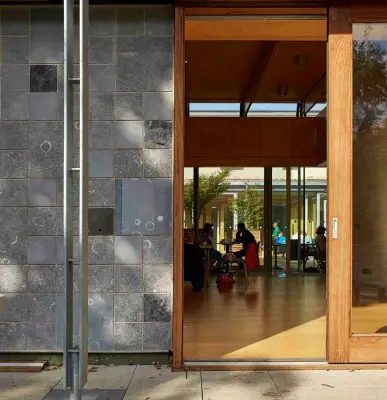 This building, and the underlying philosophy behind it, is influenced by particular architectural antecedents such as the general body of the Arts & Crafts Movement, Frank Lloyd Wright and Rudolph Schindler in America, and more recently Aldo van Eyck and Ted Cullinan. Aalto's understanding of, and respect for, durable materials appropriate for use is also present. There is as much of the artisan as of the artist in this project and that is intended as the highest praise.
Maybe it is time for a rethink. A time to reflect that there is more to the rich strand of Modernism than an unquestioning reverence for Le Corbusier and for the enticement of minimalism (an aesthetic practiced successfully by very few architects). Today, Sean Harrington Architects, and in Scotland, Richard Murphy Architects, are just two practices in these islands that continue to champion and uphold this lineage. It is to be hoped that they are not swimming against the tide, and that their work will spread outwards to influence a new, younger, generation.
Peter Cully is an architect in private practice. He has worked in Dublin, London. Toronto and Buenos Aires.
The neglected strand of the Modern Movement images / information from Peter Cully
Location: Ireland
Irish Architecture Designs
Contemporary Architecture in Ireland
Irish Architectural Designs – chronological list
Nenagh Leisure Centre and Town Park, County Tipperary, west Ireland
Design: ABK Architects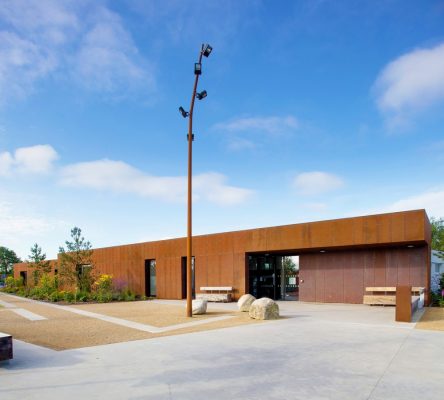 Photographer: Paul Tierney
Nenagh Leisure Centre and Town Park in Tipperary
Giants Causeway Building
Design: Heneghan Peng Architects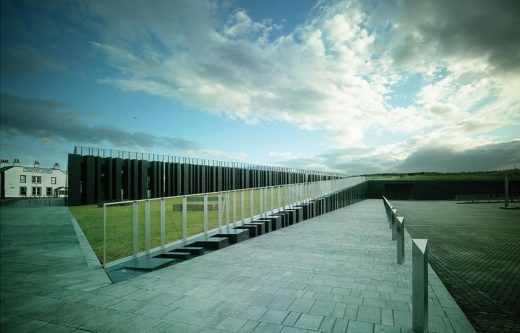 photograph : Marie Louise Halpenny
Giants Causeway Building
National University of Ireland
Comments / photos for the The neglected strand of the Modern Movement page welcome