Iraqi Developments, Building, Project, News, Design, Property, Architects
Iraqi Property Information : Buildings
Architectural Development – Central Asia Built Environment Links
Iraq Developments
Iraq Architecture Designs – chronological list
Contemporary Architecture in Iraq, alphabetical:
We aim to add more buildings in this Central Asian country soon – submissions are welcome.
Location: Iraq, Middle East, south western Asia
Middle East Architecture Designs
Contemporary Architecture in the Middle East
Rebuilding Iraq's Liberated Areas: Mosul's Housing design by Vincent Callebaut Architectures, based in Paris, France: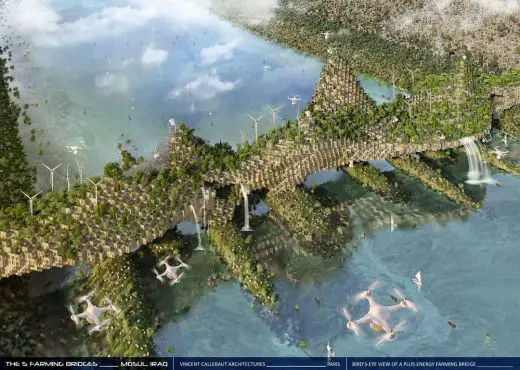 image courtesy of architects office
Long reconstruction work is awaited by the Iraqi government and the inhabitants. Whole neighborhoods have been razed: hospitals, mosques, sports complexes, and thousands of houses. In total, between 50 and 75% of the city were wiped off the map leaving only millions of tons of rubble looking for a new life through recycling.
This index page is for architectural projects in this Central Asia country on the e-architect website
Officially titled the Republic of Iraq this is a country in Weastern Asia encompassing the Mesopotamian alluvial plain, the northwestern end of the Zagros mountain range, and the eastern part of the Syrian Desert.
Iraq borders Turkey to the north, Iran to the east, Kuwait to the southeast, Saudi Arabia to the south, Jordan to the southwest, and Syria to the west. The country has a narrow section of coastline measuring 58 km (36 mi) on the northern Persian Gulf.
The capital city, Baghdad is in the center-east of the country. Two major rivers, the Tigris and Euphrates, run through the center of Iraq, flowing from northwest to southeast. These provide Iraq with agriculturally capable land and contrast with the steppe and desert landscape that covers most of Weastern Asia.
The country's modern borders were mostly demarcated in 1920 by the League of Nations when the Ottoman Empire was divided by the Treaty of Sèvres. Iraq was placed under the authority of the United Kingdom as the British Mandate of Mesopotamia.
A monarchy was established in 1921 and the Kingdom of Iraq gained independence from Britain in 1932. In 1958, the monarchy was overthrown and the Republic of Iraq was created. Iraq was controlled by the Ba'ath Party from 1968 until 2003.
After an invasion led by the United States of America including multinational forces, the Ba'ath Party was removed from power and multi-party parliamentary elections were held. The American presence in this country ended in 2011.
Source: wikipedia
The Kurdistan Museum building in Erbil designed by world-famous architecture practice Studio Libeskind, the First Major Institution to Present the Kurds' National Heritage to the World: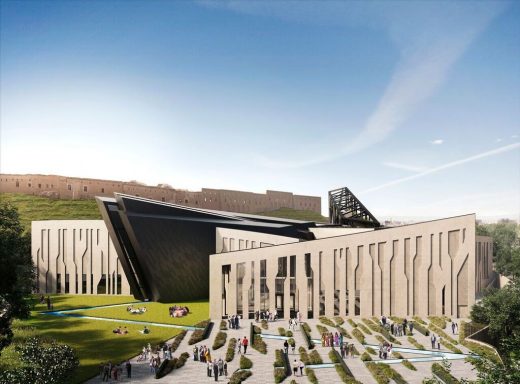 image : Hayes Davidson
This architectural proposal was launched at the Bloomberg Businessweek Design conference in San Francisco, Northern California, USA.
Comments / photos for the Iraqi Architecture Information page welcome