Gotong Royong City, Indonesia, Winners, Building Project, News, Design, Property
Gotong Royong City Indonesia
IABR idea competition: Key New Architecture Development in Indonesia, Asia
Gotong Royong City
International Architecture Biennale Rotterdam idea competition
Envisioning the Future of Jakarta, Indonesia
INTERNATIONAL ARCHITECTURAL AND URBAN DESIGN COMPETITION
Winners – 15 Jul 2009
1st prize : Jakarta Bersih
2nd prize : Let's Catch the Water! Jakarta Sponge City
3rd prize : Field Estate: A Platform for Symbiotic Urbanism
Special Mentions :
Ojek City: Permeable Mobility
Stitching the Strip
Eco Gate as Border Device
Gotong Royong City Competition
Introduction
The International Architecture Biennale Rotterdam (IABR) 2009 in collaboration with Ikatan Arsitek Indonesia (Indonesian Institute of Architects Jakarta Chapter) is pleased to announce an idea competition on the theme of 'gotong royong city' in the context of the extended metropolitan region of Jakarta.
Three winning entries will be selected by an international jury for exhibition in the IABR 2009 and awarded prizes totaling 7,000 Euros.
Context: The IABR 2009 The IABR is now well-established as one of the world's premiere sites for critical, creative and progressive thinking on architecture and urbanism. The IABR aims to 'explore to what extent architects, with their knowledge, skills, and imaginative powers, can contribute to solving urgent problems in contemporary society. It therefore challenges the design disciplines, using the specific expertise of architecture, to conduct "research by design" and to develop concrete proposals, based on the Biennale's theme'.
Theme: Reciprocity/ Gotong Royong City This 4th Biennale takes the theme of 'Open City: Designing Coexistence'. The idea of the Open City is understood as 'an urban condition that enables diverse cultures and lifestyles to coexist'. It 'balances integrating and segregating forces to encourage distinct communities and groups to settle, interact, and establish the dynamic relationships that we call urbanity'. A number of sub-themes will examine this Open City hypothesis in greater detail, and one of these has been identified as 'Gotong Royong'.
'Gotong Royong' is usually translated into English as 'reciprocity' or 'mutual assistance'. In Indonesia the term is applied across political, social, economic and cultural spheres. The aim of this competition is to focus the possibilities of this rich term onto urban and architectural matters. We seek to investigate the capacities of this term to serve as a relevant principle of urban life generally, to revive its fortunes as an indigenous principle for thinking and action in the extended metropolitan region of Jakarta.
Through this competition we would like to encourage architects and urban designers to research, dream, and speculate about Jakarta and its future. If we can liberate ourselves from petty politics and bureaucratic planning, what would a Gotong Royong Jakarta be like? What architectural and urban configurations might emerge from such a vision? Agricultural cities? Landscape urbanisms? Zones of hyper-density? Cultures of Congestion? Bioclimatic highrise forms?
Can western urban models inspire at all: from Haussman's Paris, Archizoom's No-Stop City, Rogers' Compact Cities, to MVRDV's 3d city? What other models might emerge from Jakarta itself? Kampong highrise? Desa-kota hybrids? Kinetic urbanism of warungs and PKLs? There are endless possibilities; it is up to you to propose creative, provocative, relevant, and well-researched architectural and urban design ideas for Jakarta. How might the different agencies in the city work hand-in-hand to achieve mutual benefits. Show in your design how the old spirit of 'Gotong Royong' might be revived and reinvented as a tool to reform urban life!
Eligibility The competition is open to all professionals and students in architecture, urban design and related disciplines. Entrants are encouraged to form inter-disciplinary teams including sociologists, artists, planners, anthropologists, engineers, economists etc. Participants are expected to have basic knowledge about Jakarta. We welcome existing or ongoing research/ design projects to be submitted to this competition, provided they are adjusted to the theme and format of the competition.
Location: Jakarta, Indonesia, Southeast Asia
New Indonesian Architecture Designs
Contemporary Architecture in Indonesia
Indonesia Architecture Design : links
Indonesia Buildings – Selection:
The Stone Ubud Homes and Hotel, Ubud, Bali
Design: Atelier Urbanus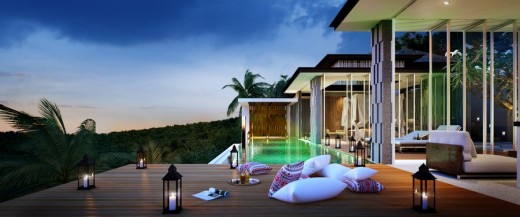 image from architects
The Stone Ubud Homes and Hotel
Menara Karya, Jakarta
Design: Arquitectonica
Jakarta Tower
Alila Villas Uluwatu, Bali
Architects: WOHA Designs Pte Ltd
Bali building
British Embassy building, Jakarta
Design: HOK
British Embassy Jakarta
Gotong Royong City Competition Calendar
•27 Feb – Competition Launch and Registration (website)
•27 Feb – 14 Mar Question and Answer (website)
•14 Mar – Registration Closes (website)
•14 Mar – 6 Apr (24.00 NL time, GMT +1) Submission Dates (website)
•13 Apr – Results Announced (website)
•7 May – Prize Ceremony and Workshop (Jakarta)
•24 Sep – 10 Jan 2010 International Architecture Biennale Rotterdam (NAi, Rotterdam)
Prizes A total amount 7,000 eur will be distributed as follows:
•1 Winner 1,500 eur prize + 1,500 eur*
•1 Runner-up 750 eur prize + 1,500 eur
•1 Honorable mention 250 eur prize + 1,500 eur
*An additional funding of maximum 1,500 eur will be awarded to each winning team to develop the project further to integrate with the thematic aims of the IABR 2009. This development will be anchored by a workshop to be held in Jakarta where a number of the competition jury will work with competition winners.
Gotong Royong City Competition Jury
Stephen Cairns (Edinburgh University, subcurator IABR 2009)
Kees Christiaanse (KCAP Rotterdam, curator IABR 2009)
Winy Maas (MVRDV, the why factory)
Vedran Mimica (Berlage Institute Rotterdam)
Andrea Peresthu (TU Delft)
Daliana Suryawinata (SHAU Rotterdam, the why factory, subcurator IABR 2009)
Comments / photos for the Gotong Royong City Indonesia Architecture page welcome
Website: Indonesia