Living Steel Restello, Indian Apartments, New Property India, Project, Architect, Design
Living Steel Restello : Indian Apartment Building
Contemporary Indian Apartment Building – design by architects PiercyConner, London
7 Apr 2010
Living Steel Restello goes to market
Design: PiercyConner, UK
Restello the radical steel apartment project designed by UK architects PiercyConner and winner of the Living Steel International Architecture Competition in 2006, is ready to go to market in Kolkata, India.
The Living Steel Restello design by PiercyConner won not only because of its bold, elegant design, but also because of the strong concept of cross-ventilation andsolar-shading that use steels properties to make an environmentally sound, high-performance building. Built with renowned developer Bengal Shrachi, Restello will be India's most modern steel residential project, and it looks set to sell exceptionally well.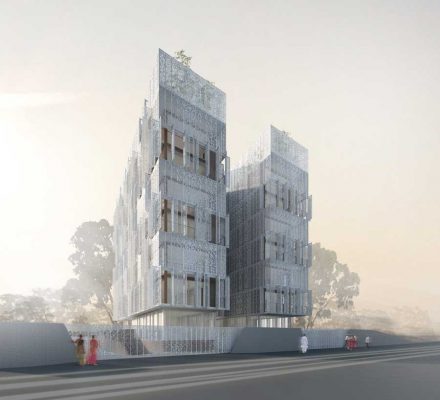 The apartments bring a new standard in residential construction to this fast-developingarea of Rajarhat, New Town, Kolkata. Aimed at the flourishing high-income group(HIG), the twelve luxurious boutique apartments combine the best in architecturalthinking and practice. Restello combines elements of traditional Eastern architecturewith innovative sustainable practices to create a truly modern living experience. Thesteel structure allows for a balance of flowing open living spaces and private rooms,while its perforated steel façade filters sunlight and provides natural ventilation.
The skin of the building comprises one permeable outer layer of perforated steelscreens, and a second inner skin of floor to ceiling glazing. Between the two layerslies the enviable, unique feature of double storey terraces at the front of theapartments, providing a harmonious flow between the outside world and the internalhome. Taking the design cue from traditional permeable architecture of Kolkata, theouter screens act to shade sun and rain, while maximising natural light andmaintaining external views. The effect in the six three-bedroom and six four-bedroomduplex apartments is of dappled patterns of light and shade that create an airy effect,belying the strength of the steel.
Working closely with a team of world-class experts, the Restello project will embodythe highest standards in steel design and construction. Internationally renownedengineers Price & Myers bring an exceptional level of consulting to the Restelloproject, ensuring Piercy Conners design. The steel structure is of a high grade andmanufactured to international standards with Tata Bluescope Steel and Tata Steel. Galvanised and painted steels are used for corrosion protection and to ensure a longlife for the apartments.



The use of steel in Restellos construction also fits well with the demands of the localclimate. Dampness is a major hazard for people living in Kolkata due to the high levelsof moisture content in the atmosphere. This means houses can look ugly, shabby andill-maintained prematurely. Steels resistance to dampness and soiling is advantageous as it does not shrink or swell from time or humidity, which contributes toan improved dry wall and exterior appearance, as well as improving the quality of thefit of doors and windows. In this way, by providing an aesthetically perfect exterior andinterior, the steel homes at Restello save time, energy and money when it comes to maintenance
Scott Chubbs, Living Steel Programme Director said: "Demand for new housing at thisluxury level in India is high, and New Town is growing very quickly. We are excited tosee our competition-winning design help meet this need in such an innovative andbeautiful way. Steel is a very versatile material for residential construction industry andthe Restello project is a prime example of a quality home for the higher incomegroups in India. We have an outstanding team working on this project and it is throughthis collaboration with developer Bengal Shrachi, architects Piercy Conner, TataBlueScope Steel and Tata Steel that we are able to bring this beautiful, groundbreakingbuilding to life."
Stuart Piercy, Director of Piercy Conner Architects commented on the importance ofcultural acknowledgement throughout the design process: "India is on the verge of abuilding explosion but we wanted to avoid the anonymity of Dubai-style development.Instead we wanted to offer a culturally sympathetic yet environmentally intelligentbuilding which retained an Indian identity and created a role-model for sustainableliving."
Restello is already selling off-plan, and marketing of the project locally is nowunderway. Full updates on progress will be available on www.livingsteel.org whereyou can also register interest in sales.
Living Steel Restello Indian Apartments images / information received 070410
PiercyConner – Living Steel Restello architects
Location: Kolkata, India
Kolkata Buildings
New Kolkata Architecture
Greenwood Sonata, Rajarhat
Architects: Maniramka & Associates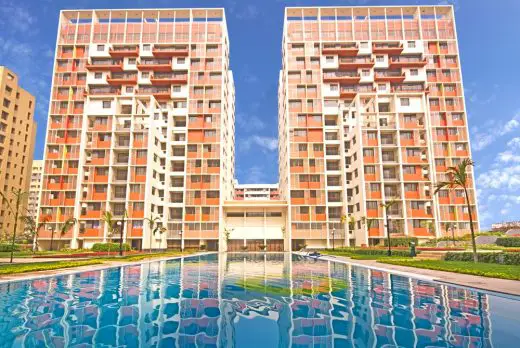 photograph : Mr. Biswanath Dasgupta
Greenwood Sonata Towers in Rajarhat, Kolkata
The Orient Restaurants reflecting Feng Shui & Taoism
Architects: Salient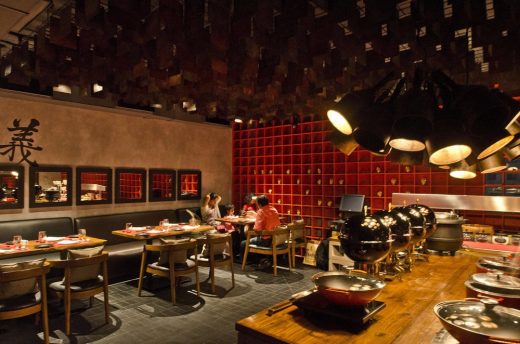 image courtesy of architects
The Orient – Chain of Restaurants in Kolkata
Deya Atmosphere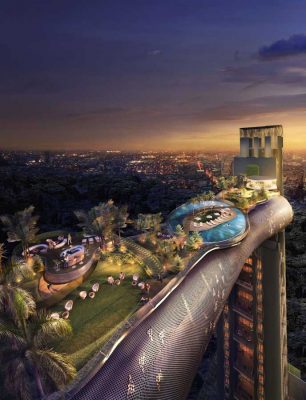 picture from Web Structures
Deya Atmosphere Kolkata
Swabhumi Hotel & Cultural Complex
Design: Morphogenesis



image from architecture practice
Swabhumi Hotel Cultural
Living Steel Restello Kolkata
New Town, Kolkata
New Town represents a new age of urbanisation in Kolkata. Spread across 3075 hectares and housing over 7.5 lakhs people, the area is supported by many facilities such as schools, healthcare centres, commercial facilities and is only 10km from the International airport.
With the abundance of lush green parks and gardens in the area, it is no wonder New Town is fast becoming one of the most sought after addresses in the city.
Bengal Shrachi
The Shrachi group is engaged in diverse businesses ranging from real estate and agro-machinery to engineering, finance, IT, medical services and others. Over the last decade, Shrachi Group has delivered quality real estate solutions. In fact, some of Kolkatas landmark residential, commercial and retail projects have been created by Shrachi Developers Private Limited, Shrachi Realty Private Limited and Bengal Shrachi Housing Development Limited. Additional ventures include Healthcare, Information Technology, Financial Services, Engineering and Agriculture.
Piercy Conner Architects
Celebrated as one of the most promising architectural studios in the UKs 40 Architects Under 40, Piercy Conner has established a reputation for creating innovative and bespoke architecture, each project tailored to the unique conditions of the site. Eschewing traditional thinking or a selfproclaiming house style, Piercy Conner designs by assessing and responding to the individual context of each project. The result is a diverse portfolio of internationally recognised and award-winning work ranging from the ethereal to the earthy, visually distinct yet connected by an underlying commitment to authenticity.
PiercyConner architects for Living Steel Restello
Price & Myers
Price & Myers was established in 1978 in London as a firm of consulting structural engineers, with the aim of working with good imaginative architects, to make excellent buildings. In their first 32 years they have completed over 19,000 jobs, and won over 280 awards. They also have offices in Nottingham and Oxford, and currently employ about 130 people.
Architecture in India
Indian Architecture Designs – chronological list
New Delhi Architecture Walking Tours by e-architect
Indian Architect : architecture practice contact details
Indian Architecture – Selection
Comments / photos for the Living Steel Restello page welcome