Helsinki Art Museum Exhibition, Ola Kolehmainen Photos, Finland, News, Buildings
Helsinki Art Museum Architecture Exhibition
Ola Kolehmainen Photographic Series: HAM News + Programme, Finland, Europe
8 Dec 2017
Helsinki Art Museum Architecture Exhibition 2017
Ola Kolehmainen + Sauerbruch Hutton at HAM
Sauerbruch Hutton design exhibition for
Ola Kolehmainen – Sacred Spaces at HAM
HAM Helsinki Art Museum, 6.12.2017 – 4.3.2018
Ola Kolehmainen's New Photographic Series to Premiere at HAM
Ola Kolehmainen (b. 1964) had the idea for his Sacred Spaces suite when he was in Istanbul photographing mosques that had been designed by the Ottoman architect Mimar Sinan (ca. 1490–1588).
The series features sacred buildings of the three Abrahamic religions that are located throughout Europe.
Ola Kolehmainen: San Pietro, 2017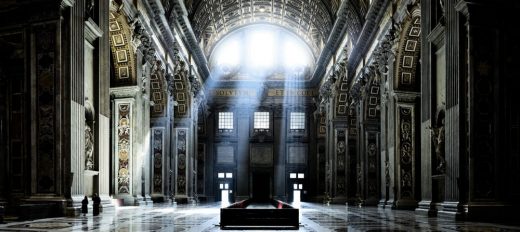 photograph © Ola Kolehmainen
The architectural similarities of these ancient synagogues, churches, and mosques remind us of the interwoven history of the religions they represent.
Sacred Spaces presents a visual speculation in space, time and light that comprises 28 works, 19 of which have never been on public display.
Indeed, this is the first time that historical buildings formthe object of Kolehmainen's gaze, as to date the artist's work has been consistently situated within the field of modern and contemporary architecture.
In this series the perspective – and so the architecture – of each sacred space under examination is dismantled and subsequently reassembled.
Ola Kolehmainen: Suleymaniye 1558 XI, 2014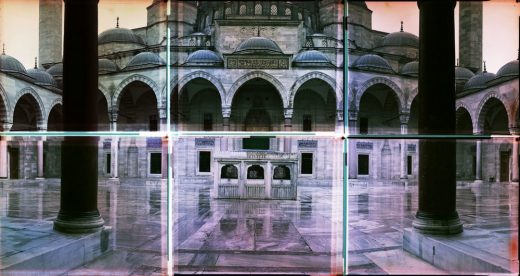 photograph © Ola Kolehmainen
The result is the emergence of a new type of space that, predominantly revealed through atmosphere and light, seems more three-dimensional than a standard -i.e. documentary – architectural photograph.
Although the buildings in the images are readily identifiable, a visitor standing inthem would be unable to perceive either the space orthe light in the same wayas Kolehmainen presents themhere.
Capturing these particular characteristics of the empty buildings on film was a slow process that took the artist almost four years, eachsite necessitating a carefully selected time of day at a specific time of the year.
The exhibition presents a complete art work in which the walls, and the sequence of spaces between them, play an intrinsic role. The design – with its polychromatic treatment of all surfaces and the placement of artworks on these – was created by Berlin-based architects Matthias Sauerbruch and Louisa Hutton.
Ola Kolehmainen: Hagia Sophia 537AD III, 2014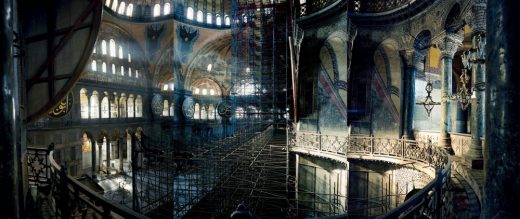 photograph © Ola Kolehmainen
The exhibition also features a spatial sound installation by composer Petros Paukkunen (b. 1990). Entitled Heavenscape – Architecture of Infinity, the piece is based on the touchability and physicality of sound.
It was inspired by church music from thesame periods as the historical monuments presentedin Kolehmainen's photographs. Heard in combination with the simultaneous vision and -actual or imagined-movement of a visitor, Paukkunen's compostion completes the offer of Sacred Spacesas a truly synaesthetic experience of art, architecture and sound.
The exhibition, curated by Claire Gouldfrom HAM, is accompanied by the release of the book Ola Kolehmainen – It's All One History, (Almost). Published by Hatje Cantz, it features essays by Mark Gisbourneand Claire Gould.
The exhibition is generously supported by Farrow & Ball and the Miettinen Collection, while the sound installation has received supportfrom Pro Av Saarikko Oy.Ola Kolehmainen –Sacred Spaces / HAM Helsinki Art Museum 6.12.2017–4.3.2018
Helsinki Art Museum HAMTennis Palace, Eteläinen Rautatiekatu 8, 2nd floorOpen: Tue–Sun 11–19, Mon closedTickets:€10/8, under-18s free.
www.hamhelsinki.fi
Ola Kolehmainen: San Miniato Al Monte 1207 I, 2017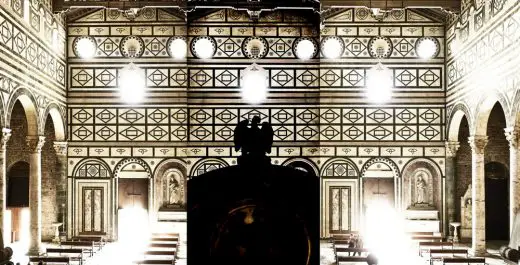 photo © Ola Kolehmainen
Exhibition Design for Ola Kolehmainen – Sacred Spaces, HAM Helsinki
The concept behind Sauerbruch Hutton's exhibition design isfirstly to give each artwork its own space, defined through colour, so that it can be appreciated alone within its particular chromatic context–whereby the placement of each photograph was agreed in discussion with both Ola Kolehmainen and the curator, Claire Gould.
Secondly, through physical, optical and temporal adjacencies a Farbraum has been created that is experienced both visuallyand kinetically-corporeally as one moves through the sequence of coloured spaces.
Thirdly, the simultaneity of a physical and optical sensation deliberately sharpens awareness of one's spatial-corporeal perception, and so confrontation with Kolehmainen's various works brings further ambiguities as the different depths within his two-dimensional images contrast with the optical compression of the three-dimensional setting of the exhibition.
Further richness is added by the reflective surfaces ofthe photographs that, depending upon one's point of view, introduce ever-changing dialogues with the surrounding space, as well as with other works of art.
The spatial sound installation by Petros Paukunnen, completes the synaesthetic offer of the exhibition.
Sauerbruch Hutton has previously collaborated with Ola Kolehmainen on a site specific installation for hisexhibition Geometric Lightat Haus am Waldsee, Berlin in 2014.
In the same year, they created a polychromatic space for theHow Soon is Now group exhibition at the Galerie Judin, Berlin.
Sauerbruch Huttonis an international agency for architecture, urbanism and design. Founded by Louisa Hutton and Matthias Sauerbruch in 1989, the practice has been recognized for its long-term engagement with sustainability. Its integrated design approach results inan architecture that combines ecological performance with intuition and sensuality.
Sauerbruch Hutton are unique among contemporary architects in their redefinition of colour as an essential material of architecture.
Their research into the theme of polychromy and spatial perception stems from the start of their career in 1988. Many of their ideas have been published in Colour in Architecture(Berlin, 2012).
Sauerbruch Hutton is currently workingon a number of projects throughout Europe, including the M9 Museum of the 20th Century in Venice, the Experimenta Science Centre in Heilbronn, as well as a Housing Project in Helsinki, all of which will be completed in 2018.Apart from such large scale building projects, Sauerbruch Hutton have often collaborated with artists, including Walter de Maria, Cy Twombly, Olaf Nicolai, Harun Farocki, Regina Schmeken, Paola Yacoub and Karin Sander.
Location: Museum of Finnish Architecture, Helsinki, Finland, northeast Europe
Finnish Architecture Exhibitions
The Museum of Finnish Architecture in the new exhibition in HAM
In Collaboration: MODERN LIFE!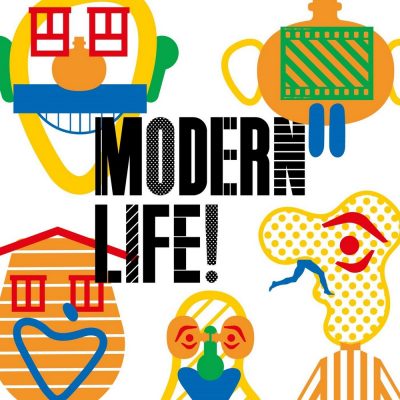 image courtesy of architects
Museum of Finnish Architecture Exhibition
Exhibition in HAM 3 Mar – 30 Jul 2017
The Museum of Finnish Architecture is part of Helsinki Art Museums HAM's exhibition 'Modern Life!', a collaboration between five museums.
Read more about the Modern Life! exhibition
Helsinki Architecture Designs – chronological list
Showroom Exhibition Architecture Plays with Infinity, Messuaukio 1
Design: Avanto Architects Ltd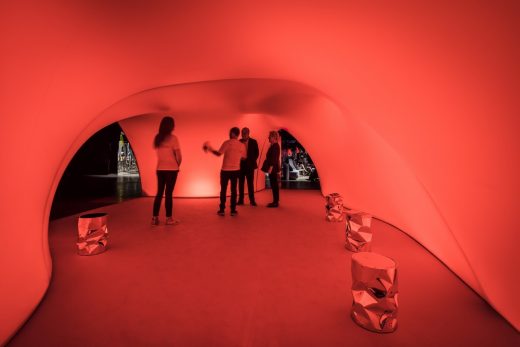 photo : kuvio.com
Showroom Exhibition at the Helsinki Fair Centre
Decades of Finnish Architecture Exhibition
Helsinki Architect – design firm listings
Finnish Architecture
Katajanokka Housing
Arkkitehdit NRT
Katajanokka Housing
Viikki Church, Helsinki
Design: JKMM architects
Viikki Church
Comments / photos for the Helsinki Art Museum Architecture Exhibition page welcome