Zaha Hadid Exhibition, Building, Project, Photo, News, Design, Property, Image
Exhibition by Zaha Hadid in Padua, Italy
Major retrospective on the works of Zaha Hadid Architects
16 Oct 2009
Zaha Hadid Retrospective Exhibition
Palazzo della Ragione, Padua, Italy
Barbara Cappochin Biennale, 4th Edition
27 Oct 2009 – 1 Mar 2010
LAUNCH OF TAVOLO DELL'ARCHITETTURA, PADUA
October 2009 – A major retrospective on the works of Zaha Hadid Architects will take place within the salone of Palazzo della Ragione, Padua, Italy in October. The exhibition will examine the practice's continued experimentation and research into digital design and construction methods at the cutting edge of the industry.


picture from architect
The salone of Palazzo della Ragione (constructed 1172-1219) is considered one of the most notable monuments in Padua. Its medieval roof remains amongst the largest in Europe unsupported by columns, whilst the frescoes that adorn the interior walls date from 1425. As with each of her projects, Hadid has organized this exhibition as a direct response to its environment within the salone, articulating the inherent contextual relationships of her work.
The historic qualities of the space presented an exacting design challenge for Hadid. The exhibition design respects these spatial and contextual characteristics whilst also intervening in the unique manner of Hadid's digital, liquid fluidity. Conceived as an interior urban landscape, the exhibition should be considered as a large scale installation; a pixilated field defined by algorithmic formulae that introduce complexity and generate an interior urban condition. Space has been organized as a single fluid landscape with connecting individual fragments and clusters.
The works in the exhibition are classified not by the usual categories of typology or chronology, but by the design theme and agenda that generated them. In this way, the widest variety of Hadid's projects, whether a piece of furniture or a vast infrastructure project, are arranged within the same zone, irrespective of their function or scale. These groupings include:
1. Lines/Bundles/Networks
2. Waves/Shells/Cocoons
3. Aggregations/Clusters/Jigsaws
4. Fields
5. Landscape & Topography
6. Zaha Hadid Architects. A sixth island cluster is dedicated to Zaha Hadid Architects as a practice, its organization and its research. Addressing the demand for an increased level of articulated complexity, the practice has evolved its experimentation by means of retooling its research methods on the basis of parametric design systems. Works exhibited here demonstrate the practice's continued development of this architectural paradigm.
Product designs include some of Hadid's most notable pieces and examine the diversity of her work including Mesa Table for Vitra, Genesy Lamp for Artemide, Aqua Table for Established & Sons, Melissa Shoes, sofas for Sawaya & Moroni and B&B Italia, and Louis Vuitton's Icone bag. Many of these pieces are now exhibited at museums and galleries worldwide and have become collectors' pieces alongside design classics from previous centuries.


picture from architect
WORKS INCLUDED WITHIN EACH 'CLUSTER' OF THE EXHIBITION:
LINES/ BUNDLES/ NETWORKS
Architectural Projects
" Maxxi, National Of Xxist Century Art, Rome, Italy
" BMW Central Building, Leipzig, Germany
" Citylife Tower & Masterplan, Milano, Italy
" Glasgow Riverside Museum, Glasgow, Scotland
" Cma Cgm Tower, Marseille, France
" Zaragoza Bridge Pavilion, Zaragoza, Spain
" Signature Towers, Dubai, Uae
Products
" Mesa Table For Vitra
" Genesy Lamp For Artemide
WAVES/ SHELLS/ COCOONS
Architectural Projects
" Salerno Maritime Terminal, Salerno, Italy
" Guangzhou Opera House, Guangzhou, China
" Nordpark Railway Stations, Innsbruck, Austria
" London Aquatics Centre, London, UK
" University Of Seville Library, Seville, Spain
" Museum Of Nuragic & Contemporary Art, Cagliari, Italy
" Mobile Art Chanel Contemporary Art Container
" Regium Waterfront, Reggio Calabria, Italy
" World Design Plaza & Park, Seoul, Korea
" Vilnius Museum, Vilnuis,
" Cairo Expo City, Cairo, Egypt
Products
" Aqua Table For Established & Sons
" Z_Car I & Ii For Kenny Schachter At Rove
" Zaha Hadid Shoes For Melissa
" Belu Bench For Kenny Schachter At Rove
" Scoop Sofa For Sawaya & Moroni
" Flow For Serralunga
FIELDS
Architectural Projects
" Hoenheim-Nord Terminus, Strasbourg, France
" One-North Masterplan, Singapore
" Nyc 2012 Olympic Village, New York, Usa
" Kartal Pendik Masterplan, Istanbul, Turkey
" E.On Energy Research Department-Rwth Aachen, Germany
" Bahrain International Circuit, Bahrian
" Zorrozaurre Masterplan, Bilbao, Spain
" Farrer Court, Singapore
" New Passenger Terminal And Masterplan, Zagreb Airport
" Stone Towers, Cairo
Products
" Icone Series Bag For Louis Vuitton
" Dune Formations For David Gill Galleries
AGGREGATIONS/ CLUSTERS/ JIG-SAWS
Architectural Projects
" The Peak, Hong Kong
" Zollhof 3 Media Park, Dusseldorf, Germany
" Spittelau Viaducts Housing, Vienna, Austria
" Lois And Richard Rosenthal Center Of Contemporary Art, Cincinnati, Usa
" Pierres Vives, Montpellier, France
" Spiralling Tower, Barcelona, Spain
" Eli & Edythe Broad Art Museum, East Lansing, Usa
" Citadel Capital Office Buildings, Cairo, Egypt
" Galaxy Soho, Beijing, China
Products
" Tea And Coffee Set, Sawaya & Moroni
" Crevasse Vases For Alessi
" Wmf Cutlery
" Silver Bowl For Sawaya & Moroni
" Moon Sofa For B&B Italia
" Crater For David Gill Galleries
" Z-Play
LANDSCAPE & TOPOGRAPHY
Architectural Projects
" Vitra Fire Station, Weil Am Rhien, Germany
" Landscape Formation One (Lf One), Weil Am Rhien, Germany
" Zaha Hadid Door Handles For Valli & Valli
" Bergisel Ski Jump, Inssbruck, Austria
" Phaeno Science Center, Wolfsburg, Germany
" Hotel Puerta America, Madrid, Spain
" High-Speed Train Station, Napoli Afragola, Italy
" Eusko Tren Headquarters And Urban Planning, Durango, Spain
" Jesolo Centre, Jesolo, Italy
" Opus Office Tower, Dubai, Uae
" Innovation Tower Hong Kong Polytechnic University, Hong Kong
" Sofia Karo Multifunctional Masterplan, Sofia, Bulgaria
Products
" Z-Scape For Sawaya & Moroni
" Niche For Alessi
PARAMETRICISM RESEARCH
" Abu Dhabi Performing Arts Centre, Abu Dhabi, Uae
" Global Cities Exhibition, Tate Modern
" Reinventing Towers
" Zaha Hadid Footwear For Lacoste
LAUNCH OF TAVOLO DELL'ARCHITETTURA, PADUA
To coincide with the exhibition, Zaha Hadid Architects have designed a 20 metre long wooden table with seating for Cavour Square in Padua.


picture from architect
In continuing the research on innovative materials and challenging building techniques a traditional construction material has been completely reinvented. The object is designed to challenge the usual perception of wood as a sheet or stick material, rediscovering the sculptural potential of the wooden mass. A large block of wood is carved out by dynamic forces to create an undulating structure, installed as a large scale piece of urban furniture which will attract and surprise the pedestrian flow around it. Seating areas as well as displays are provided within the sculpture.
The top undulating surface is panelised to generate a series of elements that can display architectural projects, as it will be used to showcase the winners of the 2009 Barbara Cappochin Biennale. The digital three-dimensional file of the design by Zaha Hadid Architects has been engineered and created by the main contractor, Ar.Te, which printed the table, sculpting out the large wooden structure. The piece is subdivided into modules, allowing it to be transported to several locations worldwide after the 2009 Biennale.
Data:
Tavolo dell'Architettura, Padua 2009
Material: Poplar Wood, 20x2x2 meters, 7.5 tonnes
Client: Barbara Cappochin Foundation
Design: Zaha Hadid Architects
Main Contractor: Ar.Te
Location: Padua, Italy, southern Europe
Architectural Design Exhibitions
Architecture Design Exhibitions – architectural selection below:
Zaha Hadid Exhibitions Designs – Selection
Sonnabend Gallery Exhibition, New York
Milan Furniture Fair : Zaha Hadid design
ZAHA HADID RETROSPECTIVE EXHIBITION
Palazzo della Ragione, Padua, Italy
Barbara Cappochin Biennale, 4th Edition
27 Oct 2009 – 01 March 2010
Exhibitions – chronological list
Key Italian Projects by Zaha Hadid Architects:
Italy Architectural Designs
Italian Architecture Designs – architectural selection below:
Italian Architecture Designs – chronological list
Contemporary Italian buildings on e-architect – selection below:
New hospital Michele and Pietro Ferrero, Verduno, Cuneo, north west Italy
Architects: Aymeric Zublena of Scau Architecture with Ugo and Paolo Dellapiana of Archicura and Ugo Camerino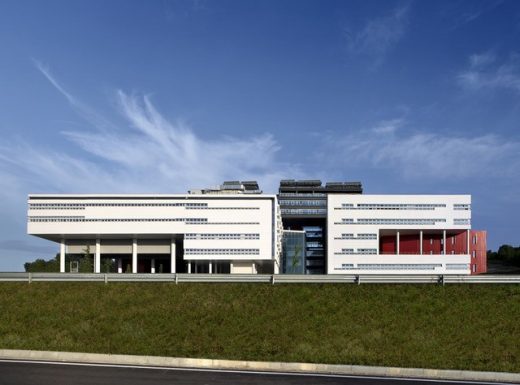 photo : Barbara Corsico
Hospital Michele & Pietro Ferrero, Verduno
New Pecci Centre for Contemporary Art
Design: NIO architecten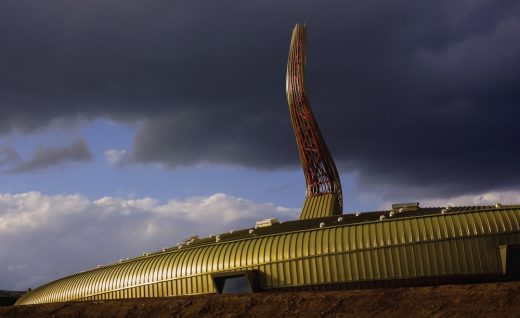 photo : Lineashow
New Pecci Centre for Contemporary Art in Prato
Comments / photos for the Zaha Hadid Architecture Exhibition Padua page welcome