LAVA Exhibition Munich, German Architecture Show, Vision to reality, Sydney Design Studio, News, Image
Vision to reality Exhibition
Architektur Galerie in Munich Architecture Show by Chris Bosse of LAVA, Architects
18 Jan 2015
LAVA Exhibition in Munich
Vision to reality, Architektur Galerie in Munich, Germany
"It's a Long Way to the Top (If You Wanna Rock 'n' Roll)"*
20 Jan – 14 Feb 2015
Vision to reality exhibition: And it's a long way from vision to reality for young architects too. The award-winning practice, LAVA, explore that journey, from patterns to details, from vision to reality, in a new exhibition 'VISIONAREALITY' at the Architektur Galerie in Munich from 20 January 2015 – 14 February 2015.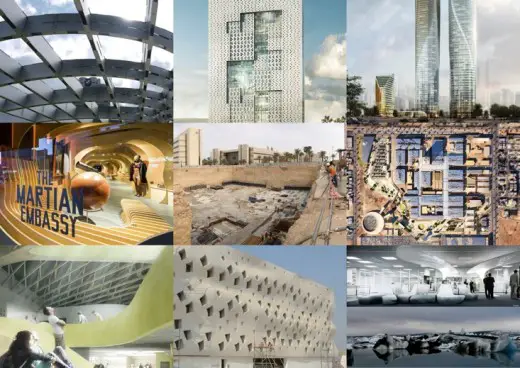 image : LAVA
A desert campus with conditioned outside spaces. A Martian writing centre for kids. A solar powered electric car recharging station. And an iconic office building achieved through a smart façade. The buildings featured in the exhibition are in varied states of construction, and range from innovative small-scale projects in Australia and Germany, facade prototypes for high-rises in China, to a new generation of hostels in Germany.
Greenland interior: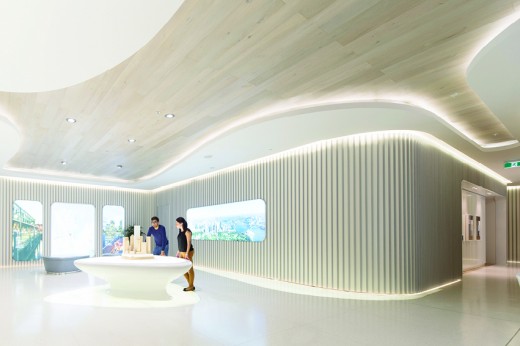 The exhibition gives visitors an opportunity to experience LAVA's vision for the world of the future, a vision where three elements, man, nature and technology, merge. LAVA is a young, digitally educated generation of architects based in Germany and Australia.
KACST labs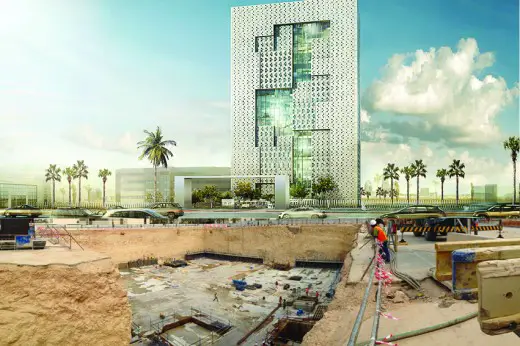 The main exhibition room is wallpapered with inverted white patterns that emanate from these projects that are built or under construction. Technical drawings and diagrams of these current buildings illustrate LAVA's parametric design process – from pattern to details. Besides insights into individual projects, the display showcases the effects of LAVA's parametric design process, developed to implement its visionary ideas. A sound installation featuring the sounds at offices and construction sites reflects the spatial arrangements.
Bayreuth Youth Hostel: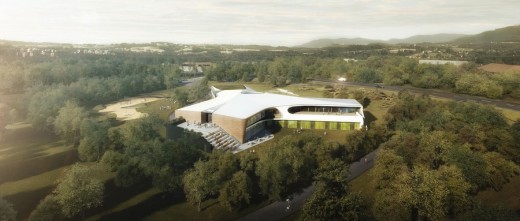 Five youth hostel concepts are showcased in the second exhibition room. The German Youth Hostel Association (Bavaria) and LAVA have been working on a new approach to the typology of the youth hostel to meet the needs of the savvy young traveller. Following LAVA's renovation of the 1930s Berchtesgaden Youth Hostel in 2011, an innovative generation of new hostels, aiming for a contemporary, functional and aesthetically sophisticated reinterpretation of the traditional hostel, is now under way. LAVA's Bayreuth Hostel is the first new prototype under construction and will be opened late in 2016.
In the third room, LAVA invites visitors to actively participate and explore two projects in virtual reality: the central headquarters of the King Abdullah City of Science and Technology and the Bayreuth Youth Sports Hostel. Visitors immerse themselves in LAVA's virtual reality, prefiguring the actual implementation of these projects. The building information modeling (BIM) can be experienced in a dynamic way illustrating the workflow and spatial qualities of the projects.
Green Climate Fund Headquarters, Bonn, Germany: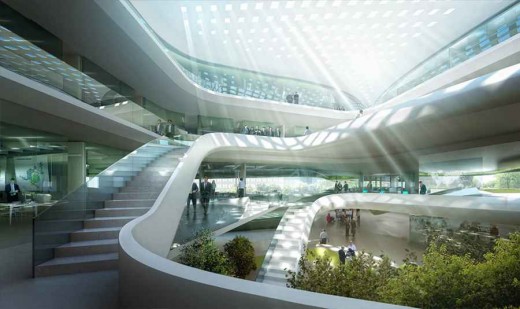 LAVA's world wide projects featured in the exhibition include:
– SIPCHEM Laboratory, Saudi Arabia, 2015 A multi-functional smart facade using an economical product to achieve a low-energy iconic building that showcases the company's technology and vision.
– King Abdullah City of Science and Technology Headquarters, Saudia Arabia, 2016. A new 20-storey headquarters for a research campus, a world first with its partially conditioned outside spaces allowing scientists to pass from building to building in summer temperatures of 52C.
– King Abdullah City of Science and Technology Laboratory, Saudi Arabia, 2017 – 2018. A series of research institutes are each arranged around a courtyard. The varied facades create a special identity for each cluster. And a passive design strategy addresses environmental performance – heat, shade, light, dust and energy.
– Eight Point One, Germany, 2011. A modular solar powered charging station for electric cars based on a dihedral arched framework and constructed in recyclable aluminium.
– Architonic Lounge, Germany, 2008. A reusable lounge, inspired by the arctic glacier, virtually designed, constructed with CNC-technique.
– Bayreuth Youth Hostel, Germany, 2016. A new 180-bed youth hostel, its 'Y' shape generating connective spaces. With innovative spatial configurations, sustainability at environmental, and structural and social levels, and integrated sporting facilities.
– Parametric Façade Systems, global, ongoing. LAVA developed a parametric facade structure of pyramidal elements for the
Corniche in Abu Dhabi in 2007, Schüco in 2012 and upcoming projects in China, including the Zheijang Gate Towers in Hangzhou.
– Philips Light Application Centre, The Netherlands, 2014. Two pure lighting environments, a black corridor and a white lounge, create an experiential welcome for visitors to the new Philips headquarters. LAVA and the Fraunhofer Institute demonstrate their combined knowledge of light and its effect on materials.
– Martian Embassy, Australia, 2012. An immersive space of oscillating plywood ribs brought to life by red planet light and sound projections for a kids creative writing centre. Walls, ceiling and floor, space, ornament and structure, are one element.
– Greenland Display Suite, Australia, 2013. The display centre for a new mixed-use tower merges natural materials and fluid harmonious space with high tech fabrication technologies. The realisation of LAVA's ideas and vision is the way of the future – LAVA's VISIONAREALITY.
The exhibition officially opens on Tuesday 20th January at the Architektur Galerie Munich to coincide with the BAU Munich, a leading fair committed to the future of building. It marks the 30- year anniversary of the gallery, which started with an exhibition of Haus Rucker Co – great visionaries at that time!
*Australian hard rock band AC/DC.
VISIONAREALITY LAVA
Location: ARCHITEKTURGALERIE MUNICH
Türkenstraße 30, 80333 Münich, Germany
Media preview: 20 January 2015 at 7 pm
Opening: 20 January 2015 at 8 pm
Exhibition: 20 January 2015 – 14 February 2015
Opening hours: Mo-Fr 9.30am -7 pm, Sa 9.30am – 6 pm
Sponsors: Bavarian Youth Hostels; Binauric
LAVA
Chris Bosse, Tobias Wallisser and Alexander Rieck founded LAVA in 2007. This international network of leading architects uses the latest research and technology to build efficient, sustainable and beautiful structures. The award-winning practice combines digital workflow, nature's structural principles and the latest digital fabrication technologies to achieve MORE WITH LESS: more (architecture) with less (material/energy/time/cost). Geometries in nature are the basis of their building typologies generating both efficient and beautiful structures.
www.architekturgalerie-muenchen.de www.l-a-v-a.net
LAVA (Laboratory for Visionary Architecture)
Vision to reality Exhibition information from LAVA
Address: Architekturgalerie München, Türkenstraße 30 /Gartenhaus, 80333 München, Germany
Phone: +49 89 282807
Location: Architekturgalerie München, Türkenstraße 30 /Gartenhaus, 80333 München, Germany
LAVA Exhibition
Another LAVA architects Exhibition on e-architect:
re-LAVA ed : Geometries beyond the blob
31 Jul – 10 Oct 2010
Location: 500 Harris St, Sydney, Ultimo NSW 2007, Australia
Website : Architekturgalerie München
Website : Munich
LAVA – Selected Projects
Customs House origami tigers, Sydney, Australia
Customs House origami tigers
Customs House Sydney Installation : Green Void, Sydney, Australia
Customs House Sydney
Masdar Design Competition, UAE : LAVA win
Masdar Design Contest
UTS Tower Skin, Sydney, Australia
UTS Tower Skin – University of Technology Broadway Tower
Virtual reality – beyond plain visualisation
Comments / photos for the Vision to reality Exhibition page welcome
Website : LAVA