Living Form Exhibition, Chuck Hoberman, Building, Project, Photo, News
Living Form Exhibition, London : Chuck Hoberman
Living Form Show – The Building Centre Exhibition, United Kingdom
23 Feb 2011
Exhibition: Living Form – The Transformable Work of Chuck Hoberman
Venue: The Building Centre, London, England, UK
Living Form
Mathematics, dynamics, structures, rock and roll, engineering and architecture all come together in the exhibition Living Form: The Transformable Work of Chuck Hoberman at The Building Centre, London from 4 Mar – 30 Apr 2011. The exhibition demonstrates the transformation of Chuck Hoberman's output over twenty years from expandable toys, to stage sets for U2, to buildings that change their shape.
Hoberman's work fuses art, sculpture and engineering with creations that grow, transform and react.
'My design medium is change itself. I focus on the moment when simple movement becomes true metamorphosis. Elegance and economy remain the pre-eminent values of good design; for me, an elegant mechanism translates a simple push or pull into rich and complex behaviour.'
Chuck Hoberman
Hoberman's early work represents the foundation of his design philosophy, 'Transformable Design.' A period of pure mechanical expression, his work in the early 1990's focused on the underlying mathematics that form the basis of his most famous design expression, the Hoberman Sphere, among others. His thinking evolved through the 1990s, focusing on patterns, opportunities, and organising principles. In 2008, Hoberman co-founded the Adaptive Buildings Initiative (ABI) – a joint venture with international multidisciplinary engineering consultancy Buro Happold. ABI is dedicated to designing a new generation of buildings that optimise their configuration in real time by responding to environmental changes. "Climate change represents a clear imperative for innovation," remarks Hoberman. "Using today's technology, we can embed a building with physical intelligence. It is up to us as designers and engineers, to invent the means and form this intelligence will take. ABI represents a group of individuals poised to tackle this challenge."
The Living Form exhibition at The Building Centre will include a series of Hoberman's transforming prototypes, including the Expanding Helicoid (1998), Adaptive Shading Esplanade (2006), and custom, façade-scale demonstrations of ABI's Tessellate and Adaptive Fritting systems. Visitors can activate the prototypes as they navigate the exhibition, interacting directly with the sculptures, and in turn changing the gallery space they occupy. Also included, will be a selection of Hoberman's toys that visitors will be able to pick up and experience first-hand.
His projects, communicated through prints and video, in addition to physical artifacts, convey the variety of Hoberman's portfolio: architectural shading, sculptural installations, theatrical set pieces, consumer and industrial products. Living Form captures the dynamism and life that Hoberman designs into all of his work, whether products or buildings, art or architecture.
To coincide with the Living Form exhibition, The Building Centre will stage a two day conference, Adaptive Architecture, 3 – 4 March 2011 with international speakers from the disciplines of architecture and engineering, including Chuck Hoberman. Presenters will demonstrate new types of reconfigurable architecture and will show how adaptive strategies can extend a building's life cycle, enhance energy efficiency and optimise resource utilisation.
The exhibition is sponsored by The Building Centre Trust, Buro Happold and Adaptive Building Initiative and supported by the Wyss Institute for Biologically Inspired Engineering at Harvard University, Foster + Partners and New London Architecture.
Living Form exhibition – Further Information
The exhibition Living Form: the Transformable Work of Chuck Hoberman takes place at The Building Centre 4 Mar – 30 Apr 2011.
The Adaptive Architecture Conference takes place 3 – 5 Mar 2011. The first two days constitute the conference with the third day providing a workshop. www.adaptivearchitecture2011.com
Opening Times:
Mon – Fri: 9.30am – 6.00pm
Sat: 10.00am – 5.00pm
Sun: closed
Examples of Chuck Hoberman's work can be seen here:
http://bit.ly/ihRJIN
http://bit.ly/gWEHbC
Videos of Chuck Hoberman's work can be viewed here:
https://www.youtube.com/user/thebuildingcentre#p/a/u/0/kEk21H3jDG8
About Chuck Hoberman
Nowhere do the disciplines of art, architecture and engineering fuse as seamlessly as in the work of inventor Chuck Hoberman, internationally known for his "transformable structures." Through his products, patents and structures, Hoberman demonstrates how objects can be foldable, retractable or shape-shifting. Such capabilities lead to functional benefits: portability, instantaneous opening, and intelligent responsiveness to the built environment.
Hoberman is the founder of Hoberman Associates, a multidisciplinary practice with clients ranging across sectors including consumer products, deployable shelters and space structures. The firm is collaborating with architects such as Foster + Partners, Kohn Pedersen Fox, SHoP, Nikken Sekkei and others. For these projects, Hoberman is developing retractable facades, responsive shading and ventilation, operable roofs and canopies. Examples of his commissioned work include the Hoberman Arch in Salt Lake City, Utah, installed as the centerpiece for the Winter Olympic Games (2002). Other noteworthy commissions include a retractable dome for the Worlds Fair in Hanover, Germany (2000), the Expanding Hypar (1997) at the California Museum of Science and Industry, and the Expanding Sphere (1992) at the Liberty Science Center, Jersey City, and the Expanding Geodesic Dome (1997) at the Centre Georges Pompidou in Paris.
Hoberman's work has been exhibited several times at The Museum of Modern Art in New York. In 2008 his commissioned installation, "Emergent Surface," was part of the exhibit, "Design and the Elastic Mind." He holds a bachelor's degree in sculpture from Cooper Union and a Master's Degree in Mechanical Engineering from Columbia University. He won the Chrysler Award for Innovation and Design in 1997.
The Exhibition and Conference are sponsored by:
The Building Centre Trust, Buro Happold, Adaptive Building Initiative,
Supporters:
The Wyss Institute for Biologically Inspired Engineering at Harvard University, Foster + Partners and New London Architecture.
The Building Centre
The Building Centre is an independent forum where all sectors working in the built environment can come together to share best practice in planning, design and technology. It is a place that the public can visit to learn about the industry and join the debate.
The Building Centre services include: exhibitions, seminars, product galleries, information services, a bookshop, conference facilities and specifinder.com – an online product directory. It is also home to key industry organisations such as New London Architecture, Construction Products Association, Construction Industry Council, UK Green Building Council, Timber Trade Federation and the Brick Development Association.
The Building Centre Trust is a charity providing support for educational, research and cultural activities connected with the built environment.
For further information about The Building Centre see www.buildingcentre.co.uk
Buro Happold
Buro Happold is an independent international practice of consulting engineers. Since 1976 they have grown in size and reach to serve public and private clients across a full range of sectors through an international network of 26 offices.
They draw on the multi-disciplinary skills, knowledge and experience of local experts to design and deliver award winning building, infrastructure and environmental projects that excel for clients, engage with communities and enrich the lives of users.
Sustainability, innovation and holistic consulting are at the heart of everything they do and they are committed to touching the earth lightly. Buro Happold think harder and are dedicated to addressing the big challenges that face the planet – climate change, population growth and scarcity of natural resources.
Current and recent projects include the Grand Museum of Egypt (Cairo), the Louvre (Abu Dhabi), the Aviva Stadium (Dublin), the London 2012 Olympic Stadium, the King Abdullah Financial District (Riyadh), the Royal Shakespeare Theatre (Stratford) and the O2 (London).
Adaptive Building Initiative
Adaptive Building Initiative (ABI) is a joint venture of Hoberman Associates and Buro Happold dedicated to developing and delivering adaptive façade systems, at all scales, to the building industry. ABI's multidisciplinary team works with architects and building owners to find solutions that complement any architectural vernacular or building geometry.
ABI's adaptive façade systems provide new performance benefits, reduce energy consumption and improve occupant comfort by optimizing their configuration in real time in response to environmental changes.
For further information about ABI please visit the website www.adaptivebuildings.com
The Wyss Institute at Harvard University
The Wyss Institute for Biologically Inspired Engineering at Harvard University uses nature's design principles to develop bio-inspired materials and devices that will transform medicine and create a more sustainable world. Working as an alliance among Harvard's schools of Medicine, Engineering, and Arts & Sciences in partnership with Beth Israel Deaconess Medical Center, Brigham and Women's Hospital, Children's Hospital Boston, Dana-Farber Cancer Institute, Massachusetts General Hospital, University of Massachusetts Medical School, and Boston University, the Institute crosses disciplinary and institutional barriers to engage in high-risk research that leads to transformative technological breakthroughs. By emulating nature's principles for self-organizing and self-regulating, Wyss researchers are developing innovative new engineering solutions for architecture, health care, energy, robotics, and manufacturing. These technologies are translated into commercial products and therapies through collaborations with clinical investigators, corporate alliances, and new start-ups.
For further information about the Wyss Institute for Biologically Inspired Engineering at Harvard University: www.wyss.harvard.edu
Location: The Building Centre, London, UK
London Architecture
Contemporary London Architectural Projects, chronological:
London Architectural Developments – chronological list
London Architecture Designs – architectural selection below:
Houses of Parliament Restoration and Renewal Programme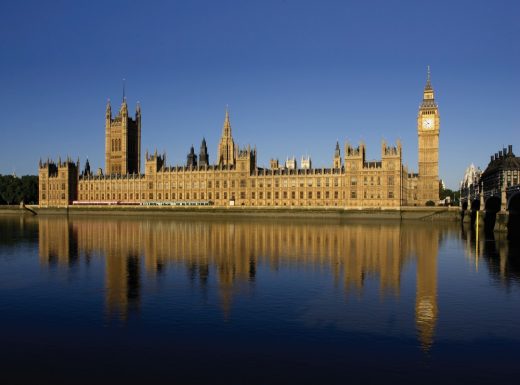 photograph © UK Parliament
Houses of Parliament Restoration and Renewal
The Houses of Parliament Restoration and Renewal Programme has partnered with experts at Heriot-Watt University (Edinburgh, Scotland) to help protect those working on the essential and complex restoration and renewal of the Palace of Westminster.
NoMad London, 4 Bow St, Covent Garden, WC2E 7AT
Design: Roman and Williams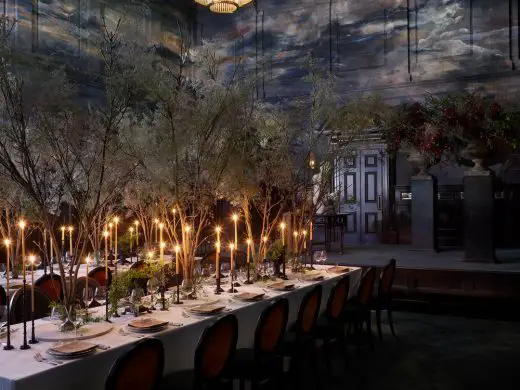 photograph : Simon Upton
NoMad London Hotel, Covent Garden
New-York based hospitality company, Sydell Group, opens NoMad London, the first international property for The NoMad Hotel brand, in the historic former Magistrate's Court in the heart of London's West End.
British Architectural Design Exhibitions
Design Museum Exhibition : Richard Rogers
Design Museum Jan Kaplicky Exhibition
Design for a Living World Exhibition
Design Museum architects : Conran & Partners
Comments / photos for the Living Form Exhibition page welcome