Cerámica RIBA North, Architecture-Interior Design Liverpool Exhibition, Mann Island Event Photo
RIBA North Events Liverpool
International Architectural Exhibition in Liverpool at Mann Island, Northwest England, UK
27 July 2019
Grimshaw Architects to speak at inaugural RIBA + VitrA Talk at RIBA North
Thursday 1st August
RIBA North Talk
21 Oct 2017
RIBA North Events News
Exhibitions at RIBA North
RIBA North reveals winter programme of exhibitions and events –
Highlights include Cerámica, 2017 RIBA Stirling Prize Models and The Presidents Medals
RIBA North, the new national architecture centre in Liverpool announces its winter programme of exhibitions and events
The new season opens with Cerámica (28 October – 10 February 2018), an exhibition which shows how traditional ceramic techniques and digital engineering processes can be used together to produce more meaningful and sustainable architectural elements.


A prototype of an innovative ceiling installation utilising 200 ceramic cones that are digitally designed and created by ECAlab will be on display at Cerámica
From Friday 10 November, RIBA North will showcase exquisite models of the six finalists of the prestigious RIBA Stirling Prize, with the winning building having been announced on 31 October at the Roundhouse in London. The models illustrate the best architecture in the UK, and showcase some of the most careful three-dimensional scale model making.
From 6 December RIBA North will host an exhibition of the RIBA Presidents Medals, an award which is given to the best student projects from across the world. First awarded in 1836, the RIBA Presidents Medals reward talent, promote innovation, and encourage excellence in the study of architecture worldwide. This year 275 entries were received from 87 schools of architecture in 33 countries.
Suzy Jones Director of RIBA North said "RIBA North has been open for just four months and is already firmly established as a destination which promotes the benefits of architecture and good design on the world around us. Our winter season is packed with activities to appeal to all our visitors: from families to design professionals and architects."
Cerámica
On Saturday 28 October RIBA North opens its latest exhibition, Cerámica in partnership with ECAlab. In this exhibition, we explore how ceramics are being positioned to provide a low impact solution to global sustainability in the built environment. This synergy between traditional ceramic techniques, digital design and engineering processes can be used to produce more meaningful and sustainable architectural elements.
The full-scale ceramic prototypes on display offer a viable alternative to global manufacturing and distribution. The combination of the material sustainability of ceramics, digitally optimized design of components, and the appropriation of vernacular language and embodied cultural identity, transforms the preliminary engineered product into a more socially, ethically and environmentally sustainable building component. Alongside the exhibition there will be a series of events for everyone to get involved with from curator's tours, artist's talks and Clay Play, an opportunity for families to come and experiment with clay, create unique decorative tiles and get hands-on.
ECAlab investigates the possibilities of ceramics for sustainable technologies, while examining the role of emerging digital technologies alongside traditional ceramic craftsmanship skills.
The RIBA Stirling Prize Models
From Friday 10 November RIBA North will host models of the six buildings in the running for the prestigious RIBA Stirling Prize. This is the first time the models of the shortlisted buildings will have been exhibited outside London. For those who can't travel to London to see the models, or travel around the country to see the buildings themselves, this is an ideal opportunity to learn more about the six schemes. The models will remain on display at RIBA North throughout the Winter.
The 2017 RIBA Stirling Prize shortlisted projects are:
• Barrett's Grove, Stoke Newington, east London by Groupwork + Amin Taha
• British Museum World Conservation and Exhibitions Centre, Bloomsbury, London by Rogers Stirk Harbour + Partners
• Command of the Oceans by Baynes and Mitchell Architects for Chatham Historic Dockyard in Kent
• City of Glasgow College – City Campus, Scotland by Reiach & Hall Architects and Michael Laird Architects
• Hastings Pier, East Sussex by dRMM Architects
• Photography Studio for Juergen Teller, west London by 6a architects
Previous Northern projects to win a RIBA Stirling Prize include:
• In 2014 – Everyman Theatre by Haworth Tompkins for Liverpool and Merseyside Theatres Trust
• In 1996 – Centenary Building, University of Salford. By Hodder Associates for University of Salford, Greater Manchester
• In 2002 – Millennium Bridge, Gateshead. By Wilkinson Eyre Architects for Gateshead Metropolitan Council, Newcastle
RIBA Presidents Medals
6 December to 24 February
This exhibition features drawings and models by some of the world's most talented architecture students. The RIBA Presidents Medals are given to the best student schemes from across the world. First awarded in 1836, the RIBA Presidents Medals reward talent, promote innovation, and encourage excellence in the study of architecture worldwide. This year 275 entries were received from 87 schools of architecture in 33 countries.
The exhibition includes a selection of entries in the form of large panels designed to showcase not only the winning submissions but also the quality and diversity of work at all levels from undergraduate to postgraduate, national to international, conceptual designs to live projects. From January 2018 this exhibition then travels the world.
More about RIBA North
RIBA North is a place for everyone to discover more about architecture through a bold programme of events including exhibitions, talks, tours, conferences and debates about the built environment to engage in the wider debate about what makes award-winning design. www.architecture.com/RIBANorth
City Gallery
At the heart of RIBA North is the City Gallery, a space for visitors to learn more about Liverpool's past, present and future, as well as the processes involved in urban development and the evolution of the built environment.
RIBA North's City Gallery includes the Digital City Model, an interactive 3D model that tells a variety of stories about Liverpool and the surrounding area. It is also an extraordinary professional tool, which can be used by developers, architects and planners to host public consultations, anticipate the impact of future development and encourage the best design approaches. The City Gallery has been designated as the UNESCO World Heritage Information Hub within the Liverpool Waterfront and we are proud to create debate and support the ongoing conversation about how we regenerate the Liverpool City Region in a heritage environment.
RIBA Shop
In the shop we've introduced a new range of architecturally inspired and designed gifts. Perfect for Christmas, these include RIBA Christmas Cards, seasonal decorations by Alessi, Jewellery by Wolf and Moon and items such as the Eames House of Cards.
To coincide with our new exhibition 'Cerámica', opening 28th October, RIBA North will also be stocking ceramics from a selection of the Artists. These include Jo Keogh, Edit Szabo, Julie Fewster and Lanty Ball.
RIBA North Background
Supporters
RIBA is a registered charity and it relies on the generosity of individuals, companies, trusts and foundations to preserve its world-class collections, to maintain free public access to its exhibitions and develop a diverse and exciting public events programme.
The exhibition 'Cerámica' and the supporting events including Clay Play and the Moulding Futures symposium is supported by Tile of Spain/ASCER, ICEX, University of Liverpool, Leeds Beckett University, Liverpool Hope University, Glyndwr University, LITE, Field Design, Cinetecture, Arciform, Quinta de Mosteiro, RIBA Northwest + LAS, Arts council Wales
RIBA North is supported by Allgoods, Broadway Malyan, C&C Baseline, Dolphin, Dyson, Erco, Hansgrohe, Laufen, Loft Furniture, Marshalls and Vitra.
RIBA North was designed by Matt Brook of Broadway Malyan. Matt was Architect for Mann Island and part of the strategic team who created the vision for the centre.
The RIBA North architecture centre is also the home for the RIBA's regional staff team based in the Northwest.
About the Heritage Lottery Fund: Thanks to National Lottery players, we invest money to help people across the UK explore, enjoy and protect the heritage they care about – from the archaeology under our feet to the historic parks and buildings we love, from precious memories and collections to rare wildlife. www.hlf.org.uk. Follow us on Twitter, Facebook and Instagram and use #HLFsupported.
About the RIBA: The Royal Institute of British Architects (RIBA) is a global professional membership body that serves its members and society in order to deliver better buildings and places, stronger communities and a sustainable environment. www.architecture.com Follow us on Twitter for regular RIBA updates www.twitter.com/RIBA
RIBA North Listing details
Title: Cerámica
Dates: 28 September 2017 – 24 February 2018
Opening Times: Tuesday – Saturday 10am to 5pm; closed on Sundays and Mondays
Address: Mann Island, Liverpool Waterfront, Liverpool L3 1BP
Website: architecture.com/ribanorth
Hashtag: #RIBANorth
Twitter: @RIBANorth
Facebook: facebook.com/RIBAarchitecture
Instagram: riba
Title: RIBA Presidents Medals
Dates: 10 November – 24 February
Opening Times: Tuesday – Saturday 10am to 5pm; closed on Sundays and Mondays
Address: Mann Island, Liverpool Waterfront, Liverpool L3 1BP
Website: architecture.com/ribanorth
Hashtag: #RIBANorth
Twitter: @RIBANorth
Facebook: facebook.com/RIBAarchitecture
Instagram: riba
RIBA North images / information received Oct 2017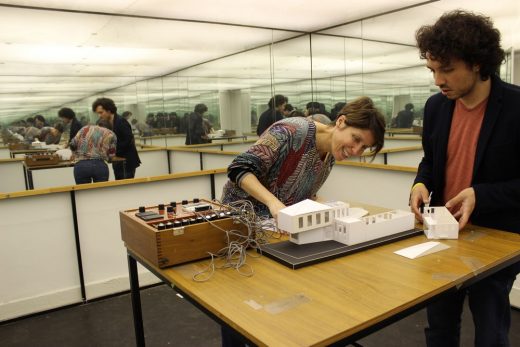 Dr Rosa Urbano Gutiérrez, founder of ECAlab, with a student in the lighting lab
Cerámica at RIBA North
Location: Mann Island, Liverpool Waterfront, Liverpool L3 1BP
Tile of Spain Event, London
European Copper Architecture Awards
Architecture in Spain
Museo de al Memoria de Andalucía, Granada, southern Spain
Design: Alberto Campo Baeza
Museo de al Memoria de Andalucía
Merida Factory Youth Movement, western Spain
Design: Jose Selgas, Lucia Cano, architects
Merida Youth Factory
Centro Niemeyer, Avilés Oscar Niemeyer architect
Centro Niemeyer
Comments / photos for the RIBA North Events News page welcome
Website: RIBA North