RIBA Events 2021, Architecture Gallery London, UK Buildings, British Architects News
RIBA News & Events 2021
Royal Institute of British Architects Exhibition + Talks + Events in London, England, UK
19 Jan 2021
RIBA UK News
RIBA publishes findings of Architects Act amendments survey
Monday 25 January 2021 – 8 out of 10 think mandatory competence requirements are important – RIBA publishes findings of Architects Act amendments survey.
The Royal Institute of British Architects (RIBA) has today (Monday 25 January) published the findings of its survey of the architects' profession on proposed changes to the Architects Act.
The 502 responses have informed the RIBA's official submission to the Ministry of Housing, Communities & Local Government (MHCLG) consultation on proposed changes to the Architects Act, which has also been published today.
From ensuring building safety to tackling the climate emergency, the areas prioritised by respondents reflect the challenges facing our industry and society, and the role architects must have in addressing them.
Findings of the RIBA survey reveal:
85% of respondents acknowledge the importance of mandatory competence requirements in promoting standards and confidence within the profession;
75% believe that an architect's competency should be monitored at regular intervals throughout their career;
70% think fire safety is the most important mandatory competence topic;
68% want to prioritise health, safety and wellbeing; 67% legal, regulatory and statutory compliance; and 50% sustainable architecture as mandatory competence topics;
More than half of respondents (59%) want either planning or building control or both to be regulated functions.
In response to the survey findings, RIBA President, Alan Jones, said:
"This consultation is a defining moment – a real opportunity to ensure all current and future architects in the UK have the education, knowledge, skills and behaviours to make a positive impact on the built environment.
The fact that the majority of the profession wish to retain the regulation of title and expand into regulation of function, demonstrates the vital and holistic role that architects know they must have to effectively deliver their expertise.
We will soon be launching our mandatory Health and Life Safety requirements for RIBA members and will work with the MHCLG and ARB to coordinate practical competency measures for the whole profession to adopt.
We also continue to call for urgent reforms of building safety regulations and procurement systems, and for an appropriately funded education system for future architects. These will help to ensure that the profession can deliver buildings that meet the quality, safety, and sustainability expectations of society.
In light of post-Brexit agreements on professional qualifications, we will support the allocation of new ARB powers to negotiate international agreements that will assist UK architects in designing, delivering, and globally upholding the highest professional standards."
Read the executive summary of the survey findings
Read the RIBA's response to the consultation on proposed amendments to the Architects Act
19 Jan 2021
Winners of 2020 RIBA President's Medal for Research and Research Awards
The Royal Institute of British Architects (RIBA) has announced the recipient of the RIBA President's Medal for Research and the winners of the President's Awards for Research, which celebrate the best research in the fields of architecture and the built environment.
The winner of the 2020 RIBA President's Medal for Research is Richard Beckett from the Bartlett School of Architecture, University College London, for 'Probiotic Design.' Through exploring the integral role of bacteria in human health, Richard proposes a design approach that reintroduces beneficial bacteria to create healthy buildings.
2020 RIBA President's Awards for Research
18 Jan 2021
RIBA comments on proposed 'Right to Regenerate' policy
Monday 18th January 2020 – The Royal Institute of British Architects (RIBA) has commented on government's proposed 'Right to Regenerate' policy, announced today.
RIBA President, Alan Jones, said:
"While giving a 'new lease of life' to unloved buildings might seem like an easy win that could speed up the development of new housing or community spaces, the process of procuring these empty properties – and criteria for acquiring – must be carefully considered.
This policy has the potential to help regenerate local areas, but this must be done with the highest regard to quality, safety and sustainability – it's essential the government moves forward in the right way."
14 Jan 2021
RIBA Future Trends – 2020 ended with fragile growth in confidence
Thursday 14th January 2021 – In the latest set of results (December 2020), the RIBA Future Workload Index returned the highest balance score (+10) since the onset of the Covid-19 pandemic. Whilst 20% of practices expected a decreasing workload in the coming three months, 29% expected workloads to increase. Just over half expected workloads to hold steady.
Confidence was beginning to return beyond the Private Housing Sector (+14, up two points from November). Both the Commercial and Public Sectors returned to positive territory for the first time since February 2020 – the Commercial Sector at +1, up from -19 in November and the Public Sector at +2, up from -7. The Community Sector recorded an improvement although remained negative, returning a balance figure of -8 this month, up from -13 in November.
Confidence among large and medium and sized practices also continues to strengthen. Smaller practices have returned to positive territory after a dip in November.
Reports of personal underemployment are lower than they were a year ago. Workloads are reported to have rallied too; during the first lockdown they stood at 67% compared to twelve months ago; December results (taken prior to the third lockdown) were 95%.
London based practices remain negative about future workload with a -6 balance score in December, up slightly from -7 last month.
All other regions are positive about future workload: the Midlands & East Anglia returned to positive territory with +7 in December; the South of England at +8; Wales & the West at +22, up from +15 in November and the North of England was the most positive in December at +29 – the most positive outlook for the region since 2019.
Concerns about future practice viability remain, though have lessened. Overall, 3% of practice expect falling profits to threaten practice viability. 46% expect profits to fall over the next twelve months, 34% expect profits to stay the same, and 9% expect them to grow (8% don't know).
In terms of staffing:
• With a slight increase on the previous month, the RIBA Future Trends Staffing Index returned a figure of +2 in December.
• 84% of practices overall expect permanent staffing levels to remain consistent (up from 81% in November).
• 7% expect to see a decrease in the number of permanent staff over the next three months (the same figure as November).
• 9% expect permanent staffing levels to increase (up from 8% in November)
• The anticipated demand for temporary staff has stayed the same as in November, with the Temporary Staffing Index falling at -1 in November
• London is the only region to return a negative permanent staffing index figure (-9) – down from -7 in November
• In London, the balance figure for permanent staff is -7 (up from -8 in October)
• The Midlands & East Anglia are anticipating a falling number of permanent staff. In contrast, other regions are positive, notably Wales & the West (+9) and the North of England (+8).
• Personal underemployment is back down to 20%. That's lower than both last month's figure and that of December 2019. At both times the figure was then 22%.
• Staffing levels are currently 96% of their level a year ago. Overall, redundancies stand at 2% of staff. 6% of staff now remain on furlough.
RIBA Head of Economic Research and Analysis, Adrian Malleson, said:
"The growing optimism seen in our December results is heartening, with workloads being just 4% lower than they were a year ago and an increase in confidence in the commercial and public sector areas. However, additional commentary stresses the twin uncertainties of Brexit and the Covid-19 pandemic. Understandably, these make 2021 a highly uncertain year and the construction market may get worse before it gets better
The disparity in confidence between regions continues. In December London results continued to highlight a concerning set of indices: future work predictions, future staffing levels, assessment of future practice viability and personal underemployment, which are all lower than elsewhere.
Some practices report projects being held up by delays in the processing of planning applications but there are also reports of Public Sector workload beginning to increase.
It is a mixed and changing picture but with an overall growth in confidence. Whilst this confidence is likely to falter in the current lockdown, there is hope that it will return, once restrictions are eased.
We continue to be on hand, providing support and resources to our members as they navigate these challenging times."
RIBA comments on new UK-EU relationship
Monday 4th of January 2021 – The Royal Institute of British Architects (RIBA) has today commented on the new relationship between the UK and EU.
RIBA CEO, Alan Vallance, said:
"Since our initial response to the post-Brexit trade deal struck on 24 December, the RIBA has taken time to consider the terms negotiated and the implications for our profession.
Since the referendum, the RIBA has strongly called for the mutual recognition of professional qualifications, and it's therefore disappointing to see this has not been agreed. Going forward, the ARB has an opportunity to negotiate a new recognition route with the EU, and we will be working closely with ARB colleagues and members to help shape such an agreement.
In terms of trading goods, while tariff-free importing and exporting should benefit UK construction long-term, we know that certain processes including the certification and declaration of products have – or will very soon – change, and all businesses will need to adjust to new measures.
As we all familiarise ourselves with this new UK-EU relationship, the RIBA is on hand to support members and practices adapt accordingly."
Visit www.architecture.com/Brexit.
RIBA News 2020
RIBA News & Events 2020 – recent updates below:
24 Dec 2020
RIBA reacts to news of post-Brexit trade deal
Thursday 24 December 2020 – The Royal Institute of British Architects (RIBA) has today responded to the post-Brexit trade deal struck between the UK Government and EU Commission.
RIBA CEO, Alan Vallance, said:
"Today's news of a post-Brexit trade deal is no doubt a relief for many. But while this deal provides us with some certainty around the future relationship between the UK and EU, hesitation and vagueness around trade in services remains a serious concern for our profession. Architects in both the UK and EU were clear about the need for a continued agreement on recognition of professional qualifications, and it is deeply worrying that this does not seem to be part of the deal as it stands.
It's also disappointing to see that UK students are no longer eligible for the Erasmus scheme, given the clear benefits for young people. We therefore look forward to understanding more about the new Turing scheme referenced by the Prime Minister.
It's our hope however that this deal will keep the costs of importing construction materials down and – current border issues aside – at least provide some confidence over trading in goods.
As ever, we will continue to support our members with guidance and lobby the government to invest in the skills and talent that fuels the success of UK architecture worldwide."
Visit www.architecture.com/Brexit.
17 Dec 2020
RIBA Future Trends – COVID-19 restrictions impact practice confidence and workload
Thursday 17 December 2020 – In November 2020, the RIBA Future Workload Index returned a balance figure of 0, meaning as many practices expect workload to increase as those who expect it to decrease. It's the lowest figure since June and a fall from last months' +9.
Confidence about future work strengthened among large and medium-sized practices (to +25), whilst smaller practices have returned negative predictions for the first time since June at -5.
2 Dec 2020
RIBA announces winners of 2020 President's Medals
RIBA President's Medals Student Awards 2020
RIBA News 2019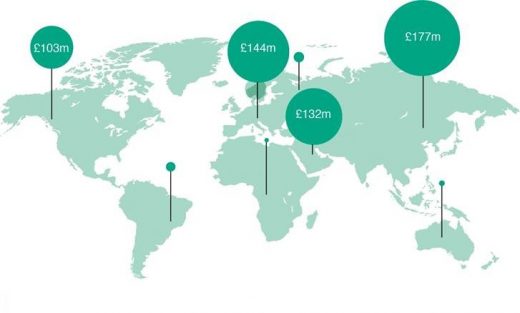 RIBA London Events information from RIBA
Location: 66 Portland Place, London, UK
RIBA Events Archive
RIBA Events, Awards & News Archive Links
National Museum of African American History and Culture building: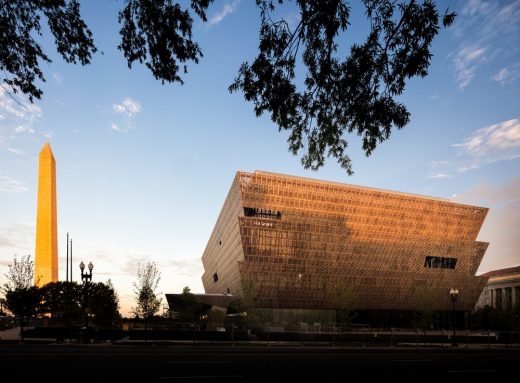 photo © Darren Bradley
RIBA London Events – Archive
RIBA Gold Medal for Architecture
Chartered Institute of Building
London Architecture Events
Bartlett School of Architecture Event
Comments / photos for the RIBA News & Events for 2021 page welcome
Website: London