Stephen Lawrence London Marathon Mile Marker Competition, UK Architecture Contest News
London Marathon Mile Marker Competition
English Design Contest for Part 2 architecture students & recent Part 2 graduates
13 Sep 2019
Stephen Lawrence London Marathon Competition 2019
Virgin Money London Marathon Mile Marker Competition For Young Architects Announced
Stephen Lawrence Charitable Trust and London Marathon Events Ltd announce a competition for aspiring architects
The winning designs will be showcased at the 40th London Marathon on Sunday 26 April 2020
Stephen Lawrence Charitable Trust and London Marathon Events Ltd are launching a competition for Part 2 architecture students and recent Part 2 graduates from UK universities to design a new mile-marker structure for every one of the 26 miles on the iconic Virgin Money London Marathon course.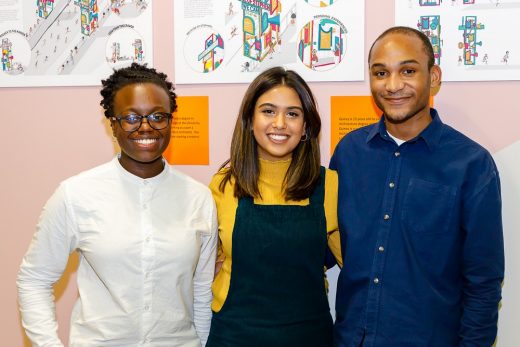 This new competition builds on the success of last year's ground-breaking competition for Part 1 undergraduates and architectural assistants to design the Mile 18 Marker, in honour of Stephen Lawrence. The chance to create a brand new design of mile-marker for every one of the 26 miles provides a unique opportunity for aspiring architects to inspire thousands of runners and have their work reach an audience of millions worldwide, as well as supporting their learning and helping them to develop materials for their portfolio.
The mile-markers are an integral part of the race, enabling runners to track their distance and time as they complete the world's greatest marathon. The current scaffold tower structures have been in use for a number of years and the competition is looking for a new design that will need to provide information and inspiration, as well as being sustainable, and easy to install and remove.
The free-to-enter competition will be launched on Stephen Lawrence's birthday (13 September) and applicants will be able to register individually or in teams of up to four.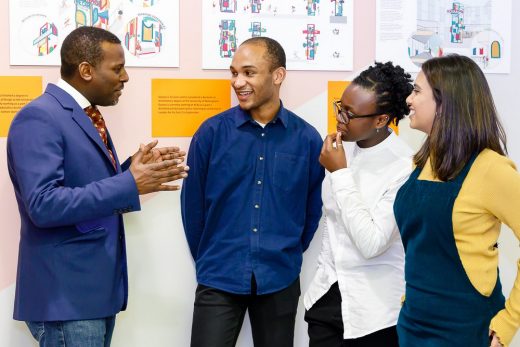 The winning team's design will be showcased at the 40th London Marathon on Sunday 26 April 2020. It is the most popular marathon on the planet and annually attracts more than 40,000 runners, 800,000 spectators along the streets and a global TV audience of millions in more than 190 countries across the world.
The competition will be held in two stages with the winning individual or team subsequently working to develop their design through to its physical realisation. Teams will receive support through individual feedback and a factory visit to Arena Group, which produces the marathon mile markers, providing a better understanding of the general assembly process of marker structures and the constraints related to the marker design. The winners will have the opportunity to develop their construction design for the mile marker further under the guidance of the Virgin Money London Marathon operations team and Arena Group and will learn the process of turning a proposal into a technical drawing and then into a physical structure.
Not only was Stephen Lawrence a talented runner, who competed in the Mini London Marathon, but he himself aspired to become an architect. The competition complements the Trust's work supporting young people from disadvantaged and under-represented backgrounds to enter the career he loved, as well as raising the profile of its wider work supporting young people to enter and succeed in the career of their choice.
Last year's Mile 18 Marker competition was won by three Part 1 graduates – Ayanna Blair-Ford, Shreeya Radia and Quincy Haynes – all from separate London-based architecture practices.  Their winning concept 'Because of Stephen we can' was designed to motivate runners at one of the toughest sections of the course and incorporated brightly coloured plaques with quotes from young people describing the personal impact that Stephen Lawrence's life and legacy has had on them.
The 2020 Virgin Money London Marathon will take place on Sunday 26 April, shortly after Stephen Lawrence Day on Wednesday 22 April – a celebration of his life and an opportunity to learn from his story.  The re-designed mile markers will not only be there to inspire the many runners on the day, but in particular those running for Stephen's Team, who will be raising much needed funds for the Trust.
Hugh Brasher, Event Director, London Marathon Events Ltd said:
"We are delighted to be continuing our partnership with the Stephen Lawrence Charitable Trust. Last year's competition to design the Mile 18 Marker was truly inspirational and we wanted to build on that success.
"This year's competition is both a great way to honour Stephen's life and legacy and a fantastic opportunity for aspiring young architects to showcase their talents and inspire thousands of runners as they take on the world's greatest marathon. I can't wait to see what these amazing young people will come up with."
Sonia Watson, Chief Executive of the Stephen Lawrence Charitable Trust said:
"We were amazed by the talent and humbled by the designs of last year's mile marker entries, which showed the incredible impact of Stephen's life and legacy on younger generations.  We're very excited to be working with London Marathon Events Ltd again and to give aspiring architects the opportunity not only to learn and further their professional development but to showcase their talent to such a huge international audience."
About the Stephen Lawrence Charitable Trust
Stephen Lawrence Charitable Trust works to inspire and support young people from disadvantaged backgrounds and to create a fairer society in which everyone, regardless of their background, can flourish.
The Trust runs high impact programmes giving young people from disadvantaged backgrounds the support, knowledge, skills and confidence they need to pursue the career of their choice.
It runs programmes that support community groups and leaders to maximise their impact and helps to build relationships between communities and local organisations, strengthening the bonds that create positive places to live and work.
The Trust also works with government, business and others to create a society in which everyone, regardless of their background, has the opportunity and support to flourish.
Last year the Trust worked with Stephen's mother, Baroness Doreen Lawrence, to co-ordinate the first national Stephen Lawrence Day on 22nd April 2019, the 26th anniversary of Stephen's death.
About London Marathon Events Ltd
The 40th London Marathon takes place on Sunday 26 April. For more information, please visit virginmoneylondonmarathon.com
The London Marathon was first held on 29 March 1981 and the millionth finisher in the history of the event crossed the line in 2016
The 2019 Virgin Money London Marathon saw the amount raised for charity since 1981 reach more than £1 billion.
London Marathon Events Ltd is not-for-profit and gifts its surplus each year to The London Marathon Charitable Trust.
Since 1981, The London Marathon Charitable Trust has awarded grants totalling in excess of £85 million to more than 1,300 projects in London, Surrey and other areas.
Stephen Lawrence Trust and London Marathon announce competition for aspiring architects inage / information received 120919
Previously on e-architect:
RIBA marks Stephen Lawrence anniversary year with series of events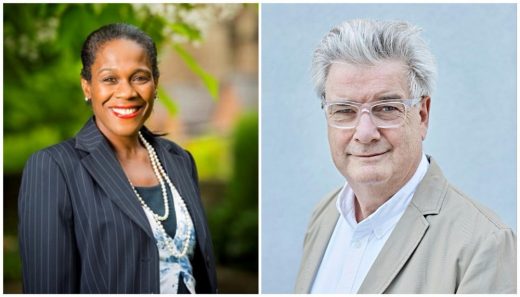 Left: Sonia Watson, Stephen Lawrence Charitable Trust Chief Executive; Right: Ben Derbyshire, RIBA President
Stephen Lawrence Anniversary Events
Royal Institute of British Architects Awards
Stirling Prize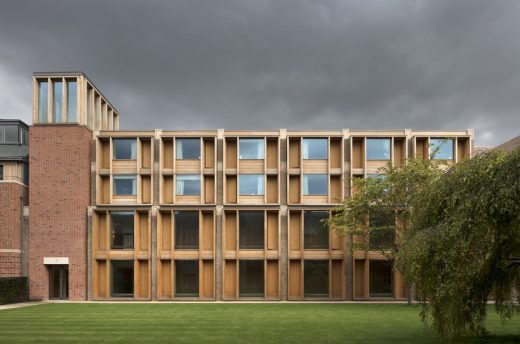 photo © Nick Kane
Stephen Lawrence Links
The Stephen Lawrence Centre in Deptford, London
Awards:
Stephen Lawrence Prize 2018 Shortlist
Stephen Lawrence Prize 2017 Shortlist
Stephen Lawrence Prize 2016 Shortlist
Event:
Stephen Lawrence Memorial Lecture
Comments / photos for the London Marathon Mile Marker Competition page welcome
Website: Stephen Lawrence Charitable Trust