Big Archi-Chat, Azuko Charity Event 2020, Architecture Consultation
The Big Archi-Chat 2020
1 Dec 2020
The Big Archi-Chat News
3 – 5 Dec 2020
3rd, 4th & 5th December 2020 40-minute, online consultations
Considering a building or renovation project? Have ideas for your dream garden? Or want to create stunning graphics?
Register for a 1-to-1 consultation with a Designer, Architect or Landscape Architect, for inspiration and top tips. All in aid of architecture charity, AzuKo
How Does It Work?
It's as easy as 1, 2, 3 …
Book your preferred date and time on 3rd, 4th or 5th December via AzuKo's website: azuko.org/archi-chat
Donate to AzuKo via The Big Give: bit.ly/azuko-big-give-2020 (minimum donation £30 per consultation)
Once we receive confirmation of your donation, we'll send you a Zoom link … and you're good to go
Every £1 donated to Azuko will be doubled. Please give generously.
Your support will help us build a new playground for underprivileged children in northwest Bangladesh. It will 'extend the classroom' and create life-long development opportunities for students and future generations. Every child has the right to play.
Find out more about the project, here: azuko.org/jaago-playspace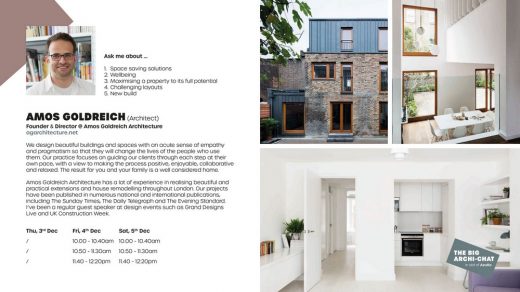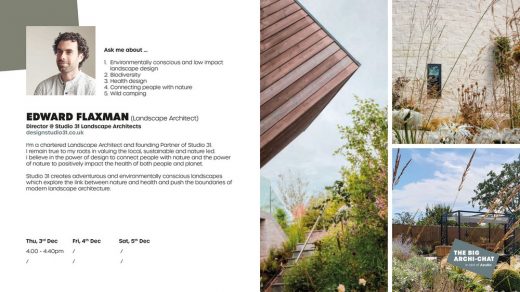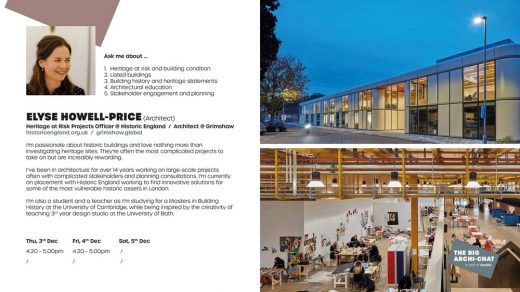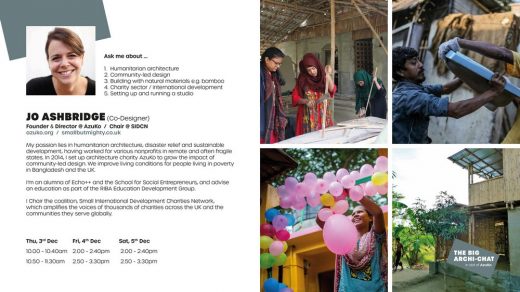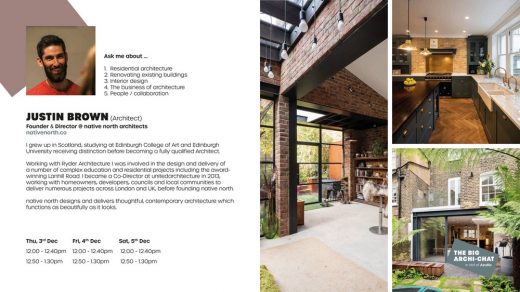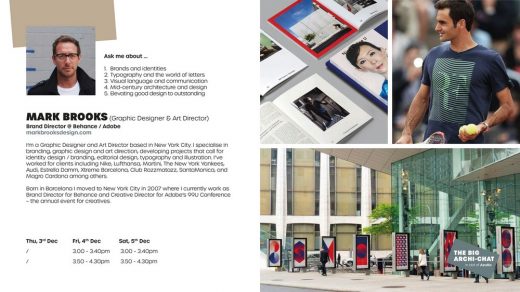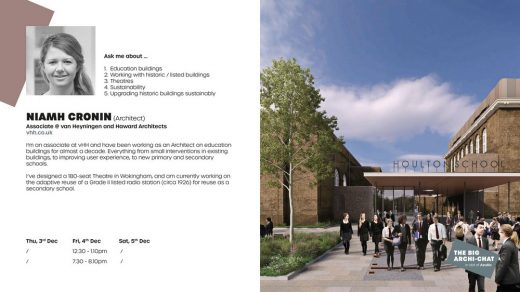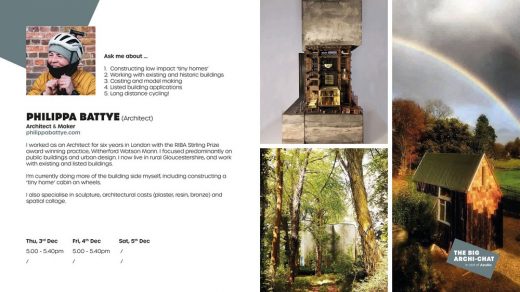 Frequently Asked Questions
When does booking open?

You can reserve your 1-to-1 consultation today, and donate to secure it from Tuesday 1st You won't be able to make your donation via our campaign page before Tuesday 1st December, 12 noon GMT.

What does it cost?

1-to-1 consultation = £30 suggested minimum donation (please give generously – it's all for charity!)

Students can share the donation cost, with up to three people i.e. 3-to-1 consultation.

What do I need to bring to my consultation?

The consultations are digital (via Zoom). Please bring as much information as possible about your project to the session, such as plans, drawings and photographs. You'll be able to share your screen.

What is Zoom? Do I need to download it?

Zoom is a video conferencing software. You don't need to install any extra software to join. You can do it all through a web browser. Once you have donated to AzuKo to secure your slot, you'll be sent a Zoom meeting invite. Just click on the link when your meeting is ready to begin.

What is The Big Give?

The Big Give Christmas Challenge is the UK's largest match funding campaign, which runs from 1-8 December in 2020. AzuKo has been allocated a 'matching pot' to double donations made by our supporters. This means there's no better time to donate to us. One donation, twice the impact.

What impact will my donation have?

Your donation will help us design and build a playground for underprivileged children in Sundarban village, northwest Bangladesh.

All children have the right to play and to enjoy their childhood. Research shows that play is crucial for children's development, and their longterm success. It builds confidence, creativity, communication and critical thinking skills. It contributes to greater achievement at school and higher rates of employment and salaries after graduation.

But for those living in poverty in Bangladesh, play feels like a luxury. Many children spend time away from school, helping in the home or fields, rather than playing. There are few play facilities in schools and it's not integrated into the curriculum. We believe play is not a 'nice to have', it's a child's basic right. Your investment in this playground will spark opportunities for generations of children.

What are the Designers and Architects paid?

Nothing – they're all generously donating their time to help raise money for AzuKo!

I've booked a consultation, but now can't attend. Can I get a refund?

Sessions are booked with a donation to AzuKo. Unfortunately, we can't refund donations.
Building Designs
Contemporary London Architectural Designs
London Architecture Links – chronological list
London Architecture Tours – bespoke UK capital city walks by e-architect
Comments / photos for the Big Archi-Chat: Azuko page welcome