St Andrew's Healthcare Northamptonshire, Architecture Photo, Building, Architect, Award, News
William Wake House : St Andrew's Healthcare
Classical Building Northamptonshire, England, UK – design by ADAM Architecture
14 Jul 2011
William Wake House Northamptonshire
Largest new classical building in Britain for over 50 years now complete
William Wake House, St Andrew's Healthcare, Northamptonshire
Design: ADAM Architecture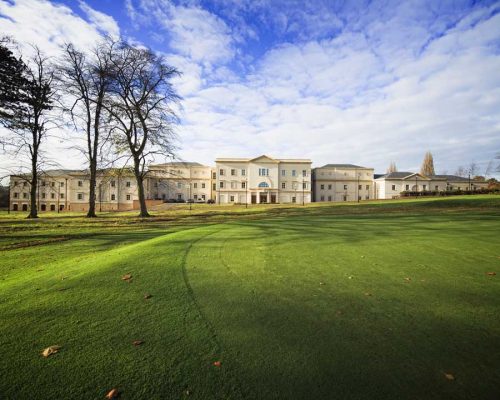 photo from ADAM Architecture
A dramatic new classical building has been added to the Northampton skyline. Commissioned by St Andrew's Healthcare, the 20,000 plus square metre hospital unit is probably the largest single building in the classical style to be built for 50 years.
The new residential, mental-health facility was designed by well-known classical architect Robert Adam of ADAM Architecture working closely with health-building experts, Oxford Architects.
This is the first phase of the Cliftonville site development providing a modern purpose-built healthcare building based on the existing hospital campus. It has been designed with courtyards and internal spaces, and provides facilities which aid treatment and rehabilitation while offering an appropriate level of safety and security within the building design.
Robert Adam, director at ADAM Architecture designed the outer form and façade of the building in keeping with the original hospital buildings, designed by George Wallet in 1835. Adam coordinated his architectural designs within the over-all planning, functional and technical work of Oxford Architects. The completed building is an example of how different architectural expertise can be successfully coordinated to provide a unique and highly functional design.
The 170 metre long principal elevations are broken up into a series of individual pavilions reflecting the organisation of the internal plan. The external walls are in stucco and stone with a slate roof. Interior courtyards are designed with simplified classical detailing in two colours of brick.
The windows are metal to provide a high level of security. The public entrance has a powerful stone façade featuring a large rusticated semi-circular window. The user's entrance has an unusual tall glazed portico that looks out over the town from an elevated position.
Robert Adam says, "This is an example of enlightened patronage and a successful working partnership that brought together our expertise in classical design with the specialist expertise of Oxford Architects. The building shows how modern classical design is not limited to private houses or historic settings but can provide high-quality free-standing public and institutional buildings."
Matthew Balaam of Oxford Architects says, "Almost four years of extremely hard work from all members of the design team and close liaison with St Andrew's Healthcare has lead to a fantastic scheme. William Wake House now sits as a striking landmark within Northampton. The same level of detail placed on the external façade has been applied internally to provide St Andrew's Healthcare with a facility to be proud of."
Rachael Harrison, William Wake House Hospital Director, said: "With state-of-the-art technology and visionary construction, William Wake House provides the very best in therapeutic environments. The extensive range of facilities available within the hospital supports our clinical treatment programmes and helps us to deliver highly specialised services for people with complex needs."
William Wake House – Background Information
ABOUT ST ANDREW'S HEALTHCARE
St Andrew's Healthcare is the UK's leading specialist mental healthcare charity. Founded more than 170 years ago, the charity now manages facilities in Northampton, Birmingham, Essex and Nottinghamshire.
St Andrew's provides both specialist national care and regional services where people need to be close to their communities. The charity's strong reputation is founded on high-quality, diverse assessment, treatment and rehabilitation programmes for people with mental disorders, learning disabilities, autism and brain injury. St Andrew's has a high-profile research partnership with the world-leading Institute of Psychiatry at King's College London, and is a leader in outcomes research.
ABOUT ADAM ARCHITECTURE
ADAM Architecture is one of the leading practitioners of traditional architecture and urbanism. The practice is run by five Directors: Robert Adam, Nigel Anderson, Paul Hanvey, Hugh Petter and George Saumarez Smith.
The practice has an international reputation in designing classical and traditional buildings, with a wide experience in new country and town houses; refurbishment, alteration and conservation work; speculative housing; commercial and institutional developments such as offices, hotels, libraries and health care buildings; urban design and masterplanning projects ranging from housing layouts of around 100 homes, to large urban extensions and new settlements.
The firm promotes traditional and classical design principles, not just through the practice of architecture and urbanism, but also through teaching, writing and research. The practice rebranded from Robert Adam Architects to ADAM Architecture in March 2010 to recognise the individual design profiles of the five equal shareholding directors.
ABOUT OXFORD ARCHITECTS
Oxford Architect LLP design buildings and spaces for a huge range of clients over a wide geographical area. Clients include housing associations, universities, corporations, large developers, central and local Government agencies. Over the last forty years Oxford Architects has grown and developed well beyond its original aspirations. The business now has offices in Bristol and Oxford with an associated office in London. Whilst the technology, scale of projects and staff have developed beyond recognition the original values have remained largely unchanged.
The original formation of the practice in the early 60's was a pragmatic response to having a credible sized organisation to carry out large scale education, housing and military buildings. Through our constant evolution we now impress our clients with carefully crafted designs for housing, hospitals, schools, retail, industrial and research, as well as masterplans for mixed-use town centre developments. We can and do cope with the full range of development briefs.
Oxford Architects is a group of highly creative, imaginative and skilled architects and designers whose aim is to create outstanding buildings, places and spaces. We design within the client's brief but aim to exceed their expectations. Our practice combines the exceptional raw talent of the individual young designers, tempered with the considerable experience of the partners and senior architects.
Oxford Architect's Sustainable approach highlights a commitment to create sustainable communities, give respect for our ecology along with reduction in carbon emissions and water usage. We have a robust environmental management policy and sustainability process, details of which are available on our website. Currently, we are ISO 14001 accredited.
William Wake House images / information from ADAM Architecture
Another English classical building by ADAM Architecture:
29 May 2008
William Wake House Award News
"Best new classical building" falls at first fence in Architects' Awards
The house voted by the Georgian Group this year as the "best new building in the classical tradition" was entered for a national Royal Institute of British Architects' Award by its designer, Robert Adam. It never got beyond the first stage and was rejected by a panel of local architects.


New English house by Robert Adam – voted 'best new building in classical tradition' by the Georgian Group
A leading traditional architect and himself a judge of RIBA Awards for 12 years, Robert Adam said, "This doesn't surprise me, it's well-known in the profession that traditional buildings don't get RIBA Awards. In this case, it's unusual to have such a clear-cut example where an expert body has given it the highest accolade only to have the professional institution reject it out of hand. I just wish the RIBA would be honest and admit that their awards aren't for architecture at all but just for one kind of architecture – the contemporary or modernist style."
English Georgian House image / information from Robert Adam Architects
Location: St Andrew's Healthcare, Northamptonshire, England, UK
English Classical Building architect : Robert Adam
English Buildings
Northamptonshire Buildings – Selection
Corby Civic Building, Corby
HawkinsBrown Architects
Northamptonshire building
82 Derngate
John McAslan + Partners
Derngate Northampton
Silverstone Pitlane & Paddock complex
HOK Sport Architecture
Silverstone Development
Robert Adam – Georgian architect from Scotland
University of Northampton Avenue Campus
Additions / photos for the William Wake House – English Classical Building page welcome
Website: William Wake House England